Car Air Bed Travel Inflatable Mattress Back Seat Cushion Camping BK Outdoor Sofa
| | |
| --- | --- |
| Brand/Part #: | FLY5D US-N-588 |
| Location: | CA, US |
| Ship To Locations: | US - FREE SHIPPING |
Store Categories
Dent lifter & kits

T & I bar Puller & kits

Tabs & Glue sticks

Dent Tap down Hammer

Hook tools kit

PDR Tools

Automobile Brand/Car models

Lined Reflector Board

Car steering Cover

Car Interior

Home & Garden

Hot Sale

Other Car Interior

Motorcycle Accessories

Car Exterior

Car Gift Ideas

Car Washing Brushes & Nozzles

Car Seat Cover

Mother and child care

Consumer Electronics

Car Floor Mat

Other
Why Buy From us
Car Air Bed Travel Inflatable Mattress Back Seat Cushion Camping BK Outdoor Sofa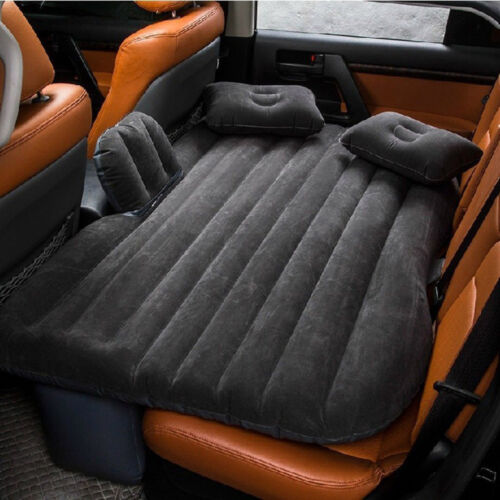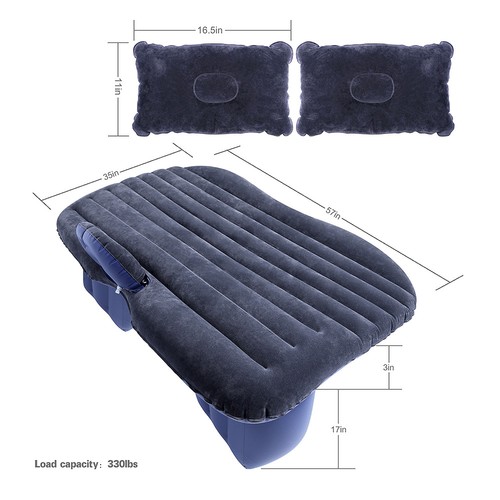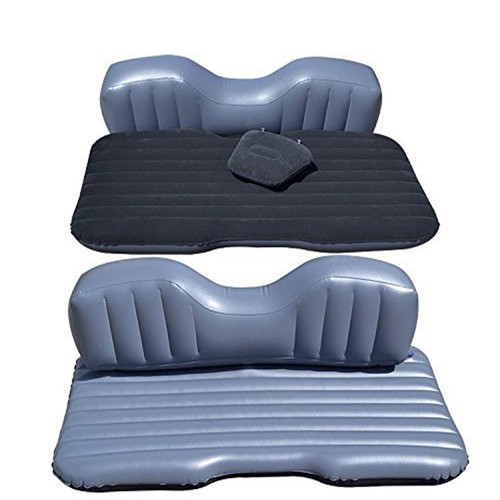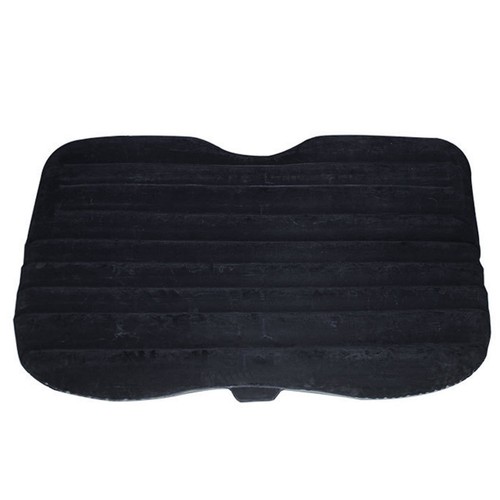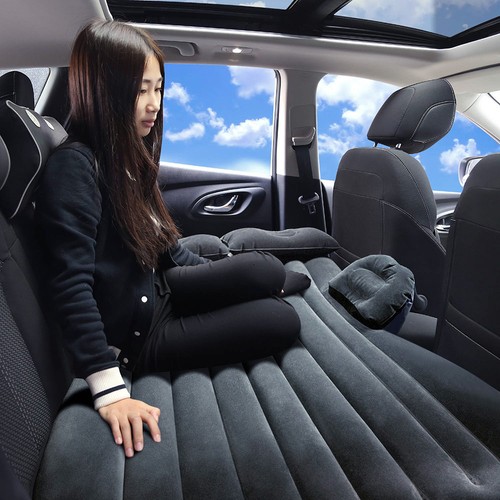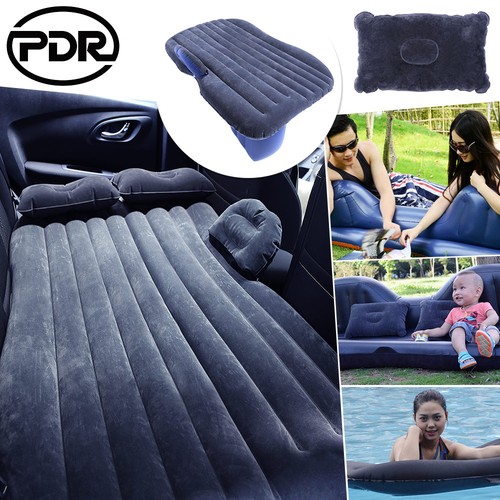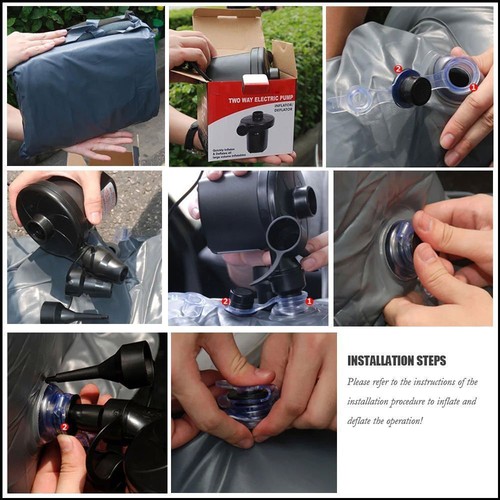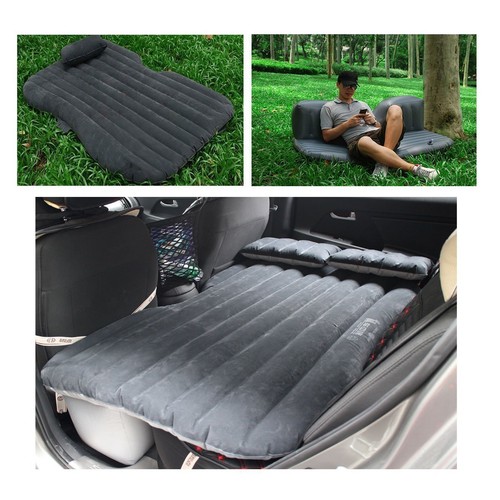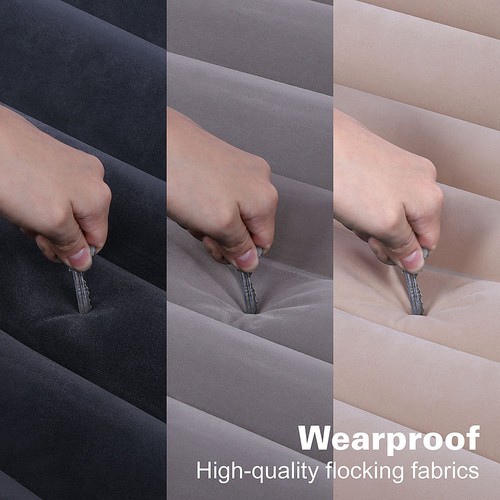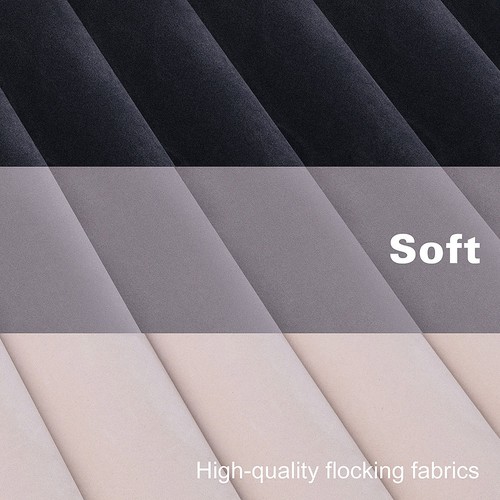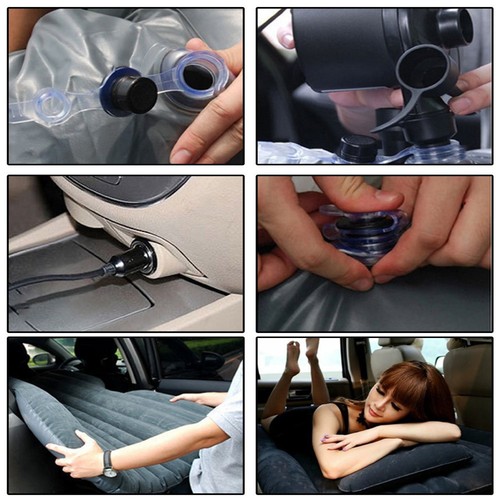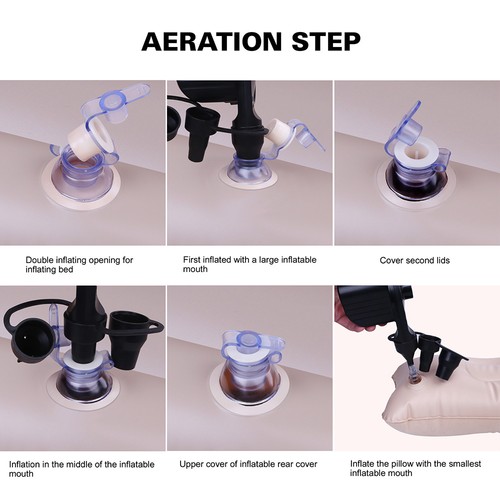 Item Description
Car Air Bed Travel Inflatable Mattress Back Seat Cushion Camping BK Outdoor Sofa
Features:
Wear proof, impact resistant, moisture resistant, eco-friendly, easy to clean, light weight, foldable
Attentions:
1. This product is not life-saving equipment; it cannot be used in the water.
2. The recommended temperature inside the car is : -13 to 140℉
3. Please do not use it to touch any sharp objects or cigarette
4. Please tightening the nozzle during inflation process
5. The air in the cushion can last about 10 hours. Please inflate it again after 10 hours for a comfortable use.
----1pc Black
Inflatable Air Bed
The items will be shipped by Registered Airmail with tracking number.
The items will be sent within 1-2 working days after payment received.Delivery time might be longer if the item(s) be inspected by customs
Import duties, taxes, and charges are not included in the item price or postage cost.
These charges are the buyer's responsibility
.
We only accept payment through PayPal.
Payment should be completed within 7 days ,after 7 days,"Unpaid" will be reported to eBay for returning final fees.
Although we did a solid and safe packaging, it may still suffer some damage or missing during transportation, so please check the packing and items before signing your name. If products are broken and lost, please inform us ASAP.
If you find what you received is not the item as describes, please inform us, it is our duty to deal with it properly and give you satisfying solution.
We try our best to provide the high quality,best price,best service to our all customers.
If you find some issue for the item , please inform us ASAP before you leave feedback.
We will do our best to solve the problem. And if you are satisfied with our product.
Please support us, we will do it better.
Our working time:

Monday to Friday from 9:00 am to 7:00 pm (GMT+8)

.
Any other problems about the products and returns,Please inform us.we will reply to you quickly and try our best to serve you. Thank you in advance.

Restocking Fee: No
Returns Accepted: Returns Accepted
Item must be returned within: 60 Days
Refund will be given as: Money back or replacement (buyer's choice)
Return shipping will be paid by: Buyer
Brand: FLY5D
Manufacturer Part Number: US00602693007993
Placement on Vehicle: Left
OE Spec or Performance/Custom: OE Spec
Color: Black
Country/Region of Manufacture: United States
Other Attribute: Install Installation Mouding Molding
Material: Interior rest Bed
Other: Paintless dent repair removal tools
Other Part: Outdoor rest bed sofa
UPC: 602693007993
Warranty: 90 Day
Fit For: For Kia Sportage Soul Nissan Rogue X-Trail Tiida
Fit For 2: For Suzuki SX4 Ford Edge Escape Mondeo
Fit For 3: For Toyota Venza RAV4 Volkswagen Golf Passat
Fit For 4: For Cadillac ATS SRX XT5 VW GTI Jetta Bora
Fit For 5: For Nissan Sentra Mazda 2/3/CX-5 Buick Regal
Fit For 6: For Mercedes-Benz GLK300 GLC 300 Audi A3 Q3
SKU: US-N-588
Car Air Bed Travel Inflatable Mattress Back Seat Cushion Camping BK Outdoor Sofa fits on the following vehicles. This is for your reference only, please check your auto manual to make sure it fits.
YEAR
MAKE
MODEL
TRIM
NOTES
2019
BMW
X2
sDrive20i Executive Plus Sport Utility 4-Door 2.0L 1998CC 122Cu. In. l4 GAS DOHC Turbocharged
2019
BMW
X2
sDrive20i M Sport Sport Utility 4-Door 2.0L 1998CC 122Cu. In. l4 GAS DOHC Turbocharged
2019
BMW
X2
sDrive20i M Sport X Sport Utility 4-Door 2.0L 1998CC 122Cu. In. l4 GAS DOHC Turbocharged
2019
Ford
Edge
Titanium --
2019
Ford
Escape
Titanium --
2019
Ford
Ranger
Lariat --
2019
Honda
CR-V
Touring --
2019
Honda
Odyssey
Elite --
2019
Honda
Odyssey
EX-L --
2019
Honda
Odyssey
Touring --
2019
Honda
Ridgeline
Black Edition Crew Cab Pickup 4-Door 3.5L 3471CC V6 GAS SOHC Naturally Aspirated
2019
Honda
Ridgeline
EX-L Crew Cab Pickup 4-Door 3.5L 3471CC V6 GAS SOHC Naturally Aspirated
2019
Honda
Ridgeline
LX Crew Cab Pickup 4-Door 3.5L 3471CC V6 GAS SOHC Naturally Aspirated
2019
Honda
Ridgeline
RT Crew Cab Pickup 4-Door 3.5L 3471CC V6 GAS SOHC Naturally Aspirated
2019
Honda
Ridgeline
RTL Crew Cab Pickup 4-Door 3.5L 3471CC V6 GAS SOHC Naturally Aspirated
2019
Honda
Ridgeline
RTL-E Crew Cab Pickup 4-Door 3.5L 3471CC V6 GAS SOHC Naturally Aspirated
2019
Honda
Ridgeline
RTL-T Crew Cab Pickup 4-Door 3.5L 3471CC V6 GAS SOHC Naturally Aspirated
2019
Honda
Ridgeline
Sport Crew Cab Pickup 4-Door 3.5L 3471CC V6 GAS SOHC Naturally Aspirated
2019
Honda
Ridgeline
Touring Crew Cab Pickup 4-Door 3.5L 3471CC V6 GAS SOHC Naturally Aspirated
2019
Jeep
Cherokee
Latitude Plus Sport Utility 4-Door 2.0L 1995CC 122Cu. In. l4 GAS DOHC Turbocharged
2019
Jeep
Cherokee
Latitude Plus Sport Utility 4-Door 2.4L 2360CC 144Cu. In. l4 GAS SOHC Naturally Aspirated
2019
Jeep
Cherokee
Latitude Plus Sport Utility 4-Door 3.2L 3239CC 198Cu. In. V6 GAS DOHC Naturally Aspirated
2019
Jeep
Cherokee
Latitude Sport Utility 4-Door 2.4L 2360CC 144Cu. In. l4 GAS SOHC Naturally Aspirated
2019
Jeep
Cherokee
Latitude Sport Utility 4-Door 3.2L 3239CC 198Cu. In. V6 GAS DOHC Naturally Aspirated
2019
Jeep
Cherokee
Limited Sport Utility 4-Door 2.0L 1995CC 122Cu. In. l4 GAS DOHC Turbocharged
2019
Jeep
Cherokee
Limited Sport Utility 4-Door 2.4L 2360CC 144Cu. In. l4 GAS SOHC Naturally Aspirated
2019
Jeep
Cherokee
Limited Sport Utility 4-Door 3.2L 3239CC 198Cu. In. V6 GAS DOHC Naturally Aspirated
2019
Jeep
Cherokee
Overland Sport Utility 4-Door 2.0L 1995CC 122Cu. In. l4 GAS DOHC Turbocharged
2019
Jeep
Cherokee
Overland Sport Utility 4-Door 3.2L 3239CC 198Cu. In. V6 GAS DOHC Naturally Aspirated
2019
Jeep
Cherokee
Trailhawk Elite Sport Utility 4-Door 2.0L 1995CC 122Cu. In. l4 GAS DOHC Turbocharged
2019
Jeep
Cherokee
Trailhawk Elite Sport Utility 4-Door 3.2L 3239CC 198Cu. In. V6 GAS DOHC Naturally Aspirated
2019
Jeep
Cherokee
Trailhawk Sport Utility 4-Door 3.2L 3239CC 198Cu. In. V6 GAS DOHC Naturally Aspirated
2019
Jeep
Grand Cherokee
Altitude --
2019
Jeep
Grand Cherokee
Laredo --
2019
Jeep
Grand Cherokee
Limited --
2019
Jeep
Grand Cherokee
Overland --
2019
Jeep
Grand Cherokee
SRT --
2019
Jeep
Grand Cherokee
Summit --
2019
Jeep
Grand Cherokee
Trackhawk --
2019
Jeep
Grand Cherokee
Trailhawk --
2019
Lincoln
MKC
Black Label --
2019
Lincoln
MKC
Premiere --
2019
Lincoln
MKC
Reserve --
2019
Lincoln
MKC
Select --
2019
Subaru
Ascent
Base --
2019
Subaru
Ascent
Limited --
2019
Subaru
Ascent
Premium --
2019
Subaru
Ascent
Touring --
2019
Subaru
Impreza
Base --
2019
Subaru
Impreza
Limited --
2019
Subaru
Impreza
Premium --
2019
Subaru
Impreza
Sport --
2019
Toyota
Avalon
Hybrid Limited Sedan 4-Door 2.5L 2487CC 152Cu. In. l4 ELECTRIC/GAS DOHC Naturally Aspirated
2019
Toyota
Avalon
Hybrid XLE Sedan 4-Door 2.5L 2487CC 152Cu. In. l4 ELECTRIC/GAS DOHC Naturally Aspirated
2019
Toyota
Avalon
Hybrid XSE Sedan 4-Door 2.5L 2487CC 152Cu. In. l4 ELECTRIC/GAS DOHC Naturally Aspirated
2019
Toyota
Avalon
Limited Sedan 4-Door -CC -Cu. In. -- -
2019
Toyota
Avalon
Limited Sedan 4-Door 3.5L 3456CC V6 GAS DOHC Naturally Aspirated
2019
Toyota
Avalon
Touring Sedan 4-Door -CC -Cu. In. -- -
2019
Toyota
Avalon
Touring Sedan 4-Door 3.5L 3456CC V6 GAS DOHC Naturally Aspirated
2019
Toyota
Avalon
XLE Sedan 4-Door -CC -Cu. In. -- -
2019
Toyota
Avalon
XLE Sedan 4-Door 3.5L 3456CC V6 GAS DOHC Naturally Aspirated
2019
Toyota
Avalon
XSE Sedan 4-Door -CC -Cu. In. -- -
2019
Toyota
Avalon
XSE Sedan 4-Door 3.5L 3456CC V6 GAS DOHC Naturally Aspirated
2019
Toyota
C-HR
XLE Premium --
2019
Volvo
VNL
Base Tractor Truck - Long Conventional 12.8L 780Cu. In. -6 DIESEL
2019
Volvo
VNR
Base Tractor Truck - Long Conventional 12.8L 780Cu. In. -6 DIESEL
2019
Volvo
XC40
T5 Momentum Sport Utility 4-Door 2.0L 1969CC l4 GAS DOHC Turbocharged
2019
Volvo
XC40
T5 R-Design Sport Utility 4-Door 2.0L 1969CC l4 GAS DOHC Turbocharged
2018
Audi
A1
Cool Hatchback 2-Door 1.4L 1390CC 85Cu. In. l4 GAS DOHC Turbocharged
2018
Audi
A1
Cool Hatchback 4-Door 1.4L 1390CC 85Cu. In. l4 GAS DOHC Turbocharged
2018
Audi
A1
Ego Hatchback 2-Door 1.4L 1390CC 85Cu. In. l4 GAS DOHC Turbocharged
2018
Audi
A3
Attraction Convertible 2-Door 1.8L 1798CC 110Cu. In. l4 GAS DOHC Turbocharged
2018
Audi
A3
Dynamic Sedan 4-Door 1.4L 1395CC 85Cu. In. l4 GAS DOHC Turbocharged
2018
Audi
A3
Dynamic Sedan 4-Door 2.0L 1984CC 121Cu. In. l4 GAS DOHC Turbocharged
2018
Audi
A3
Premium Sedan 4-Door 2.0L 1984CC 121Cu. In. l4 GAS DOHC Turbocharged
2018
Audi
A3 Quattro
Komfort Convertible 2-Door 2.0L 1984CC 121Cu. In. l4 GAS DOHC Turbocharged
2018
Audi
A3 Quattro
Premium Plus Sedan 4-Door 2.0L 1984CC 121Cu. In. l4 GAS DOHC Turbocharged
2018
Audi
A4
Dynamic Sedan 4-Door 2.0L 1984CC 121Cu. In. l4 GAS DOHC Turbocharged
2018
Audi
A4
Premium Sedan 4-Door 2.0L 1984CC 121Cu. In. l4 GAS DOHC Turbocharged
2018
Audi
Q5
Dynamic Sport Utility 4-Door 2.0L 1984CC 121Cu. In. l4 GAS DOHC Turbocharged
2018
Audi
TT Quattro
Base Convertible 2-Door 2.0L 1984CC 121Cu. In. l4 GAS DOHC Turbocharged
2018
Audi
TT Quattro
Base Coupe 2-Door 2.0L 1984CC 121Cu. In. l4 GAS DOHC Turbocharged
2018
Cadillac
ATS
Base Coupe 2-Door 2.0L 1998CC 122Cu. In. l4 GAS DOHC Turbocharged
2018
Cadillac
ATS
Base Sedan 4-Door 2.0L 1998CC 122Cu. In. l4 GAS DOHC Turbocharged
2018
Cadillac
ATS
Coupe Coupe 2-Door 2.0L 1998CC 122Cu. In. l4 GAS DOHC Turbocharged
2018
Cadillac
ATS
Luxury Coupe 2-Door 2.0L 1998CC 122Cu. In. l4 GAS DOHC Turbocharged
2018
Cadillac
ATS
Luxury Sedan 4-Door 2.0L 1998CC 122Cu. In. l4 GAS DOHC Turbocharged
2018
Cadillac
ATS
Premium Luxury Coupe 2-Door 3.6L 217Cu. In. V6 GAS DOHC Naturally Aspirated
2018
Cadillac
ATS
Premium Luxury Sedan 4-Door 3.6L 217Cu. In. V6 GAS DOHC Naturally Aspirated
2018
Cadillac
ATS
Premium Performance Coupe 2-Door 3.6L 217Cu. In. V6 GAS DOHC Naturally Aspirated
2018
Cadillac
ATS
Premium Performance Sedan 4-Door 3.6L 217Cu. In. V6 GAS DOHC Naturally Aspirated
2018
Cadillac
ATS
Sedan Sedan 4-Door 2.0L 1998CC 122Cu. In. l4 GAS DOHC Turbocharged
2018
Cadillac
ATS
V Coupe 2-Door 3.6L 217Cu. In. V6 GAS DOHC Turbocharged
2018
Cadillac
ATS
V Sedan 4-Door 3.6L 217Cu. In. V6 GAS DOHC Turbocharged
2018
Cadillac
CT6
Base Sedan 4-Door 2.0L 1998CC 122Cu. In. l4 GAS DOHC Turbocharged
2018
Cadillac
CT6
Base Sedan 4-Door 3.6L 217Cu. In. V6 GAS DOHC Naturally Aspirated
2018
Cadillac
CT6
Luxury Sedan 4-Door 2.0L 1998CC 122Cu. In. l4 GAS DOHC Turbocharged
2018
Cadillac
CT6
Luxury Sedan 4-Door 3.0L 182Cu. In. V6 GAS DOHC Turbocharged
2018
Cadillac
CT6
Luxury Sedan 4-Door 3.6L 217Cu. In. V6 GAS DOHC Naturally Aspirated
2018
Cadillac
CT6
Platinum Sedan 4-Door 3.0L 182Cu. In. V6 GAS DOHC Turbocharged
2018
Cadillac
CT6
Platinum Sedan 4-Door 3.6L 217Cu. In. V6 GAS DOHC Naturally Aspirated
2018
Cadillac
CT6
Plug-In Sedan 4-Door 2.0L 1998CC 122Cu. In. l4 ELECTRIC/GAS DOHC Turbocharged
2018
Cadillac
CT6
Premium Luxury Sedan 4-Door 3.0L 182Cu. In. V6 GAS DOHC Turbocharged
2018
Cadillac
CT6
Premium Luxury Sedan 4-Door 3.6L 217Cu. In. V6 GAS DOHC Naturally Aspirated
2018
Cadillac
CTS
Base Sedan 4-Door 2.0L 1998CC 122Cu. In. l4 GAS DOHC Turbocharged
2018
Cadillac
CTS
Luxury Sedan 4-Door 2.0L 1998CC 122Cu. In. l4 GAS DOHC Turbocharged
2018
Cadillac
CTS
Luxury Sedan 4-Door 3.6L 217Cu. In. V6 GAS DOHC Naturally Aspirated
2018
Cadillac
CTS
Premium Luxury Sedan 4-Door 3.6L 217Cu. In. V6 GAS DOHC Naturally Aspirated
2018
Cadillac
CTS
Premium Sedan 4-Door 3.6L 217Cu. In. V6 GAS DOHC Naturally Aspirated
2018
Cadillac
CTS
V Sedan 4-Door 6.2L 6162CC 376Cu. In. V8 GAS OHV Supercharged
2018
Cadillac
CTS
Vsport Premium Luxury Sedan 4-Door 3.6L 217Cu. In. V6 GAS DOHC Turbocharged
2018
Cadillac
CTS
Vsport Sedan 4-Door 3.6L 217Cu. In. V6 GAS DOHC Turbocharged
2018
Cadillac
Escalade
Base Sport Utility 4-Door 6.2L 6162CC 376Cu. In. V8 FLEX OHV Naturally Aspirated
2018
Cadillac
Escalade
Luxury Sport Utility 4-Door 6.2L 6162CC 376Cu. In. V8 FLEX OHV Naturally Aspirated
2018
Cadillac
Escalade
Platinum Sport Utility 4-Door 6.2L 6162CC 376Cu. In. V8 FLEX OHV Naturally Aspirated
2018
Cadillac
Escalade
Premium Luxury Sport Utility 4-Door 6.2L 6162CC 376Cu. In. V8 FLEX OHV Naturally Aspirated
2018
Cadillac
Escalade ESV
Base Sport Utility 4-Door 6.2L 6162CC 376Cu. In. V8 FLEX OHV Naturally Aspirated
2018
Cadillac
Escalade ESV
Luxury Sport Utility 4-Door 6.2L 6162CC 376Cu. In. V8 FLEX OHV Naturally Aspirated
2018
Cadillac
Escalade ESV
Platinum Sport Utility 4-Door 6.2L 6162CC 376Cu. In. V8 FLEX OHV Naturally Aspirated
2018
Cadillac
Escalade ESV
Premium Luxury Sport Utility 4-Door 6.2L 6162CC 376Cu. In. V8 FLEX OHV Naturally Aspirated
2018
Cadillac
Escalade ESV
Premium Sport Utility 4-Door 6.2L 6162CC 376Cu. In. V8 FLEX OHV Naturally Aspirated
2018
Cadillac
XT5
Base Sport Utility 4-Door 3.6L 217Cu. In. V6 GAS DOHC Naturally Aspirated
2018
Cadillac
XT5
Luxury Sport Utility 4-Door 3.6L 217Cu. In. V6 GAS DOHC Naturally Aspirated
2018
Cadillac
XT5
Platinum Sport Utility 4-Door 3.6L 217Cu. In. V6 GAS DOHC Naturally Aspirated
2018
Cadillac
XT5
Premium Luxury Sport Utility 4-Door 3.6L 217Cu. In. V6 GAS DOHC Naturally Aspirated
2018
Cadillac
XT5
Premium Sport Utility 4-Door 3.6L 217Cu. In. V6 GAS DOHC Naturally Aspirated
2018
Cadillac
XTS
Base Sedan 4-Door 3.6L 217Cu. In. V6 GAS DOHC Naturally Aspirated
2018
Cadillac
XTS
Livery Sedan 4-Door 3.6L 217Cu. In. V6 GAS DOHC Naturally Aspirated
2018
Cadillac
XTS
Luxury Sedan 4-Door 3.6L 217Cu. In. V6 GAS DOHC Naturally Aspirated
2018
Cadillac
XTS
Platinum Sedan 4-Door 3.6L 217Cu. In. V6 GAS DOHC Naturally Aspirated
2018
Cadillac
XTS
Premium Luxury Sedan 4-Door 3.6L 217Cu. In. V6 GAS DOHC Naturally Aspirated
2018
Cadillac
XTS
Vsport Platinum Sedan 4-Door 3.6L 217Cu. In. V6 GAS DOHC Turbocharged
2018
Chrysler
300
3.6 Sedan 4-Door 3.6L 3604CC 220Cu. In. V6 GAS DOHC Naturally Aspirated
2018
Chrysler
300
C Sedan 4-Door 5.7L 345Cu. In. V8 GAS OHV Naturally Aspirated
2018
Chrysler
300
Hemi Sedan 4-Door 5.7L 345Cu. In. V8 GAS OHV Naturally Aspirated
2018
Chrysler
300
Limited Sedan 4-Door 3.6L 3604CC 220Cu. In. V6 FLEX DOHC Naturally Aspirated
2018
Chrysler
300
Limited Sedan 4-Door 3.6L 3604CC 220Cu. In. V6 GAS DOHC Naturally Aspirated
2018
Chrysler
300
S Sedan 4-Door 3.6L 3604CC 220Cu. In. V6 FLEX DOHC Naturally Aspirated
2018
Chrysler
300
S Sedan 4-Door 3.6L 3604CC 220Cu. In. V6 GAS DOHC Naturally Aspirated
2018
Chrysler
300
S Sedan 4-Door 5.7L 345Cu. In. V8 GAS OHV Naturally Aspirated
2018
Chrysler
300
Touring L Sedan 4-Door 3.6L 3604CC 220Cu. In. V6 FLEX DOHC Naturally Aspirated
2018
Chrysler
300
Touring L Sedan 4-Door 3.6L 3604CC 220Cu. In. V6 GAS DOHC Naturally Aspirated
2018
Chrysler
300
Touring Sedan 4-Door 3.6L 3604CC 220Cu. In. V6 FLEX DOHC Naturally Aspirated
2018
Chrysler
300
Touring Sedan 4-Door 3.6L 3604CC 220Cu. In. V6 GAS DOHC Naturally Aspirated
2018
Chrysler
Pacifica
LX Mini Passenger Van 4-Door 3.6L 3604CC 220Cu. In. V6 FLEX DOHC Naturally Aspirated
2018
Chrysler
Pacifica
LX Mini Passenger Van 4-Door 3.6L 3604CC 220Cu. In. V6 GAS DOHC Naturally Aspirated
2018
Chrysler
Pacifica
Touring L Mini Passenger Van 4-Door 3.6L 3604CC 220Cu. In. V6 FLEX DOHC Naturally Aspirated
2018
Chrysler
Pacifica
Touring L Mini Passenger Van 4-Door 3.6L 3604CC 220Cu. In. V6 GAS DOHC Naturally Aspirated
2018
Chrysler
Pacifica
Touring L Plus Mini Passenger Van 4-Door 3.6L 3604CC 220Cu. In. V6 FLEX DOHC Naturally Aspirated
2018
Chrysler
Pacifica
Touring L Plus Mini Passenger Van 4-Door 3.6L 3604CC 220Cu. In. V6 GAS DOHC Naturally Aspirated
2018
Chrysler
Pacifica
Touring Plus Mini Passenger Van 4-Door 3.6L 3604CC 220Cu. In. V6 FLEX DOHC Naturally Aspirated
2018
Chrysler
Pacifica
Touring Plus Mini Passenger Van 4-Door 3.6L 3604CC 220Cu. In. V6 GAS DOHC Naturally Aspirated
2018
Dodge
Journey
Canada Value Package Sport Utility 4-Door 2.4L 2360CC 144Cu. In. l4 GAS DOHC Naturally Aspirated
2018
Dodge
Journey
Crossroad Sport Utility 4-Door 2.4L 2360CC 144Cu. In. l4 GAS DOHC Naturally Aspirated
2018
Dodge
Journey
Crossroad Sport Utility 4-Door 3.6L 3604CC 220Cu. In. V6 FLEX DOHC Naturally Aspirated
2018
Dodge
Journey
GT Sport Utility 4-Door 3.6L 3604CC 220Cu. In. V6 FLEX DOHC Naturally Aspirated
2018
Dodge
Journey
GT Sport Utility 4-Door 3.6L 3604CC 220Cu. In. V6 GAS DOHC Naturally Aspirated
2018
Dodge
Journey
SE Sport Utility 4-Door 2.4L 2360CC 144Cu. In. l4 GAS DOHC Naturally Aspirated
2018
Dodge
Journey
SE Sport Utility 4-Door 3.6L 3604CC 220Cu. In. V6 FLEX DOHC Naturally Aspirated
2018
Dodge
Journey
Sport Sport Utility 4-Door 2.4L 2360CC 144Cu. In. l4 GAS DOHC Naturally Aspirated
2018
Dodge
Journey
SXT Lujo Sport Utility 4-Door 2.4L 2360CC 144Cu. In. l4 GAS DOHC Naturally Aspirated
2018
Dodge
Journey
SXT Sport Utility 4-Door 2.4L 2360CC 144Cu. In. l4 GAS DOHC Naturally Aspirated
2018
Dodge
Journey
SXT Sport Utility 4-Door 3.6L 3604CC 220Cu. In. V6 FLEX DOHC Naturally Aspirated
2018
Ford
EcoSport
Impulse Sport Utility 4-Door 1.5L 1497CC 91Cu. In. l3 GAS DOHC Naturally Aspirated
2018
Ford
EcoSport
S Sport Utility 4-Door 1.0L 999CC 61Cu. In. l3 GAS DOHC Turbocharged
2018
Ford
EcoSport
S Sport Utility 4-Door 2.0L 1999CC 122Cu. In. l4 GAS DOHC Naturally Aspirated
2018
Ford
EcoSport
SE Sport Utility 4-Door 1.0L 999CC 61Cu. In. l3 GAS DOHC Turbocharged
2018
Ford
EcoSport
SE Sport Utility 4-Door 2.0L 1999CC 122Cu. In. l4 GAS DOHC Naturally Aspirated
2018
Ford
EcoSport
SES Sport Utility 4-Door 2.0L 1999CC 122Cu. In. l4 GAS DOHC Naturally Aspirated
2018
Ford
EcoSport
Titanium Sport Utility 4-Door 1.0L 999CC 61Cu. In. l3 GAS DOHC Turbocharged
2018
Ford
EcoSport
Titanium Sport Utility 4-Door 2.0L 1999CC 122Cu. In. l4 GAS DOHC Naturally Aspirated
2018
Ford
EcoSport
Trend Sport Utility 4-Door 1.5L 1497CC 91Cu. In. l3 GAS DOHC Naturally Aspirated
2018
Ford
EcoSport
Trend Sport Utility 4-Door 2.0L 1999CC 122Cu. In. l4 GAS DOHC Naturally Aspirated
2018
Ford
Edge
SE Sport Utility 4-Door 2.0L 1999CC 122Cu. In. l4 GAS DOHC Turbocharged
2018
Ford
Edge
SE Sport Utility 4-Door 3.5L 3496CC 213Cu. In. V6 GAS DOHC Naturally Aspirated
2018
Ford
Edge
SEL Plus Sport Utility 4-Door 2.0L 1999CC 122Cu. In. l4 GAS DOHC Turbocharged
2018
Ford
Edge
SEL Sport Utility 4-Door 2.0L 1999CC 122Cu. In. l4 GAS DOHC Turbocharged
2018
Ford
Edge
SEL Sport Utility 4-Door 3.5L 3496CC 213Cu. In. V6 GAS DOHC Naturally Aspirated
2018
Ford
Edge
Sport Sport Utility 4-Door 2.7L 164Cu. In. V6 GAS DOHC Turbocharged
2018
Ford
Edge
Titanium Sport Utility 4-Door 2.0L 1999CC 122Cu. In. l4 GAS DOHC Turbocharged
2018
Ford
Edge
Titanium Sport Utility 4-Door 3.5L 3496CC 213Cu. In. V6 GAS DOHC Naturally Aspirated
2018
Ford
Escape
S Plus Sport Utility 4-Door 2.5L 2488CC 152Cu. In. l4 GAS DOHC Naturally Aspirated
2018
Ford
Escape
S Sport Utility 4-Door 2.5L 2488CC 152Cu. In. l4 GAS DOHC Naturally Aspirated
2018
Ford
Escape
SE Sport Utility 4-Door 1.5L 1499CC 91Cu. In. l4 GAS DOHC Turbocharged
2018
Ford
Escape
SEL Sport Utility 4-Door 1.5L 1499CC 91Cu. In. l4 GAS DOHC Turbocharged
2018
Ford
Escape
Titanium Sport Utility 4-Door 2.0L 1999CC 122Cu. In. l4 GAS DOHC Turbocharged
2018
Ford
Escape
Trend Advance Sport Utility 4-Door 2.0L 1999CC 122Cu. In. l4 GAS DOHC Turbocharged
2018
Ford
Escape
Trend Advance Sport Utility 4-Door 2.5L 2488CC 152Cu. In. l4 GAS DOHC Naturally Aspirated
2018
Ford
Explorer
Base Sport Utility 4-Door 2.3L 2300CC 140Cu. In. l4 GAS DOHC Turbocharged
2018
Ford
Explorer
Base Sport Utility 4-Door 3.5L 3496CC 213Cu. In. V6 GAS DOHC Naturally Aspirated
2018
Ford
Explorer
Limited Sport Utility 4-Door 2.3L 2300CC 140Cu. In. l4 GAS DOHC Turbocharged
2018
Ford
Explorer
Limited Sport Utility 4-Door 3.5L 3496CC 213Cu. In. V6 GAS DOHC Naturally Aspirated
2018
Ford
Explorer
Platinum Sport Utility 4-Door 3.5L 3496CC 213Cu. In. V6 GAS DOHC Turbocharged
2018
Ford
Explorer
Sport Sport Utility 4-Door 3.5L 3496CC 213Cu. In. V6 GAS DOHC Turbocharged
2018
Ford
Explorer
XLT Sport Utility 4-Door 2.3L 2300CC 140Cu. In. l4 GAS DOHC Turbocharged
2018
Ford
Explorer
XLT Sport Utility 4-Door 3.5L 3496CC 213Cu. In. V6 GAS DOHC Naturally Aspirated
2018
Ford
F-150
King Ranch Crew Cab Pickup 4-Door 3.5L 3496CC 213Cu. In. V6 GAS DOHC Turbocharged
2018
Ford
F-150
King Ranch Crew Cab Pickup 4-Door 5.0L 4951CC 302Cu. In. V8 FLEX DOHC Naturally Aspirated
2018
Ford
F-150
Lariat Crew Cab Pickup 4-Door 2.7L 164Cu. In. V6 GAS DOHC Turbocharged
2018
Ford
F-150
Lariat Crew Cab Pickup 4-Door 3.5L 3496CC 213Cu. In. V6 GAS DOHC Turbocharged
2018
Ford
F-150
Lariat Crew Cab Pickup 4-Door 5.0L 4951CC 302Cu. In. V8 FLEX DOHC Naturally Aspirated
2018
Ford
F-150
Lariat Extended Cab Pickup 4-Door 2.7L 164Cu. In. V6 GAS DOHC Turbocharged
2018
Ford
F-150
Lariat Extended Cab Pickup 4-Door 3.5L 3496CC 213Cu. In. V6 GAS DOHC Turbocharged
2018
Ford
F-150
Lariat Extended Cab Pickup 4-Door 5.0L 4951CC 302Cu. In. V8 FLEX DOHC Naturally Aspirated
2018
Ford
F-150
Limited Crew Cab Pickup 4-Door 3.5L 3496CC 213Cu. In. V6 GAS DOHC Turbocharged
2018
Ford
F-150
Platinum Crew Cab Pickup 4-Door 3.5L 3496CC 213Cu. In. V6 GAS DOHC Turbocharged
2018
Ford
F-150
Platinum Crew Cab Pickup 4-Door 5.0L 4951CC 302Cu. In. V8 FLEX DOHC Naturally Aspirated
2018
Ford
F-150
Police Responder Crew Cab Pickup 4-Door 3.5L 3496CC 213Cu. In. V6 GAS DOHC Turbocharged
2018
Ford
F-150
Raptor Crew Cab Pickup 4-Door 3.5L 3496CC 213Cu. In. V6 GAS DOHC Turbocharged
2018
Ford
F-150
Raptor Extended Cab Pickup 4-Door 3.5L 3496CC 213Cu. In. V6 GAS DOHC Turbocharged
2018
Ford
F-150
SSV Crew Cab Pickup 4-Door 3.5L 3496CC 213Cu. In. V6 GAS DOHC Turbocharged
2018
Ford
F-150
SSV Crew Cab Pickup 4-Door 5.0L 4951CC 302Cu. In. V8 FLEX DOHC Naturally Aspirated
2018
Ford
F-150
SSV Extended Cab Pickup 4-Door 3.5L 3496CC 213Cu. In. V6 GAS DOHC Turbocharged
2018
Ford
F-150
SSV Extended Cab Pickup 4-Door 5.0L 4951CC 302Cu. In. V8 FLEX DOHC Naturally Aspirated
2018
Ford
F-150
XL Crew Cab Pickup 4-Door 2.7L 164Cu. In. V6 GAS DOHC Turbocharged
2018
Ford
F-150
XL Crew Cab Pickup 4-Door 3.3L 204Cu. In. V6 FLEX DOHC Naturally Aspirated
2018
Ford
F-150
XL Crew Cab Pickup 4-Door 3.3L 204Cu. In. V6 GAS DOHC Naturally Aspirated
2018
Ford
F-150
XL Crew Cab Pickup 4-Door 3.5L 3496CC 213Cu. In. V6 GAS DOHC Turbocharged
2018
Ford
F-150
XL Crew Cab Pickup 4-Door 5.0L 4951CC 302Cu. In. V8 FLEX DOHC Naturally Aspirated
2018
Ford
F-150
XL Crew Cab Pickup 4-Door 5.0L 4951CC 302Cu. In. V8 GAS DOHC Naturally Aspirated
2018
Ford
F-150
XL Extended Cab Pickup 4-Door 2.7L 164Cu. In. V6 GAS DOHC Turbocharged
2018
Ford
F-150
XL Extended Cab Pickup 4-Door 3.3L 204Cu. In. V6 FLEX DOHC Naturally Aspirated
2018
Ford
F-150
XL Extended Cab Pickup 4-Door 3.5L 3496CC 213Cu. In. V6 GAS DOHC Turbocharged
2018
Ford
F-150
XL Extended Cab Pickup 4-Door 5.0L 4951CC 302Cu. In. V8 FLEX DOHC Naturally Aspirated
2018
Ford
F-150
XL Standard Cab Pickup 2-Door 2.7L 164Cu. In. V6 GAS DOHC Turbocharged
2018
Ford
F-150
XL Standard Cab Pickup 2-Door 3.3L 204Cu. In. V6 FLEX DOHC Naturally Aspirated
2018
Ford
F-150
XL Standard Cab Pickup 2-Door 3.3L 204Cu. In. V6 GAS DOHC Naturally Aspirated
2018
Ford
F-150
XL Standard Cab Pickup 2-Door 3.5L 3496CC 213Cu. In. V6 GAS DOHC Turbocharged
2018
Ford
F-150
XL Standard Cab Pickup 2-Door 5.0L 4951CC 302Cu. In. V8 FLEX DOHC Naturally Aspirated
2018
Ford
F-150
XL Standard Cab Pickup 2-Door 5.0L 4951CC 302Cu. In. V8 GAS DOHC Naturally Aspirated
2018
Ford
F-150
XLT Crew Cab Pickup 4-Door 2.7L 164Cu. In. V6 GAS DOHC Turbocharged
2018
Ford
F-150
XLT Crew Cab Pickup 4-Door 3.3L 204Cu. In. V6 FLEX DOHC Naturally Aspirated
2018
Ford
F-150
XLT Crew Cab Pickup 4-Door 3.5L 3496CC 213Cu. In. V6 GAS DOHC Turbocharged
2018
Ford
F-150
XLT Crew Cab Pickup 4-Door 5.0L 4951CC 302Cu. In. V8 FLEX DOHC Naturally Aspirated
2018
Ford
F-150
XLT Extended Cab Pickup 4-Door 2.7L 164Cu. In. V6 GAS DOHC Turbocharged
2018
Ford
F-150
XLT Extended Cab Pickup 4-Door 3.3L 204Cu. In. V6 FLEX DOHC Naturally Aspirated
2018
Ford
F-150
XLT Extended Cab Pickup 4-Door 3.5L 3496CC 213Cu. In. V6 GAS DOHC Turbocharged
2018
Ford
F-150
XLT Extended Cab Pickup 4-Door 5.0L 4951CC 302Cu. In. V8 FLEX DOHC Naturally Aspirated
2018
Ford
F-150
XLT Standard Cab Pickup 2-Door 2.7L 164Cu. In. V6 GAS DOHC Turbocharged
2018
Ford
F-150
XLT Standard Cab Pickup 2-Door 3.3L 204Cu. In. V6 FLEX DOHC Naturally Aspirated
2018
Ford
F-150
XLT Standard Cab Pickup 2-Door 3.5L 3496CC 213Cu. In. V6 GAS DOHC Turbocharged
2018
Ford
F-150
XLT Standard Cab Pickup 2-Door 5.0L 4951CC 302Cu. In. V8 FLEX DOHC Naturally Aspirated
2018
Ford
F-250 Super Duty
King Ranch Crew Cab Pickup 4-Door 6.2L 6210CC 379Cu. In. V8 FLEX SOHC Naturally Aspirated
2018
Ford
F-250 Super Duty
King Ranch Crew Cab Pickup 4-Door 6.7L 6651CC 406Cu. In. V8 DIESEL OHV Turbocharged
2018
Ford
F-250 Super Duty
Lariat Crew Cab Pickup 4-Door 6.2L 6210CC 379Cu. In. V8 FLEX SOHC Naturally Aspirated
2018
Ford
F-250 Super Duty
Lariat Crew Cab Pickup 4-Door 6.7L 6651CC 406Cu. In. V8 DIESEL OHV Turbocharged
2018
Ford
F-250 Super Duty
Lariat Extended Cab Pickup 4-Door 6.2L 6210CC 379Cu. In. V8 FLEX SOHC Naturally Aspirated
2018
Ford
F-250 Super Duty
Lariat Extended Cab Pickup 4-Door 6.7L 6651CC 406Cu. In. V8 DIESEL OHV Turbocharged
2018
Ford
F-250 Super Duty
Limited Crew Cab Pickup 4-Door 6.7L 6651CC 406Cu. In. V8 DIESEL OHV Turbocharged
2018
Ford
F-250 Super Duty
Platinum Crew Cab Pickup 4-Door 6.2L 6210CC 379Cu. In. V8 FLEX SOHC Naturally Aspirated
2018
Ford
F-250 Super Duty
Platinum Crew Cab Pickup 4-Door 6.7L 6651CC 406Cu. In. V8 DIESEL OHV Turbocharged
2018
Ford
F-250 Super Duty
XL Crew Cab Pickup 4-Door 6.2L 6210CC 379Cu. In. V8 FLEX SOHC Naturally Aspirated
2018
Ford
F-250 Super Duty
XL Crew Cab Pickup 4-Door 6.7L 6651CC 406Cu. In. V8 DIESEL OHV Turbocharged
2018
Ford
F-250 Super Duty
XL Extended Cab Pickup 4-Door 6.2L 6210CC 379Cu. In. V8 FLEX SOHC Naturally Aspirated
2018
Ford
F-250 Super Duty
XL Extended Cab Pickup 4-Door 6.7L 6651CC 406Cu. In. V8 DIESEL OHV Turbocharged
2018
Ford
F-250 Super Duty
XL Standard Cab Pickup 2-Door 6.2L 6210CC 379Cu. In. V8 FLEX SOHC Naturally Aspirated
2018
Ford
F-250 Super Duty
XL Standard Cab Pickup 2-Door 6.7L 6651CC 406Cu. In. V8 DIESEL OHV Turbocharged
2018
Ford
F-250 Super Duty
XLT Crew Cab Pickup 4-Door 6.2L 6210CC 379Cu. In. V8 FLEX SOHC Naturally Aspirated
2018
Ford
F-250 Super Duty
XLT Crew Cab Pickup 4-Door 6.7L 6651CC 406Cu. In. V8 DIESEL OHV Turbocharged
2018
Ford
F-250 Super Duty
XLT Extended Cab Pickup 4-Door 6.2L 6210CC 379Cu. In. V8 FLEX SOHC Naturally Aspirated
2018
Ford
F-250 Super Duty
XLT Extended Cab Pickup 4-Door 6.7L 6651CC 406Cu. In. V8 DIESEL OHV Turbocharged
2018
Ford
F-250 Super Duty
XLT Standard Cab Pickup 2-Door 6.2L 6210CC 379Cu. In. V8 FLEX SOHC Naturally Aspirated
2018
Ford
F-250 Super Duty
XLT Standard Cab Pickup 2-Door 6.7L 6651CC 406Cu. In. V8 DIESEL OHV Turbocharged
2018
Ford
F-350 Super Duty
King Ranch Crew Cab Pickup 4-Door 6.2L 6210CC 379Cu. In. V8 FLEX SOHC Naturally Aspirated
2018
Ford
F-350 Super Duty
King Ranch Crew Cab Pickup 4-Door 6.7L 6651CC 406Cu. In. V8 DIESEL OHV Turbocharged
2018
Ford
F-350 Super Duty
Lariat Cab & Chassis 2-Door 6.2L 6210CC 379Cu. In. V8 FLEX SOHC Naturally Aspirated
2018
Ford
F-350 Super Duty
Lariat Cab & Chassis 2-Door 6.7L 6651CC 406Cu. In. V8 DIESEL OHV Turbocharged
2018
Ford
F-350 Super Duty
Lariat Cab & Chassis 4-Door 6.2L 6210CC 379Cu. In. V8 FLEX SOHC Naturally Aspirated
2018
Ford
F-350 Super Duty
Lariat Cab & Chassis 4-Door 6.7L 6651CC 406Cu. In. V8 DIESEL OHV Turbocharged
2018
Ford
F-350 Super Duty
Lariat Crew Cab Pickup 4-Door 6.2L 6210CC 379Cu. In. V8 FLEX SOHC Naturally Aspirated
2018
Ford
F-350 Super Duty
Lariat Crew Cab Pickup 4-Door 6.7L 6651CC 406Cu. In. V8 DIESEL OHV Turbocharged
2018
Ford
F-350 Super Duty
Lariat Extended Cab Pickup 4-Door 6.2L 6210CC 379Cu. In. V8 FLEX SOHC Naturally Aspirated
2018
Ford
F-350 Super Duty
Lariat Extended Cab Pickup 4-Door 6.7L 6651CC 406Cu. In. V8 DIESEL OHV Turbocharged
2018
Ford
F-350 Super Duty
Limited Crew Cab Pickup 4-Door 6.7L 6651CC 406Cu. In. V8 DIESEL OHV Turbocharged
2018
Ford
F-350 Super Duty
Platinum Crew Cab Pickup 4-Door 6.2L 6210CC 379Cu. In. V8 FLEX SOHC Naturally Aspirated
2018
Ford
F-350 Super Duty
Platinum Crew Cab Pickup 4-Door 6.7L 6651CC 406Cu. In. V8 DIESEL OHV Turbocharged
2018
Ford
F-350 Super Duty
XL Cab & Chassis 2-Door 6.2L 6210CC 379Cu. In. V8 FLEX SOHC Naturally Aspirated
2018
Ford
F-350 Super Duty
XL Cab & Chassis 2-Door 6.7L 6651CC 406Cu. In. V8 DIESEL OHV Turbocharged
2018
Ford
F-350 Super Duty
XL Cab & Chassis 4-Door 6.2L 6210CC 379Cu. In. V8 FLEX SOHC Naturally Aspirated
2018
Ford
F-350 Super Duty
XL Cab & Chassis 4-Door 6.7L 6651CC 406Cu. In. V8 DIESEL OHV Turbocharged
2018
Ford
F-350 Super Duty
XL Crew Cab Pickup 4-Door 6.2L 6210CC 379Cu. In. V8 FLEX SOHC Naturally Aspirated
2018
Ford
F-350 Super Duty
XL Crew Cab Pickup 4-Door 6.7L 6651CC 406Cu. In. V8 DIESEL OHV Turbocharged
2018
Ford
F-350 Super Duty
XL Extended Cab Pickup 4-Door 6.2L 6210CC 379Cu. In. V8 FLEX SOHC Naturally Aspirated
2018
Ford
F-350 Super Duty
XL Extended Cab Pickup 4-Door 6.7L 6651CC 406Cu. In. V8 DIESEL OHV Turbocharged
2018
Ford
F-350 Super Duty
XL Standard Cab Pickup 2-Door 6.2L 6210CC 379Cu. In. V8 FLEX SOHC Naturally Aspirated
2018
Ford
F-350 Super Duty
XL Standard Cab Pickup 2-Door 6.7L 6651CC 406Cu. In. V8 DIESEL OHV Turbocharged
2018
Ford
F-350 Super Duty
XLT Cab & Chassis 2-Door 6.2L 6210CC 379Cu. In. V8 FLEX SOHC Naturally Aspirated
2018
Ford
F-350 Super Duty
XLT Cab & Chassis 2-Door 6.7L 6651CC 406Cu. In. V8 DIESEL OHV Turbocharged
2018
Ford
F-350 Super Duty
XLT Cab & Chassis 4-Door 6.2L 6210CC 379Cu. In. V8 FLEX SOHC Naturally Aspirated
2018
Ford
F-350 Super Duty
XLT Cab & Chassis 4-Door 6.7L 6651CC 406Cu. In. V8 DIESEL OHV Turbocharged
2018
Ford
F-350 Super Duty
XLT Crew Cab Pickup 4-Door 6.2L 6210CC 379Cu. In. V8 FLEX SOHC Naturally Aspirated
2018
Ford
F-350 Super Duty
XLT Crew Cab Pickup 4-Door 6.7L 6651CC 406Cu. In. V8 DIESEL OHV Turbocharged
2018
Ford
F-350 Super Duty
XLT Extended Cab Pickup 4-Door 6.2L 6210CC 379Cu. In. V8 FLEX SOHC Naturally Aspirated
2018
Ford
F-350 Super Duty
XLT Extended Cab Pickup 4-Door 6.7L 6651CC 406Cu. In. V8 DIESEL OHV Turbocharged
2018
Ford
F-350 Super Duty
XLT Standard Cab Pickup 2-Door 6.2L 6210CC 379Cu. In. V8 FLEX SOHC Naturally Aspirated
2018
Ford
F-350 Super Duty
XLT Standard Cab Pickup 2-Door 6.7L 6651CC 406Cu. In. V8 DIESEL OHV Turbocharged
2018
Ford
F-450 Super Duty
Base --
2018
Ford
F-550 Super Duty
Base --
2018
Ford
Focus
Electric Hatchback 4-Door ELECTRIC
2018
Ford
Focus
RS Hatchback 4-Door 2.3L 2300CC 140Cu. In. l4 GAS DOHC Turbocharged
2018
Ford
Focus
S Sedan 4-Door 2.0L 1999CC 122Cu. In. l4 FLEX DOHC Naturally Aspirated
2018
Ford
Focus
SE Hatchback 4-Door 1.0L 999CC 61Cu. In. l3 GAS DOHC Turbocharged
2018
Ford
Focus
SE Hatchback 4-Door 2.0L 1999CC 122Cu. In. l4 FLEX DOHC Naturally Aspirated
2018
Ford
Focus
SE Sedan 4-Door 1.0L 999CC 61Cu. In. l3 GAS DOHC Turbocharged
2018
Ford
Focus
SE Sedan 4-Door 2.0L 1999CC 122Cu. In. l4 FLEX DOHC Naturally Aspirated
2018
Ford
Focus
SEL Hatchback 4-Door 2.0L 1999CC 122Cu. In. l4 FLEX DOHC Naturally Aspirated
2018
Ford
Focus
SEL Sedan 4-Door 2.0L 1999CC 122Cu. In. l4 FLEX DOHC Naturally Aspirated
2018
Ford
Focus
ST Hatchback 4-Door 2.0L 1999CC 122Cu. In. l4 GAS DOHC Turbocharged
2018
Ford
Focus
Titanium Hatchback 4-Door 2.0L 1999CC 122Cu. In. l4 FLEX DOHC Naturally Aspirated
2018
Ford
Focus
Titanium Sedan 4-Door 2.0L 1999CC 122Cu. In. l4 FLEX DOHC Naturally Aspirated
2018
Ford
Taurus
Limited Sedan 4-Door 3.5L 3496CC 213Cu. In. V6 FLEX DOHC Naturally Aspirated
2018
Ford
Taurus
Limited Sedan 4-Door 3.5L 3496CC 213Cu. In. V6 GAS DOHC Naturally Aspirated
2018
Ford
Taurus
SE Sedan 4-Door 3.5L 3496CC 213Cu. In. V6 FLEX DOHC Naturally Aspirated
2018
Ford
Taurus
SE Sedan 4-Door 3.5L 3496CC 213Cu. In. V6 GAS DOHC Naturally Aspirated
2018
Ford
Taurus
SEL Sedan 4-Door 3.5L 3496CC 213Cu. In. V6 FLEX DOHC Naturally Aspirated
2018
Ford
Taurus
SEL Sedan 4-Door 3.5L 3496CC 213Cu. In. V6 GAS DOHC Naturally Aspirated
2018
Ford
Taurus
SHO Sedan 4-Door 3.5L 3496CC 213Cu. In. V6 GAS DOHC Turbocharged
2018
Honda
Accord
EX Sedan 4-Door 1.5L 1497CC l4 GAS DOHC Turbocharged
2018
Honda
Accord
EX-L Sedan 4-Door 1.5L 1497CC l4 GAS DOHC Turbocharged
2018
Honda
Accord
EX-L Sedan 4-Door 2.0L 1996CC 122Cu. In. l4 GAS DOHC Turbocharged
2018
Honda
Accord
Hybrid EX-L Sedan 4-Door 2.0L 1993CC 122Cu. In. l4 ELECTRIC/GAS DOHC Naturally Aspirated
2018
Honda
Accord
Hybrid Sedan 4-Door 2.0L 1993CC 122Cu. In. l4 ELECTRIC/GAS DOHC Naturally Aspirated
2018
Honda
Accord
Hybrid Touring Sedan 4-Door 2.0L 1993CC 122Cu. In. l4 ELECTRIC/GAS DOHC Naturally Aspirated
2018
Honda
Accord
LX Sedan 4-Door 1.5L 1497CC l4 GAS DOHC Turbocharged
2018
Honda
Accord
Sport Plus Sedan 4-Door 1.5L 1497CC l4 GAS DOHC Turbocharged
2018
Honda
Accord
Sport Sedan 4-Door 1.5L 1497CC l4 GAS DOHC Turbocharged
2018
Honda
Accord
Sport Sedan 4-Door 2.0L 1996CC 122Cu. In. l4 GAS DOHC Turbocharged
2018
Honda
Accord
Touring Sedan 4-Door 1.5L 1497CC l4 GAS DOHC Turbocharged
2018
Honda
Accord
Touring Sedan 4-Door 2.0L 1996CC 122Cu. In. l4 GAS DOHC Turbocharged
2018
Honda
Civic
Coupe Coupe 2-Door 1.5L 1497CC l4 GAS DOHC Turbocharged
2018
Honda
Civic
DX Sedan 4-Door 2.0L 1996CC 122Cu. In. l4 GAS DOHC Naturally Aspirated
2018
Honda
Civic
EX Hatchback 4-Door 1.5L 1497CC l4 GAS DOHC Turbocharged
2018
Honda
Civic
EX Hatchback 4-Door 2.0L 1996CC 122Cu. In. l4 GAS DOHC Naturally Aspirated
2018
Honda
Civic
EX Sedan 4-Door 1.5L 1497CC l4 GAS DOHC Turbocharged
2018
Honda
Civic
EX Sedan 4-Door 2.0L 1996CC 122Cu. In. l4 GAS DOHC Naturally Aspirated
2018
Honda
Civic
EX-L Coupe 2-Door 1.5L 1497CC l4 GAS DOHC Turbocharged
2018
Honda
Civic
EX-L Hatchback 4-Door 1.5L 1497CC l4 GAS DOHC Turbocharged
2018
Honda
Civic
EX-L Sedan 4-Door 1.5L 1497CC l4 GAS DOHC Turbocharged
2018
Honda
Civic
EX-T Coupe 2-Door 1.5L 1497CC l4 GAS DOHC Turbocharged
2018
Honda
Civic
EX-T Sedan 4-Door 1.5L 1497CC l4 GAS DOHC Turbocharged
2018
Honda
Civic
i-Style Sedan 4-Door 2.0L 1996CC 122Cu. In. l4 GAS DOHC Naturally Aspirated
2018
Honda
Civic
LX Coupe 2-Door 1.5L 1497CC l4 GAS DOHC Turbocharged
2018
Honda
Civic
LX Coupe 2-Door 2.0L 1996CC 122Cu. In. l4 GAS DOHC Naturally Aspirated
2018
Honda
Civic
LX Hatchback 4-Door 1.5L 1497CC l4 GAS DOHC Turbocharged
2018
Honda
Civic
LX Hatchback 4-Door 2.0L 1996CC 122Cu. In. l4 GAS DOHC Naturally Aspirated
2018
Honda
Civic
LX Sedan 4-Door 1.5L 1497CC l4 GAS DOHC Turbocharged
2018
Honda
Civic
LX Sedan 4-Door 2.0L 1996CC 122Cu. In. l4 GAS DOHC Naturally Aspirated
2018
Honda
Civic
LX-P Coupe 2-Door 2.0L 1996CC 122Cu. In. l4 GAS DOHC Naturally Aspirated
2018
Honda
Civic
Si Coupe 2-Door 1.5L 1497CC l4 GAS DOHC Turbocharged
2018
Honda
Civic
Si Sedan 4-Door 1.5L 1497CC l4 GAS DOHC Turbocharged
2018
Honda
Civic
Sport Hatchback 4-Door 1.5L 1497CC l4 GAS DOHC Turbocharged
2018
Honda
Civic
Sport Touring Hatchback 4-Door 1.5L 1497CC l4 GAS DOHC Turbocharged
2018
Honda
Civic
Touring Coupe 2-Door 1.5L 1497CC l4 GAS DOHC Turbocharged
2018
Honda
Civic
Touring Sedan 4-Door 1.5L 1497CC l4 GAS DOHC Turbocharged
2018
Honda
Civic
Turbo Plus Sedan 4-Door 1.5L 1497CC l4 GAS DOHC Turbocharged
2018
Honda
Civic
Type R Hatchback 4-Door 2.0L 1996CC 122Cu. In. l4 GAS DOHC Turbocharged
2018
Honda
CR-V
EX Sport Utility 4-Door 1.5L 1497CC l4 GAS DOHC Turbocharged
2018
Honda
CR-V
EX Sport Utility 4-Door 2.4L 2356CC 144Cu. In. l4 GAS DOHC Naturally Aspirated
2018
Honda
CR-V
EX-L Sport Utility 4-Door 1.5L 1497CC l4 GAS DOHC Turbocharged
2018
Honda
CR-V
LX Sport Utility 4-Door 2.4L 2356CC 144Cu. In. l4 GAS DOHC Naturally Aspirated
2018
Honda
CR-V
Touring Sport Utility 4-Door 1.5L 1497CC l4 GAS DOHC Turbocharged
2018
Honda
CR-V
Turbo Plus Sport Utility 4-Door 1.5L 1497CC l4 GAS DOHC Turbocharged
2018
Honda
Fit
DX Hatchback 4-Door 1.5L 1497CC l4 GAS DOHC Naturally Aspirated
2018
Honda
Fit
EX Hatchback 4-Door 1.5L 1497CC l4 GAS DOHC Naturally Aspirated
2018
Honda
Fit
EX-L Hatchback 4-Door 1.5L 1497CC l4 GAS DOHC Naturally Aspirated
2018
Honda
Fit
LX Hatchback 4-Door 1.5L 1497CC l4 GAS DOHC Naturally Aspirated
2018
Honda
Fit
Sport Hatchback 4-Door 1.5L 1497CC l4 GAS DOHC Naturally Aspirated
2018
Honda
HR-V
Epic Sport Utility 4-Door 1.8L 1799CC l4 GAS SOHC Naturally Aspirated
2018
Honda
HR-V
EX Sport Utility 4-Door --
2018
Honda
HR-V
EX Sport Utility 4-Door 1.8L 1799CC l4 GAS SOHC Naturally Aspirated
2018
Honda
HR-V
EX-L Sport Utility 4-Door --
2018
Honda
HR-V
EX-L Sport Utility 4-Door 1.8L 1799CC l4 GAS SOHC Naturally Aspirated
2018
Honda
HR-V
LX Sport Utility 4-Door --
2018
Honda
HR-V
LX Sport Utility 4-Door 1.8L 1799CC l4 GAS SOHC Naturally Aspirated
2018
Honda
HR-V
Touring Sport Utility 4-Door 1.8L 1799CC l4 GAS SOHC Naturally Aspirated
2018
Honda
HR-V
Uniq Sport Utility 4-Door 1.8L 1799CC l4 GAS SOHC Naturally Aspirated
2018
Honda
Odyssey
Elite Mini Passenger Van 4-Door 3.5L 3471CC 212Cu. In. V6 GAS SOHC Naturally Aspirated
2018
Honda
Odyssey
EX Mini Passenger Van 4-Door 3.5L 3471CC 212Cu. In. V6 GAS SOHC Naturally Aspirated
2018
Honda
Odyssey
EX-L Mini Passenger Van 4-Door 3.5L 3471CC 212Cu. In. V6 GAS SOHC Naturally Aspirated
2018
Honda
Odyssey
EXL Mini Passenger Van 4-Door 3.5L 3471CC 212Cu. In. V6 GAS SOHC Naturally Aspirated
2018
Honda
Odyssey
LX Mini Passenger Van 4-Door 3.5L 3471CC 212Cu. In. V6 GAS SOHC Naturally Aspirated
2018
Honda
Odyssey
Touring Mini Passenger Van 4-Door 3.5L 3471CC 212Cu. In. V6 GAS SOHC Naturally Aspirated
2018
Honda
Pilot
Elite Sport Utility 4-Door 3.5L 3471CC V6 GAS SOHC Naturally Aspirated
2018
Honda
Pilot
EX Sport Utility 4-Door 3.5L 3471CC V6 GAS SOHC Naturally Aspirated
2018
Honda
Pilot
EX-L Sport Utility 4-Door 3.5L 3471CC V6 GAS SOHC Naturally Aspirated
2018
Honda
Pilot
LX Sport Utility 4-Door 3.5L 3471CC V6 GAS SOHC Naturally Aspirated
2018
Honda
Pilot
Touring Sport Utility 4-Door 3.5L 3471CC V6 GAS SOHC Naturally Aspirated
2018
Toyota
RAV4
Adventure Sport Utility 4-Door 2.5L 2494CC 152Cu. In. l4 GAS DOHC Naturally Aspirated
2017
Cadillac
ATS
Base Coupe 2-Door 2.0L 1998CC 122Cu. In. l4 GAS DOHC Turbocharged
2017
Cadillac
ATS
Base Coupe 2-Door 2.5L 2457CC 150Cu. In. l4 GAS DOHC Naturally Aspirated
2017
Cadillac
ATS
Base Sedan 4-Door 2.0L 1998CC 122Cu. In. l4 GAS DOHC Turbocharged
2017
Cadillac
ATS
Base Sedan 4-Door 2.5L 2457CC 150Cu. In. l4 GAS DOHC Naturally Aspirated
2017
Cadillac
ATS
Luxury Coupe 2-Door 2.0L 1998CC 122Cu. In. l4 GAS DOHC Turbocharged
2017
Cadillac
ATS
Luxury Coupe 2-Door 2.5L 2457CC 150Cu. In. l4 GAS DOHC Naturally Aspirated
2017
Cadillac
ATS
Luxury Sedan 4-Door 2.0L 1998CC 122Cu. In. l4 GAS DOHC Turbocharged
2017
Cadillac
ATS
Luxury Sedan 4-Door 2.5L 2457CC 150Cu. In. l4 GAS DOHC Naturally Aspirated
2017
Cadillac
ATS
Performance Coupe 2-Door 2.0L 1998CC 122Cu. In. l4 GAS DOHC Turbocharged
2017
Cadillac
ATS
Performance Coupe 2-Door 3.6L 217Cu. In. V6 GAS DOHC Naturally Aspirated
2017
Cadillac
ATS
Performance Sedan 4-Door 2.0L 1998CC 122Cu. In. l4 GAS DOHC Turbocharged
2017
Cadillac
ATS
Performance Sedan 4-Door 3.6L 217Cu. In. V6 GAS DOHC Naturally Aspirated
2017
Cadillac
ATS
Premium Luxury Coupe 2-Door 3.6L 217Cu. In. V6 GAS DOHC Naturally Aspirated
2017
Cadillac
ATS
Premium Luxury Sedan 4-Door 3.6L 217Cu. In. V6 GAS DOHC Naturally Aspirated
2017
Cadillac
ATS
Premium Performance Coupe 2-Door 2.0L 1998CC 122Cu. In. l4 GAS DOHC Turbocharged
2017
Cadillac
ATS
Premium Performance Coupe 2-Door 3.6L 217Cu. In. V6 GAS DOHC Naturally Aspirated
2017
Cadillac
ATS
Premium Performance Sedan 4-Door 2.0L 1998CC 122Cu. In. l4 GAS DOHC Turbocharged
2017
Cadillac
ATS
Premium Performance Sedan 4-Door 3.6L 217Cu. In. V6 GAS DOHC Naturally Aspirated
2017
Cadillac
ATS
V Coupe 2-Door 3.6L 217Cu. In. V6 GAS DOHC Turbocharged
2017
Cadillac
ATS
V Sedan 4-Door 3.6L 217Cu. In. V6 GAS DOHC Turbocharged
2017
Cadillac
CT6
Base Sedan 4-Door 2.0L 1998CC 122Cu. In. l4 GAS DOHC Turbocharged
2017
Cadillac
CT6
Base Sedan 4-Door 3.6L 217Cu. In. V6 GAS DOHC Naturally Aspirated
2017
Cadillac
CT6
Luxury Sedan 4-Door 2.0L 1998CC 122Cu. In. l4 GAS DOHC Turbocharged
2017
Cadillac
CT6
Luxury Sedan 4-Door 3.0L 182Cu. In. V6 GAS DOHC Turbocharged
2017
Cadillac
CT6
Luxury Sedan 4-Door 3.6L 217Cu. In. V6 GAS DOHC Naturally Aspirated
2017
Cadillac
CT6
Platinum Sedan 4-Door 3.0L 182Cu. In. V6 GAS DOHC Turbocharged
2017
Cadillac
CT6
Platinum Sedan 4-Door 3.6L 217Cu. In. V6 GAS DOHC Naturally Aspirated
2017
Cadillac
CT6
Plug-In Sedan 4-Door 2.0L 1998CC 122Cu. In. l4 ELECTRIC/GAS DOHC Turbocharged
2017
Cadillac
CT6
Premium Luxury Sedan 4-Door 3.0L 182Cu. In. V6 GAS DOHC Turbocharged
2017
Cadillac
CT6
Premium Luxury Sedan 4-Door 3.6L 217Cu. In. V6 GAS DOHC Naturally Aspirated
2017
Cadillac
CTS
Base Sedan 4-Door 2.0L 1998CC 122Cu. In. l4 GAS DOHC Turbocharged
2017
Cadillac
CTS
Luxury Sedan 4-Door 2.0L 1998CC 122Cu. In. l4 GAS DOHC Turbocharged
2017
Cadillac
CTS
Luxury Sedan 4-Door 3.6L 217Cu. In. V6 GAS DOHC Naturally Aspirated
2017
Cadillac
CTS
Premium Luxury Sedan 4-Door 3.6L 217Cu. In. V6 GAS DOHC Naturally Aspirated
2017
Cadillac
CTS
V Sedan 4-Door 6.2L 6162CC 376Cu. In. V8 GAS OHV Supercharged
2017
Cadillac
CTS
Vsport Premium Luxury Sedan 4-Door 3.6L 217Cu. In. V6 GAS DOHC Turbocharged
2017
Cadillac
CTS
Vsport Sedan 4-Door 3.6L 217Cu. In. V6 GAS DOHC Turbocharged
2017
Cadillac
Escalade
Base Sport Utility 4-Door 6.2L 6162CC 376Cu. In. V8 FLEX OHV Naturally Aspirated
2017
Cadillac
Escalade
Luxury Sport Utility 4-Door 6.2L 6162CC 376Cu. In. V8 FLEX OHV Naturally Aspirated
2017
Cadillac
Escalade
Platinum Sport Utility 4-Door 6.2L 6162CC 376Cu. In. V8 FLEX OHV Naturally Aspirated
2017
Cadillac
Escalade
Premium Luxury Sport Utility 4-Door 6.2L 6162CC 376Cu. In. V8 FLEX OHV Naturally Aspirated
2017
Cadillac
Escalade
Premium Sport Utility 4-Door 6.2L 6162CC 376Cu. In. V8 FLEX OHV Naturally Aspirated
2017
Cadillac
Escalade ESV
Base Sport Utility 4-Door 6.2L 6162CC 376Cu. In. V8 FLEX OHV Naturally Aspirated
2017
Cadillac
Escalade ESV
Luxury Sport Utility 4-Door 6.2L 6162CC 376Cu. In. V8 FLEX OHV Naturally Aspirated
2017
Cadillac
Escalade ESV
Platinum Sport Utility 4-Door 6.2L 6162CC 376Cu. In. V8 FLEX OHV Naturally Aspirated
2017
Cadillac
Escalade ESV
Premium Luxury Sport Utility 4-Door 6.2L 6162CC 376Cu. In. V8 FLEX OHV Naturally Aspirated
2017
Cadillac
Escalade ESV
Premium Sport Utility 4-Door 6.2L 6162CC 376Cu. In. V8 FLEX OHV Naturally Aspirated
2017
Cadillac
XT5
Base Sport Utility 4-Door 3.6L 217Cu. In. V6 GAS DOHC Naturally Aspirated
2017
Cadillac
XT5
Luxury Sport Utility 4-Door 3.6L 217Cu. In. V6 GAS DOHC Naturally Aspirated
2017
Cadillac
XT5
Platinum Sport Utility 4-Door 3.6L 217Cu. In. V6 GAS DOHC Naturally Aspirated
2017
Cadillac
XT5
Premium Luxury Sport Utility 4-Door 3.6L 217Cu. In. V6 GAS DOHC Naturally Aspirated
2017
Cadillac
XT5
Premium Sport Utility 4-Door 3.6L 217Cu. In. V6 GAS DOHC Naturally Aspirated
2017
Cadillac
XTS
Base Sedan 4-Door 3.6L 217Cu. In. V6 GAS DOHC Naturally Aspirated
2017
Cadillac
XTS
Livery Hearse 4-Door 3.6L 217Cu. In. V6 GAS DOHC Naturally Aspirated
2017
Cadillac
XTS
Livery Limousine 4-Door 3.6L 217Cu. In. V6 GAS DOHC Naturally Aspirated
2017
Cadillac
XTS
Luxury Sedan 4-Door 3.6L 217Cu. In. V6 GAS DOHC Naturally Aspirated
2017
Cadillac
XTS
Platinum Sedan 4-Door 3.6L 217Cu. In. V6 GAS DOHC Naturally Aspirated
2017
Cadillac
XTS
Premium Luxury Sedan 4-Door 3.6L 217Cu. In. V6 GAS DOHC Naturally Aspirated
2017
Cadillac
XTS
Premium Sedan 4-Door 3.6L 217Cu. In. V6 GAS DOHC Naturally Aspirated
2017
Cadillac
XTS
Vsport Platinum Sedan 4-Door 3.6L 217Cu. In. V6 GAS DOHC Turbocharged
2017
Cadillac
XTS
Vsport Premium Luxury Sedan 4-Door 3.6L 217Cu. In. V6 GAS DOHC Turbocharged
2017
Chrysler
200
C Sedan 4-Door 2.4L 2360CC 144Cu. In. l4 GAS SOHC Naturally Aspirated
2017
Chrysler
200
C Sedan 4-Door 3.6L 3604CC 220Cu. In. V6 FLEX DOHC Naturally Aspirated
2017
Chrysler
200
Limited Sedan 4-Door 2.4L 2360CC 144Cu. In. l4 GAS SOHC Naturally Aspirated
2017
Chrysler
200
Limited Sedan 4-Door 3.6L 3604CC 220Cu. In. V6 FLEX DOHC Naturally Aspirated
2017
Chrysler
200
LX Sedan 4-Door 2.4L 2360CC 144Cu. In. l4 GAS SOHC Naturally Aspirated
2017
Chrysler
200
S Sedan 4-Door 2.4L 2360CC 144Cu. In. l4 GAS SOHC Naturally Aspirated
2017
Chrysler
200
S Sedan 4-Door 3.6L 3604CC 220Cu. In. V6 FLEX DOHC Naturally Aspirated
2017
Chrysler
300
3.6 Sedan 4-Door 3.6L 3604CC 220Cu. In. V6 GAS DOHC Naturally Aspirated
2017
Chrysler
300
C Platinum Sedan 4-Door 3.6L 3604CC 220Cu. In. V6 FLEX DOHC Naturally Aspirated
2017
Chrysler
300
C Platinum Sedan 4-Door 3.6L 3604CC 220Cu. In. V6 GAS DOHC Naturally Aspirated
2017
Chrysler
300
C Platinum Sedan 4-Door 5.7L 345Cu. In. V8 GAS OHV Naturally Aspirated
2017
Chrysler
300
C Sedan 4-Door 3.6L 3604CC 220Cu. In. V6 FLEX DOHC Naturally Aspirated
2017
Chrysler
300
C Sedan 4-Door 3.6L 3604CC 220Cu. In. V6 GAS DOHC Naturally Aspirated
2017
Chrysler
300
C Sedan 4-Door 5.7L 345Cu. In. V8 GAS OHV Naturally Aspirated
2017
Chrysler
300
Hemi Sedan 4-Door 5.7L 345Cu. In. V8 GAS OHV Naturally Aspirated
2017
Chrysler
300
Limited Sedan 4-Door 3.6L 3604CC 220Cu. In. V6 FLEX DOHC Naturally Aspirated
2017
Chrysler
300
Limited Sedan 4-Door 3.6L 3604CC 220Cu. In. V6 GAS DOHC Naturally Aspirated
2017
Chrysler
300
S Sedan 4-Door 3.6L 3604CC 220Cu. In. V6 FLEX DOHC Naturally Aspirated
2017
Chrysler
300
S Sedan 4-Door 3.6L 3604CC 220Cu. In. V6 GAS DOHC Naturally Aspirated
2017
Chrysler
300
S Sedan 4-Door 5.7L 345Cu. In. V8 GAS OHV Naturally Aspirated
2017
Chrysler
Pacifica
Hybrid Platinum Mini Passenger Van 4-Door 3.6L 3604CC 220Cu. In. V6 ELECTRIC/GAS DOHC Naturally Aspirated
2017
Chrysler
Pacifica
Hybrid Premium Mini Passenger Van 4-Door 3.6L 3604CC 220Cu. In. V6 ELECTRIC/GAS DOHC Naturally Aspirated
2017
Chrysler
Pacifica
Limited Mini Passenger Van 4-Door 3.6L 3604CC 220Cu. In. V6 FLEX DOHC Naturally Aspirated
2017
Chrysler
Pacifica
Limited Mini Passenger Van 4-Door 3.6L 3604CC 220Cu. In. V6 GAS DOHC Naturally Aspirated
2017
Chrysler
Pacifica
LX Mini Passenger Van 4-Door 3.6L 3604CC 220Cu. In. V6 FLEX DOHC Naturally Aspirated
2017
Chrysler
Pacifica
LX Mini Passenger Van 4-Door 3.6L 3604CC 220Cu. In. V6 GAS DOHC Naturally Aspirated
2017
Chrysler
Pacifica
Touring L Mini Passenger Van 4-Door 3.6L 3604CC 220Cu. In. V6 FLEX DOHC Naturally Aspirated
2017
Chrysler
Pacifica
Touring L Mini Passenger Van 4-Door 3.6L 3604CC 220Cu. In. V6 GAS DOHC Naturally Aspirated
2017
Chrysler
Pacifica
Touring L Plus Mini Passenger Van 4-Door 3.6L 3604CC 220Cu. In. V6 FLEX DOHC Naturally Aspirated
2017
Chrysler
Pacifica
Touring L Plus Mini Passenger Van 4-Door 3.6L 3604CC 220Cu. In. V6 GAS DOHC Naturally Aspirated
2017
Chrysler
Pacifica
Touring Mini Passenger Van 4-Door 3.6L 3604CC 220Cu. In. V6 FLEX DOHC Naturally Aspirated
2017
Chrysler
Pacifica
Touring Mini Passenger Van 4-Door 3.6L 3604CC 220Cu. In. V6 GAS DOHC Naturally Aspirated
2017
Ford
F-150
SSV Extended Cab Pickup 4-Door 3.5L 3496CC 213Cu. In. V6 GAS DOHC Turbocharged
2017
Ford
F-150
XL Crew Cab Pickup 4-Door 5.0L 4951CC 302Cu. In. V8 FLEX DOHC Naturally Aspirated
2017
Ford
F-150
XLT Crew Cab Pickup 4-Door 3.5L 3496CC 213Cu. In. V6 GAS DOHC Turbocharged
2017
Ford
F-150
XLT Extended Cab Pickup 4-Door 3.5L 3496CC 213Cu. In. V6 GAS DOHC Turbocharged
2017
Honda
Accord
LX Sedan 4-Door 2.4L 2356CC 144Cu. In. l4 GAS DOHC Naturally Aspirated
2017
Honda
Civic
EX Sedan 4-Door 1.5L 1497CC l4 GAS DOHC Turbocharged
2017
Honda
Civic
LX Sedan 4-Door 1.5L 1497CC l4 GAS DOHC Turbocharged
2017
Honda
CR-V
Turbo Plus Sport Utility 4-Door 1.5L 1497CC l4 GAS DOHC Turbocharged
2017
Hyundai
Elantra
GL Sedan 4-Door 2.0L 1999CC l4 GAS DOHC Naturally Aspirated
2017
Hyundai
Elantra
GLS Premium Sedan 4-Door 2.0L 1999CC 122Cu. In. l4 GAS DOHC Naturally Aspirated
2017
Hyundai
Elantra
GLS Sedan 4-Door 2.0L 1999CC 122Cu. In. l4 GAS Naturally Aspirated
2017
Hyundai
Elantra
GLS Sedan 4-Door 2.0L 1999CC l4 GAS DOHC Naturally Aspirated
2017
Hyundai
Elantra
Limited Sedan 4-Door 2.0L 1999CC l4 GAS DOHC Naturally Aspirated
2017
Hyundai
Elantra
SE Sedan 4-Door 2.0L 1999CC l4 GAS DOHC Naturally Aspirated
2017
Hyundai
Elantra
Ultimate Sedan 4-Door 2.0L 1999CC l4 GAS DOHC Naturally Aspirated
2017
Hyundai
Santa Fe
Limited Sport Utility 4-Door 3.3L 3342CC V6 GAS DOHC Naturally Aspirated
2017
Hyundai
Santa Fe
Limited Ultimate Sport Utility 4-Door 3.3L 3342CC V6 GAS DOHC Naturally Aspirated
2017
Hyundai
Santa Fe
SE Sport Utility 4-Door 3.3L 3342CC V6 GAS DOHC Naturally Aspirated
2017
Hyundai
Santa Fe
SE Ultimate Sport Utility 4-Door 3.3L 3342CC V6 GAS DOHC Naturally Aspirated
2017
Hyundai
Santa Fe
Sport 2.0T Sport Utility 4-Door 2.0L 1998CC 122Cu. In. l4 GAS DOHC Turbocharged
2017
Hyundai
Santa Fe
Sport 2.0T Ultimate Sport Utility 4-Door 2.0L 1998CC 122Cu. In. l4 GAS DOHC Turbocharged
2017
Hyundai
Santa Fe
Sport Sport Utility 4-Door 2.4L 2359CC l4 GAS DOHC Naturally Aspirated
2017
Hyundai
Tucson
GLS Sport Utility 4-Door 2.0L 1999CC 122Cu. In. l4 GAS Naturally Aspirated
2017
Hyundai
Tucson
Limited Sport Utility 4-Door 2.0L 1999CC 122Cu. In. l4 GAS Naturally Aspirated
2017
Ram
3500
Laramie Cab & Chassis 4-Door 6.4L 6424CC 392Cu. In. V8 GAS OHV Naturally Aspirated
2017
Ram
3500
Laramie Crew Cab Pickup 4-Door 6.7L 408Cu. In. l6 DIESEL OHV Turbocharged
2017
Ram
3500
Laramie Longhorn Extended Crew Cab Pickup 4-Door 6.7L 408Cu. In. l6 DIESEL OHV Turbocharged
2017
Ram
3500
ST Cab & Chassis 2-Door 5.7L 345Cu. In. V8 GAS OHV Naturally Aspirated
2017
Ram
3500
ST Extended Crew Cab Pickup 4-Door 5.7L 345Cu. In. V8 GAS OHV Naturally Aspirated
2017
Subaru
Outback
2.5i Touring Wagon 4-Door 2.5L 2498CC 152Cu. In. H4 GAS DOHC Naturally Aspirated
2017
Toyota
Camry
Hybrid LE Sedan 4-Door 2.5L 2494CC 152Cu. In. l4 ELECTRIC/GAS DOHC Naturally Aspirated
2017
Toyota
Camry
Hybrid SE Sedan 4-Door 2.5L 2494CC 152Cu. In. l4 ELECTRIC/GAS DOHC Naturally Aspirated
2017
Toyota
Camry
Hybrid XLE Sedan 4-Door 2.5L 2494CC 152Cu. In. l4 ELECTRIC/GAS DOHC Naturally Aspirated
2017
Toyota
Camry
LE Sedan 4-Door 2.5L 2494CC 152Cu. In. l4 GAS DOHC Naturally Aspirated
2017
Toyota
Camry
SE Sedan 4-Door 2.5L 2494CC 152Cu. In. l4 GAS DOHC Naturally Aspirated
2017
Toyota
Camry
XLE Sedan 4-Door 2.5L 2494CC 152Cu. In. l4 GAS DOHC Naturally Aspirated
2017
Toyota
Camry
XSE Sedan 4-Door 2.5L 2494CC 152Cu. In. l4 GAS DOHC Naturally Aspirated
2017
Toyota
Camry
XSE Sedan 4-Door 3.5L 3456CC V6 GAS DOHC Naturally Aspirated
2017
Toyota
Corolla
Base Sedan 4-Door 1.8L 1798CC 110Cu. In. l4 GAS DOHC Naturally Aspirated
2017
Toyota
Corolla
LE Eco Sedan 4-Door 1.8L 1798CC 110Cu. In. l4 GAS DOHC Naturally Aspirated
2017
Toyota
RAV4
Hybrid XLE Sport Utility 4-Door 2.5L 2494CC 152Cu. In. l4 ELECTRIC/GAS DOHC Naturally Aspirated
2017
Toyota
RAV4
Platinum Sport Utility 4-Door 2.5L 2494CC 152Cu. In. l4 GAS DOHC Naturally Aspirated
2016
Audi
A1
Ego Hatchback 4-Door 1.4L 1390CC 85Cu. In. l4 GAS DOHC Turbocharged
2016
Audi
A1
S Line Hatchback 4-Door 1.8L 1798CC 110Cu. In. l4 GAS DOHC Turbocharged
2016
Audi
A3
Ambiente Hatchback 2-Door 1.4L 1395CC 85Cu. In. l4 GAS DOHC Turbocharged
2016
Audi
A3
Ambiente Sedan 4-Door 1.8L 1798CC 110Cu. In. l4 GAS DOHC Turbocharged
2016
Audi
A3
Attraction Convertible 2-Door 1.4L 1395CC 85Cu. In. l4 GAS DOHC Turbocharged
2016
Audi
A3
Attraction Hatchback 2-Door 1.4L 1395CC 85Cu. In. l4 GAS DOHC Turbocharged
2016
Audi
A3
Attraction Sedan 4-Door 1.4L 1395CC 85Cu. In. l4 GAS DOHC Turbocharged
2016
Audi
A3
Premium Plus Convertible 2-Door 1.8L 1798CC 110Cu. In. l4 GAS DOHC Turbocharged
2016
Audi
A3
Premium Plus Sedan 4-Door 1.8L 1798CC 110Cu. In. l4 GAS DOHC Turbocharged
2016
Audi
A3
TDI Komfort Sedan 4-Door 2.0L 1968CC 120Cu. In. l4 DIESEL DOHC Turbocharged
2016
Audi
A3
TDI Premium Sedan 4-Door 2.0L 1968CC 120Cu. In. l4 DIESEL DOHC Turbocharged
2016
Audi
A3
TDI Prestige Sedan 4-Door 2.0L 1968CC 120Cu. In. l4 DIESEL DOHC Turbocharged
2016
Audi
A3
Technik Sedan 4-Door 1.8L 1798CC 110Cu. In. l4 GAS DOHC Turbocharged
2016
Audi
A3 e-tron
Premium Plus Sedan 4-Door -CC -Cu. In. -- -
2016
Audi
A3 e-tron
Prestige Sedan 4-Door -CC -Cu. In. -- -
2016
Audi
A3 Quattro
Komfort Convertible 2-Door 2.0L 1984CC 121Cu. In. l4 GAS DOHC Turbocharged
2016
Audi
A3 Quattro
Premium Convertible 2-Door 2.0L 1984CC 121Cu. In. l4 GAS DOHC Turbocharged
2016
Audi
A3 Quattro
Premium Plus Sedan 4-Door 2.0L 1984CC 121Cu. In. l4 GAS DOHC Turbocharged
2016
Audi
A3 Quattro
Premium Sedan 4-Door 2.0L 1984CC 121Cu. In. l4 GAS DOHC Turbocharged
2016
Audi
A3 Sportback e-tron
Premium Hatchback 4-Door 1.4L 1395CC 85Cu. In. l4 ELECTRIC/GAS DOHC Turbocharged
2016
Audi
A3 Sportback e-tron
Progressive Hatchback 4-Door 1.4L 1395CC 85Cu. In. l4 ELECTRIC/GAS DOHC Turbocharged
2016
Audi
A4
Komfort Sedan 4-Door 2.0L 1984CC 121Cu. In. l4 GAS DOHC Turbocharged
2016
Audi
A5
Luxury Coupe 2-Door 1.8L 1798CC 110Cu. In. l4 GAS DOHC Turbocharged
2016
Audi
A5
Luxury Hatchback 4-Door 2.0L 1984CC 121Cu. In. l4 GAS DOHC Turbocharged
2016
Audi
A5
Premium Convertible 2-Door -CC -Cu. In. -- -
2016
Audi
A5
S Line Coupe 2-Door 3.0L 2995CC 183Cu. In. V6 GAS DOHC Supercharged
2016
Audi
A5
S Line Hatchback 4-Door 3.0L 2995CC 183Cu. In. V6 GAS DOHC Supercharged
2016
Audi
A5 Quattro
Komfort Convertible 2-Door 2.0L 1984CC 121Cu. In. l4 FLEX DOHC Turbocharged
2016
Audi
A5 Quattro
Komfort Coupe 2-Door 2.0L 1984CC 121Cu. In. l4 FLEX DOHC Turbocharged
2016
Audi
A5 Quattro
Komfort Coupe 2-Door 2.0L 1984CC 121Cu. In. l4 GAS DOHC Turbocharged
2016
Audi
A5 Quattro
Premium Convertible 2-Door 2.0L 1984CC 121Cu. In. l4 FLEX DOHC Turbocharged
2016
Audi
A5 Quattro
Premium Convertible 2-Door 2.0L 1984CC 121Cu. In. l4 GAS DOHC Turbocharged
2016
Audi
A5 Quattro
Premium Coupe 2-Door 2.0L 1984CC 121Cu. In. l4 GAS DOHC Turbocharged
2016
Audi
A5 Quattro
Premium Plus Convertible 2-Door 2.0L 1984CC 121Cu. In. l4 FLEX DOHC Turbocharged
2016
Audi
A5 Quattro
Premium Plus Convertible 2-Door 2.0L 1984CC 121Cu. In. l4 GAS DOHC Turbocharged
2016
Audi
A5 Quattro
Premium Plus Coupe 2-Door 2.0L 1984CC 121Cu. In. l4 GAS DOHC Turbocharged
2016
Audi
A5 Quattro
Progressiv Convertible 2-Door 2.0L 1984CC 121Cu. In. l4 FLEX DOHC Turbocharged
2016
Audi
A5 Quattro
Progressiv Convertible 2-Door 2.0L 1984CC 121Cu. In. l4 GAS DOHC Turbocharged
2016
Audi
A5 Quattro
Progressiv Coupe 2-Door 2.0L 1984CC 121Cu. In. l4 GAS DOHC Turbocharged
2016
Audi
A5 Quattro
Technik Convertible 2-Door 2.0L 1984CC 121Cu. In. l4 FLEX DOHC Turbocharged
2016
Audi
A5 Quattro
Technik Convertible 2-Door 2.0L 1984CC 121Cu. In. l4 GAS DOHC Turbocharged
2016
Audi
A5 Quattro
Technik Coupe 2-Door 2.0L 1984CC 121Cu. In. l4 FLEX DOHC Turbocharged
2016
Audi
A6
Elite Sedan 4-Door 2.0L 1984CC 121Cu. In. l4 GAS DOHC Turbocharged
2016
Audi
A6
Elite Sedan 4-Door 3.0L 2995CC 183Cu. In. V6 GAS DOHC Supercharged
2016
Audi
A6
Luxury Sedan 4-Door 1.8L 1798CC 110Cu. In. l4 GAS DOHC Turbocharged
2016
Audi
A6
S Line Sedan 4-Door 1.8L 1798CC 110Cu. In. l4 GAS DOHC Turbocharged
2016
Audi
A6
S Line Sedan 4-Door 2.0L 1984CC 121Cu. In. l4 GAS DOHC Turbocharged
2016
Audi
A6
S Line Sedan 4-Door 3.0L 2995CC 183Cu. In. V6 GAS DOHC Supercharged
2016
Audi
A6 Quattro
Prestige Sedan 4-Door 3.0L 2995CC V6 GAS DOHC Supercharged
2016
Audi
A6 Quattro
Progressiv Sedan 4-Door 2.0L 1984CC 121Cu. In. l4 GAS DOHC Turbocharged
2016
Audi
A6 Quattro
TDI Prestige Sedan 4-Door 3.0L 2967CC 181Cu. In. V6 DIESEL DOHC Turbocharged
2016
Audi
A6 Quattro
TDI Progressiv Sedan 4-Door 3.0L 2967CC 181Cu. In. V6 DIESEL DOHC Turbocharged
2016
Audi
A6 Quattro
TDI Technik Sedan 4-Door 3.0L 2967CC 181Cu. In. V6 DIESEL DOHC Turbocharged
2016
Audi
A6 Quattro
Technik Sedan 4-Door 3.0L 2995CC V6 GAS DOHC Supercharged
2016
Audi
A7
Elite Hatchback 4-Door 2.0L 1984CC 121Cu. In. l4 GAS DOHC Turbocharged
2016
Audi
A7
Elite Hatchback 4-Door 3.0L 2995CC 183Cu. In. V6 GAS DOHC Supercharged
2016
Audi
A7 Quattro
Premium Plus Hatchback 4-Door 3.0L 2995CC V6 GAS DOHC Supercharged
2016
Audi
A7 Quattro
Prestige Hatchback 4-Door 3.0L 2995CC V6 GAS DOHC Supercharged
2016
Audi
A7 Quattro
Progressiv Hatchback 4-Door 3.0L 2995CC V6 GAS DOHC Supercharged
2016
Audi
A7 Quattro
TDI Progressiv Hatchback 4-Door 3.0L 2967CC 181Cu. In. V6 DIESEL DOHC Turbocharged
2016
Audi
A7 Quattro
TDI Technik Hatchback 4-Door 3.0L 2967CC 181Cu. In. V6 DIESEL DOHC Turbocharged
2016
Audi
A8
3.0T Sedan 4-Door -CC -Cu. In. -- -
2016
Audi
A8
Base Sedan 4-Door 6.3L 6299CC 384Cu. In. W12 GAS DOHC Turbocharged
2016
Audi
A8
Elite Sedan 4-Door 3.0L 2995CC 183Cu. In. V6 GAS DOHC Supercharged
2016
Audi
A8
Premium Sedan 4-Door 3.0L 2995CC 183Cu. In. V6 GAS DOHC Supercharged
2016
Audi
A8
Premium Sedan 4-Door 4.0L 3993CC 244Cu. In. V8 GAS DOHC Turbocharged
2016
Audi
A8 Quattro
3.0T Sedan 4-Door -CC -Cu. In. -- -
2016
Audi
A8 Quattro
6.3L Sedan 4-Door -CC -Cu. In. -- -
2016
Audi
A8 Quattro
Base Sedan 4-Door 3.0L 2995CC V6 GAS DOHC Supercharged
2016
Audi
A8 Quattro
L Sedan 4-Door 4.0L 3993CC 243Cu. In. V8 GAS DOHC Turbocharged
2016
Audi
A8 Quattro
L TDI Sedan 4-Door 3.0L 2967CC 181Cu. In. V6 DIESEL DOHC Turbocharged
2016
Audi
A8 Quattro
L W12 Sedan 4-Door 6.3L 6229CC 384Cu. In. W12 GAS DOHC Naturally Aspirated
2016
Audi
Q3 Quattro
Premium Plus Sport Utility 4-Door 2.0L 1984CC 121Cu. In. l4 GAS DOHC Turbocharged
2016
Audi
Q3 Quattro
Prestige Sport Utility 4-Door 2.0L 1984CC 121Cu. In. l4 GAS DOHC Turbocharged
2016
Audi
Q5
Elite Sport Utility 4-Door 2.0L 1984CC 121Cu. In. l4 GAS DOHC Turbocharged
2016
Audi
Q5
Elite Sport Utility 4-Door 3.0L 2967CC 181Cu. In. V6 DIESEL DOHC Turbocharged
2016
Audi
Q5
Elite Sport Utility 4-Door 3.0L 2995CC 183Cu. In. V6 GAS DOHC Supercharged
2016
Audi
Q5
Hybrid Prestige Sport Utility 4-Door 2.0L 1984CC 121Cu. In. l4 ELECTRIC/GAS DOHC Turbocharged
2016
Audi
Q5
Komfort Sport Utility 4-Door 2.0L 1984CC 121Cu. In. l4 FLEX DOHC Turbocharged
2016
Audi
Q5
Luxury Sport Utility 4-Door 2.0L 1984CC 121Cu. In. l4 GAS DOHC Turbocharged
2016
Audi
Q5
Premium Plus Sport Utility 4-Door 2.0L 1984CC 121Cu. In. l4 FLEX DOHC Turbocharged
2016
Audi
Q5
Premium Plus Sport Utility 4-Door 3.0L 2995CC V6 GAS DOHC Supercharged
2016
Audi
Q5
Premium Sport Utility 4-Door 2.0L 1984CC 121Cu. In. l4 FLEX DOHC Turbocharged
2016
Audi
Q5
Prestige Sport Utility 4-Door 3.0L 2995CC V6 GAS DOHC Supercharged
2016
Audi
Q5
Progressiv Sport Utility 4-Door 2.0L 1984CC 121Cu. In. l4 FLEX DOHC Turbocharged
2016
Audi
Q5
TDI Premium Plus Sport Utility 4-Door 3.0L 2967CC 181Cu. In. V6 DIESEL DOHC Turbocharged
2016
Audi
Q5
TDI Prestige S-Line Sport Utility 4-Door 3.0L 2967CC 181Cu. In. V6 DIESEL DOHC Turbocharged
2016
Audi
Q5
TDI Prestige Sport Utility 4-Door 3.0L 2967CC 181Cu. In. V6 DIESEL DOHC Turbocharged
2016
Audi
Q5
TDI Technik Sport Utility 4-Door 3.0L 2967CC 181Cu. In. V6 DIESEL DOHC Turbocharged
2016
Audi
Q5
Technik Sport Utility 4-Door 2.0L 1984CC 121Cu. In. l4 FLEX DOHC Turbocharged
2016
Audi
Q5
Technik Sport Utility 4-Door 3.0L 2995CC V6 GAS DOHC Supercharged
2016
Audi
Q7
Elite Sport Utility 4-Door 3.0L 2967CC 181Cu. In. V6 DIESEL DOHC Turbocharged
2016
Audi
Q7
Elite Sport Utility 4-Door 3.0L 2995CC 183Cu. In. V6 GAS DOHC Supercharged
2016
Audi
Q7
S Line Sport Utility 4-Door 3.0L 2995CC 183Cu. In. V6 GAS DOHC Supercharged
2016
Audi
TT
Base Coupe 2-Door 2.0L 1984CC 121Cu. In. l4 GAS DOHC Turbocharged
2016
Blue Bird
All American FE
AAC3401-3502 Bus (School) - Cab Forward 6.7L 408Cu. In. l6 DIESEL Turbocharged
2016
Blue Bird
All American FE
AAC3503-3604 Bus (School) - Cab Forward 6.7L 408Cu. In. l6 DIESEL Turbocharged
2016
Blue Bird
All American FE
AAC3904-4100 Bus (School) - Cab Forward 6.7L 408Cu. In. l6 DIESEL Turbocharged
2016
Chevrolet
Caprice
PPV Sedan 4-Door 6.0L 5967CC 364Cu. In. V8 FLEX OHV Naturally Aspirated
2016
Chevrolet
Express 3500
Base Extended Cargo Van 3-Door 6.6L 6599CC 403Cu. In. V8 DIESEL OHV Turbocharged
2016
Chevrolet
Express 3500
LT Standard Passenger Van 4-Door 6.0L 5967CC 364Cu. In. V8 FLEX OHV Naturally Aspirated
2016
Chevrolet
Silverado 1500
LT Crew Cab Pickup 4-Door 5.3L 5328CC 325Cu. In. V8 GAS OHV Naturally Aspirated
2016
Chevrolet
Silverado 1500
LT Extended Cab Pickup 4-Door 4.3L 262Cu. In. V6 FLEX OHV Naturally Aspirated
2016
Chevrolet
Silverado 1500
SSV Crew Cab Pickup 4-Door 5.3L 5328CC 325Cu. In. V8 GAS OHV Naturally Aspirated
2016
Chevrolet
Silverado 2500 HD
LT Standard Cab Pickup 2-Door 6.6L 6599CC 403Cu. In. V8 DIESEL OHV Turbocharged
2016
Chevrolet
Silverado 2500 HD
WT Standard Cab Pickup 2-Door 6.0L 5967CC 364Cu. In. V8 GAS OHV Naturally Aspirated
2016
Chevrolet
Silverado 3500 HD
LT Cab & Chassis 4-Door 6.0L 5967CC 364Cu. In. V8 CNG OHV Naturally Aspirated
2016
Chevrolet
Silverado 3500 HD
LT Crew Cab Pickup 4-Door 6.6L 6599CC 403Cu. In. V8 DIESEL OHV Turbocharged
2016
Chevrolet
Tahoe
LT Sport Utility 4-Door 5.3L 5328CC 325Cu. In. V8 FLEX OHV Naturally Aspirated
2016
Dodge
Durango
R/T Sport Utility 4-Door 5.7L 345Cu. In. V8 GAS OHV Naturally Aspirated
2016
Dodge
Durango
Special Service Sport Utility 4-Door 5.7L 345Cu. In. V8 GAS OHV Naturally Aspirated
2016
Ford
E-450 Super Duty
Base Stripped Chassis - Incomplete 6.8L 415Cu. In. V10 CNG SOHC Naturally Aspirated
2016
Ford
Edge
Titanium Sport Utility 4-Door 2.0L 1999CC 122Cu. In. l4 GAS DOHC Turbocharged
2016
Ford
F-150
XL Crew Cab Pickup 4-Door 5.0L 4951CC 302Cu. In. V8 FLEX DOHC Naturally Aspirated
2016
Ford
F-150
XL Extended Cab Pickup 4-Door 5.0L 4951CC 302Cu. In. V8 FLEX DOHC Naturally Aspirated
2016
Ford
F-150
XL Standard Cab Pickup 2-Door 3.5L 3496CC 213Cu. In. V6 GAS DOHC Turbocharged
2016
Ford
F-250 Super Duty
XLT Crew Cab Pickup 4-Door 6.7L 6651CC 406Cu. In. V8 DIESEL OHV Turbocharged
2016
Ford
F-450 Super Duty
XLT Cab & Chassis - Long Conventional 2-Door 6.8L 415Cu. In. V10 GAS SOHC Naturally Aspirated
2016
Ford
Fiesta
S Sedan 4-Door 1.6L 1598CC 98Cu. In. l4 GAS SOHC Naturally Aspirated
2016
Ford
Fiesta
SE Hatchback 4-Door 1.0L 999CC 61Cu. In. l3 GAS DOHC Turbocharged
2016
Ford
Fiesta
SE Sedan 4-Door 1.6L 1598CC 98Cu. In. l4 GAS SOHC Naturally Aspirated
2016
Ford
Focus
S Sedan 4-Door 2.0L 1999CC 122Cu. In. l4 GAS DOHC Naturally Aspirated
2016
Ford
Mustang
Shelby GT350R Coupe 2-Door 5.2L 5163CC 315Cu. In. V8 GAS DOHC Naturally Aspirated
2016
Ford
Police Interceptor Sedan
Base Sedan 4-Door 3.5L 3496CC 213Cu. In. V6 GAS DOHC Turbocharged
2016
Ford
Transit-150
XLT Standard Passenger Van 3-Door 3.7L 3726CC 227Cu. In. V6 LPG DOHC Naturally Aspirated
2016
Ford
Transit-250
Base Extended Cargo Van 4-Door 3.7L 3726CC 227Cu. In. V6 CNG DOHC Naturally Aspirated
2016
Honda
Accord
LX Sedan 4-Door 2.4L 2356CC 144Cu. In. l4 GAS DOHC Naturally Aspirated
2016
Honda
Civic
EX Sedan 4-Door 2.0L 1996CC 122Cu. In. l4 GAS DOHC Naturally Aspirated
2016
Honda
Civic
LX Coupe 2-Door 2.0L 1996CC 122Cu. In. l4 GAS DOHC Naturally Aspirated
2016
Honda
CR-V
EX Sport Utility 4-Door 2.4L 2356CC 144Cu. In. l4 GAS DOHC Naturally Aspirated
2016
Honda
CR-V
EX-L Sport Utility 4-Door 2.4L 2356CC 144Cu. In. l4 GAS DOHC Naturally Aspirated
2016
Honda
CR-V
i-Style Sport Utility 4-Door 2.4L 2351CC l4 GAS DOHC Naturally Aspirated
2016
Honda
CR-V
LX Sport Utility 4-Door 2.4L 2356CC 144Cu. In. l4 GAS DOHC Naturally Aspirated
2016
Honda
CR-V
Touring Sport Utility 4-Door 2.4L 2356CC 144Cu. In. l4 GAS DOHC Naturally Aspirated
2016
Honda
CR-Z
EX Hatchback 2-Door 1.5L 1497CC 91Cu. In. l4 ELECTRIC/GAS SOHC Naturally Aspirated
2016
Honda
CR-Z
EX-L Hatchback 2-Door 1.5L 1497CC 91Cu. In. l4 ELECTRIC/GAS SOHC Naturally Aspirated
2016
Honda
CR-Z
LX Hatchback 2-Door 1.5L 1497CC 91Cu. In. l4 ELECTRIC/GAS SOHC Naturally Aspirated
2016
Honda
Fit
Hit Hatchback 4-Door 1.5L 1496CC 91Cu. In. l4 GAS SOHC Naturally Aspirated
2016
Honda
HR-V
Epic Sport Utility 4-Door 1.8L 1799CC l4 GAS SOHC Naturally Aspirated
2016
Honda
HR-V
EX Sport Utility 4-Door 1.8L 1799CC l4 GAS SOHC Naturally Aspirated
2016
Honda
HR-V
EX-L Sport Utility 4-Door 1.8L 1799CC l4 GAS SOHC Naturally Aspirated
2016
Honda
HR-V
LX Sport Utility 4-Door 1.8L 1799CC l4 GAS SOHC Naturally Aspirated
2016
Honda
HR-V
Uniq Sport Utility 4-Door 1.8L 1799CC l4 GAS SOHC Naturally Aspirated
2016
Hyundai
Elantra
GL Sedan 4-Door 1.8L 1797CC l4 GAS DOHC Naturally Aspirated
2016
Hyundai
Elantra
GLS Sedan 4-Door 1.8L 1797CC 110Cu. In. l4 GAS DOHC Naturally Aspirated
2016
Hyundai
Elantra
GLS Sedan 4-Door 2.0L 1999CC l4 GAS DOHC Naturally Aspirated
2016
Hyundai
Elantra
Limited Sedan 4-Door 1.8L 1797CC l4 GAS DOHC Naturally Aspirated
2016
Hyundai
Elantra
Limited Sedan 4-Door 2.0L 1999CC l4 GAS DOHC Naturally Aspirated
2016
Hyundai
Elantra
SE Sedan 4-Door 1.8L 1797CC l4 GAS DOHC Naturally Aspirated
2016
Hyundai
Santa Fe
Limited Sport Utility 4-Door 3.3L 3342CC V6 GAS DOHC Naturally Aspirated
2016
Hyundai
Santa Fe
SE Sport Utility 4-Door 3.3L 3342CC V6 GAS DOHC Naturally Aspirated
2016
Hyundai
Santa Fe
Sport 2.0T Sport Utility 4-Door 2.0L 1998CC 122Cu. In. l4 GAS DOHC Turbocharged
2016
Hyundai
Santa Fe
Sport Sport Utility 4-Door 2.4L 2359CC l4 GAS DOHC Naturally Aspirated
2016
Hyundai
Sonata
Eco Sedan 4-Door 1.6L 1591CC 97Cu. In. l4 GAS DOHC Turbocharged
2016
Hyundai
Sonata
GL Sedan 4-Door 2.4L 2359CC l4 GAS DOHC Naturally Aspirated
2016
Hyundai
Sonata
Hybrid Sedan 4-Door 2.0L 1999CC l4 ELECTRIC/GAS DOHC Naturally Aspirated
2016
Hyundai
Sonata
Limited 2.0T Sedan 4-Door 2.0L 1998CC 122Cu. In. l4 GAS DOHC Turbocharged
2016
Hyundai
Sonata
Limited Sedan 4-Door 2.4L 2359CC l4 GAS DOHC Naturally Aspirated
2016
Hyundai
Sonata
Plug-In Hybrid Limited Sedan 4-Door 2.0L 1999CC l4 ELECTRIC/GAS DOHC Naturally Aspirated
2016
Hyundai
Sonata
Plug-In Hybrid Sedan 4-Door 2.0L 1999CC l4 ELECTRIC/GAS DOHC Naturally Aspirated
2016
Hyundai
Sonata
Plug-In Hybrid Ultimate Sedan 4-Door 2.0L 1999CC l4 ELECTRIC/GAS DOHC Naturally Aspirated
2016
Hyundai
Sonata
Sport 2.0T Sedan 4-Door 2.0L 1998CC 122Cu. In. l4 GAS DOHC Turbocharged
2016
Hyundai
Sonata
Sport Sedan 4-Door 2.0L 1998CC 122Cu. In. l4 GAS DOHC Turbocharged
2016
Hyundai
Sonata
Sport Sedan 4-Door 2.4L 2359CC l4 GAS DOHC Naturally Aspirated
2016
Hyundai
Sonata
Sport Tech Sedan 4-Door 2.4L 2359CC l4 GAS DOHC Naturally Aspirated
2016
Hyundai
Sonata
Ultimate 2.0T Sedan 4-Door 2.0L 1998CC 122Cu. In. l4 GAS DOHC Turbocharged
2016
Hyundai
Tucson
Base Sport Utility 4-Door 2.0L 1999CC l4 GAS DOHC Naturally Aspirated
2016
Hyundai
Tucson
Eco Sport Utility 4-Door 1.6L 1591CC 97Cu. In. l4 GAS DOHC Turbocharged
2016
Hyundai
Tucson
Limited Sport Utility 4-Door 1.6L 1591CC 97Cu. In. l4 GAS DOHC Turbocharged
2016
Hyundai
Tucson
Limited Sport Utility 4-Door 2.0L 1999CC 122Cu. In. l4 GAS DOHC Naturally Aspirated
2016
Hyundai
Tucson
Premium Sport Utility 4-Door 1.6L 1591CC 97Cu. In. l4 GAS DOHC Turbocharged
2016
Hyundai
Tucson
Premium Sport Utility 4-Door 2.0L 1999CC l4 GAS DOHC Naturally Aspirated
2016
Hyundai
Tucson
SE Sport Utility 4-Door 2.0L 1999CC l4 GAS DOHC Naturally Aspirated
2016
Hyundai
Tucson
Sport Sport Utility 4-Door 1.6L 1591CC 97Cu. In. l4 GAS DOHC Turbocharged
2016
Hyundai
Tucson
Ultimate Sport Utility 4-Door 1.6L 1591CC 97Cu. In. l4 GAS DOHC Turbocharged
2016
Jeep
Cherokee
75th Anniversary Sport Utility 4-Door 3.2L 3239CC 198Cu. In. V6 GAS DOHC Naturally Aspirated
2016
Jeep
Cherokee
Latitude Sport Utility 4-Door 2.4L 2360CC 144Cu. In. l4 GAS SOHC Naturally Aspirated
2016
Jeep
Cherokee
Latitude Sport Utility 4-Door 3.2L 3239CC 198Cu. In. V6 GAS DOHC Naturally Aspirated
2016
Jeep
Cherokee
Limited Sport Utility 4-Door 2.4L 2360CC 144Cu. In. l4 GAS SOHC Naturally Aspirated
2016
Jeep
Cherokee
Limited Sport Utility 4-Door 3.2L 3239CC 198Cu. In. V6 GAS DOHC Naturally Aspirated
2016
Jeep
Cherokee
North Sport Utility 4-Door 2.4L 2360CC 144Cu. In. l4 GAS SOHC Naturally Aspirated
2016
Jeep
Cherokee
North Sport Utility 4-Door 3.2L 3239CC 198Cu. In. V6 GAS DOHC Naturally Aspirated
2016
Jeep
Cherokee
Sport Sport Utility 4-Door 2.4L 2360CC 144Cu. In. l4 GAS SOHC Naturally Aspirated
2016
Jeep
Cherokee
Trailhawk Sport Utility 4-Door 3.2L 3239CC 198Cu. In. V6 GAS DOHC Naturally Aspirated
2016
Jeep
Compass
Latitude Sport Utility 4-Door 2.4L 2360CC 144Cu. In. l4 GAS DOHC Naturally Aspirated
2016
Jeep
Compass
Sport Sport Utility 4-Door 2.0L 1998CC 122Cu. In. l4 GAS DOHC Naturally Aspirated
2016
Jeep
Compass
Sport Sport Utility 4-Door 2.4L 2360CC 144Cu. In. l4 GAS DOHC Naturally Aspirated
2016
Jeep
Grand Cherokee
Limited Sport Utility 4-Door 3.0L 2987CC 182Cu. In. V6 DIESEL DOHC Turbocharged
2016
Jeep
Grand Cherokee
Limited Sport Utility 4-Door 3.6L 3604CC 220Cu. In. V6 GAS Naturally Aspirated
2016
Jeep
Grand Cherokee
Limited Sport Utility 4-Door 5.7L 5654CC 345Cu. In. V8 GAS Naturally Aspirated
2016
Jeep
Grand Cherokee
Overland Sport Utility 4-Door 3.0L 2987CC 182Cu. In. V6 DIESEL DOHC Turbocharged
2016
Jeep
Grand Cherokee
Overland Sport Utility 4-Door 3.6L 3604CC 220Cu. In. V6 FLEX DOHC Naturally Aspirated
2016
Jeep
Grand Cherokee
Overland Sport Utility 4-Door 5.7L 345Cu. In. V8 GAS OHV Naturally Aspirated
2016
Jeep
Patriot
Latitude Sport Utility 4-Door 2.0L 1998CC 122Cu. In. l4 GAS DOHC Naturally Aspirated
2016
Jeep
Patriot
Latitude Sport Utility 4-Door 2.4L 2360CC 144Cu. In. l4 GAS DOHC Naturally Aspirated
2016
Jeep
Patriot
North Sport Utility 4-Door 2.0L 1998CC 122Cu. In. l4 GAS DOHC Naturally Aspirated
2016
Jeep
Patriot
Sport Sport Utility 4-Door 2.0L 1998CC 122Cu. In. l4 GAS DOHC Naturally Aspirated
2016
Jeep
Wrangler
Sahara Sport Utility 2-Door 3.6L 3604CC 220Cu. In. V6 GAS DOHC Naturally Aspirated
2016
Jeep
Wrangler
Sport S Sport Utility 2-Door 3.6L 3604CC 220Cu. In. V6 GAS DOHC Naturally Aspirated
2016
Jeep
Wrangler
Sport Sport Utility 2-Door 3.6L 3604CC 220Cu. In. V6 GAS DOHC Naturally Aspirated
2016
Jeep
Wrangler
Unlimited Rubicon Sport Utility 4-Door 3.6L 3604CC 220Cu. In. V6 GAS DOHC Naturally Aspirated
2016
Jeep
Wrangler
Unlimited Sport S Sport Utility 4-Door 3.6L 3604CC 220Cu. In. V6 GAS DOHC Naturally Aspirated
2016
Lexus
ES300h
Base Sedan 4-Door 2.5L 2494CC 152Cu. In. l4 ELECTRIC/GAS DOHC Naturally Aspirated
2016
Lexus
ES350
Base Sedan 4-Door 3.5L 3456CC V6 GAS DOHC Naturally Aspirated
2016
Lexus
GS450h
Base Sedan 4-Door 3.5L 3456CC V6 ELECTRIC/GAS DOHC Naturally Aspirated
2016
Lexus
GS450h
F Sport Sedan 4-Door 3.5L 3456CC V6 ELECTRIC/GAS DOHC Naturally Aspirated
2016
Lexus
IS300
Base Sedan 4-Door 3.5L 3456CC V6 GAS DOHC Naturally Aspirated
2016
Lexus
IS300
F Sport Sedan 4-Door 3.5L 3456CC V6 GAS DOHC Naturally Aspirated
2016
Lexus
RX350
Base Sport Utility 4-Door 3.5L 3456CC V6 GAS DOHC Naturally Aspirated
2016
Lexus
RX350
F Sport Sport Utility 4-Door 3.5L 3456CC V6 GAS DOHC Naturally Aspirated
2016
Mazda
3
G Sedan 4-Door 2.0L 1998CC 122Cu. In. l4 GAS DOHC Naturally Aspirated
2016
Mazda
3
GS Sedan 4-Door 2.0L 1998CC 122Cu. In. l4 GAS DOHC Naturally Aspirated
2016
Mazda
3
GT Sedan 4-Door 2.5L 2488CC 152Cu. In. l4 GAS DOHC Naturally Aspirated
2016
Mazda
3
GX Sedan 4-Door 2.0L 1998CC 122Cu. In. l4 GAS DOHC Naturally Aspirated
2016
Mazda
3
i Grand Touring Hatchback 4-Door 2.0L 1998CC 122Cu. In. l4 GAS DOHC Naturally Aspirated
2016
Mazda
3
i Grand Touring Sedan 4-Door 2.0L 1998CC 122Cu. In. l4 GAS DOHC Naturally Aspirated
2016
Mazda
3
i Sedan 4-Door 2.0L 1998CC 122Cu. In. l4 GAS DOHC Naturally Aspirated
2016
Mazda
3
I Sport Hatchback 4-Door 2.0L 1998CC 122Cu. In. l4 GAS DOHC Naturally Aspirated
2016
Mazda
3
I Touring Hatchback 4-Door 2.0L 1998CC 122Cu. In. l4 GAS DOHC Naturally Aspirated
2016
Mazda
3
I Touring Sedan 4-Door 2.0L 1998CC 122Cu. In. l4 GAS DOHC Naturally Aspirated
2016
Mazda
3
s Grand Touring Hatchback 4-Door 2.5L 2488CC 152Cu. In. l4 GAS DOHC Naturally Aspirated
2016
Mazda
3
S Sedan 4-Door 2.5L 2488CC 152Cu. In. l4 GAS DOHC Naturally Aspirated
2016
Mazda
3
s Touring Hatchback 4-Door 2.5L 2488CC 152Cu. In. l4 GAS DOHC Naturally Aspirated
2016
Mazda
3
s Touring Sedan 4-Door 2.5L 2488CC 152Cu. In. l4 GAS DOHC Naturally Aspirated
2016
Mazda
6
GS Sedan 4-Door 2.5L 2488CC 152Cu. In. l4 GAS DOHC Naturally Aspirated
2016
Mazda
6
GT Sedan 4-Door 2.5L 2488CC 152Cu. In. l4 GAS DOHC Naturally Aspirated
2016
Mazda
6
GX Sedan 4-Door 2.5L 2488CC 152Cu. In. l4 GAS DOHC Naturally Aspirated
2016
Mazda
6
i Sedan 4-Door 2.5L 2488CC 152Cu. In. l4 GAS DOHC Naturally Aspirated
2016
Mazda
6
Sport Sedan 4-Door 2.5L 2488CC 152Cu. In. l4 GAS DOHC Naturally Aspirated
2016
Mazda
6
Touring Sedan 4-Door 2.5L 2488CC 152Cu. In. l4 GAS DOHC Naturally Aspirated
2016
Mazda
CX-5
Grand Touring Sport Utility 4-Door 2.5L 2488CC 152Cu. In. l4 GAS DOHC Naturally Aspirated
2016
Mazda
CX-5
GS Sport Utility 4-Door 2.5L 2488CC 152Cu. In. l4 GAS DOHC Naturally Aspirated
2016
Mazda
CX-5
GX Sport Utility 4-Door 2.0L 1998CC 122Cu. In. l4 GAS DOHC Naturally Aspirated
2016
Mazda
CX-5
i Sport Utility 4-Door 2.0L 1998CC 122Cu. In. l4 GAS DOHC Naturally Aspirated
2016
Mazda
CX-5
S Sport Utility 4-Door 2.5L 2488CC 152Cu. In. l4 GAS DOHC Naturally Aspirated
2016
Mazda
CX-5
Sport Sport Utility 4-Door 2.0L 1998CC 122Cu. In. l4 GAS DOHC Naturally Aspirated
2016
Mazda
CX-5
Sport Sport Utility 4-Door 2.5L 2488CC 152Cu. In. l4 GAS DOHC Naturally Aspirated
2016
Mazda
CX-5
Touring Sport Utility 4-Door 2.5L 2488CC 152Cu. In. l4 GAS DOHC Naturally Aspirated
2016
Nissan
Altima
Advance Sedan 4-Door 2.5L 2488CC 152Cu. In. l4 GAS DOHC Naturally Aspirated
2016
Nissan
Altima
Exclusive Sedan 4-Door 3.5L 3498CC 213Cu. In. V6 GAS DOHC Naturally Aspirated
2016
Nissan
Altima
SL Sedan 4-Door 2.5L 2488CC 152Cu. In. l4 GAS DOHC Naturally Aspirated
2016
Nissan
Altima
SL Sedan 4-Door 3.5L 3498CC V6 GAS DOHC Naturally Aspirated
2016
Nissan
Altima
SV Sedan 4-Door 2.5L 2488CC 152Cu. In. l4 GAS DOHC Naturally Aspirated
2016
Nissan
Rogue
S Sport Utility 4-Door 2.5L 2488CC 152Cu. In. l4 GAS DOHC Naturally Aspirated
2016
Nissan
Rogue
SL Sport Utility 4-Door 2.5L 2488CC 152Cu. In. l4 GAS DOHC Naturally Aspirated
2016
Nissan
X-Trail
Advance Sport Utility 4-Door 2.5L 2488CC 152Cu. In. l4 GAS DOHC Naturally Aspirated
2016
Nissan
X-Trail
Exclusive Sport Utility 4-Door 2.5L 2488CC 152Cu. In. l4 GAS DOHC Naturally Aspirated
2016
Ram
3500
Big Horn Extended Crew Cab Pickup 4-Door 6.4L 6424CC 392Cu. In. V8 GAS OHV Naturally Aspirated
2016
Ram
3500
Laramie Extended Crew Cab Pickup 4-Door 6.7L 408Cu. In. l6 DIESEL OHV Turbocharged
2016
Ram
3500
ST Extended Crew Cab Pickup 4-Door 5.7L 345Cu. In. V8 GAS OHV Naturally Aspirated
2016
Ram
3500
ST Standard Cab Pickup 2-Door 5.7L 345Cu. In. V8 GAS OHV Naturally Aspirated
2016
Subaru
Forester
2.0XT Limited Wagon 4-Door 2.0L 1998CC 122Cu. In. H4 GAS DOHC Turbocharged
2016
Toyota
4Runner
Limited Sport Utility 4-Door 4.0L 3956CC 241Cu. In. V6 GAS DOHC Naturally Aspirated
2016
Toyota
Camry
LE Sedan 4-Door 2.5L 2494CC 152Cu. In. l4 GAS DOHC Naturally Aspirated
2016
Toyota
Camry
SE Sedan 4-Door 2.5L 2494CC 152Cu. In. l4 GAS DOHC Naturally Aspirated
2016
Toyota
Corolla
Base Sedan 4-Door 1.8L 1794CC 109Cu. In. l4 GAS DOHC Naturally Aspirated
2016
Toyota
Corolla
C Sedan 4-Door 1.8L 1794CC 109Cu. In. l4 GAS DOHC Naturally Aspirated
2016
Toyota
Corolla
CE Sedan 4-Door 1.8L 1798CC 110Cu. In. l4 GAS DOHC Naturally Aspirated
2016
Toyota
Corolla
L Sedan 4-Door 1.8L 1798CC 110Cu. In. l4 GAS DOHC Naturally Aspirated
2016
Toyota
Corolla
LE Sedan 4-Door 1.8L 1794CC 109Cu. In. l4 GAS DOHC Naturally Aspirated
2016
Toyota
Corolla
LE Sedan 4-Door 1.8L 1798CC 110Cu. In. l4 GAS DOHC Naturally Aspirated
2016
Toyota
Corolla
S Plus Sedan 4-Door 1.8L 1794CC 109Cu. In. l4 GAS DOHC Naturally Aspirated
2016
Toyota
Corolla
S Sedan 4-Door 1.8L 1794CC 109Cu. In. l4 GAS DOHC Naturally Aspirated
2016
Toyota
Corolla
S Sedan 4-Door 1.8L 1798CC 110Cu. In. l4 GAS DOHC Naturally Aspirated
2016
Toyota
Corolla
Special Edition Sedan 4-Door 1.8L 1798CC 110Cu. In. l4 GAS DOHC Naturally Aspirated
2016
Toyota
Highlander
Hybrid LE Sport Utility 4-Door 3.5L 3456CC V6 ELECTRIC/GAS DOHC Naturally Aspirated
2016
Toyota
RAV4
SE Sport Utility 4-Door 2.5L 2488CC 152Cu. In. l4 GAS Naturally Aspirated
2016
Toyota
Tundra
Limited Extended Crew Cab Pickup 4-Door 5.7L 5663CC 345Cu. In. V8 GAS DOHC Naturally Aspirated
2016
Toyota
Tundra
SR Standard Cab Pickup 2-Door 4.6L 4608CC V8 GAS DOHC Naturally Aspirated
2016
Toyota
Yaris
L Hatchback 2-Door 1.5L 1497CC l4 GAS DOHC Naturally Aspirated
2016
Toyota
Yaris
SE Hatchback 4-Door 1.5L 1497CC l4 GAS DOHC Naturally Aspirated
2016
Volkswagen
Beetle
1.8T S Convertible 2-Door -CC -Cu. In. -- -
2016
Volkswagen
Beetle
1.8T SE Convertible 2-Door -CC -Cu. In. -- -
2016
Volkswagen
Beetle
1.8T SEL Convertible 2-Door -CC -Cu. In. -- -
2016
Volkswagen
Beetle
2.0L TDI SE Convertible 2-Door -CC -Cu. In. -- -
2016
Volkswagen
Beetle
2.0L TDI SEL Convertible 2-Door -CC -Cu. In. -- -
2016
Volkswagen
Beetle
2.0T R-Line SE Convertible 2-Door -CC -Cu. In. -- -
2016
Volkswagen
Beetle
2.0T R-Line SEL Convertible 2-Door -CC -Cu. In. -- -
2016
Volkswagen
Beetle
Classic Hatchback 2-Door 1.8L 1798CC 110Cu. In. l4 GAS DOHC Turbocharged
2016
Volkswagen
Beetle
Comfortline Convertible 2-Door 1.8L 1798CC 110Cu. In. l4 GAS DOHC Turbocharged
2016
Volkswagen
Beetle
Comfortline Hatchback 2-Door 1.8L 1798CC 110Cu. In. l4 GAS DOHC Turbocharged
2016
Volkswagen
Beetle
Fleet Edition Hatchback 2-Door 1.8L 1798CC 110Cu. In. l4 GAS DOHC Turbocharged
2016
Volkswagen
Beetle
R-Line Convertible 2-Door -CC -Cu. In. -- -
2016
Volkswagen
Beetle
R-Line Coupe 2-Door -CC -Cu. In. -- -
2016
Volkswagen
Beetle
R-Line S Convertible 2-Door 2.0L 1984CC 121Cu. In. l4 GAS DOHC Turbocharged
2016
Volkswagen
Beetle
R-Line SE Convertible 2-Door 2.0L 1984CC 121Cu. In. l4 GAS DOHC Turbocharged