Set of 8 Ignition Coils For Ford Lincoln DG508 & 8 Motorcraft Spark Plugs SP493
| | |
| --- | --- |
| Brand/Part #: | Clearance DQ50101x8 SP493x8cs |
| Location: | Los Angeles, California, US |
| Ship To Locations: | US - FREE SHIPPING |

Set of 8 Motorcraft Spark Plugs SP493 & 8 Ignition Coils For Ford Lincoln DG508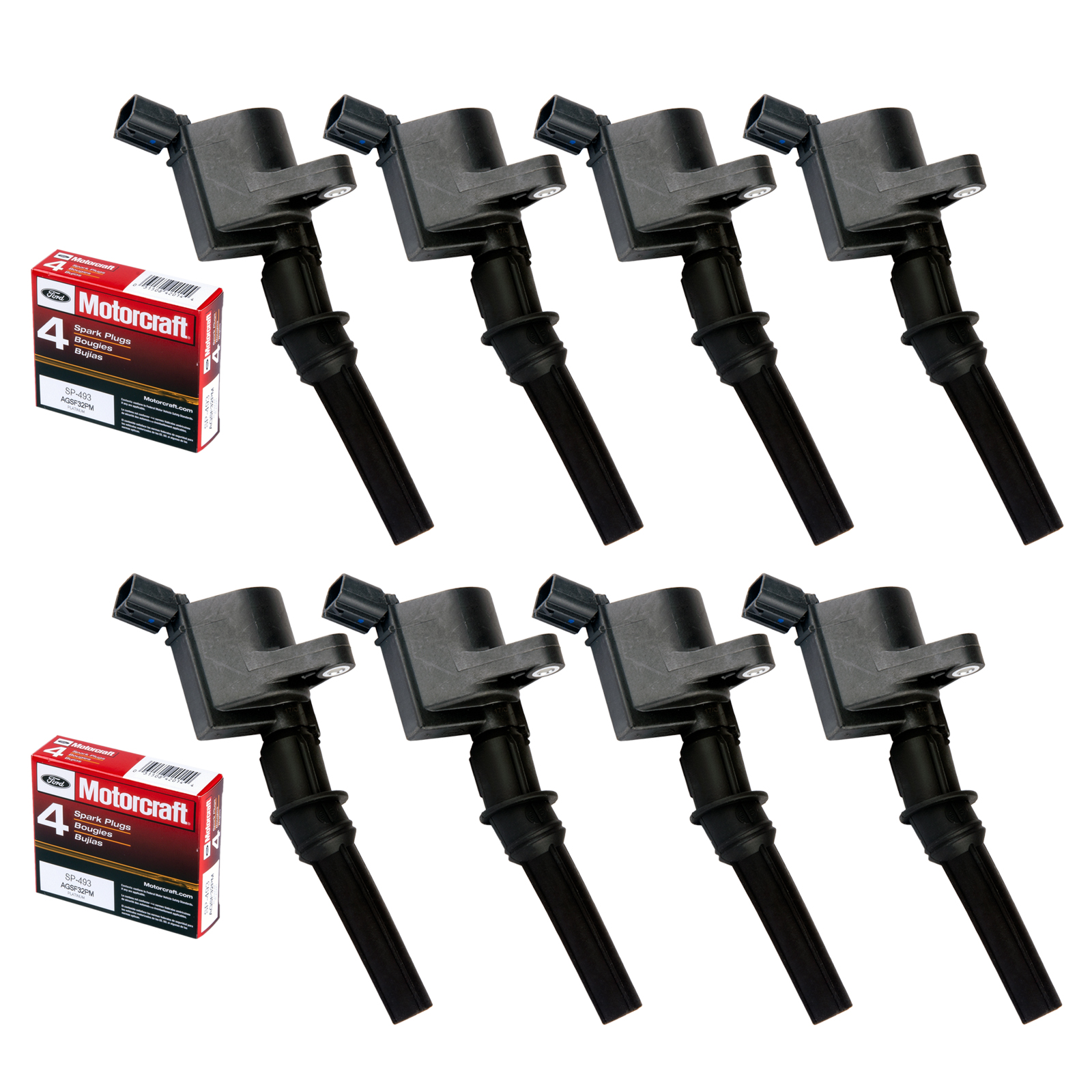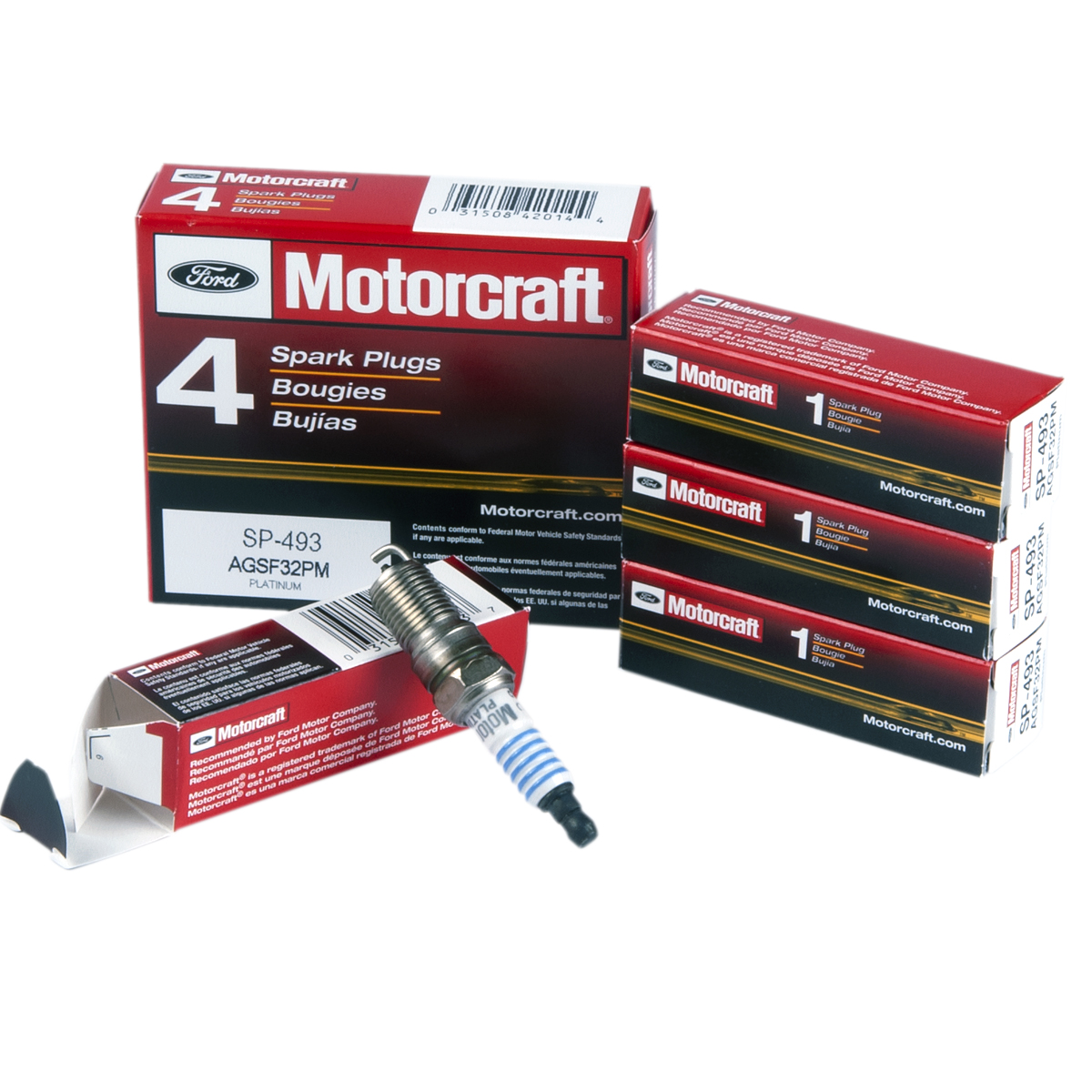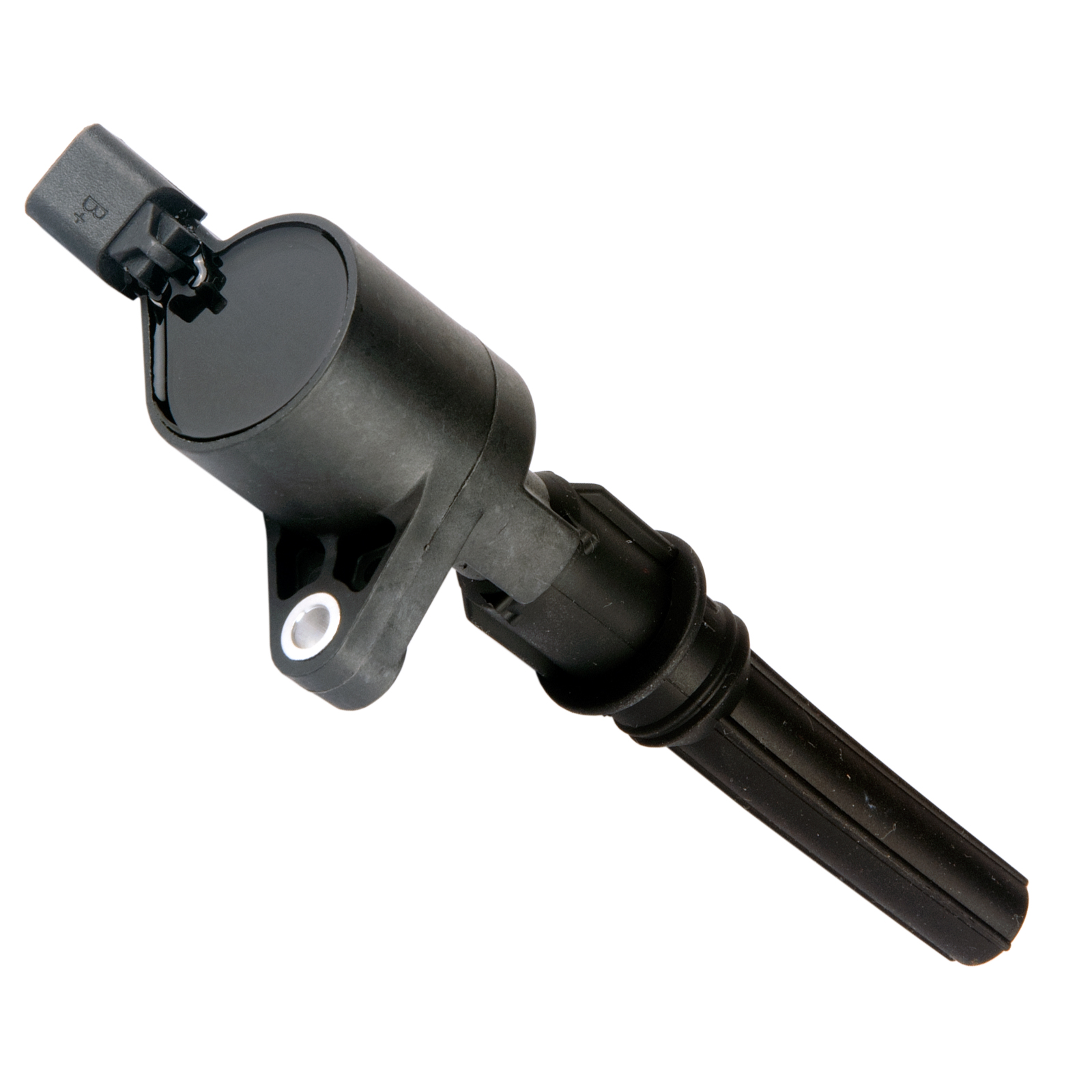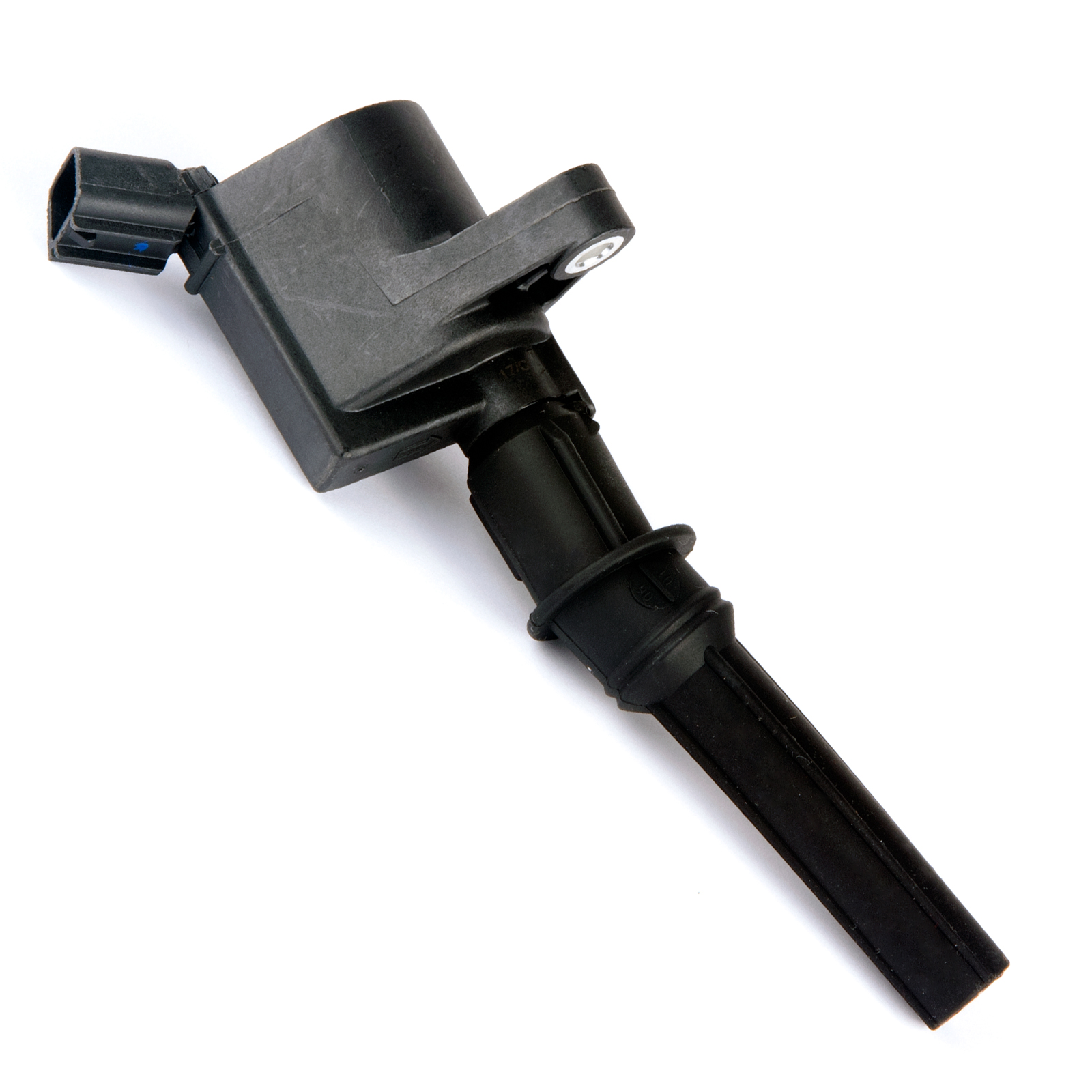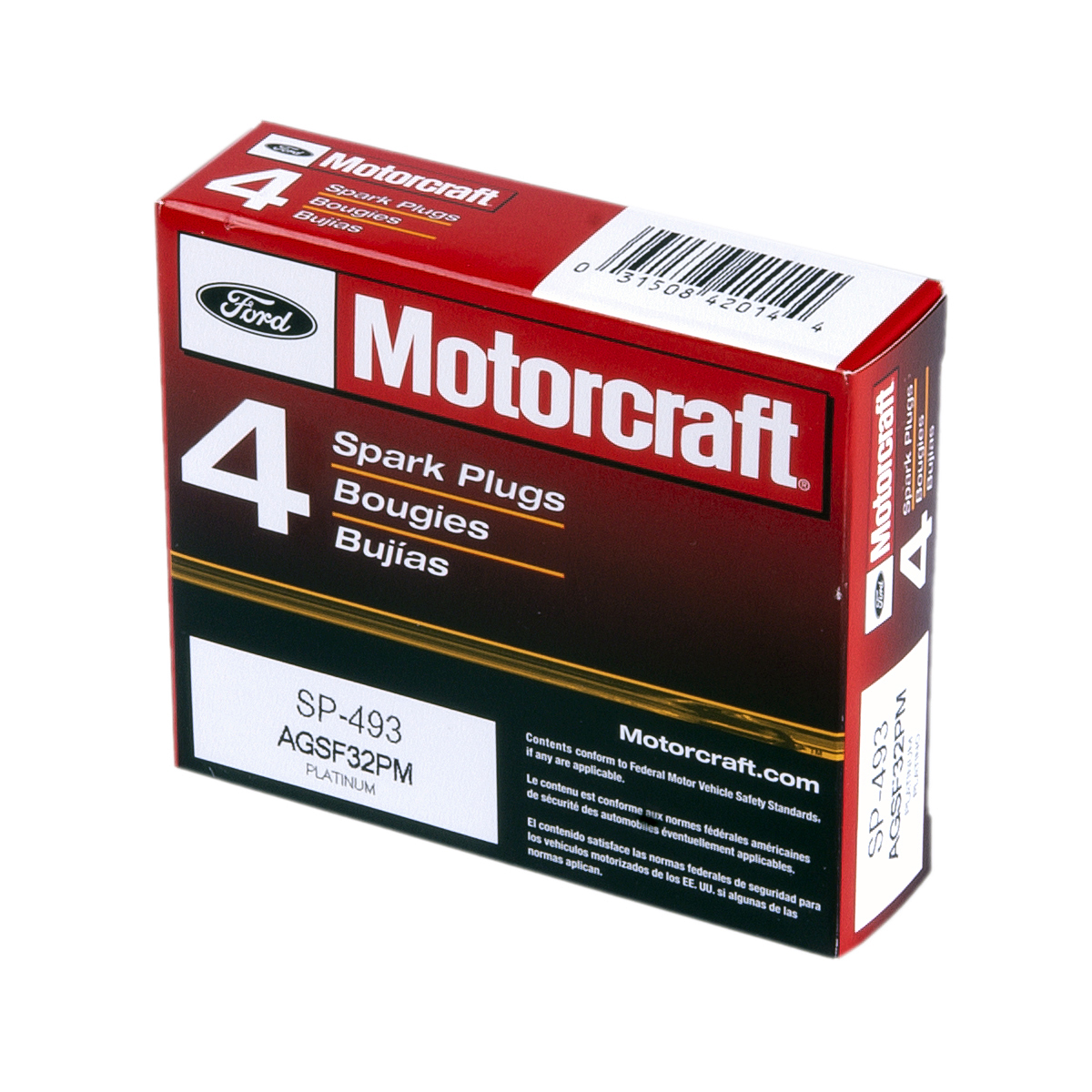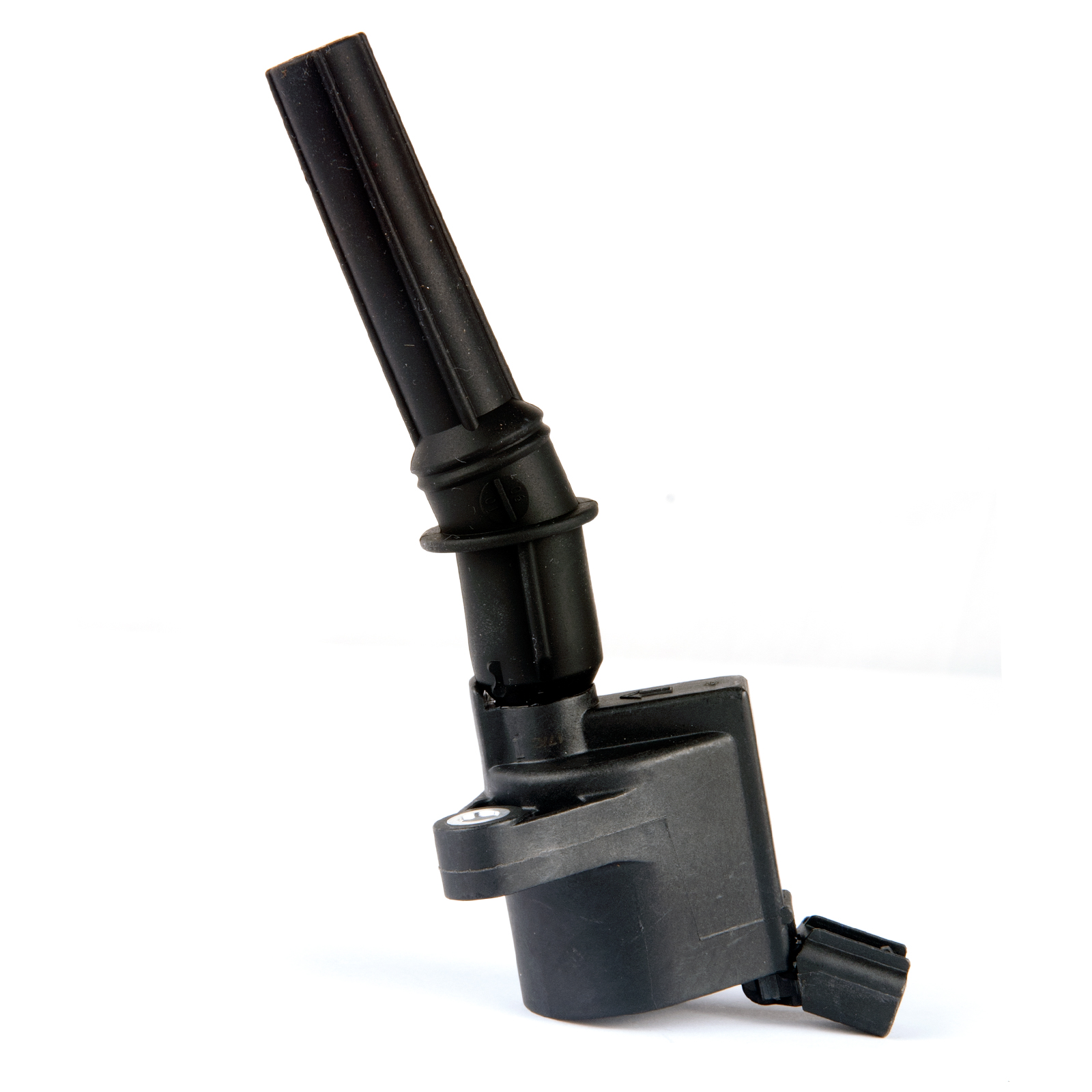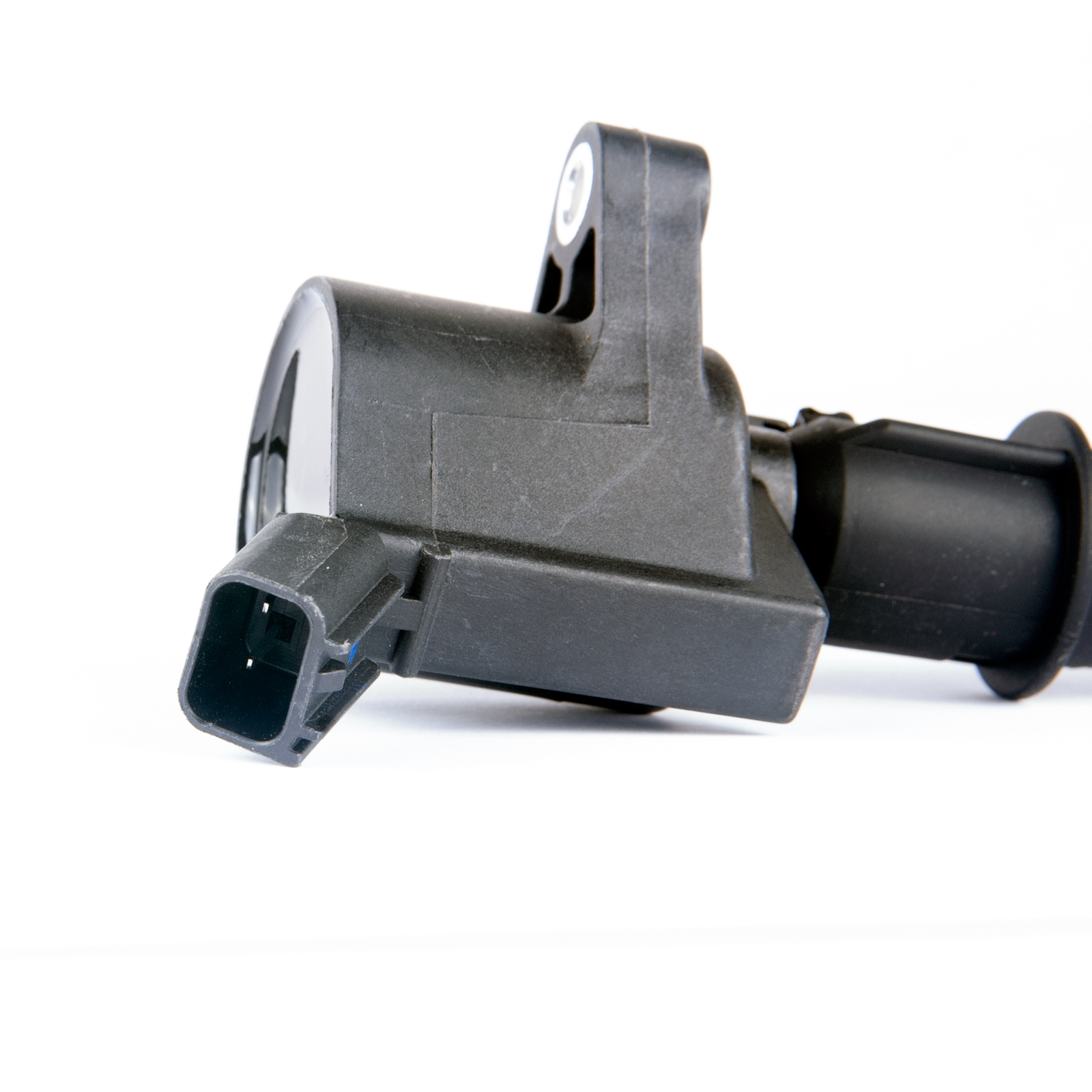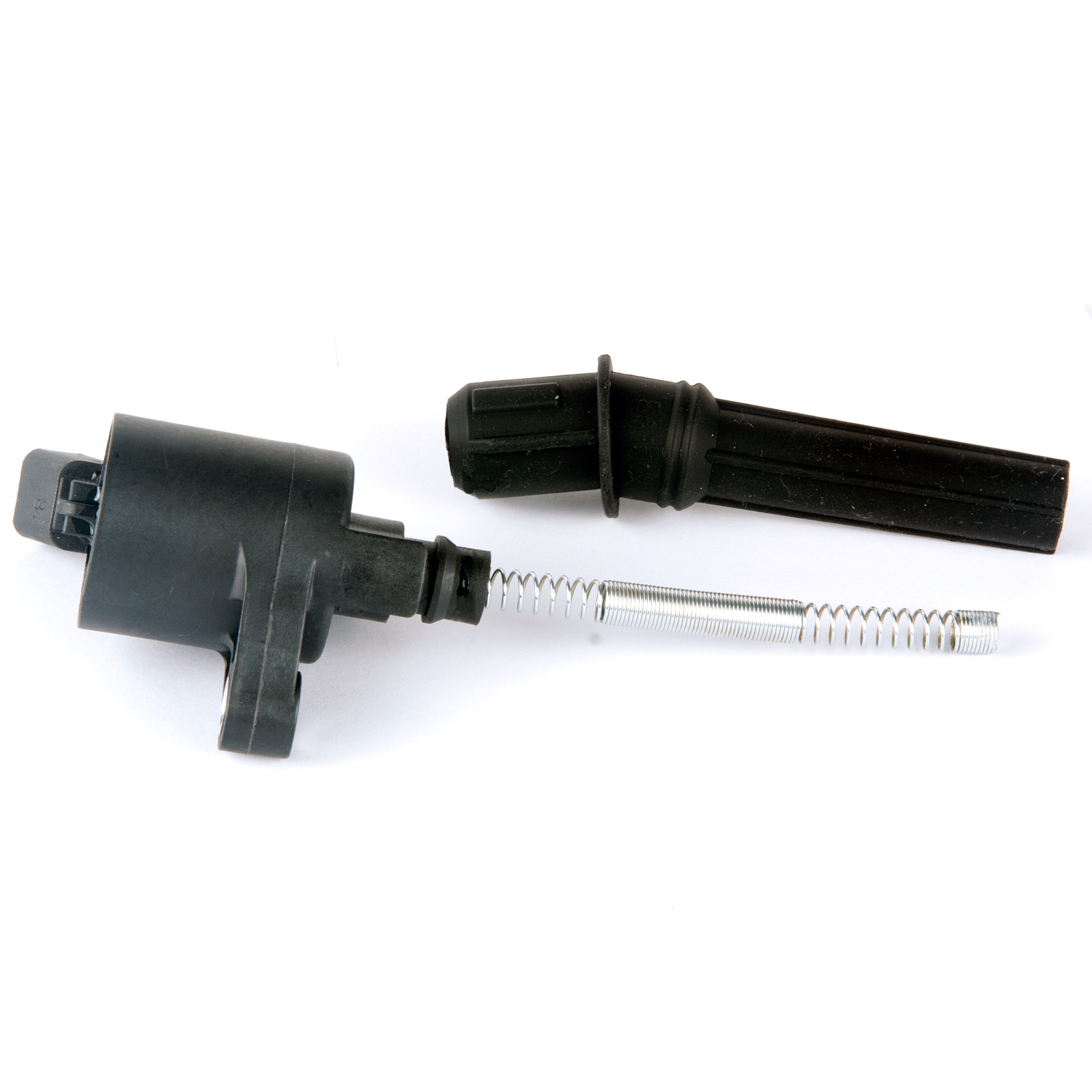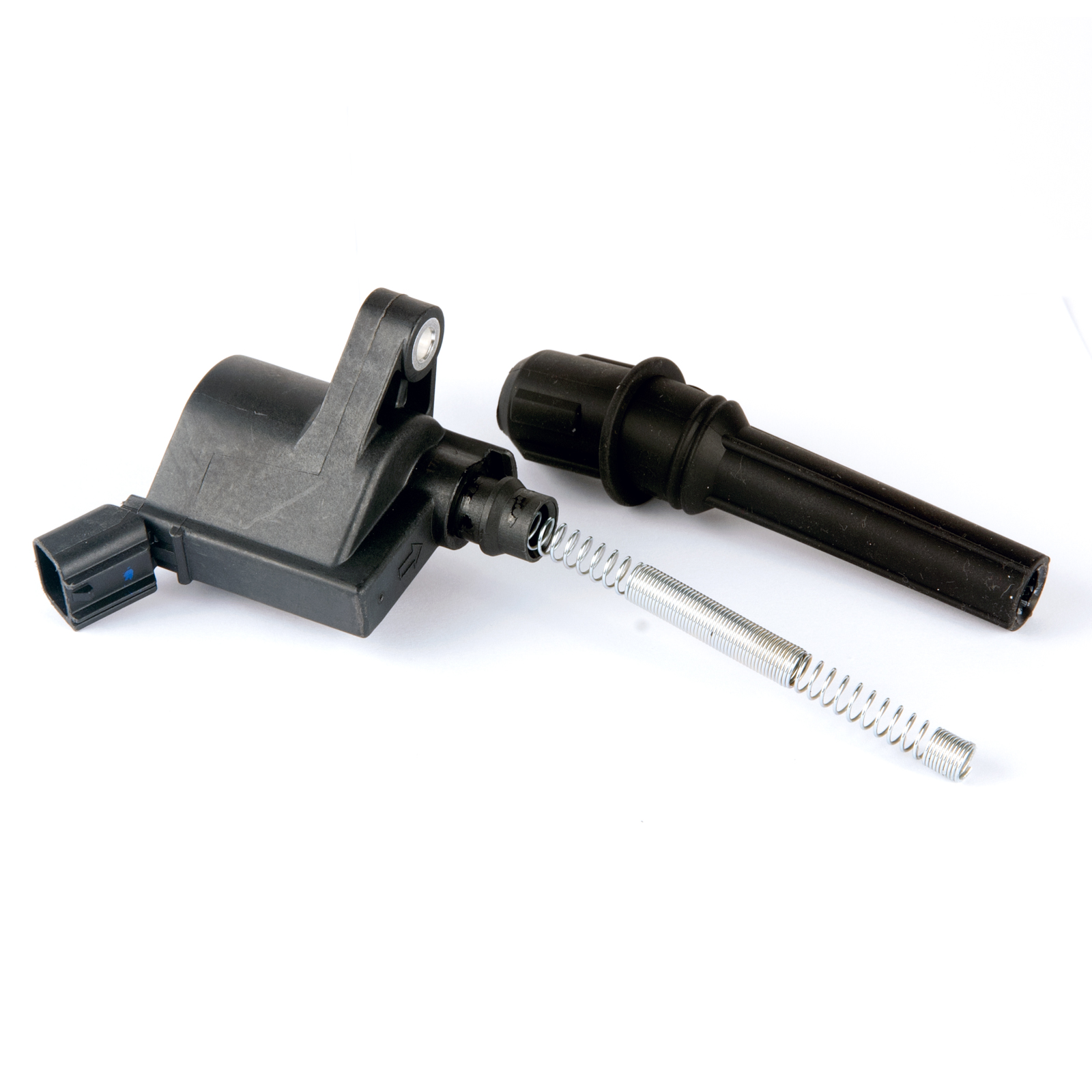 8 pack Ignition Coil DG508 Motorcraft Spark Plug SP493 For Ford Lincoln Mercury 4.6L engines
This is a set of eight (8) brand new, high quality direct fit OE style Copper Ignition Coils with boots & springs, and eight (8) Motorcraft spark plugs.
Type: 8 Ignition coils with Copper windings, also 8 Motorcraft spark plugs.

OEM Quality that comes with coil boot and spring

OEM Ref#DG508, DG491, FD503, C1417, COP9

OEM #3W7Z12029AA 1L2U12029AA 1L2U12A366AA 1L2Z12029AC F7TU12A366AB F7TZ12029BA

F7TZ12029CA F7TZ12029CB F7TZ12029CC 1L2Z12029AA

Other #88921369 FD503 250534733 521761 601000 C500 C566 5C1412 FD503T GN10164
Part number cross reference:
DG508, DG491, DG508, E222, F523, F7TU-12A366AB , FD503,COP9,3W7Z12029AA FD79 13062237, 1972290, 1L2U12029AA, 1L2U12A366AA, 1L2Z12029AA, 1L2Z12029AC, 21941483, 21941485, 21941505, 3W7Z12029AA, 71HM12300AA, 72HF12300AA, 75HF12300AA, 88921369, A780X12300HA, C409, C469, C471, D1FZ12300A, D1RY12300A, DC263, DC88, DCE258, DCE261, DCE263, DG467, DG473, DG481, F7TU12A336CB, F7TU12A366AB, F7TU12A366BA, F7TU12A366CC, F7TU12A366CD, F7TZ12029AB, F7TZ12029BA, F7TZ12029CA, F7TZ12029CB, F7TZ12029CC, FD493, FD503, FD79X
PACKAGE INCLUDES:
8 Ignition Coils & 8 Motorcraft spark plugs SP493
This package does not contain installation instructions
30 days return for full refund or brand new replacement (we pay the return shipping fee)
1 year warranty (After 30 days and within 1 year) for repair or replacement with refurbished item (buyers pay the return shipping fee)
Professional installation is highly recommended. Instructions are NOT included. Buyer assumes all risk on shipment and usage.
It is your responsibility to purchase the correct part. Very often there is more than one part available per application as auto makers often switch midyear. eBay's compatibility system does not allow sellers to account for any variations by VIN. If you don't have the part number, you can get it from any dealership by providing your VIN. This way you can avoid unnecessary hassle and return shipping costs. We provide part numbers and high resolution photos, but if you do not check them we cannot guarantee fitment.
We can only be responsible for the damage and defective of our products. We cannot reimburse for any loss in any other parts of your car or labor cost.
99% OF ORDERS BEFORE 3:00PM PST ARE SHIPPED OUT THE SAME DAY!!!!!!!
Shipment by USPS and UPS only
Shipment from Los Angeles warehouse
Tracking number can be found in your order. Please allow 1 business days to have the tracking number upload in your order
Double check the address in your order before placing an order. Address changing requirement will charge extra $20
(Address Change: Search "USPS package intercept or UPS package intercept"online, and follow the instructions on USPS or UPS website)
Trying to cancel an order but failed, please contact us through eBay message to get an instruction on how to return the item for refund.
Keep closely tracking your package, especially near the day delivery. Check with the mail person ASAP when your tracking shows delivery but you don't receive any package. We are not responsible for any package lost issue with tracking showing delivery.
Order within 30 days: open an return request in your order.
Order over 30 days: please contact us by ebay message so that we can provide return instruction to you
All exchange items MUST be in brand new condition which means the item is never installed and kept in the original packaging.
We can only replace or refund after we receive the returned item.
Please be sure to ship the item we sold back to us for return. Any returned items which are not sold by us will not receive refund or replacement.
© 2017 Clearance. All rights reserved.
Returns Accepted: Returns Accepted
Item must be returned within: 30 Days
Refund will be given as: Money back or replacement (buyer's choice)
Return policy details:
Return shipping will be paid by: Seller
UPC: Does Not Apply
Model: SP-493 DG508
Placement on Vehicle: Front
Interchange Part Number: COP9 FD503 DG467 DG473 DG481 FD493 DQ50101 FD503T SP-493
Interchange Part Number 1: DC263 DC88 DG473 DG481 12A336CB
Interchange Part Number 1: F7TZ12029CA C409 C469 C471 D1FZ12300A D1RY12300A
Interchange Part Number 2: 13062237 1972290 1L2U12029AA 1L2U12A366AA
Interchange Part Number 3: 1L2Z12029AA 1L2Z12029AC 21941483 21941485
Interchange Part Number 4: 75HF12300AA 88921369 A780X12300HA F7TZ12029CB
Interchange Part Number 5: F7TZ12029CC FD493 FD503 FD79X 3W7Z12029AA DG540
Interchange Part Number 6: F7TU12A366CC F7TU12A366CD F7TZ12029AB F7TZ12029BA
Interchange Part Number2: DCE258 DCE261 DCE263 DG467
Surface Finish: DQ50101 SP493
Manufacturer Part Number: DG508 DG457 DG472 DG491 F523 DG508 3W7Z12029AA SP493 AGSF32PM
Other Part Number: C566 F7TU12A366AB GN10164 1L2U12029AA 1L2U12A366A
Warranty: Yes
Brand: Clearance
MPN: DG508 SP493
SKU: DQ50101x8 SP493x8cs
Set of 8 Ignition Coils For Ford Lincoln DG508 & 8 Motorcraft Spark Plugs SP493 fits on the following vehicles. This is for your reference only, please check your auto manual to make sure it fits.
YEAR
MAKE
MODEL
TRIM
NOTES
2014
Ford
E-250
Base Cutaway Van 2-Door 4.6L 281Cu. In. V8 FLEX SOHC Naturally Aspirated
2014
Ford
E-250
Base Extended Cargo Van 3-Door 4.6L 281Cu. In. V8 FLEX SOHC Naturally Aspirated
2014
Ford
E-250
Base Standard Cargo Van 3-Door 4.6L 281Cu. In. V8 FLEX SOHC Naturally Aspirated
2013
Ford
E-250
Base Cutaway Van 2-Door 4.6L 281Cu. In. V8 FLEX SOHC Naturally Aspirated
2013
Ford
E-250
Base Extended Cargo Van 3-Door 4.6L 281Cu. In. V8 FLEX SOHC Naturally Aspirated
2013
Ford
E-250
Base Standard Cargo Van 3-Door 4.6L 281Cu. In. V8 FLEX SOHC Naturally Aspirated
2012
Ford
E-250
Base Cutaway Van 2-Door 4.6L 281Cu. In. V8 FLEX SOHC Naturally Aspirated
2012
Ford
E-250
Base Extended Cargo Van 3-Door 4.6L 281Cu. In. V8 FLEX SOHC Naturally Aspirated
2012
Ford
E-250
Base Standard Cargo Van 3-Door 4.6L 281Cu. In. V8 FLEX SOHC Naturally Aspirated
2011
Ford
Crown Victoria
Base Sedan 4-Door 4.6L 281Cu. In. V8 FLEX SOHC Naturally Aspirated
Notes; Tune Up Kit; Spark Plugs + Ignition Coils Kit(8 Each)
2011
Ford
Crown Victoria
LX Sedan 4-Door 4.6L 281Cu. In. V8 FLEX SOHC Naturally Aspirated
Notes; Tune Up Kit; Spark Plugs + Ignition Coils Kit(8 Each)
2011
Ford
Crown Victoria
Police Interceptor Sedan 4-Door 4.6L 281Cu. In. V8 FLEX SOHC Naturally Aspirated
Notes; Tune Up Kit; Spark Plugs + Ignition Coils Kit(8 Each)
2011
Ford
Crown Victoria
Police Interceptor Sedan 4-Door 4.6L 281Cu. In. V8 GAS SOHC Naturally Aspirated
Notes; Tune Up Kit; Spark Plugs + Ignition Coils Kit(8 Each)
2011
Ford
E-150
Base Extended Cargo Van 3-Door 4.6L 281Cu. In. V8 FLEX SOHC Naturally Aspirated
2011
Ford
E-150
Base Standard Cargo Van 3-Door 4.6L 281Cu. In. V8 FLEX SOHC Naturally Aspirated
2011
Ford
E-150
XL Standard Passenger Van 3-Door 4.6L 281Cu. In. V8 FLEX SOHC Naturally Aspirated
2011
Ford
E-150
XLT Standard Passenger Van 3-Door 4.6L 281Cu. In. V8 FLEX SOHC Naturally Aspirated
2011
Ford
E-250
Base Cutaway Van 2-Door 4.6L 281Cu. In. V8 FLEX SOHC Naturally Aspirated
2011
Ford
E-250
Base Extended Cargo Van 3-Door 4.6L 281Cu. In. V8 FLEX SOHC Naturally Aspirated
2011
Ford
E-250
Base Standard Cargo Van 3-Door 4.6L 281Cu. In. V8 FLEX SOHC Naturally Aspirated
2011
Lincoln
Town Car
Executive L Limousine 4-Door 4.6L 281Cu. In. V8 FLEX SOHC Naturally Aspirated
Notes; Tune Up Kit; Spark Plugs + Ignition Coils Kit(8 Each)
2011
Lincoln
Town Car
Executive L Sedan 4-Door 4.6L 281Cu. In. V8 FLEX SOHC Naturally Aspirated
Notes; Tune Up Kit; Spark Plugs + Ignition Coils Kit(8 Each)
2011
Lincoln
Town Car
Executive Sedan 4-Door 4.6L 281Cu. In. V8 FLEX SOHC Naturally Aspirated
Notes; Tune Up Kit; Spark Plugs + Ignition Coils Kit(8 Each)
2011
Lincoln
Town Car
Signature L Sedan 4-Door 4.6L 281Cu. In. V8 FLEX SOHC Naturally Aspirated
Notes; Tune Up Kit; Spark Plugs + Ignition Coils Kit(8 Each)
2011
Lincoln
Town Car
Signature Limited Sedan 4-Door 4.6L 281Cu. In. V8 FLEX SOHC Naturally Aspirated
Notes; Tune Up Kit; Spark Plugs + Ignition Coils Kit(8 Each)
2011
Lincoln
Town Car
Signature Limited Sedan 4-Door 4.6L 281Cu. In. V8 GAS SOHC Naturally Aspirated
Notes; Tune Up Kit; Spark Plugs + Ignition Coils Kit(8 Each)
2011
Mercury
Grand Marquis
LS Sedan 4-Door 4.6L 281Cu. In. V8 FLEX SOHC Naturally Aspirated
Notes; Tune Up Kit; Spark Plugs + Ignition Coils Kit(8 Each)
2010
Ford
Crown Victoria
Base Sedan 4-Door 4.6L 281Cu. In. V8 FLEX SOHC Naturally Aspirated
Notes; Tune Up Kit; Spark Plugs + Ignition Coils Kit(8 Each)
2010
Ford
Crown Victoria
LX Sedan 4-Door 4.6L 281Cu. In. V8 FLEX SOHC Naturally Aspirated
Notes; Tune Up Kit; Spark Plugs + Ignition Coils Kit(8 Each)
2010
Ford
Crown Victoria
LX Sedan 4-Door 4.6L 281Cu. In. V8 GAS SOHC Naturally Aspirated
4.6L Engine
2010
Ford
Crown Victoria
Police Interceptor Sedan 4-Door 4.6L 281Cu. In. V8 FLEX SOHC Naturally Aspirated
Notes; Tune Up Kit; Spark Plugs + Ignition Coils Kit(8 Each)
2010
Ford
Crown Victoria
Police Interceptor Sedan 4-Door 4.6L 281Cu. In. V8 GAS SOHC Naturally Aspirated
4.6L Engine
2010
Ford
E-150
Base Extended Cargo Van 3-Door 4.6L 281Cu. In. V8 FLEX SOHC Naturally Aspirated
2010
Ford
E-150
Base Standard Cargo Van 3-Door 4.6L 281Cu. In. V8 FLEX SOHC Naturally Aspirated
2010
Ford
E-150
XLT Standard Passenger Van 3-Door 4.6L 281Cu. In. V8 FLEX SOHC Naturally Aspirated
2010
Ford
E-250
Base Cutaway Van 2-Door 4.6L 281Cu. In. V8 FLEX SOHC Naturally Aspirated
2010
Ford
E-250
Base Extended Cargo Van 3-Door 4.6L 281Cu. In. V8 FLEX SOHC Naturally Aspirated
2010
Ford
E-250
Base Standard Cargo Van 3-Door 4.6L 281Cu. In. V8 FLEX SOHC Naturally Aspirated
2010
Lincoln
Town Car
Executive L Limousine 4-Door 4.6L 281Cu. In. V8 FLEX SOHC Naturally Aspirated
Notes; Tune Up Kit; Spark Plugs + Ignition Coils Kit(8 Each)
2010
Lincoln
Town Car
Executive L Limousine 4-Door 4.6L 281Cu. In. V8 GAS SOHC Naturally Aspirated
4.6L Engine
2010
Lincoln
Town Car
Executive L Sedan 4-Door 4.6L 281Cu. In. V8 FLEX SOHC Naturally Aspirated
Notes; Tune Up Kit; Spark Plugs + Ignition Coils Kit(8 Each)
2010
Lincoln
Town Car
Executive L Sedan 4-Door 4.6L 281Cu. In. V8 GAS SOHC Naturally Aspirated
4.6L Engine
2010
Lincoln
Town Car
Executive Limousine 4-Door 4.6L 281Cu. In. V8 FLEX SOHC Naturally Aspirated
Notes; Tune Up Kit; Spark Plugs + Ignition Coils Kit(8 Each)
2010
Lincoln
Town Car
Executive Sedan 4-Door 4.6L 281Cu. In. V8 FLEX SOHC Naturally Aspirated
Notes; Tune Up Kit; Spark Plugs + Ignition Coils Kit(8 Each)
2010
Lincoln
Town Car
Signature L Sedan 4-Door 4.6L 281Cu. In. V8 FLEX SOHC Naturally Aspirated
Notes; Tune Up Kit; Spark Plugs + Ignition Coils Kit(8 Each)
2010
Lincoln
Town Car
Signature Limited Sedan 4-Door 4.6L 281Cu. In. V8 FLEX SOHC Naturally Aspirated
Notes; Tune Up Kit; Spark Plugs + Ignition Coils Kit(8 Each)
2010
Mercury
Grand Marquis
LS Sedan 4-Door 4.6L 281Cu. In. V8 FLEX SOHC Naturally Aspirated
Notes; Tune Up Kit; Spark Plugs + Ignition Coils Kit(8 Each)
2010
Mercury
Grand Marquis
LS Sedan 4-Door 4.6L 281Cu. In. V8 GAS SOHC Naturally Aspirated
4.6L Engine
2009
Ford
Crown Victoria
LX Sedan 4-Door 4.6L 281Cu. In. V8 FLEX SOHC Naturally Aspirated
Notes; Tune Up Kit; Spark Plugs + Ignition Coils Kit(8 Each)
2009
Ford
Crown Victoria
LX Sedan 4-Door 4.6L 281Cu. In. V8 GAS SOHC Naturally Aspirated
4.6L Engine
2009
Ford
Crown Victoria
Police Interceptor Sedan 4-Door 4.6L 281Cu. In. V8 FLEX SOHC Naturally Aspirated
Notes; Tune Up Kit; Spark Plugs + Ignition Coils Kit(8 Each)
2009
Ford
Crown Victoria
Police Interceptor Sedan 4-Door 4.6L 281Cu. In. V8 GAS SOHC Naturally Aspirated
4.6L Engine
2009
Ford
E-150
Base Extended Cargo Van 3-Door 4.6L 281Cu. In. V8 FLEX SOHC Naturally Aspirated
2009
Ford
E-150
Base Standard Cargo Van 3-Door 4.6L 281Cu. In. V8 FLEX SOHC Naturally Aspirated
2009
Ford
E-150
Base Standard Cargo Van 3-Door 4.6L 281Cu. In. V8 GAS SOHC Naturally Aspirated
4.6L & 5.4L Engine
2009
Ford
E-150
XL Standard Passenger Van 3-Door 4.6L 281Cu. In. V8 FLEX SOHC Naturally Aspirated
2009
Ford
E-150
XL Standard Passenger Van 3-Door 4.6L 281Cu. In. V8 GAS SOHC Naturally Aspirated
4.6L & 5.4L Engine
2009
Ford
E-150
XLT Standard Passenger Van 3-Door 4.6L 281Cu. In. V8 FLEX SOHC Naturally Aspirated
4.6L & 5.4L Engine
2009
Ford
E-250
Base Cutaway Van 2-Door 4.6L 281Cu. In. V8 FLEX SOHC Naturally Aspirated
2009
Ford
E-250
Base Extended Cargo Van 3-Door 4.6L 281Cu. In. V8 FLEX SOHC Naturally Aspirated
2009
Ford
E-250
Base Standard Cargo Van 3-Door 4.6L 281Cu. In. V8 FLEX SOHC Naturally Aspirated
2009
Ford
F-150
STX Extended Cab Pickup 4-Door 4.6L 281Cu. In. V8 GAS SOHC Naturally Aspirated
4.6L Engine
2009
Ford
F-150
STX Standard Cab Pickup 2-Door 4.6L 281Cu. In. V8 GAS SOHC Naturally Aspirated
4.6L Engine
2009
Ford
F-150
XL Crew Cab Pickup 4-Door 4.6L 281Cu. In. V8 GAS SOHC Naturally Aspirated
4.6L Engine
2009
Ford
F-150
XL Extended Cab Pickup 4-Door 4.6L 281Cu. In. V8 GAS SOHC Naturally Aspirated
4.6L Engine
2009
Ford
F-150
XL Standard Cab Pickup 2-Door 4.2L 256Cu. In. V6 GAS OHV Naturally Aspirated
4.6L Engine
2009
Ford
F-150
XL Standard Cab Pickup 2-Door 4.6L 281Cu. In. V8 GAS SOHC Naturally Aspirated
4.6L Engine
2009
Ford
F-150
XLT Crew Cab Pickup 4-Door 4.6L 281Cu. In. V8 GAS SOHC Naturally Aspirated
4.6L Engine
2009
Ford
F-150
XLT Extended Cab Pickup 4-Door 4.6L 281Cu. In. V8 GAS SOHC Naturally Aspirated
4.6L Engine
2009
Ford
F-150
XLT Standard Cab Pickup 2-Door 4.2L 256Cu. In. V6 GAS OHV Naturally Aspirated
4.6L Engine
2009
Ford
F-150
XLT Standard Cab Pickup 2-Door 4.6L 281Cu. In. V8 GAS SOHC Naturally Aspirated
4.6L Engine
2009
Lincoln
Town Car
Executive L Limousine 4-Door 4.6L 281Cu. In. V8 FLEX SOHC Naturally Aspirated
Notes; Tune Up Kit; Spark Plugs + Ignition Coils Kit(8 Each)
2009
Lincoln
Town Car
Executive L Sedan 4-Door 4.6L 281Cu. In. V8 FLEX SOHC Naturally Aspirated
Notes; Tune Up Kit; Spark Plugs + Ignition Coils Kit(8 Each)
2009
Lincoln
Town Car
Executive Sedan 4-Door 4.6L 281Cu. In. V8 FLEX SOHC Naturally Aspirated
Notes; Tune Up Kit; Spark Plugs + Ignition Coils Kit(8 Each)
2009
Lincoln
Town Car
Executive Sedan 4-Door 4.6L 281Cu. In. V8 GAS SOHC Naturally Aspirated
4.6L Engine
2009
Lincoln
Town Car
Signature L Sedan 4-Door 4.6L 281Cu. In. V8 FLEX SOHC Naturally Aspirated
Notes; Tune Up Kit; Spark Plugs + Ignition Coils Kit(8 Each)
2009
Lincoln
Town Car
Signature Limited Sedan 4-Door 4.6L 281Cu. In. V8 FLEX SOHC Naturally Aspirated
Notes; Tune Up Kit; Spark Plugs + Ignition Coils Kit(8 Each)
2009
Lincoln
Town Car
Signature Limited Sedan 4-Door 4.6L 281Cu. In. V8 GAS SOHC Naturally Aspirated
Notes; Tune Up Kit; Spark Plugs + Ignition Coils Kit(8 Each)
2009
Mercury
Grand Marquis
LS Sedan 4-Door 4.6L 281Cu. In. V8 FLEX SOHC Naturally Aspirated
Notes; Tune Up Kit; Spark Plugs + Ignition Coils Kit(8 Each)
2009
Mercury
Grand Marquis
LS Sedan 4-Door 4.6L 281Cu. In. V8 GAS SOHC Naturally Aspirated
4.6L Engine
2008
Ford
Crown Victoria
Base Sedan 4-Door 4.6L 281Cu. In. V8 FLEX SOHC Naturally Aspirated
Notes; Tune Up Kit; Spark Plugs + Ignition Coils Kit(8 Each)
2008
Ford
Crown Victoria
Base Sedan 4-Door 4.6L 281Cu. In. V8 GAS SOHC Naturally Aspirated
Notes; Tune Up Kit; Spark Plugs + Ignition Coils Kit(8 Each)
2008
Ford
Crown Victoria
LX Sedan 4-Door 4.6L 281Cu. In. V8 FLEX SOHC Naturally Aspirated
Notes; Tune Up Kit; Spark Plugs + Ignition Coils Kit(8 Each)
2008
Ford
Crown Victoria
LX Sedan 4-Door 4.6L 281Cu. In. V8 GAS SOHC Naturally Aspirated
Notes; Tune Up Kit; Spark Plugs + Ignition Coils Kit(8 Each)
2008
Ford
Crown Victoria
Police Interceptor Sedan 4-Door 4.6L 281Cu. In. V8 FLEX SOHC Naturally Aspirated
Notes; Tune Up Kit; Spark Plugs + Ignition Coils Kit(8 Each)
2008
Ford
Crown Victoria
Police Interceptor Sedan 4-Door 4.6L 281Cu. In. V8 GAS SOHC Naturally Aspirated
Notes; Tune Up Kit; Spark Plugs + Ignition Coils Kit(8 Each)
2008
Ford
E-150
Base Extended Cargo Van 3-Door 4.6L 281Cu. In. V8 GAS SOHC Naturally Aspirated
Notes; Tune Up Kit; Spark Plugs + Ignition Coils Kit(8 Each)
2008
Ford
E-150
Base Standard Cargo Van 3-Door 4.6L 281Cu. In. V8 GAS SOHC Naturally Aspirated
Notes; Tune Up Kit; Spark Plugs + Ignition Coils Kit(8 Each)
2008
Ford
E-150
XL Standard Passenger Van 3-Door 4.6L 281Cu. In. V8 GAS SOHC Naturally Aspirated
Notes; Tune Up Kit; Spark Plugs + Ignition Coils Kit(8 Each)
2008
Ford
E-150
XLT Standard Passenger Van 3-Door 4.6L 281Cu. In. V8 GAS SOHC Naturally Aspirated
Notes; Tune Up Kit; Spark Plugs + Ignition Coils Kit(8 Each)
2008
Ford
E-250
Base Cutaway Van 2-Door 4.6L 281Cu. In. V8 GAS SOHC Naturally Aspirated
Notes; Tune Up Kit; Spark Plugs + Ignition Coils Kit(8 Each)
2008
Ford
E-250
Base Extended Cargo Van 3-Door 4.6L 281Cu. In. V8 GAS SOHC Naturally Aspirated
Notes; Tune Up Kit; Spark Plugs + Ignition Coils Kit(8 Each)
2008
Ford
E-250
Base Standard Cargo Van 3-Door 4.6L 281Cu. In. V8 GAS SOHC Naturally Aspirated
Notes; Tune Up Kit; Spark Plugs + Ignition Coils Kit(8 Each)
2008
Ford
F-150
Flotillera Standard Cab Pickup 2-Door 4.2L 256Cu. In. V6 GAS OHV Naturally Aspirated
4.6L Engine
2008
Ford
F-150
FX2 Crew Cab Pickup 4-Door 4.6L 281Cu. In. V8 GAS SOHC Naturally Aspirated
4.6L Engine
2008
Ford
F-150
FX2 Extended Cab Pickup 4-Door 4.6L 281Cu. In. V8 GAS SOHC Naturally Aspirated
4.6L Engine
2008
Ford
F-150
FX2 Standard Cab Pickup 2-Door 4.6L 281Cu. In. V8 GAS SOHC Naturally Aspirated
4.6L Engine
2008
Ford
F-150
STX Extended Cab Pickup 4-Door 4.2L 256Cu. In. V6 GAS OHV Naturally Aspirated
4.6L Engine
2008
Ford
F-150
STX Extended Cab Pickup 4-Door 4.6L 281Cu. In. V8 GAS SOHC Naturally Aspirated
4.6L Engine
2008
Ford
F-150
STX Standard Cab Pickup 2-Door 4.2L 256Cu. In. V6 GAS OHV Naturally Aspirated
4.6L Engine
2008
Ford
F-150
STX Standard Cab Pickup 2-Door 4.6L 281Cu. In. V8 GAS SOHC Naturally Aspirated
4.6L Engine
2008
Ford
F-150
THE 60TH ANNIVERSARY EDITION Crew Cab Pickup 4-Door 4.6L 281Cu. In. V8 GAS SOHC Naturally Aspirated
4.6L Engine
2008
Ford
F-150
THE 60TH ANNIVERSARY EDITION Extended Cab Pickup 4-Door 4.6L 281Cu. In. V8 GAS SOHC Naturally Aspirated
4.6L Engine
2008
Ford
F-150
THE 60TH ANNIVERSARY EDITION Standard Cab Pickup 2-Door 4.6L 281Cu. In. V8 GAS SOHC Naturally Aspirated
4.6L Engine
2008
Ford
F-150
XL Crew Cab Pickup 4-Door 4.2L 256Cu. In. V6 GAS OHV Naturally Aspirated
4.6L Engine
2008
Ford
F-150
XL Crew Cab Pickup 4-Door 4.6L 281Cu. In. V8 GAS SOHC Naturally Aspirated
4.6L Engine
2008
Ford
F-150
XL Extended Cab Pickup 4-Door 4.2L 256Cu. In. V6 GAS OHV Naturally Aspirated
4.6L Engine
2008
Ford
F-150
XL Extended Cab Pickup 4-Door 4.6L 281Cu. In. V8 GAS SOHC Naturally Aspirated
4.6L Engine
2008
Ford
F-150
XL Standard Cab Pickup 2-Door 4.2L 256Cu. In. V6 GAS OHV Naturally Aspirated
4.6L Engine
2008
Ford
F-150
XL Standard Cab Pickup 2-Door 4.6L 281Cu. In. V8 GAS SOHC Naturally Aspirated
4.6L Engine
2008
Ford
F-150
XLT Crew Cab Pickup 4-Door 4.2L 256Cu. In. V6 GAS OHV Naturally Aspirated
4.6L Engine
2008
Ford
F-150
XLT Crew Cab Pickup 4-Door 4.6L 281Cu. In. V8 GAS SOHC Naturally Aspirated
4.6L Engine
2008
Ford
F-150
XLT Extended Cab Pickup 4-Door 4.2L 256Cu. In. V6 GAS OHV Naturally Aspirated
4.6L Engine
2008
Ford
F-150
XLT Extended Cab Pickup 4-Door 4.6L 281Cu. In. V8 GAS SOHC Naturally Aspirated
4.6L Engine
2008
Ford
F-150
XLT Standard Cab Pickup 2-Door 4.2L 256Cu. In. V6 GAS OHV Naturally Aspirated
4.6L Engine
2008
Ford
F-150
XLT Standard Cab Pickup 2-Door 4.6L 281Cu. In. V8 GAS SOHC Naturally Aspirated
4.6L Engine
2008
Ford
F-150
XTR Crew Cab Pickup 4-Door 4.6L 281Cu. In. V8 GAS SOHC Naturally Aspirated
4.6L Engine
2008
Ford
F-150
XTR Extended Cab Pickup 4-Door 4.6L 281Cu. In. V8 GAS SOHC Naturally Aspirated
4.6L Engine
2008
Lincoln
Town Car
Executive L Limousine 4-Door 4.6L 281Cu. In. V8 FLEX SOHC Naturally Aspirated
Notes; Tune Up Kit; Spark Plugs + Ignition Coils Kit(8 Each)
2008
Lincoln
Town Car
Executive L Limousine 4-Door 4.6L 281Cu. In. V8 GAS SOHC Naturally Aspirated
Notes; Tune Up Kit; Spark Plugs + Ignition Coils Kit(8 Each)
2008
Lincoln
Town Car
Executive L Sedan 4-Door 4.6L 281Cu. In. V8 FLEX SOHC Naturally Aspirated
Notes; Tune Up Kit; Spark Plugs + Ignition Coils Kit(8 Each)
2008
Lincoln
Town Car
Executive L Sedan 4-Door 4.6L 281Cu. In. V8 GAS SOHC Naturally Aspirated
Notes; Tune Up Kit; Spark Plugs + Ignition Coils Kit(8 Each)
2008
Lincoln
Town Car
Executive Sedan 4-Door 4.6L 281Cu. In. V8 FLEX SOHC Naturally Aspirated
Notes; Tune Up Kit; Spark Plugs + Ignition Coils Kit(8 Each)
2008
Lincoln
Town Car
Executive Sedan 4-Door 4.6L 281Cu. In. V8 GAS SOHC Naturally Aspirated
Notes; Tune Up Kit; Spark Plugs + Ignition Coils Kit(8 Each)
2008
Lincoln
Town Car
Signature L Sedan 4-Door 4.6L 281Cu. In. V8 FLEX SOHC Naturally Aspirated
Notes; Tune Up Kit; Spark Plugs + Ignition Coils Kit(8 Each)
2008
Lincoln
Town Car
Signature L Sedan 4-Door 4.6L 281Cu. In. V8 GAS SOHC Naturally Aspirated
Notes; Tune Up Kit; Spark Plugs + Ignition Coils Kit(8 Each)
2008
Lincoln
Town Car
Signature Limited Sedan 4-Door 4.6L 281Cu. In. V8 FLEX SOHC Naturally Aspirated
Notes; Tune Up Kit; Spark Plugs + Ignition Coils Kit(8 Each)
2008
Lincoln
Town Car
Signature Limited Sedan 4-Door 4.6L 281Cu. In. V8 GAS SOHC Naturally Aspirated
Notes; Tune Up Kit; Spark Plugs + Ignition Coils Kit(8 Each)
2008
Mercury
Grand Marquis
GS Sedan 4-Door 4.6L 281Cu. In. V8 FLEX SOHC Naturally Aspirated
Notes; Tune Up Kit; Spark Plugs + Ignition Coils Kit(8 Each)
2008
Mercury
Grand Marquis
LS Sedan 4-Door 4.6L 281Cu. In. V8 FLEX SOHC Naturally Aspirated
Notes; Tune Up Kit; Spark Plugs + Ignition Coils Kit(8 Each)
2008
Mercury
Grand Marquis
LS Sedan 4-Door 4.6L 281Cu. In. V8 GAS SOHC Naturally Aspirated
4.6L Engine
2007
Ford
Crown Victoria
Base Sedan 4-Door 4.6L 281Cu. In. V8 FLEX SOHC Naturally Aspirated
Notes; Tune Up Kit; Spark Plugs + Ignition Coils Kit(8 Each)
2007
Ford
Crown Victoria
Base Sedan 4-Door 4.6L 281Cu. In. V8 GAS SOHC Naturally Aspirated
Notes; Tune Up Kit; Spark Plugs + Ignition Coils Kit(8 Each)
2007
Ford
Crown Victoria
LX Sedan 4-Door 4.6L 281Cu. In. V8 FLEX SOHC Naturally Aspirated
Notes; Tune Up Kit; Spark Plugs + Ignition Coils Kit(8 Each)
2007
Ford
Crown Victoria
LX Sedan 4-Door 4.6L 281Cu. In. V8 GAS SOHC Naturally Aspirated
Notes; Tune Up Kit; Spark Plugs + Ignition Coils Kit(8 Each)
2007
Ford
Crown Victoria
Police Interceptor Sedan 4-Door 4.6L 281Cu. In. V8 GAS SOHC Naturally Aspirated
Notes; Tune Up Kit; Spark Plugs + Ignition Coils Kit(8 Each)
2007
Ford
E-150
Base Standard Cargo Van 2-Door 4.6L 281Cu. In. V8 GAS SOHC Naturally Aspirated
Notes; Tune Up Kit; Spark Plugs + Ignition Coils Kit(8 Each)
2007
Ford
E-150
Chateau Standard Passenger Van 3-Door 4.6L 281Cu. In. V8 GAS SOHC Naturally Aspirated
Notes; Tune Up Kit; Spark Plugs + Ignition Coils Kit(8 Each)
2007
Ford
E-150
XL Standard Passenger Van 3-Door 4.6L 281Cu. In. V8 GAS SOHC Naturally Aspirated
Notes; Tune Up Kit; Spark Plugs + Ignition Coils Kit(8 Each)
2007
Ford
E-150
XLT Standard Passenger Van 3-Door 4.6L 281Cu. In. V8 GAS SOHC Naturally Aspirated
Notes; Tune Up Kit; Spark Plugs + Ignition Coils Kit(8 Each)
2007
Ford
E-250
Base Cutaway Van 2-Door 4.6L 281Cu. In. V8 GAS SOHC Naturally Aspirated
Notes; Tune Up Kit; Spark Plugs + Ignition Coils Kit(8 Each)
2007
Ford
E-250
Base Extended Cargo Van 3-Door 4.6L 281Cu. In. V8 GAS SOHC Naturally Aspirated
4.6L & 5.4L Engine
2007
Ford
E-250
Base Standard Cargo Van 3-Door 4.6L 281Cu. In. V8 GAS SOHC Naturally Aspirated
4.6L & 5.4L Engine
2007
Ford
F-150
Flotillera Standard Cab Pickup 2-Door 4.2L 256Cu. In. V6 GAS OHV Naturally Aspirated
4.6L Engine
2007
Ford
F-150
STX Extended Cab Pickup 4-Door 4.2L 256Cu. In. V6 GAS OHV Naturally Aspirated
4.6L Engine
2007
Ford
F-150
STX Extended Cab Pickup 4-Door 4.6L 281Cu. In. V8 GAS SOHC Naturally Aspirated
4.6L Engine
2007
Ford
F-150
STX Standard Cab Pickup 2-Door 4.2L 256Cu. In. V6 GAS OHV Naturally Aspirated
4.6L Engine
2007
Ford
F-150
STX Standard Cab Pickup 2-Door 4.6L 281Cu. In. V8 GAS SOHC Naturally Aspirated
4.6L Engine
2007
Ford
F-150
XL Extended Cab Pickup 4-Door 4.2L 256Cu. In. V6 GAS OHV Naturally Aspirated
4.6L Engine
2007
Ford
F-150
XL Extended Cab Pickup 4-Door 4.6L 281Cu. In. V8 GAS SOHC Naturally Aspirated
4.6L Engine
2007
Ford
F-150
XL Standard Cab Pickup 2-Door 4.2L 256Cu. In. V6 GAS OHV Naturally Aspirated
4.6L Engine
2007
Ford
F-150
XL Standard Cab Pickup 2-Door 4.6L 281Cu. In. V8 GAS SOHC Naturally Aspirated
4.6L Engine
2007
Ford
F-150
XLT Crew Cab Pickup 4-Door 4.2L 256Cu. In. V6 GAS OHV Naturally Aspirated
4.6L Engine
2007
Ford
F-150
XLT Crew Cab Pickup 4-Door 4.6L 281Cu. In. V8 GAS SOHC Naturally Aspirated
4.6L Engine
2007
Ford
F-150
XLT Extended Cab Pickup 4-Door 4.2L 256Cu. In. V6 GAS OHV Naturally Aspirated
4.6L Engine
2007
Ford
F-150
XLT Extended Cab Pickup 4-Door 4.6L 281Cu. In. V8 GAS SOHC Naturally Aspirated
4.6L Engine
2007
Ford
F-150
XLT Standard Cab Pickup 2-Door 4.2L 256Cu. In. V6 GAS OHV Naturally Aspirated
4.6L Engine
2007
Ford
F-150
XLT Standard Cab Pickup 2-Door 4.6L 281Cu. In. V8 GAS SOHC Naturally Aspirated
4.6L Engine
2007
Lincoln
Town Car
Designer Sedan 4-Door 4.6L 281Cu. In. V8 GAS SOHC Naturally Aspirated
Notes; Tune Up Kit; Spark Plugs + Ignition Coils Kit(8 Each)
2007
Lincoln
Town Car
Designer Series Sedan 4-Door 4.6L 281Cu. In. V8 FLEX SOHC Naturally Aspirated
Notes; Tune Up Kit; Spark Plugs + Ignition Coils Kit(8 Each)
2007
Lincoln
Town Car
Designer Series Sedan 4-Door 4.6L 281Cu. In. V8 GAS SOHC Naturally Aspirated
Notes; Tune Up Kit; Spark Plugs + Ignition Coils Kit(8 Each)
2007
Lincoln
Town Car
Executive L Limousine 4-Door 4.6L 281Cu. In. V8 FLEX SOHC Naturally Aspirated
Notes; Tune Up Kit; Spark Plugs + Ignition Coils Kit(8 Each)
2007
Lincoln
Town Car
Executive L Limousine 4-Door 4.6L 281Cu. In. V8 GAS SOHC Naturally Aspirated
Notes; Tune Up Kit; Spark Plugs + Ignition Coils Kit(8 Each)
2007
Lincoln
Town Car
Executive L Sedan 4-Door 4.6L 281Cu. In. V8 FLEX SOHC Naturally Aspirated
Notes; Tune Up Kit; Spark Plugs + Ignition Coils Kit(8 Each)
2007
Lincoln
Town Car
Executive L Sedan 4-Door 4.6L 281Cu. In. V8 GAS SOHC Naturally Aspirated
Notes; Tune Up Kit; Spark Plugs + Ignition Coils Kit(8 Each)
2007
Lincoln
Town Car
Executive Sedan 4-Door 4.6L 281Cu. In. V8 FLEX SOHC Naturally Aspirated
Notes; Tune Up Kit; Spark Plugs + Ignition Coils Kit(8 Each)
2007
Lincoln
Town Car
Executive Sedan 4-Door 4.6L 281Cu. In. V8 GAS SOHC Naturally Aspirated
Notes; Tune Up Kit; Spark Plugs + Ignition Coils Kit(8 Each)
2007
Lincoln
Town Car
Signature L Sedan 4-Door 4.6L 281Cu. In. V8 FLEX SOHC Naturally Aspirated
Notes; Tune Up Kit; Spark Plugs + Ignition Coils Kit(8 Each)
2007
Lincoln
Town Car
Signature L Sedan 4-Door 4.6L 281Cu. In. V8 GAS SOHC Naturally Aspirated
Notes; Tune Up Kit; Spark Plugs + Ignition Coils Kit(8 Each)
2007
Lincoln
Town Car
Signature Limited Sedan 4-Door 4.6L 281Cu. In. V8 FLEX SOHC Naturally Aspirated
Notes; Tune Up Kit; Spark Plugs + Ignition Coils Kit(8 Each)
2007
Lincoln
Town Car
Signature Limited Sedan 4-Door 4.6L 281Cu. In. V8 GAS SOHC Naturally Aspirated
Notes; Tune Up Kit; Spark Plugs + Ignition Coils Kit(8 Each)
2007
Lincoln
Town Car
Signature Sedan 4-Door 4.6L 281Cu. In. V8 FLEX SOHC Naturally Aspirated
Notes; Tune Up Kit; Spark Plugs + Ignition Coils Kit(8 Each)
2007
Lincoln
Town Car
Signature Sedan 4-Door 4.6L 281Cu. In. V8 GAS SOHC Naturally Aspirated
Notes; Tune Up Kit; Spark Plugs + Ignition Coils Kit(8 Each)
2007
Mercury
Grand Marquis
GS Sedan 4-Door 4.6L 281Cu. In. V8 FLEX SOHC Naturally Aspirated
Notes; Tune Up Kit; Spark Plugs + Ignition Coils Kit(8 Each)
2007
Mercury
Grand Marquis
GS Sedan 4-Door 4.6L 281Cu. In. V8 GAS SOHC Naturally Aspirated
Notes; Tune Up Kit; Spark Plugs + Ignition Coils Kit(8 Each)
2007
Mercury
Grand Marquis
LS Sedan 4-Door 4.6L 281Cu. In. V8 FLEX SOHC Naturally Aspirated
Notes; Tune Up Kit; Spark Plugs + Ignition Coils Kit(8 Each)
2007
Mercury
Grand Marquis
LS Sedan 4-Door 4.6L 281Cu. In. V8 GAS SOHC Naturally Aspirated
Notes; Tune Up Kit; Spark Plugs + Ignition Coils Kit(8 Each)
2006
Ford
Crown Victoria
Base Sedan 4-Door 4.6L 281Cu. In. V8 FLEX SOHC Naturally Aspirated
Notes; Tune Up Kit; Spark Plugs + Ignition Coils Kit(8 Each)
2006
Ford
Crown Victoria
Base Sedan 4-Door 4.6L 281Cu. In. V8 GAS SOHC Naturally Aspirated
Notes; Tune Up Kit; Spark Plugs + Ignition Coils Kit(8 Each)
2006
Ford
Crown Victoria
LX Sedan 4-Door 4.6L 281Cu. In. V8 FLEX SOHC Naturally Aspirated
Notes; Tune Up Kit; Spark Plugs + Ignition Coils Kit(8 Each)
2006
Ford
Crown Victoria
LX Sedan 4-Door 4.6L 281Cu. In. V8 GAS SOHC Naturally Aspirated
Notes; Tune Up Kit; Spark Plugs + Ignition Coils Kit(8 Each)
2006
Ford
Crown Victoria
LX Sport Sedan 4-Door 4.6L 281Cu. In. V8 GAS SOHC Naturally Aspirated
Notes; Tune Up Kit; Spark Plugs + Ignition Coils Kit(8 Each)
2006
Ford
Crown Victoria
Police Interceptor Sedan 4-Door 4.6L 281Cu. In. V8 GAS SOHC Naturally Aspirated
Notes; Tune Up Kit; Spark Plugs + Ignition Coils Kit(8 Each)
2006
Ford
E-150
Base Standard Cargo Van 2-Door 4.6L 281Cu. In. V8 GAS SOHC Naturally Aspirated
Notes; Tune Up Kit; Spark Plugs + Ignition Coils Kit(8 Each)
2006
Ford
E-150
Chateau Standard Cargo Van 2-Door 4.6L 281Cu. In. V8 GAS SOHC Naturally Aspirated
Notes; Tune Up Kit; Spark Plugs + Ignition Coils Kit(8 Each)
2006
Ford
E-150
Chateau Standard Passenger Van 3-Door 4.6L 281Cu. In. V8 GAS SOHC Naturally Aspirated
4.6L & 5.4L Engine
2006
Ford
E-150
XL Standard Cargo Van 2-Door 4.6L 281Cu. In. V8 GAS SOHC Naturally Aspirated
Notes; Tune Up Kit; Spark Plugs + Ignition Coils Kit(8 Each)
2006
Ford
E-150
XL Standard Passenger Van 3-Door 4.6L 281Cu. In. V8 GAS SOHC Naturally Aspirated
4.6L & 5.4L Engine
2006
Ford
E-150
XLT Standard Cargo Van 2-Door 4.6L 281Cu. In. V8 GAS SOHC Naturally Aspirated
Notes; Tune Up Kit; Spark Plugs + Ignition Coils Kit(8 Each)
2006
Ford
E-150
XLT Standard Passenger Van 3-Door 4.6L 281Cu. In. V8 GAS SOHC Naturally Aspirated
4.6L & 5.4L Engine
2006
Ford
E-250
Base Extended Cargo Van 3-Door 4.6L 281Cu. In. V8 GAS SOHC Naturally Aspirated
4.6L & 5.4L Engine
2006
Ford
E-250
Base Standard Cargo Van 3-Door 4.6L 281Cu. In. V8 GAS SOHC Naturally Aspirated
4.6L & 5.4L Engine
2006
Ford
Explorer
Eddie Bauer Sport Utility 4-Door 4.0L 245Cu. In. V6 GAS SOHC Naturally Aspirated
4.6L Engine
2006
Ford
Explorer
Eddie Bauer Sport Utility 4-Door 4.6L 281Cu. In. V8 GAS SOHC Naturally Aspirated
4.6L Engine
2006
Ford
Explorer
Limited Sport Utility 4-Door 4.0L 245Cu. In. V6 GAS SOHC Naturally Aspirated
4.6L Engine
2006
Ford
Explorer
Limited Sport Utility 4-Door 4.6L 281Cu. In. V8 GAS SOHC Naturally Aspirated
4.6L Engine
2006
Ford
Explorer
XLS Sport Utility 4-Door 4.0L 245Cu. In. V6 GAS SOHC Naturally Aspirated
4.6L Engine
2006
Ford
Explorer
XLT Sport Utility 4-Door 4.0L 245Cu. In. V6 GAS SOHC Naturally Aspirated
4.6L Engine
2006
Ford
Explorer
XLT Sport Utility 4-Door 4.6L 281Cu. In. V8 GAS SOHC Naturally Aspirated
4.6L Engine
2006
Ford
F-150
Flotillera Standard Cab Pickup 2-Door 4.2L 256Cu. In. V6 GAS OHV Naturally Aspirated
4.6L Engine
2006
Ford
F-150
STX Extended Cab Pickup 4-Door 4.2L 256Cu. In. V6 GAS OHV Naturally Aspirated
4.6L Engine
2006
Ford
F-150
STX Extended Cab Pickup 4-Door 4.6L 281Cu. In. V8 GAS SOHC Naturally Aspirated
4.6L Engine
2006
Ford
F-150
STX Standard Cab Pickup 2-Door 4.2L 256Cu. In. V6 GAS OHV Naturally Aspirated
4.6L Engine
2006
Ford
F-150
STX Standard Cab Pickup 2-Door 4.6L 281Cu. In. V8 GAS SOHC Naturally Aspirated
4.6L Engine
2006
Ford
F-150
XL Extended Cab Pickup 4-Door 4.2L 256Cu. In. V6 GAS OHV Naturally Aspirated
4.6L Engine
2006
Ford
F-150
XL Extended Cab Pickup 4-Door 4.6L 281Cu. In. V8 GAS SOHC Naturally Aspirated
4.6L Engine
2006
Ford
F-150
XL Standard Cab Pickup 2-Door 4.2L 256Cu. In. V6 GAS OHV Naturally Aspirated
4.6L Engine
2006
Ford
F-150
XL Standard Cab Pickup 2-Door 4.6L 281Cu. In. V8 GAS SOHC Naturally Aspirated
4.6L Engine
2006
Ford
F-150
XLT Crew Cab Pickup 4-Door 4.2L 256Cu. In. V6 GAS OHV Naturally Aspirated
4.6L Engine
2006
Ford
F-150
XLT Crew Cab Pickup 4-Door 4.6L 281Cu. In. V8 GAS SOHC Naturally Aspirated
4.6L Engine
2006
Ford
F-150
XLT Extended Cab Pickup 4-Door 4.2L 256Cu. In. V6 GAS OHV Naturally Aspirated
4.6L Engine
2006
Ford
F-150
XLT Extended Cab Pickup 4-Door 4.6L 281Cu. In. V8 GAS SOHC Naturally Aspirated
4.6L Engine
2006
Ford
F-150
XLT Standard Cab Pickup 2-Door 4.2L 256Cu. In. V6 GAS OHV Naturally Aspirated
4.6L Engine
2006
Ford
F-150
XLT Standard Cab Pickup 2-Door 4.6L 281Cu. In. V8 GAS SOHC Naturally Aspirated
4.6L Engine
2006
Lincoln
Town Car
Designer Series Sedan 4-Door 4.6L 281Cu. In. V8 FLEX SOHC Naturally Aspirated
Notes; Tune Up Kit; Spark Plugs + Ignition Coils Kit(8 Each)
2006
Lincoln
Town Car
Designer Series Sedan 4-Door 4.6L 281Cu. In. V8 GAS SOHC Naturally Aspirated
Notes; Tune Up Kit; Spark Plugs + Ignition Coils Kit(8 Each)
2006
Lincoln
Town Car
Executive L Limousine 4-Door 4.6L 281Cu. In. V8 FLEX SOHC Naturally Aspirated
Notes; Tune Up Kit; Spark Plugs + Ignition Coils Kit(8 Each)
2006
Lincoln
Town Car
Executive L Limousine 4-Door 4.6L 281Cu. In. V8 GAS SOHC Naturally Aspirated
Notes; Tune Up Kit; Spark Plugs + Ignition Coils Kit(8 Each)
2006
Lincoln
Town Car
Executive L Sedan 4-Door 4.6L 281Cu. In. V8 FLEX SOHC Naturally Aspirated
Notes; Tune Up Kit; Spark Plugs + Ignition Coils Kit(8 Each)
2006
Lincoln
Town Car
Executive L Sedan 4-Door 4.6L 281Cu. In. V8 GAS SOHC Naturally Aspirated
Notes; Tune Up Kit; Spark Plugs + Ignition Coils Kit(8 Each)
2006
Lincoln
Town Car
Executive Sedan 4-Door 4.6L 281Cu. In. V8 FLEX SOHC Naturally Aspirated
Notes; Tune Up Kit; Spark Plugs + Ignition Coils Kit(8 Each)
2006
Lincoln
Town Car
Executive Sedan 4-Door 4.6L 281Cu. In. V8 GAS SOHC Naturally Aspirated
Notes; Tune Up Kit; Spark Plugs + Ignition Coils Kit(8 Each)
2006
Lincoln
Town Car
Signature L Sedan 4-Door 4.6L 281Cu. In. V8 FLEX SOHC Naturally Aspirated
Notes; Tune Up Kit; Spark Plugs + Ignition Coils Kit(8 Each)
2006
Lincoln
Town Car
Signature L Sedan 4-Door 4.6L 281Cu. In. V8 GAS SOHC Naturally Aspirated
Notes; Tune Up Kit; Spark Plugs + Ignition Coils Kit(8 Each)
2006
Lincoln
Town Car
Signature Limited Sedan 4-Door 4.6L 281Cu. In. V8 FLEX SOHC Naturally Aspirated
Notes; Tune Up Kit; Spark Plugs + Ignition Coils Kit(8 Each)
2006
Lincoln
Town Car
Signature Limited Sedan 4-Door 4.6L 281Cu. In. V8 GAS SOHC Naturally Aspirated
Notes; Tune Up Kit; Spark Plugs + Ignition Coils Kit(8 Each)
2006
Lincoln
Town Car
Signature Sedan 4-Door 4.6L 281Cu. In. V8 FLEX SOHC Naturally Aspirated
Notes; Tune Up Kit; Spark Plugs + Ignition Coils Kit(8 Each)
2006
Lincoln
Town Car
Signature Sedan 4-Door 4.6L 281Cu. In. V8 GAS SOHC Naturally Aspirated
Notes; Tune Up Kit; Spark Plugs + Ignition Coils Kit(8 Each)
2006
Mercury
Grand Marquis
GS Sedan 4-Door 4.6L 281Cu. In. V8 FLEX SOHC Naturally Aspirated
Notes; Tune Up Kit; Spark Plugs + Ignition Coils Kit(8 Each)
2006
Mercury
Grand Marquis
GS Sedan 4-Door 4.6L 281Cu. In. V8 GAS SOHC Naturally Aspirated
Notes; Tune Up Kit; Spark Plugs + Ignition Coils Kit(8 Each)
2006
Mercury
Grand Marquis
LS Sedan 4-Door 4.6L 281Cu. In. V8 FLEX SOHC Naturally Aspirated
Notes; Tune Up Kit; Spark Plugs + Ignition Coils Kit(8 Each)
2006
Mercury
Grand Marquis
LS Sedan 4-Door 4.6L 281Cu. In. V8 GAS SOHC Naturally Aspirated
Notes; Tune Up Kit; Spark Plugs + Ignition Coils Kit(8 Each)
2006
Mercury
Mountaineer
Convenience Sport Utility 4-Door 4.0L 245Cu. In. V6 GAS SOHC Naturally Aspirated
4.6L Engine
2006
Mercury
Mountaineer
Luxury Sport Utility 4-Door 4.0L 245Cu. In. V6 GAS SOHC Naturally Aspirated
4.6L Engine
2006
Mercury
Mountaineer
Luxury Sport Utility 4-Door 4.6L 281Cu. In. V8 GAS SOHC Naturally Aspirated
4.6L Engine
2006
Mercury
Mountaineer
Premier Sport Utility 4-Door 4.6L 281Cu. In. V8 GAS SOHC Naturally Aspirated
4.6L Engine
2006
Panoz
Esperante
Base Convertible 2-Door 4.6L 281Cu. In. V8 GAS DOHC Supercharged
Mfrlabel:Spark Plug<br>Gap: .054; Plug Material: Platinum; QOHC; Supercharged; Type - Alternative Plg<br>PartType:Spark Plug<br>Quantity Required:8<br>
2006
Panoz
Esperante
Base Coupe 2-Door 4.6L 281Cu. In. V8 GAS DOHC Supercharged
Mfrlabel:Spark Plug<br>Gap: .054; Plug Material: Platinum; QOHC; Supercharged; Type - Alternative Plg<br>PartType:Spark Plug<br>Quantity Required:8<br>
2005
Ford
Crown Victoria
Base Sedan 4-Door 4.6L 281Cu. In. V8 CNG SOHC Naturally Aspirated
Notes; Tune Up Kit; Spark Plugs + Ignition Coils Kit(8 Each)
2005
Ford
Crown Victoria
Base Sedan 4-Door 4.6L 281Cu. In. V8 GAS SOHC Naturally Aspirated
Notes; Tune Up Kit; Spark Plugs + Ignition Coils Kit(8 Each)
2005
Ford
Crown Victoria
LX Sedan 4-Door 4.6L 281Cu. In. V8 CNG SOHC Naturally Aspirated
Notes; Tune Up Kit; Spark Plugs + Ignition Coils Kit(8 Each)
2005
Ford
Crown Victoria
LX Sedan 4-Door 4.6L 281Cu. In. V8 GAS SOHC Naturally Aspirated
Notes; Tune Up Kit; Spark Plugs + Ignition Coils Kit(8 Each)
2005
Ford
Crown Victoria
LX Sport Sedan 4-Door 4.6L 281Cu. In. V8 GAS SOHC Naturally Aspirated
Notes; Tune Up Kit; Spark Plugs + Ignition Coils Kit(8 Each)
2005
Ford
Crown Victoria
Police Interceptor Sedan 4-Door 4.6L 281Cu. In. V8 CNG SOHC Naturally Aspirated
Notes; Tune Up Kit; Spark Plugs + Ignition Coils Kit(8 Each)
2005
Ford
Crown Victoria
Police Interceptor Sedan 4-Door 4.6L 281Cu. In. V8 GAS SOHC Naturally Aspirated
Notes; Tune Up Kit; Spark Plugs + Ignition Coils Kit(8 Each)
2005
Ford
Crown Victoria
S Sedan 4-Door 4.6L 281Cu. In. V8 CNG SOHC Naturally Aspirated
Notes; Tune Up Kit; Spark Plugs + Ignition Coils Kit(8 Each)
2005
Ford
Crown Victoria
S Sedan 4-Door 4.6L 281Cu. In. V8 GAS SOHC Naturally Aspirated
Notes; Tune Up Kit; Spark Plugs + Ignition Coils Kit(8 Each)
2005
Ford
Crown Victoria
Special Edition Sedan 4-Door 4.6L 281Cu. In. V8 CNG SOHC Naturally Aspirated
Notes; Tune Up Kit; Spark Plugs + Ignition Coils Kit(8 Each)
2005
Ford
Crown Victoria
Special Edition Sedan 4-Door 4.6L 281Cu. In. V8 GAS SOHC Naturally Aspirated
Notes; Tune Up Kit; Spark Plugs + Ignition Coils Kit(8 Each)
2005
Ford
E-150
Base Standard Cargo Van 2-Door 4.6L 281Cu. In. V8 GAS SOHC Naturally Aspirated
Notes; Tune Up Kit; Spark Plugs + Ignition Coils Kit(8 Each)
2005
Ford
E-150
XL Standard Passenger Van 3-Door 4.6L 281Cu. In. V8 GAS SOHC Naturally Aspirated
4.6L & 5.4L Engine
2005
Ford
E-150 Club Wagon
Chateau Standard Passenger Van 2-Door 4.6L 281Cu. In. V8 GAS SOHC Naturally Aspirated
Notes; Tune Up Kit; Spark Plugs + Ignition Coils Kit(8 Each)
2005
Ford
E-150 Club Wagon
XL Standard Passenger Van 2-Door 4.6L 281Cu. In. V8 GAS SOHC Naturally Aspirated
Notes; Tune Up Kit; Spark Plugs + Ignition Coils Kit(8 Each)
2005
Ford
E-150 Club Wagon
XLT Standard Passenger Van 2-Door 4.6L 281Cu. In. V8 GAS SOHC Naturally Aspirated
Notes; Tune Up Kit; Spark Plugs + Ignition Coils Kit(8 Each)
2005
Ford
E-250
Base Extended Cargo Van 3-Door 4.6L 281Cu. In. V8 GAS SOHC Naturally Aspirated
4.6L & 5.4L Engine
2005
Ford
E-250
Base Standard Cargo Van 3-Door 4.6L 281Cu. In. V8 GAS SOHC Naturally Aspirated
4.6L & 5.4L Engine
2005
Ford
Explorer
Eddie Bauer Sport Utility 4-Door 4.0L 245Cu. In. V6 FLEX SOHC Naturally Aspirated
2005
Ford
Explorer
Eddie Bauer Sport Utility 4-Door 4.0L 245Cu. In. V6 GAS SOHC Naturally Aspirated
2005
Ford
Explorer
Eddie Bauer Sport Utility 4-Door 4.6L 281Cu. In. V8 GAS SOHC Naturally Aspirated
Notes; Tune Up Kit; Spark Plugs + Ignition Coils Kit(8 Each)
2005
Ford
Explorer
Limited Sport Utility 4-Door 4.0L 245Cu. In. V6 FLEX SOHC Naturally Aspirated
2005
Ford
Explorer
Limited Sport Utility 4-Door 4.0L 245Cu. In. V6 GAS SOHC Naturally Aspirated
2005
Ford
Explorer
Limited Sport Utility 4-Door 4.6L 281Cu. In. V8 GAS SOHC Naturally Aspirated
Notes; Tune Up Kit; Spark Plugs + Ignition Coils Kit(8 Each)
2005
Ford
Explorer
XLS Sport Sport Utility 4-Door 4.0L 245Cu. In. V6 FLEX SOHC Naturally Aspirated
2005
Ford
Explorer
XLS Sport Sport Utility 4-Door 4.0L 245Cu. In. V6 GAS SOHC Naturally Aspirated
2005
Ford
Explorer
XLS Sport Utility 4-Door 4.0L 245Cu. In. V6 FLEX SOHC Naturally Aspirated
2005
Ford
Explorer
XLS Sport Utility 4-Door 4.0L 245Cu. In. V6 GAS SOHC Naturally Aspirated
2005
Ford
Explorer
XLT Sport Sport Utility 4-Door 4.0L 245Cu. In. V6 FLEX SOHC Naturally Aspirated
2005
Ford
Explorer
XLT Sport Sport Utility 4-Door 4.0L 245Cu. In. V6 GAS SOHC Naturally Aspirated
2005
Ford
Explorer
XLT Sport Sport Utility 4-Door 4.6L 281Cu. In. V8 GAS SOHC Naturally Aspirated
Notes; Tune Up Kit; Spark Plugs + Ignition Coils Kit(8 Each)
2005
Ford
Explorer
XLT Sport Utility 4-Door 4.0L 245Cu. In. V6 FLEX SOHC Naturally Aspirated
2005
Ford
Explorer
XLT Sport Utility 4-Door 4.0L 245Cu. In. V6 GAS SOHC Naturally Aspirated
4.6L Engine
2005
Ford
Explorer
XLT Sport Utility 4-Door 4.6L 281Cu. In. V8 GAS SOHC Naturally Aspirated
Notes; Tune Up Kit; Spark Plugs + Ignition Coils Kit(8 Each)
2005
Ford
F-150
Flotillera Standard Cab Pickup 2-Door 4.2L 256Cu. In. V6 GAS OHV Naturally Aspirated
4.6L Engine
2005
Ford
F-150
STX Crew Cab Pickup 4-Door 4.2L 256Cu. In. V6 GAS OHV Naturally Aspirated
4.6L Engine
2005
Ford
F-150
STX Crew Cab Pickup 4-Door 4.6L 281Cu. In. V8 GAS SOHC Naturally Aspirated
4.6L Engine
2005
Ford
F-150
STX Extended Cab Pickup 3-Door 4.2L 256Cu. In. V6 GAS OHV Naturally Aspirated
4.6L Engine
2005
Ford
F-150
STX Extended Cab Pickup 3-Door 4.6L 281Cu. In. V8 GAS SOHC Naturally Aspirated
4.6L Engine
2005
Ford
F-150
STX Extended Cab Pickup 4-Door 4.2L 256Cu. In. V6 GAS OHV Naturally Aspirated
4.6L Engine
2005
Ford
F-150
STX Extended Cab Pickup 4-Door 4.6L 281Cu. In. V8 GAS SOHC Naturally Aspirated
4.6L Engine
2005
Ford
F-150
STX Standard Cab Pickup 2-Door 4.2L 256Cu. In. V6 GAS OHV Naturally Aspirated
4.6L Engine
2005
Ford
F-150
STX Standard Cab Pickup 2-Door 4.6L 281Cu. In. V8 GAS SOHC Naturally Aspirated
4.6L Engine
2005
Ford
F-150
XL Crew Cab Pickup 4-Door 4.2L 256Cu. In. V6 GAS OHV Naturally Aspirated
4.6L Engine
2005
Ford
F-150
XL Crew Cab Pickup 4-Door 4.6L 281Cu. In. V8 GAS SOHC Naturally Aspirated
4.6L Engine
2005
Ford
F-150
XL Extended Cab Pickup 3-Door 4.2L 256Cu. In. V6 GAS OHV Naturally Aspirated
4.6L Engine
2005
Ford
F-150
XL Extended Cab Pickup 3-Door 4.6L 281Cu. In. V8 GAS SOHC Naturally Aspirated
4.6L Engine
2005
Ford
F-150
XL Extended Cab Pickup 4-Door 4.2L 256Cu. In. V6 GAS OHV Naturally Aspirated
4.6L Engine
2005
Ford
F-150
XL Extended Cab Pickup 4-Door 4.6L 281Cu. In. V8 GAS SOHC Naturally Aspirated
4.6L Engine
2005
Ford
F-150
XL Standard Cab Pickup 2-Door 4.2L 256Cu. In. V6 GAS OHV Naturally Aspirated
4.6L Engine
2005
Ford
F-150
XL Standard Cab Pickup 2-Door 4.6L 281Cu. In. V8 GAS SOHC Naturally Aspirated
4.6L Engine
2005
Ford
F-150
XLT Crew Cab Pickup 4-Door 4.2L 256Cu. In. V6 GAS OHV Naturally Aspirated
4.6L Engine
2005
Ford
F-150
XLT Crew Cab Pickup 4-Door 4.6L 281Cu. In. V8 GAS SOHC Naturally Aspirated
4.6L Engine
2005
Ford
F-150
XLT Extended Cab Pickup 3-Door 4.2L 256Cu. In. V6 GAS OHV Naturally Aspirated
4.6L Engine
2005
Ford
F-150
XLT Extended Cab Pickup 3-Door 4.6L 281Cu. In. V8 GAS SOHC Naturally Aspirated
4.6L Engine
2005
Ford
F-150
XLT Extended Cab Pickup 4-Door 4.2L 256Cu. In. V6 GAS OHV Naturally Aspirated
4.6L Engine
2005
Ford
F-150
XLT Extended Cab Pickup 4-Door 4.6L 281Cu. In. V8 GAS SOHC Naturally Aspirated
4.6L Engine
2005
Ford
F-150
XLT Standard Cab Pickup 2-Door 4.2L 256Cu. In. V6 GAS OHV Naturally Aspirated
4.6L Engine
2005
Ford
F-150
XLT Standard Cab Pickup 2-Door 4.6L 281Cu. In. V8 GAS SOHC Naturally Aspirated
4.6L Engine
2005
Jaguar
X-Type
Base Sedan 4-Door 2.5L 152Cu. In. V6 GAS DOHC Naturally Aspirated
Mfrlabel:Spark Plug<br>Gap: .050; Plug Material: Platinum; Type - Alternative Plg;<br>PartType:Spark Plug<br>Quantity Required:6<br>
2005
Jaguar
X-Type
Base Wagon 4-Door 2.5L 152Cu. In. V6 GAS DOHC Naturally Aspirated
Mfrlabel:Spark Plug<br>Gap: .050; Plug Material: Platinum; Type - Alternative Plg;<br>PartType:Spark Plug<br>Quantity Required:6<br>
2005
Lincoln
Town Car
Executive L Limousine 4-Door 4.6L 281Cu. In. V8 GAS SOHC Naturally Aspirated
Notes; Tune Up Kit; Spark Plugs + Ignition Coils Kit(8 Each)
2005
Lincoln
Town Car
Executive L Sedan 4-Door 4.6L 281Cu. In. V8 GAS SOHC Naturally Aspirated
Notes; Tune Up Kit; Spark Plugs + Ignition Coils Kit(8 Each)
2005
Lincoln
Town Car
Executive Sedan 4-Door 4.6L 281Cu. In. V8 GAS SOHC Naturally Aspirated
Notes; Tune Up Kit; Spark Plugs + Ignition Coils Kit(8 Each)
2005
Lincoln
Town Car
Signature L Sedan 4-Door 4.6L 281Cu. In. V8 GAS SOHC Naturally Aspirated
Notes; Tune Up Kit; Spark Plugs + Ignition Coils Kit(8 Each)
2005
Lincoln
Town Car
Signature Limited Sedan 4-Door 4.6L 281Cu. In. V8 GAS SOHC Naturally Aspirated
Notes; Tune Up Kit; Spark Plugs + Ignition Coils Kit(8 Each)
2005
Lincoln
Town Car
Signature Sedan 4-Door 4.6L 281Cu. In. V8 GAS SOHC Naturally Aspirated
Notes; Tune Up Kit; Spark Plugs + Ignition Coils Kit(8 Each)
2005
Mercury
Grand Marquis
GS Sedan 4-Door 4.6L 281Cu. In. V8 GAS SOHC Naturally Aspirated
Notes; Tune Up Kit; Spark Plugs + Ignition Coils Kit(8 Each)
2005
Mercury
Grand Marquis
GSL Sedan 4-Door 4.6L 281Cu. In. V8 GAS SOHC Naturally Aspirated
Notes; Tune Up Kit; Spark Plugs + Ignition Coils Kit(8 Each)
2005
Mercury
Grand Marquis
Limited Edition Sedan 4-Door 4.6L 281Cu. In. V8 GAS SOHC Naturally Aspirated
Notes; Tune Up Kit; Spark Plugs + Ignition Coils Kit(8 Each)
2005
Mercury
Grand Marquis
LS Sedan 4-Door 4.6L 281Cu. In. V8 GAS SOHC Naturally Aspirated
Notes; Tune Up Kit; Spark Plugs + Ignition Coils Kit(8 Each)
2005
Mercury
Grand Marquis
Ultimate Edition Sedan 4-Door 4.6L 281Cu. In. V8 GAS SOHC Naturally Aspirated
Notes; Tune Up Kit; Spark Plugs + Ignition Coils Kit(8 Each)
2005
Mercury
Mountaineer
Base Sport Utility 4-Door 4.0L 245Cu. In. V6 FLEX SOHC Naturally Aspirated
4.6L Engine
2005
Mercury
Mountaineer
Base Sport Utility 4-Door 4.0L 245Cu. In. V6 GAS SOHC Naturally Aspirated
4.6L Engine
2005
Mercury
Mountaineer
Base Sport Utility 4-Door 4.6L 281Cu. In. V8 GAS SOHC Naturally Aspirated
Notes; Tune Up Kit; Spark Plugs + Ignition Coils Kit(8 Each)
2005
Mercury
Mountaineer
Premier Sport Utility 4-Door 4.0L 245Cu. In. V6 FLEX SOHC Naturally Aspirated
4.6L Engine
2005
Mercury
Mountaineer
Premier Sport Utility 4-Door 4.0L 245Cu. In. V6 GAS SOHC Naturally Aspirated
4.6L Engine
2005
Mercury
Mountaineer
Premier Sport Utility 4-Door 4.6L 281Cu. In. V8 GAS SOHC Naturally Aspirated
Notes; Tune Up Kit; Spark Plugs + Ignition Coils Kit(8 Each)
2005
Panoz
Esperante
GTLM Convertible 2-Door 4.6L 281Cu. In. V8 GAS DOHC Supercharged
Mfrlabel:Spark Plug<br>Gap: .054; Plug Material: Platinum; QOHC; Supercharged; Type - Alternative Plg<br>PartType:Spark Plug<br>Quantity Required:8<br>
2004
Ford
Crown Victoria
Base Sedan 4-Door 4.6L 281Cu. In. V8 CNG SOHC Naturally Aspirated
Notes; Tune Up Kit; Spark Plugs + Ignition Coils Kit(8 Each)
2004
Ford
Crown Victoria
Base Sedan 4-Door 4.6L 281Cu. In. V8 GAS SOHC Naturally Aspirated
Notes; Tune Up Kit; Spark Plugs + Ignition Coils Kit(8 Each)
2004
Ford
Crown Victoria
LX Sedan 4-Door 4.6L 281Cu. In. V8 CNG SOHC Naturally Aspirated
Notes; Tune Up Kit; Spark Plugs + Ignition Coils Kit(8 Each)
2004
Ford
Crown Victoria
LX Sedan 4-Door 4.6L 281Cu. In. V8 GAS SOHC Naturally Aspirated
Notes; Tune Up Kit; Spark Plugs + Ignition Coils Kit(8 Each)
2004
Ford
Crown Victoria
LX Sport Sedan 4-Door 4.6L 281Cu. In. V8 CNG SOHC Naturally Aspirated
Notes; Tune Up Kit; Spark Plugs + Ignition Coils Kit(8 Each)
2004
Ford
Crown Victoria
LX Sport Sedan 4-Door 4.6L 281Cu. In. V8 GAS SOHC Naturally Aspirated
Notes; Tune Up Kit; Spark Plugs + Ignition Coils Kit(8 Each)
2004
Ford
Crown Victoria
Police Interceptor Sedan 4-Door 4.6L 281Cu. In. V8 CNG SOHC Naturally Aspirated
Notes; Tune Up Kit; Spark Plugs + Ignition Coils Kit(8 Each)
2004
Ford
Crown Victoria
Police Interceptor Sedan 4-Door 4.6L 281Cu. In. V8 GAS SOHC Naturally Aspirated
Notes; Tune Up Kit; Spark Plugs + Ignition Coils Kit(8 Each)
2004
Ford
E-150
Base Standard Cargo Van 2-Door 4.6L 281Cu. In. V8 GAS SOHC Naturally Aspirated
Notes; Tune Up Kit; Spark Plugs + Ignition Coils Kit(8 Each)
2004
Ford
E-150
XL Standard Passenger Van 3-Door 4.6L 281Cu. In. V8 GAS SOHC Naturally Aspirated
4.6L & 5.4L Engine
2004
Ford
E-150 Club Wagon
Chateau Standard Passenger Van 2-Door 4.6L 281Cu. In. V8 GAS SOHC Naturally Aspirated
Notes; Tune Up Kit; Spark Plugs + Ignition Coils Kit(8 Each)
2004
Ford
E-150 Club Wagon
XL Standard Passenger Van 2-Door 4.6L 281Cu. In. V8 GAS SOHC Naturally Aspirated
Notes; Tune Up Kit; Spark Plugs + Ignition Coils Kit(8 Each)
2004
Ford
E-150 Club Wagon
XLT Standard Passenger Van 2-Door 4.6L 281Cu. In. V8 GAS SOHC Naturally Aspirated
Notes; Tune Up Kit; Spark Plugs + Ignition Coils Kit(8 Each)
2004
Ford
E-250
Base Extended Cargo Van 2-Door 4.6L 281Cu. In. V8 GAS SOHC Naturally Aspirated
Notes; Tune Up Kit; Spark Plugs + Ignition Coils Kit(8 Each)
2004
Ford
E-250
Base Standard Cargo Van 2-Door 4.6L 281Cu. In. V8 GAS SOHC Naturally Aspirated
Notes; Tune Up Kit; Spark Plugs + Ignition Coils Kit(8 Each)
2004
Ford
Expedition
Eddie Bauer Sport Utility 4-Door 4.6L 281Cu. In. V8 GAS SOHC Naturally Aspirated
Notes; Tune Up Kit; Spark Plugs + Ignition Coils Kit(8 Each)
2004
Ford
Expedition
NBX Sport Utility 4-Door 4.6L 281Cu. In. V8 GAS SOHC Naturally Aspirated
Notes; Tune Up Kit; Spark Plugs + Ignition Coils Kit(8 Each)
2004
Ford
Expedition
XLS Sport Utility 4-Door 4.6L 281Cu. In. V8 GAS SOHC Naturally Aspirated
Notes; Tune Up Kit; Spark Plugs + Ignition Coils Kit(8 Each)
2004
Ford
Expedition
XLT Sport Sport Utility 4-Door 4.6L 281Cu. In. V8 GAS SOHC Naturally Aspirated
Notes; Tune Up Kit; Spark Plugs + Ignition Coils Kit(8 Each)
2004
Ford
Expedition
XLT Sport Utility 4-Door 4.6L 281Cu. In. V8 GAS SOHC Naturally Aspirated
Notes; Tune Up Kit; Spark Plugs + Ignition Coils Kit(8 Each)
2004
Ford
Explorer
Eddie Bauer Sport Utility 4-Door 4.0L 245Cu. In. V6 FLEX SOHC Naturally Aspirated
2004
Ford
Explorer
Eddie Bauer Sport Utility 4-Door 4.0L 245Cu. In. V6 GAS SOHC Naturally Aspirated
2004
Ford
Explorer
Eddie Bauer Sport Utility 4-Door 4.6L 281Cu. In. V8 GAS SOHC Naturally Aspirated
Notes; Tune Up Kit; Spark Plugs + Ignition Coils Kit(8 Each)
2004
Ford
Explorer
Limited Sport Utility 4-Door 4.0L 245Cu. In. V6 FLEX SOHC Naturally Aspirated
2004
Ford
Explorer
Limited Sport Utility 4-Door 4.0L 245Cu. In. V6 GAS SOHC Naturally Aspirated
2004
Ford
Explorer
Limited Sport Utility 4-Door 4.6L 281Cu. In. V8 GAS SOHC Naturally Aspirated
Notes; Tune Up Kit; Spark Plugs + Ignition Coils Kit(8 Each)
2004
Ford
Explorer
NBX Sport Utility 4-Door 4.0L 245Cu. In. V6 FLEX SOHC Naturally Aspirated
2004
Ford
Explorer
NBX Sport Utility 4-Door 4.0L 245Cu. In. V6 GAS SOHC Naturally Aspirated
2004
Ford
Explorer
NBX Sport Utility 4-Door 4.6L 281Cu. In. V8 GAS SOHC Naturally Aspirated
Notes; Tune Up Kit; Spark Plugs + Ignition Coils Kit(8 Each)
2004
Ford
Explorer
XLS Sport Sport Utility 4-Door 4.0L 245Cu. In. V6 FLEX SOHC Naturally Aspirated
2004
Ford
Explorer
XLS Sport Sport Utility 4-Door 4.0L 245Cu. In. V6 GAS SOHC Naturally Aspirated
2004
Ford
Explorer
XLS Sport Utility 4-Door 4.0L 245Cu. In. V6 FLEX SOHC Naturally Aspirated
2004
Ford
Explorer
XLS Sport Utility 4-Door 4.0L 245Cu. In. V6 GAS SOHC Naturally Aspirated
2004
Ford
Explorer
XLT Sport Sport Utility 4-Door 4.0L 245Cu. In. V6 FLEX SOHC Naturally Aspirated
2004
Ford
Explorer
XLT Sport Sport Utility 4-Door 4.0L 245Cu. In. V6 GAS SOHC Naturally Aspirated
2004
Ford
Explorer
XLT Sport Sport Utility 4-Door 4.6L 281Cu. In. V8 GAS SOHC Naturally Aspirated
Notes; Tune Up Kit; Spark Plugs + Ignition Coils Kit(8 Each)
2004
Ford
Explorer
XLT Sport Utility 4-Door 4.0L 245Cu. In. V6 FLEX SOHC Naturally Aspirated
2004
Ford
Explorer
XLT Sport Utility 4-Door 4.0L 245Cu. In. V6 GAS SOHC Naturally Aspirated
2004
Ford
Explorer
XLT Sport Utility 4-Door 4.6L 281Cu. In. V8 GAS SOHC Naturally Aspirated
Notes; Tune Up Kit; Spark Plugs + Ignition Coils Kit(8 Each)
2004
Ford
F-150
Flotillera Standard Cab Pickup 2-Door 4.2L 256Cu. In. V6 GAS OHV Naturally Aspirated
4.6L Engine
2004
Ford
F-150
STX Extended Cab Pickup 4-Door 4.6L 281Cu. In. V8 GAS SOHC Naturally Aspirated
4.6L Engine
2004
Ford
F-150
STX Standard Cab Pickup 2-Door 4.6L 281Cu. In. V8 GAS SOHC Naturally Aspirated
4.6L Engine
2004
Ford
F-150
XL Crew Cab Pickup 4-Door 4.6L 281Cu. In. V8 GAS SOHC Naturally Aspirated
4.6L Engine
2004
Ford
F-150
XL Extended Cab Pickup 4-Door 4.6L 281Cu. In. V8 GAS SOHC Naturally Aspirated
4.6L Engine
2004
Ford
F-150
XL Standard Cab Pickup 2-Door 4.2L 256Cu. In. V6 GAS OHV Naturally Aspirated
4.6L Engine
2004
Ford
F-150
XL Standard Cab Pickup 2-Door 4.6L 281Cu. In. V8 GAS SOHC Naturally Aspirated
4.6L Engine
2004
Ford
F-150
XLT Crew Cab Pickup 4-Door 4.6L 281Cu. In. V8 GAS SOHC Naturally Aspirated
4.6L Engine
2004
Ford
F-150
XLT Extended Cab Pickup 4-Door 4.6L 281Cu. In. V8 GAS SOHC Naturally Aspirated
4.6L Engine
2004
Ford
F-150
XLT Standard Cab Pickup 2-Door 4.2L 256Cu. In. V6 GAS OHV Naturally Aspirated
4.6L Engine
2004
Ford
F-150
XLT Standard Cab Pickup 2-Door 4.6L 281Cu. In. V8 GAS SOHC Naturally Aspirated
4.6L Engine
2004
Ford
F-150 Heritage
XL Extended Cab Pickup 4-Door 4.6L 281Cu. In. V8 GAS SOHC Naturally Aspirated
2004
Ford
F-150 Heritage
XLT Extended Cab Pickup 4-Door 4.6L 281Cu. In. V8 GAS SOHC Naturally Aspirated
2004
Ford
F-150 Heritage
XLT Standard Cab Pickup 2-Door 4.6L 281Cu. In. V8 GAS SOHC Naturally Aspirated
2004
Ford
Mustang
Base Convertible 2-Door 3.8L 232Cu. In. V6 GAS OHV Naturally Aspirated
4.6L Engine
2004
Ford
Mustang
Base Convertible 2-Door 3.9L 238Cu. In. V6 GAS OHV Naturally Aspirated
4.6L Engine
2004
Ford
Mustang
Base Coupe 2-Door 3.8L 232Cu. In. V6 GAS OHV Naturally Aspirated
4.6L Engine
2004
Ford
Mustang
Base Coupe 2-Door 3.9L 238Cu. In. V6 GAS OHV Naturally Aspirated
4.6L Engine
2004
Ford
Mustang
GT Base Convertible 2-Door 4.6L 281Cu. In. V8 GAS SOHC Naturally Aspirated
2004
Ford
Mustang
GT Base Coupe 2-Door 4.6L 281Cu. In. V8 GAS SOHC Naturally Aspirated
2004
Ford
Mustang
GT Convertible 2-Door 4.6L 281Cu. In. V8 GAS SOHC Naturally Aspirated
2004
Ford
Mustang
GT Coupe 2-Door 4.6L 281Cu. In. V8 GAS SOHC Naturally Aspirated
2004
Ford
Mustang
GT Equipado Convertible 2-Door 4.6L 281Cu. In. V8 GAS SOHC Naturally Aspirated
2004
Ford
Mustang
GT Equipado Coupe 2-Door 4.6L 281Cu. In. V8 GAS SOHC Naturally Aspirated
2004
Ford
Mustang
Mach I Coupe 2-Door 4.6L 281Cu. In. V8 GAS DOHC Naturally Aspirated
2004
Ford
Mustang
SVT Cobra Convertible 2-Door 4.6L 281Cu. In. V8 GAS DOHC Supercharged
2004
Ford
Mustang
SVT Cobra Coupe 2-Door 4.6L 281Cu. In. V8 GAS DOHC Supercharged
2004
Jaguar
X-Type
Base Sedan 4-Door 2.5L 152Cu. In. V6 GAS DOHC Naturally Aspirated
Mfrlabel:Spark Plug<br>Gap: .050; Plug Material: Platinum; Type - Alternative Plg;<br>PartType:Spark Plug<br>Quantity Required:6<br>
2004
Lincoln
Town Car
Executive L Sedan 4-Door 4.6L 281Cu. In. V8 GAS SOHC Naturally Aspirated
Notes; Tune Up Kit; Spark Plugs + Ignition Coils Kit(8 Each)
2004
Lincoln
Town Car
Executive Limousine 4-Door 4.6L 281Cu. In. V8 GAS SOHC Naturally Aspirated
Notes; Tune Up Kit; Spark Plugs + Ignition Coils Kit(8 Each)
2004
Lincoln
Town Car
Executive Sedan 4-Door 4.6L 281Cu. In. V8 GAS SOHC Naturally Aspirated
Notes; Tune Up Kit; Spark Plugs + Ignition Coils Kit(8 Each)
2004
Lincoln
Town Car
Signature Sedan 4-Door 4.6L 281Cu. In. V8 GAS SOHC Naturally Aspirated
Notes; Tune Up Kit; Spark Plugs + Ignition Coils Kit(8 Each)
2004
Lincoln
Town Car
Ultimate L Sedan 4-Door 4.6L 281Cu. In. V8 GAS SOHC Naturally Aspirated
Notes; Tune Up Kit; Spark Plugs + Ignition Coils Kit(8 Each)
2004
Lincoln
Town Car
Ultimate Sedan 4-Door 4.6L 281Cu. In. V8 GAS SOHC Naturally Aspirated
Notes; Tune Up Kit; Spark Plugs + Ignition Coils Kit(8 Each)
2004
Mercury
Grand Marquis
GS Sedan 4-Door 4.6L 281Cu. In. V8 GAS SOHC Naturally Aspirated
Notes; Tune Up Kit; Spark Plugs + Ignition Coils Kit(8 Each)
2004
Mercury
Grand Marquis
LS Sedan 4-Door 4.6L 281Cu. In. V8 GAS SOHC Naturally Aspirated
Notes; Tune Up Kit; Spark Plugs + Ignition Coils Kit(8 Each)
2004
Mercury
Mountaineer
Base Sport Utility 4-Door 4.0L 245Cu. In. V6 FLEX SOHC Naturally Aspirated
4.6L Engine
2004
Mercury
Mountaineer
Base Sport Utility 4-Door 4.0L 245Cu. In. V6 GAS SOHC Naturally Aspirated
4.6L Engine
2004
Mercury
Mountaineer
Base Sport Utility 4-Door 4.6L 281Cu. In. V8 GAS SOHC Naturally Aspirated
Notes; Tune Up Kit; Spark Plugs + Ignition Coils Kit(8 Each)
2004
Mercury
Mountaineer
Premier Sport Utility 4-Door 4.0L 245Cu. In. V6 GAS SOHC Naturally Aspirated
4.6L Engine
2004
Mercury
Mountaineer
Premier Sport Utility 4-Door 4.6L 281Cu. In. V8 GAS SOHC Naturally Aspirated
Notes; Tune Up Kit; Spark Plugs + Ignition Coils Kit(8 Each)
2003
Ford
Crown Victoria
Base Sedan 4-Door 4.6L 281Cu. In. V8 CNG SOHC Naturally Aspirated
Notes; Tune Up Kit; Spark Plugs + Ignition Coils Kit(8 Each)
2003
Ford
Crown Victoria
Base Sedan 4-Door 4.6L 281Cu. In. V8 GAS SOHC Naturally Aspirated
Notes; Tune Up Kit; Spark Plugs + Ignition Coils Kit(8 Each)
2003
Ford
Crown Victoria
LWB Sedan 4-Door 4.6L 281Cu. In. V8 CNG SOHC Naturally Aspirated
Notes; Tune Up Kit; Spark Plugs + Ignition Coils Kit(8 Each)
2003
Ford
Crown Victoria
LWB Sedan 4-Door 4.6L 281Cu. In. V8 GAS SOHC Naturally Aspirated
Notes; Tune Up Kit; Spark Plugs + Ignition Coils Kit(8 Each)
2003
Ford
Crown Victoria
LX Sedan 4-Door 4.6L 281Cu. In. V8 CNG SOHC Naturally Aspirated
Notes; Tune Up Kit; Spark Plugs + Ignition Coils Kit(8 Each)
2003
Ford
Crown Victoria
LX Sedan 4-Door 4.6L 281Cu. In. V8 GAS SOHC Naturally Aspirated
Notes; Tune Up Kit; Spark Plugs + Ignition Coils Kit(8 Each)
2003
Ford
Crown Victoria
Police Interceptor Sedan 4-Door 4.6L 281Cu. In. V8 CNG SOHC Naturally Aspirated
Notes; Tune Up Kit; Spark Plugs + Ignition Coils Kit(8 Each)
2003
Ford
Crown Victoria
Police Interceptor Sedan 4-Door 4.6L 281Cu. In. V8 GAS SOHC Naturally Aspirated
Notes; Tune Up Kit; Spark Plugs + Ignition Coils Kit(8 Each)
2003
Ford
Crown Victoria
S Sedan 4-Door 4.6L 281Cu. In. V8 CNG SOHC Naturally Aspirated
Notes; Tune Up Kit; Spark Plugs + Ignition Coils Kit(8 Each)
2003
Ford
Crown Victoria
S Sedan 4-Door 4.6L 281Cu. In. V8 GAS SOHC Naturally Aspirated
Notes; Tune Up Kit; Spark Plugs + Ignition Coils Kit(8 Each)
2003
Ford
E-150
Base Standard Cargo Van 2-Door 4.2L 256Cu. In. V6 GAS OHV Naturally Aspirated
2003
Ford
E-150
Base Standard Cargo Van 2-Door 4.6L 281Cu. In. V8 GAS SOHC Naturally Aspirated
Notes; Tune Up Kit; Spark Plugs + Ignition Coils Kit(8 Each)
2003
Ford
E-150
XL Standard Passenger Van 3-Door 4.2L 256Cu. In. V6 GAS OHV Naturally Aspirated
4.6L & 5.4L Engine
2003
Ford
E-150 Club Wagon
Chateau Standard Passenger Van 2-Door 4.2L 256Cu. In. V6 GAS OHV Naturally Aspirated
4.6L & 5.4L Engine
2003
Ford
E-150 Club Wagon
Chateau Standard Passenger Van 2-Door 4.6L 281Cu. In. V8 GAS SOHC Naturally Aspirated
Notes; Tune Up Kit; Spark Plugs + Ignition Coils Kit(8 Each)
2003
Ford
E-150 Club Wagon
XL Standard Passenger Van 2-Door 4.2L 256Cu. In. V6 GAS OHV Naturally Aspirated
4.6L & 5.4L Engine
2003
Ford
E-150 Club Wagon
XL Standard Passenger Van 2-Door 4.6L 281Cu. In. V8 GAS SOHC Naturally Aspirated
Notes; Tune Up Kit; Spark Plugs + Ignition Coils Kit(8 Each)
2003
Ford
E-150 Club Wagon
XLT Standard Passenger Van 2-Door 4.2L 256Cu. In. V6 GAS OHV Naturally Aspirated
4.6L & 5.4L Engine
2003
Ford
E-150 Club Wagon
XLT Standard Passenger Van 2-Door 4.6L 281Cu. In. V8 GAS SOHC Naturally Aspirated
Notes; Tune Up Kit; Spark Plugs + Ignition Coils Kit(8 Each)
2003
Ford
E-250
Base Extended Cargo Van 2-Door 4.2L 256Cu. In. V6 GAS OHV Naturally Aspirated
2003
Ford
E-250
Base Extended Cargo Van 2-Door 4.6L 281Cu. In. V8 GAS SOHC Naturally Aspirated
Notes; Tune Up Kit; Spark Plugs + Ignition Coils Kit(8 Each)
2003
Ford
E-250
Base Standard Cargo Van 2-Door 4.2L 256Cu. In. V6 GAS OHV Naturally Aspirated
2003
Ford
E-250
Base Standard Cargo Van 2-Door 4.6L 281Cu. In. V8 GAS SOHC Naturally Aspirated
Notes; Tune Up Kit; Spark Plugs + Ignition Coils Kit(8 Each)
2003
Ford
E-250
Base Stripped Chassis 4.2L 256Cu. In. V6 GAS OHV Naturally Aspirated
2003
Ford
E-250
Base Stripped Chassis 4.6L 281Cu. In. V8 GAS SOHC Naturally Aspirated
Notes; Tune Up Kit; Spark Plugs + Ignition Coils Kit(8 Each)
2003
Ford
Expedition
Eddie Bauer Sport Utility 4-Door 4.6L 281Cu. In. V8 GAS SOHC Naturally Aspirated
Notes; Tune Up Kit; Spark Plugs + Ignition Coils Kit(8 Each)
2003
Ford
Expedition
XLT Sport Utility 4-Door 4.6L 281Cu. In. V8 GAS SOHC Naturally Aspirated
Notes; Tune Up Kit; Spark Plugs + Ignition Coils Kit(8 Each)
2003
Ford
Explorer
Eddie Bauer Sport Utility 4-Door 4.0L 245Cu. In. V6 FLEX SOHC Naturally Aspirated
2003
Ford
Explorer
Eddie Bauer Sport Utility 4-Door 4.0L 245Cu. In. V6 GAS SOHC Naturally Aspirated
2003
Ford
Explorer
Eddie Bauer Sport Utility 4-Door 4.6L 281Cu. In. V8 GAS SOHC Naturally Aspirated
Notes; Tune Up Kit; Spark Plugs + Ignition Coils Kit(8 Each)
2003
Ford
Explorer
Limited Sport Utility 4-Door 4.0L 245Cu. In. V6 FLEX SOHC Naturally Aspirated
2003
Ford
Explorer
Limited Sport Utility 4-Door 4.0L 245Cu. In. V6 GAS SOHC Naturally Aspirated
2003
Ford
Explorer
Limited Sport Utility 4-Door 4.6L 281Cu. In. V8 GAS SOHC Naturally Aspirated
Notes; Tune Up Kit; Spark Plugs + Ignition Coils Kit(8 Each)
2003
Ford
Explorer
Postal Stripped Chassis 4.0L 245Cu. In. V6 FLEX SOHC Naturally Aspirated
2003
Ford
Explorer
Postal Stripped Chassis 4.0L 245Cu. In. V6 GAS SOHC Naturally Aspirated
2003
Ford
Explorer
XLS Sport Utility 4-Door 4.0L 245Cu. In. V6 FLEX SOHC Naturally Aspirated
2003
Ford
Explorer
XLS Sport Utility 4-Door 4.0L 245Cu. In. V6 GAS SOHC Naturally Aspirated
2003
Ford
Explorer
XLT Sport Utility 4-Door 4.0L 245Cu. In. V6 FLEX SOHC Naturally Aspirated
2003
Ford
Explorer
XLT Sport Utility 4-Door 4.0L 245Cu. In. V6 GAS SOHC Naturally Aspirated
4.6L Engine
2003
Ford
Explorer
XLT Sport Utility 4-Door 4.6L 281Cu. In. V8 GAS SOHC Naturally Aspirated
Notes; Tune Up Kit; Spark Plugs + Ignition Coils Kit(8 Each)
2003
Ford
F-150
King Ranch Crew Cab Pickup 4-Door 4.6L 281Cu. In. V8 GAS SOHC Naturally Aspirated
Notes; Tune Up Kit; Spark Plugs + Ignition Coils Kit(8 Each)
2003
Ford
F-150
King Ranch Extended Cab Pickup 2-Door 4.6L 281Cu. In. V8 GAS SOHC Naturally Aspirated
Notes; Tune Up Kit; Spark Plugs + Ignition Coils Kit(8 Each)
2003
Ford
F-150
Lariat Crew Cab Pickup 4-Door 4.6L 281Cu. In. V8 GAS SOHC Naturally Aspirated
Notes; Tune Up Kit; Spark Plugs + Ignition Coils Kit(8 Each)
2003
Ford
F-150
Lariat Extended Cab Pickup 4-Door 4.6L 281Cu. In. V8 GAS SOHC Naturally Aspirated
Notes; Tune Up Kit; Spark Plugs + Ignition Coils Kit(8 Each)
2003
Ford
F-150
Lariat Standard Cab Pickup 2-Door 4.6L 281Cu. In. V8 GAS SOHC Naturally Aspirated
Notes; Tune Up Kit; Spark Plugs + Ignition Coils Kit(8 Each)
2003
Ford
F-150
XL Extended Cab Pickup 4-Door 4.2L 256Cu. In. V6 GAS OHV Naturally Aspirated
4.6L & 5.4L Engine
2003
Ford
F-150
XL Extended Cab Pickup 4-Door 4.6L 281Cu. In. V8 GAS SOHC Naturally Aspirated
Notes; Tune Up Kit; Spark Plugs + Ignition Coils Kit(8 Each)
2003
Ford
F-150
XL Standard Cab Pickup 2-Door 4.2L 256Cu. In. V6 GAS OHV Naturally Aspirated
2003
Ford
F-150
XL Standard Cab Pickup 2-Door 4.6L 281Cu. In. V8 GAS SOHC Naturally Aspirated
Notes; Tune Up Kit; Spark Plugs + Ignition Coils Kit(8 Each)
2003
Ford
F-150
XLT Crew Cab Pickup 4-Door 4.2L 256Cu. In. V6 GAS OHV Naturally Aspirated
2003
Ford
F-150
XLT Crew Cab Pickup 4-Door 4.6L 281Cu. In. V8 GAS SOHC Naturally Aspirated
Notes; Tune Up Kit; Spark Plugs + Ignition Coils Kit(8 Each)
2003
Ford
F-150
XLT Extended Cab Pickup 4-Door 4.2L 256Cu. In. V6 GAS OHV Naturally Aspirated
4.6L & 5.4L Engine
2003
Ford
F-150
XLT Extended Cab Pickup 4-Door 4.6L 281Cu. In. V8 GAS SOHC Naturally Aspirated
Notes; Tune Up Kit; Spark Plugs + Ignition Coils Kit(8 Each)
2003
Ford
F-150
XLT Standard Cab Pickup 2-Door 4.2L 256Cu. In. V6 GAS OHV Naturally Aspirated
4.6L & 5.4L Engine
2003
Ford
F-150
XLT Standard Cab Pickup 2-Door 4.6L 281Cu. In. V8 GAS SOHC Naturally Aspirated
Notes; Tune Up Kit; Spark Plugs + Ignition Coils Kit(8 Each)
2003
Ford
Mustang
Base Convertible 2-Door 3.8L 232Cu. In. V6 GAS OHV Naturally Aspirated
4.6L Engine
2003
Ford
Mustang
Base Coupe 2-Door 3.8L 232Cu. In. V6 GAS OHV Naturally Aspirated
4.6L Engine
2003
Ford
Mustang
Equipado Convertible 2-Door 4.6L 281Cu. In. V8 GAS SOHC Naturally Aspirated
2003
Ford
Mustang
Equipado Coupe 2-Door 4.6L 281Cu. In. V8 GAS SOHC Naturally Aspirated
2003
Ford
Mustang
GT Convertible 2-Door 4.6L 281Cu. In. V8 GAS SOHC Naturally Aspirated
2003
Ford
Mustang
GT Coupe 2-Door 4.6L 281Cu. In. V8 GAS SOHC Naturally Aspirated
4.6L Engine
2003
Ford
Mustang
Mach I Coupe 2-Door 4.6L 281Cu. In. V8 GAS DOHC Naturally Aspirated
2003
Ford
Mustang
SVT Cobra 10th Anniversary Convertible 2-Door 4.6L 281Cu. In. V8 GAS DOHC Supercharged
2003
Ford
Mustang
SVT Cobra 10th Anniversary Coupe 2-Door 4.6L 281Cu. In. V8 GAS DOHC Supercharged
2003
Ford
Mustang
SVT Cobra Convertible 2-Door 4.6L 281Cu. In. V8 GAS DOHC Supercharged
2003
Ford
Mustang
SVT Cobra Coupe 2-Door 4.6L 281Cu. In. V8 GAS DOHC Supercharged
2003
Jaguar
X-Type
Base Sedan 4-Door 2.5L 152Cu. In. V6 GAS DOHC Naturally Aspirated
Mfrlabel:Spark Plug<br>Gap: .050; Plug Material: Platinum; Type - Alternative Plg;<br>PartType:Spark Plug<br>Quantity Required:6<br>
2003
Lincoln
Town Car
Base Limousine 4-Door 4.6L 281Cu. In. V8 GAS SOHC Naturally Aspirated
Notes; Tune Up Kit; Spark Plugs + Ignition Coils Kit(8 Each)
2003
Lincoln
Town Car
Cartier L Sedan 4-Door 4.6L 281Cu. In. V8 GAS SOHC Naturally Aspirated
Notes; Tune Up Kit; Spark Plugs + Ignition Coils Kit(8 Each)
2003
Lincoln
Town Car
Cartier Sedan 4-Door 4.6L 281Cu. In. V8 GAS SOHC Naturally Aspirated
Notes; Tune Up Kit; Spark Plugs + Ignition Coils Kit(8 Each)
2003
Lincoln
Town Car
Executive L Sedan 4-Door 4.6L 281Cu. In. V8 GAS SOHC Naturally Aspirated
Notes; Tune Up Kit; Spark Plugs + Ignition Coils Kit(8 Each)
2003
Lincoln
Town Car
Executive Limousine 4-Door 4.6L 281Cu. In. V8 GAS SOHC Naturally Aspirated
Notes; Tune Up Kit; Spark Plugs + Ignition Coils Kit(8 Each)
2003
Lincoln
Town Car
Executive Protection Series Sedan 4-Door 4.6L 281Cu. In. V8 GAS SOHC Naturally Aspirated
Notes; Tune Up Kit; Spark Plugs + Ignition Coils Kit(8 Each)
2003
Lincoln
Town Car
Executive Sedan 4-Door 4.6L 281Cu. In. V8 GAS SOHC Naturally Aspirated
Notes; Tune Up Kit; Spark Plugs + Ignition Coils Kit(8 Each)
2003
Lincoln
Town Car
Signature Sedan 4-Door 4.6L 281Cu. In. V8 GAS SOHC Naturally Aspirated
Notes; Tune Up Kit; Spark Plugs + Ignition Coils Kit(8 Each)
2003
Mercury
Grand Marquis
GS Sedan 4-Door 4.6L 281Cu. In. V8 GAS SOHC Naturally Aspirated
Notes; Tune Up Kit; Spark Plugs + Ignition Coils Kit(8 Each)
2003
Mercury
Grand Marquis
LS Sedan 4-Door 4.6L 281Cu. In. V8 GAS SOHC Naturally Aspirated
Notes; Tune Up Kit; Spark Plugs + Ignition Coils Kit(8 Each)
2003
Mercury
Grand Marquis
LSE Sedan 4-Door 4.6L 281Cu. In. V8 GAS SOHC Naturally Aspirated
Notes; Tune Up Kit; Spark Plugs + Ignition Coils Kit(8 Each)
2003
Mercury
Mountaineer
Base Sport Utility 4-Door 4.0L 245Cu. In. V6 FLEX SOHC Naturally Aspirated
4.6L Engine
2003
Mercury
Mountaineer
Base Sport Utility 4-Door 4.6L 281Cu. In. V8 GAS SOHC Naturally Aspirated
Notes; Tune Up Kit; Spark Plugs + Ignition Coils Kit(8 Each)
2002
Ford
Crown Victoria
Base Sedan 4-Door 4.6L 281Cu. In. V8 CNG SOHC Naturally Aspirated
Notes; Tune Up Kit; Spark Plugs + Ignition Coils Kit(8 Each)
2002
Ford
Crown Victoria
Base Sedan 4-Door 4.6L 281Cu. In. V8 GAS SOHC Naturally Aspirated
Notes; Tune Up Kit; Spark Plugs + Ignition Coils Kit(8 Each)
2002
Ford
Crown Victoria
LWB Sedan 4-Door 4.6L 281Cu. In. V8 CNG SOHC Naturally Aspirated
Notes; Tune Up Kit; Spark Plugs + Ignition Coils Kit(8 Each)
2002
Ford
Crown Victoria
LWB Sedan 4-Door 4.6L 281Cu. In. V8 GAS SOHC Naturally Aspirated
Notes; Tune Up Kit; Spark Plugs + Ignition Coils Kit(8 Each)
2002
Ford
Crown Victoria
LX Sedan 4-Door 4.6L 281Cu. In. V8 CNG SOHC Naturally Aspirated
Notes; Tune Up Kit; Spark Plugs + Ignition Coils Kit(8 Each)
2002
Ford
Crown Victoria
LX Sedan 4-Door 4.6L 281Cu. In. V8 GAS SOHC Naturally Aspirated
Notes; Tune Up Kit; Spark Plugs + Ignition Coils Kit(8 Each)
2002
Ford
Crown Victoria
Police Interceptor Sedan 4-Door 4.6L 281Cu. In. V8 CNG SOHC Naturally Aspirated
Notes; Tune Up Kit; Spark Plugs + Ignition Coils Kit(8 Each)
2002
Ford
Crown Victoria
Police Interceptor Sedan 4-Door 4.6L 281Cu. In. V8 GAS SOHC Naturally Aspirated
Notes; Tune Up Kit; Spark Plugs + Ignition Coils Kit(8 Each)
2002
Ford
Crown Victoria
S Sedan 4-Door 4.6L 281Cu. In. V8 CNG SOHC Naturally Aspirated
Notes; Tune Up Kit; Spark Plugs + Ignition Coils Kit(8 Each)
2002
Ford
Crown Victoria
S Sedan 4-Door 4.6L 281Cu. In. V8 GAS SOHC Naturally Aspirated
Notes; Tune Up Kit; Spark Plugs + Ignition Coils Kit(8 Each)
2002
Ford
E-150 Econoline
Base Standard Cargo Van 2-Door 4.2L 256Cu. In. V6 GAS OHV Naturally Aspirated
4.6L & 5.4L Engine
2002
Ford
E-150 Econoline
Base Standard Cargo Van 2-Door 4.6L 281Cu. In. V8 GAS SOHC Naturally Aspirated
Notes; Tune Up Kit; Spark Plugs + Ignition Coils Kit(8 Each)
2002
Ford
E-150 Econoline Club Wagon
Chateau Standard Passenger Van 2-Door 4.2L 256Cu. In. V6 GAS OHV Naturally Aspirated
2002
Ford
E-150 Econoline Club Wagon
Chateau Standard Passenger Van 2-Door 4.6L 281Cu. In. V8 GAS SOHC Naturally Aspirated
Notes; Tune Up Kit; Spark Plugs + Ignition Coils Kit(8 Each)
2002
Ford
E-150 Econoline Club Wagon
XL Standard Passenger Van 2-Door 4.2L 256Cu. In. V6 GAS OHV Naturally Aspirated
2002
Ford
E-150 Econoline Club Wagon
XL Standard Passenger Van 2-Door 4.6L 281Cu. In. V8 GAS SOHC Naturally Aspirated
Notes; Tune Up Kit; Spark Plugs + Ignition Coils Kit(8 Each)
2002
Ford
E-150 Econoline Club Wagon
XLT Standard Passenger Van 2-Door 4.2L 256Cu. In. V6 GAS OHV Naturally Aspirated
2002
Ford
E-150 Econoline Club Wagon
XLT Standard Passenger Van 2-Door 4.6L 281Cu. In. V8 GAS SOHC Naturally Aspirated
Notes; Tune Up Kit; Spark Plugs + Ignition Coils Kit(8 Each)
2002
Ford
E-250 Econoline
Base Extended Cargo Van 2-Door 4.2L 256Cu. In. V6 GAS OHV Naturally Aspirated
2002
Ford
E-250 Econoline
Base Standard Cargo Van 2-Door 4.2L 256Cu. In. V6 GAS OHV Naturally Aspirated
2002
Ford
E-250 Econoline
Base Stripped Chassis 4.2L 256Cu. In. V6 GAS OHV Naturally Aspirated
2002
Ford
Expedition
Eddie Bauer Sport Utility 4-Door 4.6L 281Cu. In. V8 GAS SOHC Naturally Aspirated
Notes; Tune Up Kit; Spark Plugs + Ignition Coils Kit(8 Each)
2002
Ford
Expedition
XLT Sport Utility 4-Door 4.6L 281Cu. In. V8 GAS SOHC Naturally Aspirated
Notes; Tune Up Kit; Spark Plugs + Ignition Coils Kit(8 Each)
2002
Ford
Explorer
Eddie Bauer Sport Utility 4-Door 4.0L 245Cu. In. V6 FLEX SOHC Naturally Aspirated
2002
Ford
Explorer
Eddie Bauer Sport Utility 4-Door 4.0L 245Cu. In. V6 GAS SOHC Naturally Aspirated
2002
Ford
Explorer
Eddie Bauer Sport Utility 4-Door 4.6L 281Cu. In. V8 GAS SOHC Naturally Aspirated
Notes; Tune Up Kit; Spark Plugs + Ignition Coils Kit(8 Each)
2002
Ford
Explorer
Limited Sport Utility 4-Door 4.0L 245Cu. In. V6 FLEX SOHC Naturally Aspirated
2002
Ford
Explorer
Limited Sport Utility 4-Door 4.0L 245Cu. In. V6 GAS SOHC Naturally Aspirated
2002
Ford
Explorer
Limited Sport Utility 4-Door 4.6L 281Cu. In. V8 GAS SOHC Naturally Aspirated
Notes; Tune Up Kit; Spark Plugs + Ignition Coils Kit(8 Each)
2002
Ford
Explorer
Postal Stripped Chassis 4.0L 245Cu. In. V6 FLEX SOHC Naturally Aspirated
2002
Ford
Explorer
Postal Stripped Chassis 4.0L 245Cu. In. V6 GAS SOHC Naturally Aspirated
2002
Ford
Explorer
XLS Sport Utility 4-Door 4.0L 245Cu. In. V6 FLEX SOHC Naturally Aspirated
2002
Ford
Explorer
XLS Sport Utility 4-Door 4.0L 245Cu. In. V6 GAS SOHC Naturally Aspirated
2002
Ford
Explorer
XLT Sport Utility 4-Door 4.0L 245Cu. In. V6 FLEX SOHC Naturally Aspirated
2002
Ford
Explorer
XLT Sport Utility 4-Door 4.0L 245Cu. In. V6 GAS SOHC Naturally Aspirated
2002
Ford
Explorer
XLT Sport Utility 4-Door 4.6L 281Cu. In. V8 GAS SOHC Naturally Aspirated
Notes; Tune Up Kit; Spark Plugs + Ignition Coils Kit(8 Each)
2002
Ford
F-150
King Ranch Crew Cab Pickup 4-Door 4.6L 281Cu. In. V8 GAS SOHC Naturally Aspirated
Notes; Tune Up Kit; Spark Plugs + Ignition Coils Kit(8 Each)
2002
Ford
F-150
King Ranch Extended Cab Pickup 2-Door 4.6L 281Cu. In. V8 GAS SOHC Naturally Aspirated
Notes; Tune Up Kit; Spark Plugs + Ignition Coils Kit(8 Each)
2002
Ford
F-150
Lariat Crew Cab Pickup 4-Door 4.6L 281Cu. In. V8 GAS SOHC Naturally Aspirated
Notes; Tune Up Kit; Spark Plugs + Ignition Coils Kit(8 Each)
2002
Ford
F-150
Lariat Extended Cab Pickup 4-Door 4.6L 281Cu. In. V8 GAS SOHC Naturally Aspirated
Notes; Tune Up Kit; Spark Plugs + Ignition Coils Kit(8 Each)
2002
Ford
F-150
Lariat Standard Cab Pickup 2-Door 4.6L 281Cu. In. V8 GAS SOHC Naturally Aspirated
Notes; Tune Up Kit; Spark Plugs + Ignition Coils Kit(8 Each)
2002
Ford
F-150
XL Extended Cab Pickup 4-Door 4.2L 256Cu. In. V6 GAS OHV Naturally Aspirated
2002
Ford
F-150
XL Extended Cab Pickup 4-Door 4.6L 281Cu. In. V8 GAS SOHC Naturally Aspirated
Notes; Tune Up Kit; Spark Plugs + Ignition Coils Kit(8 Each)
2002
Ford
F-150
XL Standard Cab Pickup 2-Door 4.2L 256Cu. In. V6 GAS OHV Naturally Aspirated
2002
Ford
F-150
XL Standard Cab Pickup 2-Door 4.6L 281Cu. In. V8 GAS SOHC Naturally Aspirated
Notes; Tune Up Kit; Spark Plugs + Ignition Coils Kit(8 Each)
2002
Ford
F-150
XLT Crew Cab Pickup 4-Door 4.2L 256Cu. In. V6 GAS OHV Naturally Aspirated
2002
Ford
F-150
XLT Crew Cab Pickup 4-Door 4.6L 281Cu. In. V8 GAS SOHC Naturally Aspirated
Notes; Tune Up Kit; Spark Plugs + Ignition Coils Kit(8 Each)
2002
Ford
F-150
XLT Extended Cab Pickup 4-Door 4.2L 256Cu. In. V6 GAS OHV Naturally Aspirated
2002
Ford
F-150
XLT Extended Cab Pickup 4-Door 4.6L 281Cu. In. V8 GAS SOHC Naturally Aspirated
Notes; Tune Up Kit; Spark Plugs + Ignition Coils Kit(8 Each)
2002
Ford
F-150
XLT Standard Cab Pickup 2-Door 4.2L 256Cu. In. V6 GAS OHV Naturally Aspirated
2002
Ford
F-150
XLT Standard Cab Pickup 2-Door 4.6L 281Cu. In. V8 GAS SOHC Naturally Aspirated
Notes; Tune Up Kit; Spark Plugs + Ignition Coils Kit(8 Each)
2002
Ford
Mustang
Base Convertible 2-Door 3.8L 232Cu. In. V6 GAS OHV Naturally Aspirated
4.6L Engine
2002
Ford
Mustang
Base Coupe 2-Door 3.8L 232Cu. In. V6 GAS OHV Naturally Aspirated
4.6L Engine
2002
Ford
Mustang
Equipado Convertible 2-Door 4.6L 281Cu. In. V8 GAS SOHC Naturally Aspirated
2002
Ford
Mustang
Equipado Coupe 2-Door 4.6L 281Cu. In. V8 GAS SOHC Naturally Aspirated
2002
Ford
Mustang
GT Convertible 2-Door 4.6L 281Cu. In. V8 GAS SOHC Naturally Aspirated
2002
Ford
Mustang
GT Coupe 2-Door 4.6L 281Cu. In. V8 GAS SOHC Naturally Aspirated
2002
Lincoln
Town Car
Base Limousine 4-Door 4.6L 281Cu. In. V8 GAS SOHC Naturally Aspirated
Notes; Tune Up Kit; Spark Plugs + Ignition Coils Kit(8 Each)
2002
Lincoln
Town Car
Cartier L Sedan 4-Door 4.6L 281Cu. In. V8 GAS SOHC Naturally Aspirated
Notes; Tune Up Kit; Spark Plugs + Ignition Coils Kit(8 Each)
2002
Lincoln
Town Car
Cartier Sedan 4-Door 4.6L 281Cu. In. V8 GAS SOHC Naturally Aspirated
Notes; Tune Up Kit; Spark Plugs + Ignition Coils Kit(8 Each)
2002
Lincoln
Town Car
Executive L Sedan 4-Door 4.6L 281Cu. In. V8 GAS SOHC Naturally Aspirated
Notes; Tune Up Kit; Spark Plugs + Ignition Coils Kit(8 Each)
2002
Lincoln
Town Car
Executive Limousine 4-Door 4.6L 281Cu. In. V8 GAS SOHC Naturally Aspirated
Notes; Tune Up Kit; Spark Plugs + Ignition Coils Kit(8 Each)
2002
Lincoln
Town Car
Executive Sedan 4-Door 4.6L 281Cu. In. V8 GAS SOHC Naturally Aspirated
Notes; Tune Up Kit; Spark Plugs + Ignition Coils Kit(8 Each)
2002
Lincoln
Town Car
Signature Sedan 4-Door 4.6L 281Cu. In. V8 GAS SOHC Naturally Aspirated
Notes; Tune Up Kit; Spark Plugs + Ignition Coils Kit(8 Each)
2002
Mercury
Grand Marquis
GS Sedan 4-Door 4.6L 281Cu. In. V8 GAS SOHC Naturally Aspirated
Notes; Tune Up Kit; Spark Plugs + Ignition Coils Kit(8 Each)
2002
Mercury
Grand Marquis
LS Sedan 4-Door 4.6L 281Cu. In. V8 GAS SOHC Naturally Aspirated
Notes; Tune Up Kit; Spark Plugs + Ignition Coils Kit(8 Each)
2002
Mercury
Mountaineer
Base Sport Utility 4-Door 4.0L 245Cu. In. V6 FLEX SOHC Naturally Aspirated
4.6L Engine
2002
Mercury
Mountaineer
Base Sport Utility 4-Door 4.0L 245Cu. In. V6 GAS SOHC Naturally Aspirated
4.6L Engine
2002
Mercury
Mountaineer
Base Sport Utility 4-Door 4.6L 281Cu. In. V8 GAS SOHC Naturally Aspirated
Notes; Tune Up Kit; Spark Plugs + Ignition Coils Kit(8 Each)
2001
Ford
Crown Victoria
Base Sedan 4-Door 4.6L 281Cu. In. V8 CNG SOHC Naturally Aspirated
Notes; Tune Up Kit; Spark Plugs + Ignition Coils Kit(8 Each)
2001
Ford
Crown Victoria
Base Sedan 4-Door 4.6L 281Cu. In. V8 GAS SOHC Naturally Aspirated
Notes; Tune Up Kit; Spark Plugs + Ignition Coils Kit(8 Each)
2001
Ford
Crown Victoria
LX Sedan 4-Door 4.6L 281Cu. In. V8 CNG SOHC Naturally Aspirated
Notes; Tune Up Kit; Spark Plugs + Ignition Coils Kit(8 Each)
2001
Ford
Crown Victoria
LX Sedan 4-Door 4.6L 281Cu. In. V8 GAS SOHC Naturally Aspirated
Notes; Tune Up Kit; Spark Plugs + Ignition Coils Kit(8 Each)
2001
Ford
Crown Victoria
Police Interceptor Sedan 4-Door 4.6L 281Cu. In. V8 CNG SOHC Naturally Aspirated
Notes; Tune Up Kit; Spark Plugs + Ignition Coils Kit(8 Each)
2001
Ford
Crown Victoria
Police Interceptor Sedan 4-Door 4.6L 281Cu. In. V8 GAS SOHC Naturally Aspirated
Notes; Tune Up Kit; Spark Plugs + Ignition Coils Kit(8 Each)
2001
Ford
Crown Victoria
S Sedan 4-Door 4.6L 281Cu. In. V8 CNG SOHC Naturally Aspirated
Notes; Tune Up Kit; Spark Plugs + Ignition Coils Kit(8 Each)
2001
Ford
Crown Victoria
S Sedan 4-Door 4.6L 281Cu. In. V8 GAS SOHC Naturally Aspirated
Notes; Tune Up Kit; Spark Plugs + Ignition Coils Kit(8 Each)
2001
Ford
E-150 Econoline
Base Standard Cargo Van 2-Door 4.2L 256Cu. In. V6 GAS OHV Naturally Aspirated
4.6L & 5.4L Engine
2001
Ford
E-150 Econoline
Base Standard Cargo Van 2-Door 4.6L 281Cu. In. V8 GAS SOHC Naturally Aspirated
Notes; Tune Up Kit; Spark Plugs + Ignition Coils Kit(8 Each)
2001
Ford
E-150 Econoline Club Wagon
Chateau Standard Passenger Van 2-Door 4.2L 256Cu. In. V6 GAS OHV Naturally Aspirated
2001
Ford
E-150 Econoline Club Wagon
Chateau Standard Passenger Van 2-Door 4.6L 281Cu. In. V8 GAS SOHC Naturally Aspirated
Notes; Tune Up Kit; Spark Plugs + Ignition Coils Kit(8 Each)
2001
Ford
E-150 Econoline Club Wagon
XL Standard Passenger Van 2-Door 4.2L 256Cu. In. V6 GAS OHV Naturally Aspirated
2001
Ford
E-150 Econoline Club Wagon
XL Standard Passenger Van 2-Door 4.6L 281Cu. In. V8 GAS SOHC Naturally Aspirated
Notes; Tune Up Kit; Spark Plugs + Ignition Coils Kit(8 Each)
2001
Ford
E-150 Econoline Club Wagon
XLT Standard Passenger Van 2-Door 4.2L 256Cu. In. V6 GAS OHV Naturally Aspirated
2001
Ford
E-150 Econoline Club Wagon
XLT Standard Passenger Van 2-Door 4.6L 281Cu. In. V8 GAS SOHC Naturally Aspirated
Notes; Tune Up Kit; Spark Plugs + Ignition Coils Kit(8 Each)
2001
Ford
E-250 Econoline
Base Extended Cargo Van 2-Door 4.2L 256Cu. In. V6 GAS OHV Naturally Aspirated
2001
Ford
E-250 Econoline
Base Standard Cargo Van 2-Door 4.2L 256Cu. In. V6 GAS OHV Naturally Aspirated
2001
Ford
E-250 Econoline
Base Stripped Chassis 4.2L 256Cu. In. V6 GAS OHV Naturally Aspirated
2001
Ford
Expedition
Eddie Bauer Sport Utility 4-Door 4.6L 281Cu. In. V8 GAS SOHC Naturally Aspirated
Notes; Tune Up Kit; Spark Plugs + Ignition Coils Kit(8 Each)
2001
Ford
Expedition
XLT Sport Utility 4-Door 4.6L 281Cu. In. V8 GAS SOHC Naturally Aspirated
Notes; Tune Up Kit; Spark Plugs + Ignition Coils Kit(8 Each)
2001
Ford
F-150
King Ranch Crew Cab Pickup 4-Door 4.6L 281Cu. In. V8 GAS SOHC Naturally Aspirated
Notes; Tune Up Kit; Spark Plugs + Ignition Coils Kit(8 Each)
2001
Ford
F-150
Lariat Crew Cab Pickup 4-Door 4.6L 281Cu. In. V8 GAS SOHC Naturally Aspirated
Notes; Tune Up Kit; Spark Plugs + Ignition Coils Kit(8 Each)
2001
Ford
F-150
Lariat Extended Cab Pickup 4-Door 4.6L 281Cu. In. V8 GAS SOHC Naturally Aspirated
Notes; Tune Up Kit; Spark Plugs + Ignition Coils Kit(8 Each)
2001
Ford
F-150
Lariat Standard Cab Pickup 2-Door 4.6L 281Cu. In. V8 GAS SOHC Naturally Aspirated
Notes; Tune Up Kit; Spark Plugs + Ignition Coils Kit(8 Each)
2001
Ford
F-150
XL Extended Cab Pickup 4-Door 4.2L 256Cu. In. V6 GAS OHV Naturally Aspirated
4.6L & 5.4L Engine
2001
Ford
F-150
XL Extended Cab Pickup 4-Door 4.6L 281Cu. In. V8 GAS SOHC Naturally Aspirated
Notes; Tune Up Kit; Spark Plugs + Ignition Coils Kit(8 Each)
2001
Ford
F-150
XL Standard Cab Pickup 2-Door 4.2L 256Cu. In. V6 GAS OHV Naturally Aspirated
2001
Ford
F-150
XL Standard Cab Pickup 2-Door 4.6L 281Cu. In. V8 GAS SOHC Naturally Aspirated
Notes; Tune Up Kit; Spark Plugs + Ignition Coils Kit(8 Each)
2001
Ford
F-150
XLT Crew Cab Pickup 4-Door 4.2L 256Cu. In. V6 GAS OHV Naturally Aspirated
4.6L & 5.4L Engine
2001
Ford
F-150
XLT Crew Cab Pickup 4-Door 4.6L 281Cu. In. V8 GAS SOHC Naturally Aspirated
Notes; Tune Up Kit; Spark Plugs + Ignition Coils Kit(8 Each)
2001
Ford
F-150
XLT Extended Cab Pickup 4-Door 4.2L 256Cu. In. V6 GAS OHV Naturally Aspirated
4.6L & 5.4L Engine
2001
Ford
F-150
XLT Extended Cab Pickup 4-Door 4.6L 281Cu. In. V8 GAS SOHC Naturally Aspirated
Notes; Tune Up Kit; Spark Plugs + Ignition Coils Kit(8 Each)
2001
Ford
F-150
XLT Standard Cab Pickup 2-Door 4.2L 256Cu. In. V6 GAS OHV Naturally Aspirated
2001
Ford
F-150
XLT Standard Cab Pickup 2-Door 4.6L 281Cu. In. V8 GAS SOHC Naturally Aspirated
Notes; Tune Up Kit; Spark Plugs + Ignition Coils Kit(8 Each)
2001
Ford
Mustang
Base Convertible 2-Door 3.8L 232Cu. In. V6 GAS OHV Naturally Aspirated
4.6L Engine
2001
Ford
Mustang
Base Coupe 2-Door 3.8L 232Cu. In. V6 GAS OHV Naturally Aspirated
4.6L Engine
2001
Ford
Mustang
Equipado Convertible 2-Door 4.6L 281Cu. In. V8 GAS SOHC Naturally Aspirated
2001
Ford
Mustang
Equipado Coupe 2-Door 4.6L 281Cu. In. V8 GAS SOHC Naturally Aspirated
2001
Ford
Mustang
GT Bullitt Coupe 2-Door 4.6L 281Cu. In. V8 GAS SOHC Naturally Aspirated
2001
Ford
Mustang
GT Convertible 2-Door 4.6L 281Cu. In. V8 GAS SOHC Naturally Aspirated
2001
Ford
Mustang
GT Coupe 2-Door 4.6L 281Cu. In. V8 GAS SOHC Naturally Aspirated
2001
Ford
Mustang
SVT Cobra Convertible 2-Door 4.6L 281Cu. In. V8 GAS DOHC Naturally Aspirated
2001
Ford
Mustang
SVT Cobra Coupe 2-Door 4.6L 281Cu. In. V8 GAS DOHC Naturally Aspirated
2001
Lincoln
Town Car
Base Limousine 4-Door 4.6L 281Cu. In. V8 GAS SOHC Naturally Aspirated
Notes; Tune Up Kit; Spark Plugs + Ignition Coils Kit(8 Each)
2001
Lincoln
Town Car
Cartier L Sedan 4-Door 4.6L 281Cu. In. V8 GAS SOHC Naturally Aspirated
Notes; Tune Up Kit; Spark Plugs + Ignition Coils Kit(8 Each)
2001
Lincoln
Town Car
Cartier Sedan 4-Door 4.6L 281Cu. In. V8 GAS SOHC Naturally Aspirated
Notes; Tune Up Kit; Spark Plugs + Ignition Coils Kit(8 Each)
2001
Lincoln
Town Car
Executive L Sedan 4-Door 4.6L 281Cu. In. V8 GAS SOHC Naturally Aspirated
Notes; Tune Up Kit; Spark Plugs + Ignition Coils Kit(8 Each)
2001
Lincoln
Town Car
Executive Limousine 4-Door 4.6L 281Cu. In. V8 GAS SOHC Naturally Aspirated
Notes; Tune Up Kit; Spark Plugs + Ignition Coils Kit(8 Each)
2001
Lincoln
Town Car
Executive Sedan 4-Door 4.6L 281Cu. In. V8 GAS SOHC Naturally Aspirated
Notes; Tune Up Kit; Spark Plugs + Ignition Coils Kit(8 Each)
2001
Lincoln
Town Car
Signature Sedan 4-Door 4.6L 281Cu. In. V8 GAS SOHC Naturally Aspirated
Notes; Tune Up Kit; Spark Plugs + Ignition Coils Kit(8 Each)
2001
Mercury
Grand Marquis
GS Sedan 4-Door 4.6L 281Cu. In. V8 GAS SOHC Naturally Aspirated
Notes; Tune Up Kit; Spark Plugs + Ignition Coils Kit(8 Each)
2001
Mercury
Grand Marquis
LS Sedan 4-Door 4.6L 281Cu. In. V8 GAS SOHC Naturally Aspirated
Notes; Tune Up Kit; Spark Plugs + Ignition Coils Kit(8 Each)
2000
Ford
Crown Victoria
Base Sedan 4-Door 4.6L 281Cu. In. V8 CNG SOHC Naturally Aspirated
Notes; Tune Up Kit; Spark Plugs + Ignition Coils Kit(8 Each)
2000
Ford
Crown Victoria
Base Sedan 4-Door 4.6L 281Cu. In. V8 GAS SOHC Naturally Aspirated
Notes; Tune Up Kit; Spark Plugs + Ignition Coils Kit(8 Each)
2000
Ford
Crown Victoria
LX Sedan 4-Door 4.6L 281Cu. In. V8 CNG SOHC Naturally Aspirated
Notes; Tune Up Kit; Spark Plugs + Ignition Coils Kit(8 Each)
2000
Ford
Crown Victoria
LX Sedan 4-Door 4.6L 281Cu. In. V8 GAS SOHC Naturally Aspirated
Notes; Tune Up Kit; Spark Plugs + Ignition Coils Kit(8 Each)
2000
Ford
Crown Victoria
Police Interceptor Sedan 4-Door 4.6L 281Cu. In. V8 CNG SOHC Naturally Aspirated
Notes; Tune Up Kit; Spark Plugs + Ignition Coils Kit(8 Each)
2000
Ford
Crown Victoria
Police Interceptor Sedan 4-Door 4.6L 281Cu. In. V8 GAS SOHC Naturally Aspirated
Notes; Tune Up Kit; Spark Plugs + Ignition Coils Kit(8 Each)
2000
Ford
Crown Victoria
S Sedan 4-Door 4.6L 281Cu. In. V8 CNG SOHC Naturally Aspirated
Notes; Tune Up Kit; Spark Plugs + Ignition Coils Kit(8 Each)
2000
Ford
Crown Victoria
S Sedan 4-Door 4.6L 281Cu. In. V8 GAS SOHC Naturally Aspirated
Notes; Tune Up Kit; Spark Plugs + Ignition Coils Kit(8 Each)
2000
Ford
E-150 Econoline
Base Standard Cargo Van 2-Door 4.2L 256Cu. In. V6 GAS OHV Naturally Aspirated
4.6L & 5.4L Engine
2000
Ford
E-150 Econoline
Base Standard Cargo Van 2-Door 4.6L 281Cu. In. V8 GAS SOHC Naturally Aspirated
Notes; Tune Up Kit; Spark Plugs + Ignition Coils Kit(8 Each)
2000
Ford
E-150 Econoline
XL Standard Cargo Van 2-Door 4.2L 256Cu. In. V6 GAS OHV Naturally Aspirated
4.6L & 5.4L Engine
2000
Ford
E-150 Econoline
XL Standard Cargo Van 2-Door 4.6L 281Cu. In. V8 GAS SOHC Naturally Aspirated
Notes; Tune Up Kit; Spark Plugs + Ignition Coils Kit(8 Each)
2000
Ford
E-150 Econoline Club Wagon
Chateau Standard Passenger Van 2-Door 4.2L 256Cu. In. V6 GAS OHV Naturally Aspirated
2000
Ford
E-150 Econoline Club Wagon
Chateau Standard Passenger Van 2-Door 4.6L 281Cu. In. V8 GAS SOHC Naturally Aspirated
Notes; Tune Up Kit; Spark Plugs + Ignition Coils Kit(8 Each)
2000
Ford
E-150 Econoline Club Wagon
Custom Standard Passenger Van 2-Door 4.2L 256Cu. In. V6 GAS OHV Naturally Aspirated
2000
Ford
E-150 Econoline Club Wagon
Custom Standard Passenger Van 2-Door 4.6L 281Cu. In. V8 GAS SOHC Naturally Aspirated
Notes; Tune Up Kit; Spark Plugs + Ignition Coils Kit(8 Each)
2000
Ford
E-150 Econoline Club Wagon
XLT Standard Passenger Van 2-Door 4.2L 256Cu. In. V6 GAS OHV Naturally Aspirated
4.6L & 5.4L Engine
2000
Ford
E-150 Econoline Club Wagon
XLT Standard Passenger Van 2-Door 4.6L 281Cu. In. V8 GAS SOHC Naturally Aspirated
Notes; Tune Up Kit; Spark Plugs + Ignition Coils Kit(8 Each)
2000
Ford
E-250 Econoline
Base Extended Cargo Van 2-Door 4.2L 256Cu. In. V6 GAS OHV Naturally Aspirated
2000
Ford
E-250 Econoline
Base Standard Cargo Van 2-Door 4.2L 256Cu. In. V6 GAS OHV Naturally Aspirated
2000
Ford
E-250 Econoline
Base Stripped Chassis 4.2L 256Cu. In. V6 GAS OHV Naturally Aspirated
2000
Ford
E-250 Econoline
XL Standard Cargo Van 2-Door 4.2L 256Cu. In. V6 GAS OHV Naturally Aspirated
2000
Ford
E-250 Econoline
XL Stripped Chassis 4.2L 256Cu. In. V6 GAS OHV Naturally Aspirated
2000
Ford
E-350 Econoline Club Wagon
XLT Standard Passenger Van 2-Door 6.8L 415Cu. In. V10 GAS SOHC Naturally Aspirated
Notes; 6.8L Engine Only; Tune Up Kit; Spark Plugs + Ignition Coils Kit(10 Each);
2000
Ford
Expedition
Eddie Bauer Sport Utility 4-Door 4.6L 281Cu. In. V8 GAS SOHC Naturally Aspirated
Notes; Tune Up Kit; Spark Plugs + Ignition Coils Kit(8 Each)
2000
Ford
Expedition
XLT Sport Utility 4-Door 4.6L 281Cu. In. V8 GAS SOHC Naturally Aspirated
Notes; Tune Up Kit; Spark Plugs + Ignition Coils Kit(8 Each)
2000
Ford
F-150
Base Extended Cab Pickup 4-Door 4.2L 256Cu. In. V6 GAS OHV Naturally Aspirated
2000
Ford
F-150
Base Extended Cab Pickup 4-Door 4.6L 281Cu. In. V8 GAS SOHC Naturally Aspirated
Notes; Tune Up Kit; Spark Plugs + Ignition Coils Kit(8 Each)
2000
Ford
F-150
Base Standard Cab Pickup 2-Door 4.2L 256Cu. In. V6 GAS OHV Naturally Aspirated
2000
Ford
F-150
Base Standard Cab Pickup 2-Door 4.6L 281Cu. In. V8 GAS SOHC Naturally Aspirated
Notes; Tune Up Kit; Spark Plugs + Ignition Coils Kit(8 Each)
2000
Ford
F-150
Lariat Extended Cab Pickup 4-Door 4.6L 281Cu. In. V8 GAS SOHC Naturally Aspirated
Notes; Tune Up Kit; Spark Plugs + Ignition Coils Kit(8 Each)
2000
Ford
F-150
Lariat Standard Cab Pickup 2-Door 4.6L 281Cu. In. V8 GAS SOHC Naturally Aspirated
Notes; Tune Up Kit; Spark Plugs + Ignition Coils Kit(8 Each)
2000
Ford
F-150
XL Extended Cab Pickup 4-Door 4.2L 256Cu. In. V6 GAS OHV Naturally Aspirated
4.6L & 5.4L Engine
2000
Ford
F-150
XL Extended Cab Pickup 4-Door 4.6L 281Cu. In. V8 GAS SOHC Naturally Aspirated
Notes; Tune Up Kit; Spark Plugs + Ignition Coils Kit(8 Each)
2000
Ford
F-150
XL Standard Cab Pickup 2-Door 4.2L 256Cu. In. V6 GAS OHV Naturally Aspirated
4.6L & 5.4L Engine
2000
Ford
F-150
XL Standard Cab Pickup 2-Door 4.6L 281Cu. In. V8 GAS SOHC Naturally Aspirated
Notes; Tune Up Kit; Spark Plugs + Ignition Coils Kit(8 Each)
2000
Ford
F-150
XLT Extended Cab Pickup 4-Door 4.2L 256Cu. In. V6 GAS OHV Naturally Aspirated
4.6L & 5.4L Engine
2000
Ford
F-150
XLT Extended Cab Pickup 4-Door 4.6L 281Cu. In. V8 GAS SOHC Naturally Aspirated
Notes; Tune Up Kit; Spark Plugs + Ignition Coils Kit(8 Each)
2000
Ford
F-150
XLT Standard Cab Pickup 2-Door 4.2L 256Cu. In. V6 GAS OHV Naturally Aspirated
2000
Ford
F-150
XLT Standard Cab Pickup 2-Door 4.6L 281Cu. In. V8 GAS SOHC Naturally Aspirated
Notes; Tune Up Kit; Spark Plugs + Ignition Coils Kit(8 Each)
2000
Ford
Mustang
Equipado Convertible 2-Door 4.6L 281Cu. In. V8 GAS SOHC Naturally Aspirated
2000
Ford
Mustang
Equipado Coupe 2-Door 4.6L 281Cu. In. V8 GAS SOHC Naturally Aspirated
2000
Ford
Mustang
GT Convertible 2-Door 4.6L 281Cu. In. V8 GAS SOHC Naturally Aspirated
2000
Ford
Mustang
GT Coupe 2-Door 4.6L 281Cu. In. V8 GAS SOHC Naturally Aspirated
2000
Lincoln
Town Car
Base Limousine 4-Door 4.6L 281Cu. In. V8 GAS SOHC Naturally Aspirated
Notes; Tune Up Kit; Spark Plugs + Ignition Coils Kit(8 Each)
2000
Lincoln
Town Car
Cartier Sedan 4-Door 4.6L 281Cu. In. V8 GAS SOHC Naturally Aspirated
Notes; Tune Up Kit; Spark Plugs + Ignition Coils Kit(8 Each)
2000
Lincoln
Town Car
Executive Limousine 4-Door 4.6L 281Cu. In. V8 GAS SOHC Naturally Aspirated
Notes; Tune Up Kit; Spark Plugs + Ignition Coils Kit(8 Each)
2000
Lincoln
Town Car
Executive Sedan 4-Door 4.6L 281Cu. In. V8 GAS SOHC Naturally Aspirated
Notes; Tune Up Kit; Spark Plugs + Ignition Coils Kit(8 Each)
2000
Lincoln
Town Car
Signature Sedan 4-Door 4.6L 281Cu. In. V8 GAS SOHC Naturally Aspirated
Notes; Tune Up Kit; Spark Plugs + Ignition Coils Kit(8 Each)
2000
Mercury
Grand Marquis
GS Sedan 4-Door 4.6L 281Cu. In. V8 GAS SOHC Naturally Aspirated
Notes; Tune Up Kit; Spark Plugs + Ignition Coils Kit(8 Each)
2000
Mercury
Grand Marquis
LS Sedan 4-Door 4.6L 281Cu. In. V8 GAS SOHC Naturally Aspirated
Notes; Tune Up Kit; Spark Plugs + Ignition Coils Kit(8 Each)
1999
Ford
Crown Victoria
Base Sedan 4-Door 4.6L 281Cu. In. V8 CNG SOHC Naturally Aspirated
Notes; Tune Up Kit; Spark Plugs + Ignition Coils Kit(8 Each)
1999
Ford
Crown Victoria
Base Sedan 4-Door 4.6L 281Cu. In. V8 GAS SOHC Naturally Aspirated
Notes; Tune Up Kit; Spark Plugs + Ignition Coils Kit(8 Each)
1999
Ford
Crown Victoria
LX Sedan 4-Door 4.6L 281Cu. In. V8 CNG SOHC Naturally Aspirated
Notes; Tune Up Kit; Spark Plugs + Ignition Coils Kit(8 Each)
1999
Ford
Crown Victoria
LX Sedan 4-Door 4.6L 281Cu. In. V8 GAS SOHC Naturally Aspirated
Notes; Tune Up Kit; Spark Plugs + Ignition Coils Kit(8 Each)
1999
Ford
Crown Victoria
Police Interceptor Sedan 4-Door 4.6L 281Cu. In. V8 CNG SOHC Naturally Aspirated
Notes; Tune Up Kit; Spark Plugs + Ignition Coils Kit(8 Each)
1999
Ford
Crown Victoria
Police Interceptor Sedan 4-Door 4.6L 281Cu. In. V8 GAS SOHC Naturally Aspirated
Notes; Tune Up Kit; Spark Plugs + Ignition Coils Kit(8 Each)
1999
Ford
Crown Victoria
S Sedan 4-Door 4.6L 281Cu. In. V8 CNG SOHC Naturally Aspirated
Notes; Tune Up Kit; Spark Plugs + Ignition Coils Kit(8 Each)
1999
Ford
Crown Victoria
S Sedan 4-Door 4.6L 281Cu. In. V8 GAS SOHC Naturally Aspirated
Notes; Tune Up Kit; Spark Plugs + Ignition Coils Kit(8 Each)
1999
Ford
E-150 Econoline
Base Standard Cargo Van 2-Door 4.2L 256Cu. In. V6 GAS OHV Naturally Aspirated
5.4L Engine
1999
Ford
E-150 Econoline
Base Standard Cargo Van 2-Door 4.6L 281Cu. In. V8 GAS SOHC Naturally Aspirated
Notes; Tune Up Kit; Spark Plugs + Ignition Coils Kit(8 Each)
1999
Ford
E-150 Econoline
XL Standard Cargo Van 2-Door 4.2L 256Cu. In. V6 GAS OHV Naturally Aspirated
5.4L Engine
1999
Ford
E-150 Econoline
XL Standard Cargo Van 2-Door 4.6L 281Cu. In. V8 GAS SOHC Naturally Aspirated
Notes; Tune Up Kit; Spark Plugs + Ignition Coils Kit(8 Each)
1999
Ford
E-150 Econoline Club Wagon
Chateau Standard Passenger Van 2-Door 4.2L 256Cu. In. V6 GAS OHV Naturally Aspirated
5.4L Engine
1999
Ford
E-150 Econoline Club Wagon
Chateau Standard Passenger Van 2-Door 4.6L 281Cu. In. V8 GAS SOHC Naturally Aspirated
Notes; Tune Up Kit; Spark Plugs + Ignition Coils Kit(8 Each)
1999
Ford
E-150 Econoline Club Wagon
Custom Standard Passenger Van 2-Door 4.2L 256Cu. In. V6 GAS OHV Naturally Aspirated
5.4L Engine
1999
Ford
E-150 Econoline Club Wagon
Custom Standard Passenger Van 2-Door 4.6L 281Cu. In. V8 GAS SOHC Naturally Aspirated
Notes; Tune Up Kit; Spark Plugs + Ignition Coils Kit(8 Each)
1999
Ford
E-150 Econoline Club Wagon
XLT Standard Passenger Van 2-Door 4.2L 256Cu. In. V6 GAS OHV Naturally Aspirated
5.4L Engine
1999
Ford
E-150 Econoline Club Wagon
XLT Standard Passenger Van 2-Door 4.6L 281Cu. In. V8 GAS SOHC Naturally Aspirated
Notes; Tune Up Kit; Spark Plugs + Ignition Coils Kit(8 Each)
1999
Ford
E-250 Econoline
Base Cutaway Van 2-Door 4.2L 256Cu. In. V6 GAS OHV Naturally Aspirated
1999
Ford
E-250 Econoline
Base Extended Cargo Van 2-Door 4.2L 256Cu. In. V6 GAS OHV Naturally Aspirated
1999
Ford
E-250 Econoline
Base Standard Cargo Van 2-Door 4.2L 256Cu. In. V6 GAS OHV Naturally Aspirated
1999
Ford
E-250 Econoline
Base Stripped Chassis 4.2L 256Cu. In. V6 GAS OHV Naturally Aspirated
1999
Ford
E-250 Econoline
XL Cutaway Van 2-Door 4.2L 256Cu. In. V6 GAS OHV Naturally Aspirated
1999
Ford
E-250 Econoline
XL Extended Cargo Van 2-Door 4.2L 256Cu. In. V6 GAS OHV Naturally Aspirated
1999
Ford
E-250 Econoline
XL Standard Cargo Van 2-Door 4.2L 256Cu. In. V6 GAS OHV Naturally Aspirated
1999
Ford
E-250 Econoline
XL Stripped Chassis 4.2L 256Cu. In. V6 GAS OHV Naturally Aspirated
1999
Ford
Expedition
Eddie Bauer Sport Utility 4-Door 4.6L 281Cu. In. V8 GAS SOHC Naturally Aspirated
1999
Ford
Expedition
XLT Sport Utility 4-Door 4.6L 281Cu. In. V8 GAS SOHC Naturally Aspirated
1999
Ford
F-150
Austera Standard Cab Pickup 2-Door 4.2L 256Cu. In. V6 GAS OHV Naturally Aspirated
5.4L Engine
1999
Ford
F-150
Base Extended Cab Pickup 4-Door 4.2L 256Cu. In. V6 GAS OHV Naturally Aspirated
5.4L Engine
1999
Ford
F-150
Base Extended Cab Pickup 4-Door 4.6L 281Cu. In. V8 GAS SOHC Naturally Aspirated
5.4L Engine
1999
Ford
F-150
Base Standard Cab Pickup 2-Door 4.2L 256Cu. In. V6 GAS OHV Naturally Aspirated
5.4L Engine
1999
Ford
F-150
Base Standard Cab Pickup 2-Door 4.6L 281Cu. In. V8 GAS SOHC Naturally Aspirated
5.4L Engine
1999
Ford
F-150
Lariat Extended Cab Pickup 4-Door 4.6L 281Cu. In. V8 GAS SOHC Naturally Aspirated
5.4L Engine
1999
Ford
F-150
Lariat Standard Cab Pickup 2-Door 4.6L 281Cu. In. V8 GAS SOHC Naturally Aspirated
5.4L Engine
1999
Ford
F-150
XL Extended Cab Pickup 4-Door 4.2L 256Cu. In. V6 GAS OHV Naturally Aspirated
5.4L Engine
1999
Ford
F-150
XL Extended Cab Pickup 4-Door 4.6L 281Cu. In. V8 GAS SOHC Naturally Aspirated
5.4L Engine
1999
Ford
F-150
XL Standard Cab Pickup 2-Door 4.2L 256Cu. In. V6 GAS OHV Naturally Aspirated
5.4L Engine
1999
Ford
F-150
XL Standard Cab Pickup 2-Door 4.6L 281Cu. In. V8 GAS SOHC Naturally Aspirated
5.4L Engine
1999
Ford
F-150
XLT Extended Cab Pickup 4-Door 4.2L 256Cu. In. V6 GAS OHV Naturally Aspirated
5.4L Engine
1999
Ford
F-150
XLT Extended Cab Pickup 4-Door 4.6L 281Cu. In. V8 GAS SOHC Naturally Aspirated
5.4L Engine
1999
Ford
F-150
XLT Standard Cab Pickup 2-Door 4.2L 256Cu. In. V6 GAS OHV Naturally Aspirated
5.4L Engine
1999
Ford
F-150
XLT Standard Cab Pickup 2-Door 4.6L 281Cu. In. V8 GAS SOHC Naturally Aspirated
5.4L Engine
1999
Ford
F-250
Base Extended Cab Pickup 3-Door 4.6L 281Cu. In. V8 GAS SOHC Naturally Aspirated
1999
Ford
F-250
Base Standard Cab Pickup 2-Door 4.6L 281Cu. In. V8 GAS SOHC Naturally Aspirated
1999
Ford
F-250
Lariat Extended Cab Pickup 3-Door 4.6L 281Cu. In. V8 GAS SOHC Naturally Aspirated
1999
Ford
F-250
Lariat Standard Cab Pickup 2-Door 4.6L 281Cu. In. V8 GAS SOHC Naturally Aspirated
1999
Ford
F-250
XL Extended Cab Pickup 3-Door 4.6L 281Cu. In. V8 GAS SOHC Naturally Aspirated
1999
Ford
F-250
XL Standard Cab Pickup 2-Door 4.6L 281Cu. In. V8 GAS SOHC Naturally Aspirated
1999
Ford
F-250
XLT Extended Cab Pickup 3-Door 4.6L 281Cu. In. V8 GAS SOHC Naturally Aspirated
1999
Ford
F-250
XLT Standard Cab Pickup 2-Door 4.6L 281Cu. In. V8 GAS SOHC Naturally Aspirated
1999
Ford
Mustang
Equipado Convertible 2-Door 4.6L 281Cu. In. V8 GAS SOHC Naturally Aspirated
1999
Ford
Mustang
Equipado Coupe 2-Door 4.6L 281Cu. In. V8 GAS SOHC Naturally Aspirated
1999
Ford
Mustang
GT Convertible 2-Door 4.6L 281Cu. In. V8 GAS SOHC Naturally Aspirated
1999
Ford
Mustang
GT Coupe 2-Door 4.6L 281Cu. In. V8 GAS SOHC Naturally Aspirated
1999
Ford
Mustang
SVT Cobra Convertible 2-Door 4.6L 281Cu. In. V8 GAS DOHC Naturally Aspirated
1999
Ford
Mustang
SVT Cobra Coupe 2-Door 4.6L 281Cu. In. V8 GAS DOHC Naturally Aspirated
1999
Lincoln
Town Car
Base Limousine 4-Door 4.6L 281Cu. In. V8 GAS SOHC Naturally Aspirated
Notes; Tune Up Kit; Spark Plugs + Ignition Coils Kit(8 Each)
1999
Lincoln
Town Car
Cartier Sedan 4-Door 4.6L 281Cu. In. V8 GAS SOHC Naturally Aspirated
Notes; Tune Up Kit; Spark Plugs + Ignition Coils Kit(8 Each)
1999
Lincoln
Town Car
Executive Limousine 4-Door 4.6L 281Cu. In. V8 GAS SOHC Naturally Aspirated
Notes; Tune Up Kit; Spark Plugs + Ignition Coils Kit(8 Each)
1999
Lincoln
Town Car
Executive Sedan 4-Door 4.6L 281Cu. In. V8 GAS SOHC Naturally Aspirated
Notes; Tune Up Kit; Spark Plugs + Ignition Coils Kit(8 Each)
1999
Lincoln
Town Car
Signature Sedan 4-Door 4.6L 281Cu. In. V8 GAS SOHC Naturally Aspirated
Notes; Tune Up Kit; Spark Plugs + Ignition Coils Kit(8 Each)
1999
Mercury
Grand Marquis
GS Sedan 4-Door 4.6L 281Cu. In. V8 GAS SOHC Naturally Aspirated
Notes; Tune Up Kit; Spark Plugs + Ignition Coils Kit(8 Each)
1999
Mercury
Grand Marquis
LS Sedan 4-Door 4.6L 281Cu. In. V8 GAS SOHC Naturally Aspirated
Notes; Tune Up Kit; Spark Plugs + Ignition Coils Kit(8 Each)
1998
Ford
Crown Victoria
Base Sedan 4-Door 4.6L 281Cu. In. V8 CNG SOHC Naturally Aspirated
Notes; Tune Up Kit; Spark Plugs + Ignition Coils Kit(8 Each)
1998
Ford
Crown Victoria
Base Sedan 4-Door 4.6L 281Cu. In. V8 GAS SOHC Naturally Aspirated
Notes; Tune Up Kit; Spark Plugs + Ignition Coils Kit(8 Each)
1998
Ford
Crown Victoria
LX Sedan 4-Door 4.6L 281Cu. In. V8 CNG SOHC Naturally Aspirated
Notes; Tune Up Kit; Spark Plugs + Ignition Coils Kit(8 Each)
1998
Ford
Crown Victoria
LX Sedan 4-Door 4.6L 281Cu. In. V8 GAS SOHC Naturally Aspirated
Notes; Tune Up Kit; Spark Plugs + Ignition Coils Kit(8 Each)
1998
Ford
Crown Victoria
Police Interceptor Sedan 4-Door 4.6L 281Cu. In. V8 CNG SOHC Naturally Aspirated
Notes; Tune Up Kit; Spark Plugs + Ignition Coils Kit(8 Each)
1998
Ford
Crown Victoria
Police Interceptor Sedan 4-Door 4.6L 281Cu. In. V8 GAS SOHC Naturally Aspirated
Notes; Tune Up Kit; Spark Plugs + Ignition Coils Kit(8 Each)
1998
Ford
Crown Victoria
S Sedan 4-Door 4.6L 281Cu. In. V8 CNG SOHC Naturally Aspirated
Notes; Tune Up Kit; Spark Plugs + Ignition Coils Kit(8 Each)
1998
Ford
Crown Victoria
S Sedan 4-Door 4.6L 281Cu. In. V8 GAS SOHC Naturally Aspirated
Notes; Tune Up Kit; Spark Plugs + Ignition Coils Kit(8 Each)
1998
Ford
E-150 Econoline
Base Standard Cargo Van 2-Door 4.2L 256Cu. In. V6 GAS OHV Naturally Aspirated
5.4L Engine
1998
Ford
E-150 Econoline
Base Standard Cargo Van 2-Door 4.6L 281Cu. In. V8 GAS SOHC Naturally Aspirated
5.4L Engine
1998
Ford
E-150 Econoline
XL Standard Cargo Van 2-Door 4.2L 256Cu. In. V6 GAS OHV Naturally Aspirated
5.4L Engine
1998
Ford
E-150 Econoline
XL Standard Cargo Van 2-Door 4.6L 281Cu. In. V8 GAS SOHC Naturally Aspirated
5.4L Engine
1998
Ford
E-150 Econoline Club Wagon
Chateau Standard Passenger Van 2-Door 4.2L 256Cu. In. V6 GAS OHV Naturally Aspirated
5.4L Engine
1998
Ford
E-150 Econoline Club Wagon
Chateau Standard Passenger Van 2-Door 4.6L 281Cu. In. V8 GAS SOHC Naturally Aspirated
5.4L Engine
1998
Ford
E-150 Econoline Club Wagon
Custom Standard Passenger Van 2-Door 4.2L 256Cu. In. V6 GAS OHV Naturally Aspirated
5.4L Engine
1998
Ford
E-150 Econoline Club Wagon
Custom Standard Passenger Van 2-Door 4.6L 281Cu. In. V8 GAS SOHC Naturally Aspirated
5.4L Engine
1998
Ford
E-150 Econoline Club Wagon
XLT Standard Passenger Van 2-Door 4.2L 256Cu. In. V6 GAS OHV Naturally Aspirated
5.4L Engine
1998
Ford
E-150 Econoline Club Wagon
XLT Standard Passenger Van 2-Door 4.6L 281Cu. In. V8 GAS SOHC Naturally Aspirated
5.4L Engine
1998
Ford
E-250 Econoline
Base Cutaway Van 2-Door 4.2L 256Cu. In. V6 GAS OHV Naturally Aspirated
1998
Ford
E-250 Econoline
Base Extended Cargo Van 2-Door 4.2L 256Cu. In. V6 GAS OHV Naturally Aspirated
1998
Ford
E-250 Econoline
Base Standard Cargo Van 2-Door 4.2L 256Cu. In. V6 GAS OHV Naturally Aspirated
1998
Ford
E-250 Econoline
Base Stripped Chassis 4.2L 256Cu. In. V6 GAS OHV Naturally Aspirated
1998
Ford
E-250 Econoline
XL Cutaway Van 2-Door 4.2L 256Cu. In. V6 GAS OHV Naturally Aspirated
1998
Ford
E-250 Econoline
XL Extended Cargo Van 2-Door 4.2L 256Cu. In. V6 GAS OHV Naturally Aspirated
1998
Ford
E-250 Econoline
XL Standard Cargo Van 2-Door 4.2L 256Cu. In. V6 GAS OHV Naturally Aspirated
1998
Ford
E-250 Econoline
XL Stripped Chassis 4.2L 256Cu. In. V6 GAS OHV Naturally Aspirated
1998
Ford
F-150
Austera Standard Cab Pickup 2-Door 4.2L 256Cu. In. V6 GAS OHV Naturally Aspirated
5.4L Engine
1998
Ford
F-150
Base Extended Cab Pickup 3-Door 4.2L 256Cu. In. V6 GAS OHV Naturally Aspirated
5.4L Engine
1998
Ford
F-150
Base Extended Cab Pickup 3-Door 4.6L 281Cu. In. V8 GAS SOHC Naturally Aspirated
5.4L Engine
1998
Ford
F-150
Base Standard Cab Pickup 2-Door 4.2L 256Cu. In. V6 GAS OHV Naturally Aspirated
5.4L Engine
1998
Ford
F-150
Base Standard Cab Pickup 2-Door 4.6L 281Cu. In. V8 GAS SOHC Naturally Aspirated
5.4L Engine
1998
Ford
F-150
Lariat Extended Cab Pickup 3-Door 4.6L 281Cu. In. V8 GAS SOHC Naturally Aspirated
5.4L Engine
1998
Ford
F-150
Lariat Standard Cab Pickup 2-Door 4.6L 281Cu. In. V8 GAS SOHC Naturally Aspirated
5.4L Engine
1998
Ford
F-150
XL Extended Cab Pickup 3-Door 4.2L 256Cu. In. V6 GAS OHV Naturally Aspirated
5.4L Engine
1998
Ford
F-150
XL Extended Cab Pickup 3-Door 4.6L 281Cu. In. V8 GAS SOHC Naturally Aspirated
5.4L Engine
1998
Ford
F-150
XL Standard Cab Pickup 2-Door 4.2L 256Cu. In. V6 GAS OHV Naturally Aspirated
5.4L Engine
1998
Ford
F-150
XL Standard Cab Pickup 2-Door 4.6L 281Cu. In. V8 GAS SOHC Naturally Aspirated
5.4L Engine
1998
Ford
F-150
XLT Extended Cab Pickup 3-Door 4.2L 256Cu. In. V6 GAS OHV Naturally Aspirated
5.4L Engine
1998
Ford
F-150
XLT Extended Cab Pickup 3-Door 4.6L 281Cu. In. V8 GAS SOHC Naturally Aspirated
5.4L Engine
1998
Ford
F-150
XLT Standard Cab Pickup 2-Door 4.2L 256Cu. In. V6 GAS OHV Naturally Aspirated
5.4L Engine
1998
Ford
F-150
XLT Standard Cab Pickup 2-Door 4.6L 281Cu. In. V8 GAS SOHC Naturally Aspirated
5.4L Engine
1998
Ford
F-250
Base Extended Cab Pickup 3-Door 4.6L 281Cu. In. V8 GAS SOHC Naturally Aspirated
1998
Ford
F-250
Base Standard Cab Pickup 2-Door 4.6L 281Cu. In. V8 GAS SOHC Naturally Aspirated
1998
Ford
F-250
Lariat Extended Cab Pickup 3-Door 4.6L 281Cu. In. V8 GAS SOHC Naturally Aspirated
1998
Ford
F-250
Lariat Standard Cab Pickup 2-Door 4.6L 281Cu. In. V8 GAS SOHC Naturally Aspirated
1998
Ford
F-250
Lobo Standard Cab Pickup 2-Door 4.6L 281Cu. In. V8 GAS SOHC Naturally Aspirated
1998
Ford
F-250
XL Extended Cab Pickup 3-Door 4.6L 281Cu. In. V8 GAS SOHC Naturally Aspirated
1998
Ford
F-250
XL Standard Cab Pickup 2-Door 4.6L 281Cu. In. V8 GAS SOHC Naturally Aspirated
1998
Ford
F-250
XLT Extended Cab Pickup 3-Door 4.6L 281Cu. In. V8 GAS SOHC Naturally Aspirated
1998
Ford
F-250
XLT Standard Cab Pickup 2-Door 4.6L 281Cu. In. V8 GAS SOHC Naturally Aspirated
1998
Lincoln
Town Car
Base Limousine 4-Door 4.6L 281Cu. In. V8 GAS SOHC Naturally Aspirated
Notes; Tune Up Kit; Spark Plugs + Ignition Coils Kit(8 Each)
1998
Lincoln
Town Car
Cartier Sedan 4-Door 4.6L 281Cu. In. V8 GAS SOHC Naturally Aspirated
Notes; Tune Up Kit; Spark Plugs + Ignition Coils Kit(8 Each)
1998
Lincoln
Town Car
Executive Limousine 4-Door 4.6L 281Cu. In. V8 GAS SOHC Naturally Aspirated
Notes; Tune Up Kit; Spark Plugs + Ignition Coils Kit(8 Each)
1998
Lincoln
Town Car
Executive Sedan 4-Door 4.6L 281Cu. In. V8 GAS SOHC Naturally Aspirated
Notes; Tune Up Kit; Spark Plugs + Ignition Coils Kit(8 Each)
1998
Lincoln
Town Car
Signature Sedan 4-Door 4.6L 281Cu. In. V8 GAS SOHC Naturally Aspirated
Notes; Tune Up Kit; Spark Plugs + Ignition Coils Kit(8 Each)
1998
Mercury
Grand Marquis
GS Sedan 4-Door 4.6L 281Cu. In. V8 GAS SOHC Naturally Aspirated
Notes; Tune Up Kit; Spark Plugs + Ignition Coils Kit(8 Each)
1998
Mercury
Grand Marquis
LS Sedan 4-Door 4.6L 281Cu. In. V8 GAS SOHC Naturally Aspirated
Notes; Tune Up Kit; Spark Plugs + Ignition Coils Kit(8 Each)
1997
Audi
A8 Quattro
Base Sedan 4-Door 4.2L 4172CC V8 GAS DOHC Naturally Aspirated
Mfrlabel:Spark Plug<br>Gap: .032; Plug Material: Platinum; Type - Alternative Plg;<br>PartType:Spark Plug<br>Quantity Required:8<br>
1997
Ford
E-150 Econoline
Base Standard Cargo Van 2-Door 4.2L 256Cu. In. V6 GAS OHV Naturally Aspirated
5.4L Engine
1997
Ford
E-150 Econoline
Base Standard Cargo Van 2-Door 4.6L 281Cu. In. V8 GAS SOHC Naturally Aspirated
5.4L Engine
1997
Ford
E-150 Econoline
XL Standard Cargo Van 2-Door 4.2L 256Cu. In. V6 GAS OHV Naturally Aspirated
5.4L Engine
1997
Ford
E-150 Econoline
XL Standard Cargo Van 2-Door 4.6L 281Cu. In. V8 GAS SOHC Naturally Aspirated
5.4L Engine
1997
Ford
E-150 Econoline Club Wagon
Chateau Standard Passenger Van 2-Door 4.2L 256Cu. In. V6 GAS OHV Naturally Aspirated
5.4L Engine
1997
Ford
E-150 Econoline Club Wagon
Chateau Standard Passenger Van 2-Door 4.6L 281Cu. In. V8 GAS SOHC Naturally Aspirated
5.4L Engine
1997
Ford
E-150 Econoline Club Wagon
Custom Standard Passenger Van 2-Door 4.2L 256Cu. In. V6 GAS OHV Naturally Aspirated
5.4L Engine
1997
Ford
E-150 Econoline Club Wagon
Custom Standard Passenger Van 2-Door 4.6L 281Cu. In. V8 GAS SOHC Naturally Aspirated
5.4L Engine
1997
Ford
E-150 Econoline Club Wagon
XLT Standard Passenger Van 2-Door 4.2L 256Cu. In. V6 GAS OHV Naturally Aspirated
5.4L Engine
1997
Ford
E-150 Econoline Club Wagon
XLT Standard Passenger Van 2-Door 4.6L 281Cu. In. V8 GAS SOHC Naturally Aspirated
5.4L Engine
1997
Ford
E-250 Econoline
Base Cutaway Van 2-Door 4.2L 256Cu. In. V6 GAS OHV Naturally Aspirated
1997
Ford
E-250 Econoline
Base Extended Cargo Van 2-Door 4.2L 256Cu. In. V6 GAS OHV Naturally Aspirated
1997
Ford
E-250 Econoline
Base Standard Cargo Van 2-Door 4.2L 256Cu. In. V6 GAS OHV Naturally Aspirated
1997
Ford
E-250 Econoline
Base Stripped Chassis 4.2L 256Cu. In. V6 GAS OHV Naturally Aspirated
1997
Ford
E-250 Econoline
XL Cutaway Van 2-Door 4.2L 256Cu. In. V6 GAS OHV Naturally Aspirated
1997
Ford
E-250 Econoline
XL Extended Cargo Van 2-Door 4.2L 256Cu. In. V6 GAS OHV Naturally Aspirated