US PU Leather+Cooling Mesh Seat Covers Universal 5-Seat Car Front+Rear w/Pillows
| | |
| --- | --- |
| Brand/Part #: | Fly5D US-Z-399-1 |
| Location: | CA, US |
| Ship To Locations: | US - FREE SHIPPING |
Store Home

Payment

Shipping

Return Policy

About Us

Contact Us
Store Categories
Automobile Brand/Car Interior

Audi

BMW

Buick

Chevrolet

Citroen

Ford

Honda

Hyundai

Jeep

Lexus

Mazda (

Mercedes-Benz

Mitsubishi

Nissan

Porsche

Skoda

Subaru

Suzuki

Toyota

The Great Wall

Volkswagen

Other brands

Car Steering Wheel Cover

Car Seat Covers

Car Accessories

Paintless Dent Rpair Tools kit

Motorcycle Accessories

PDR light/line board

Hot Sale Discount

T & bar tool & kit

Puller Glue Tabs

Tap Down Tool

Other Parts

Other
Store Newsletter
US PU Leather+Cooling Mesh Seat Covers Universal 5-Seat Car Front+Rear w/Pillows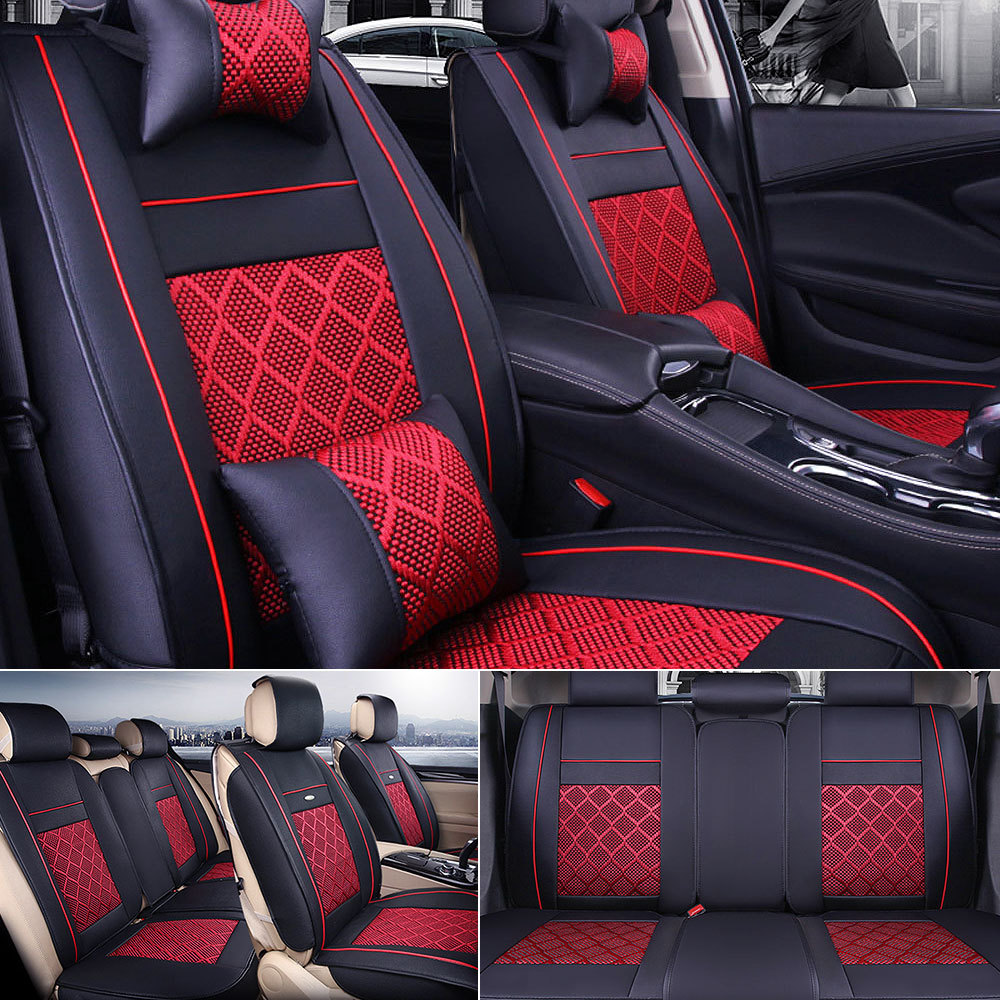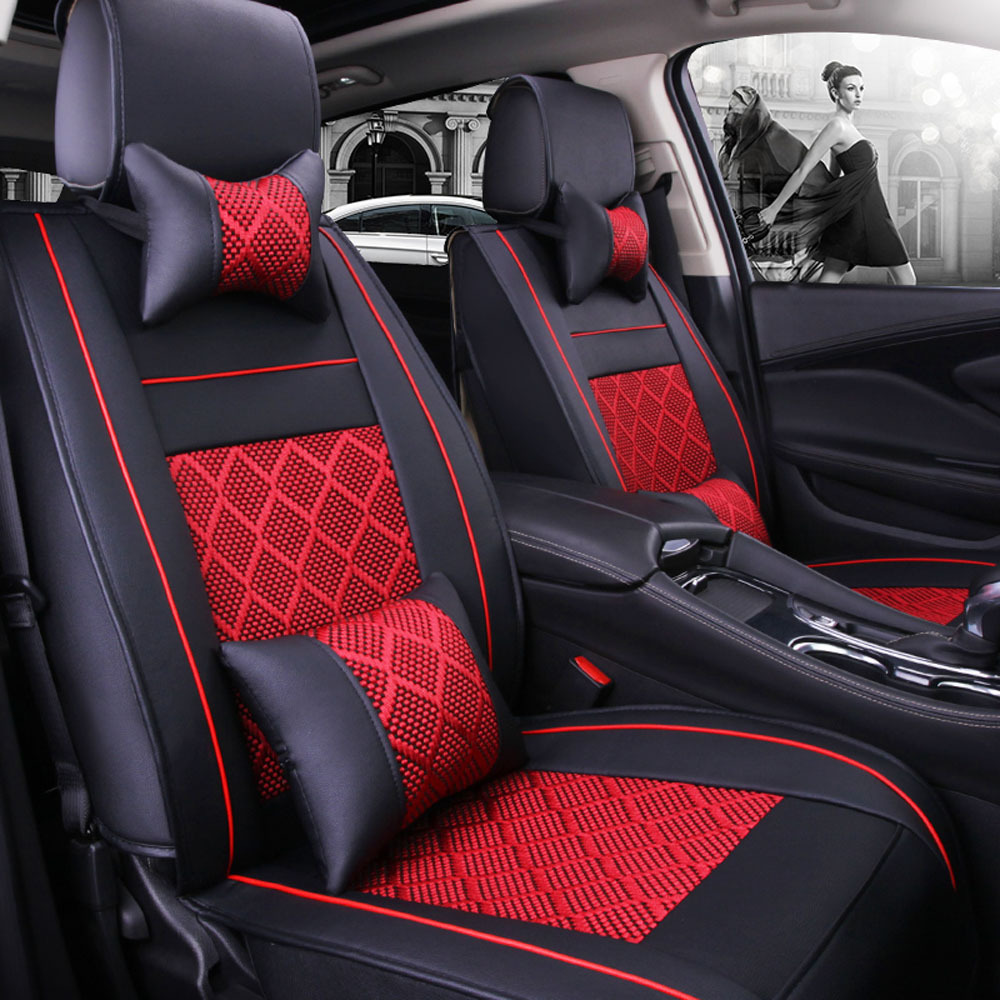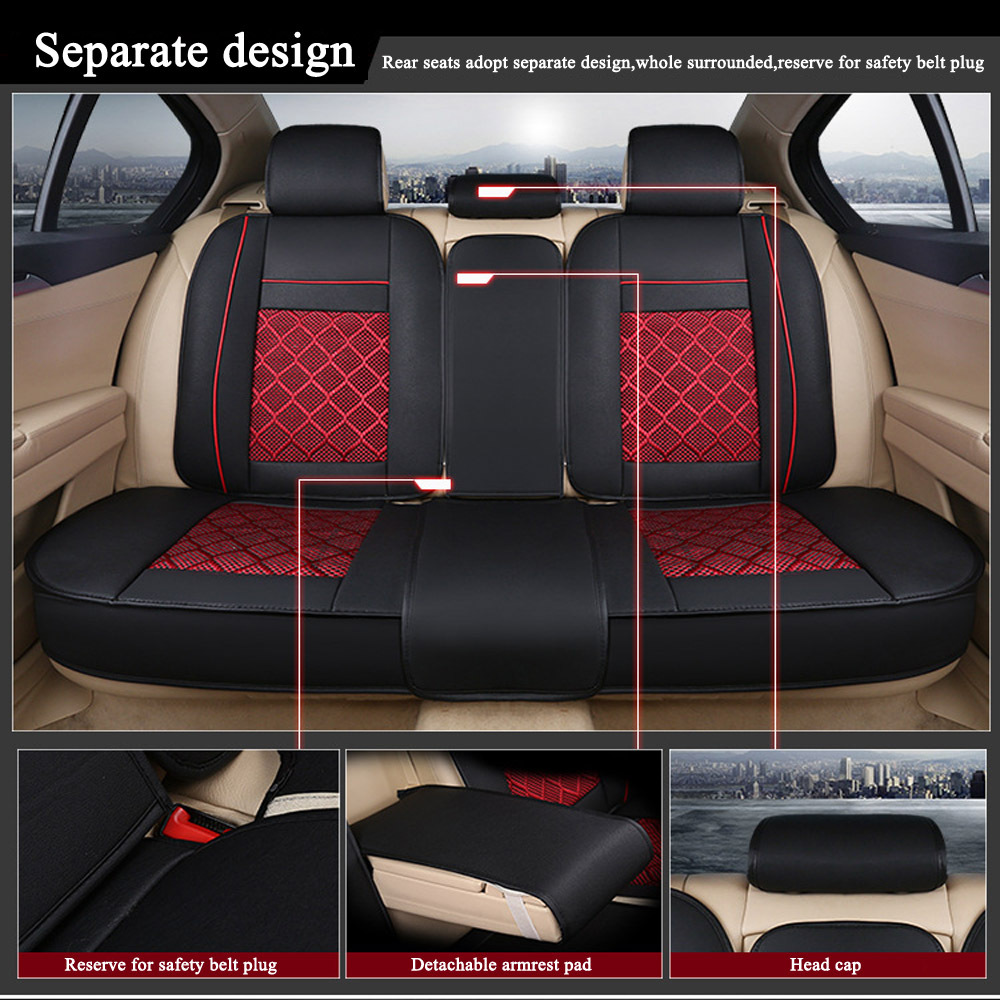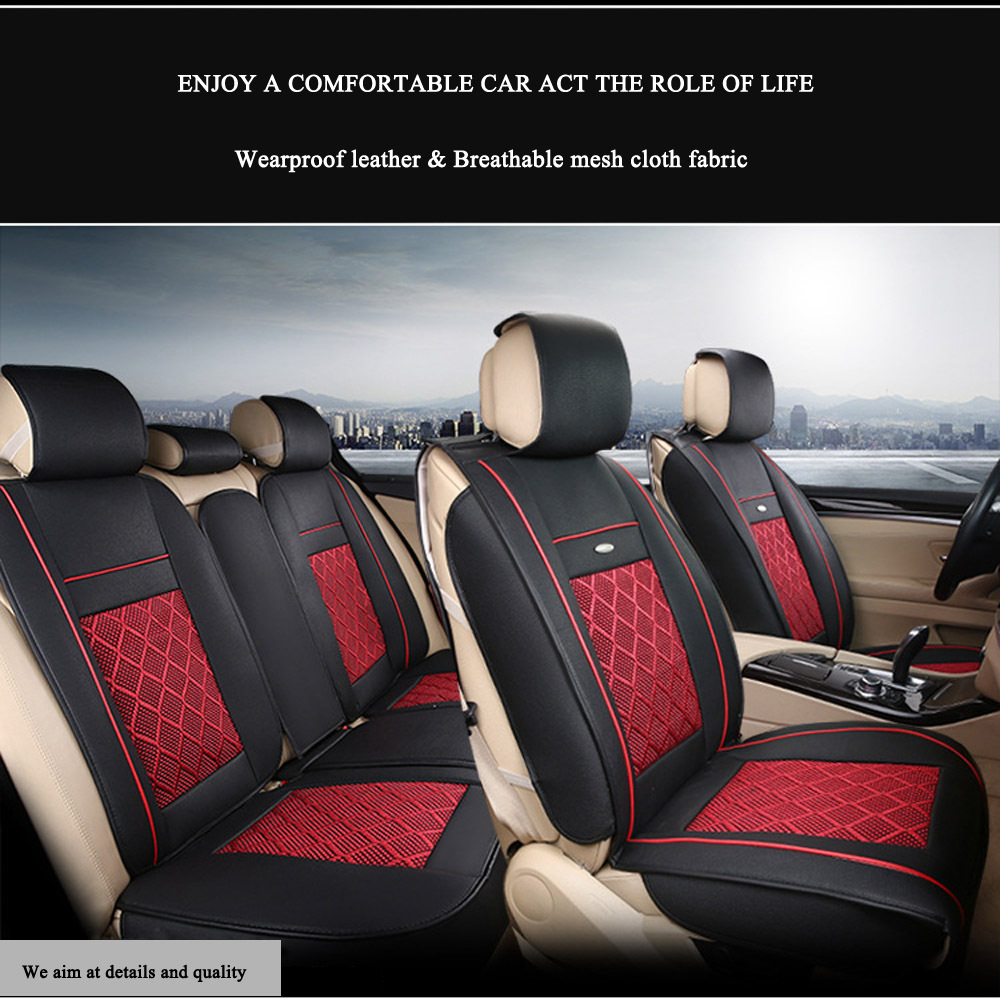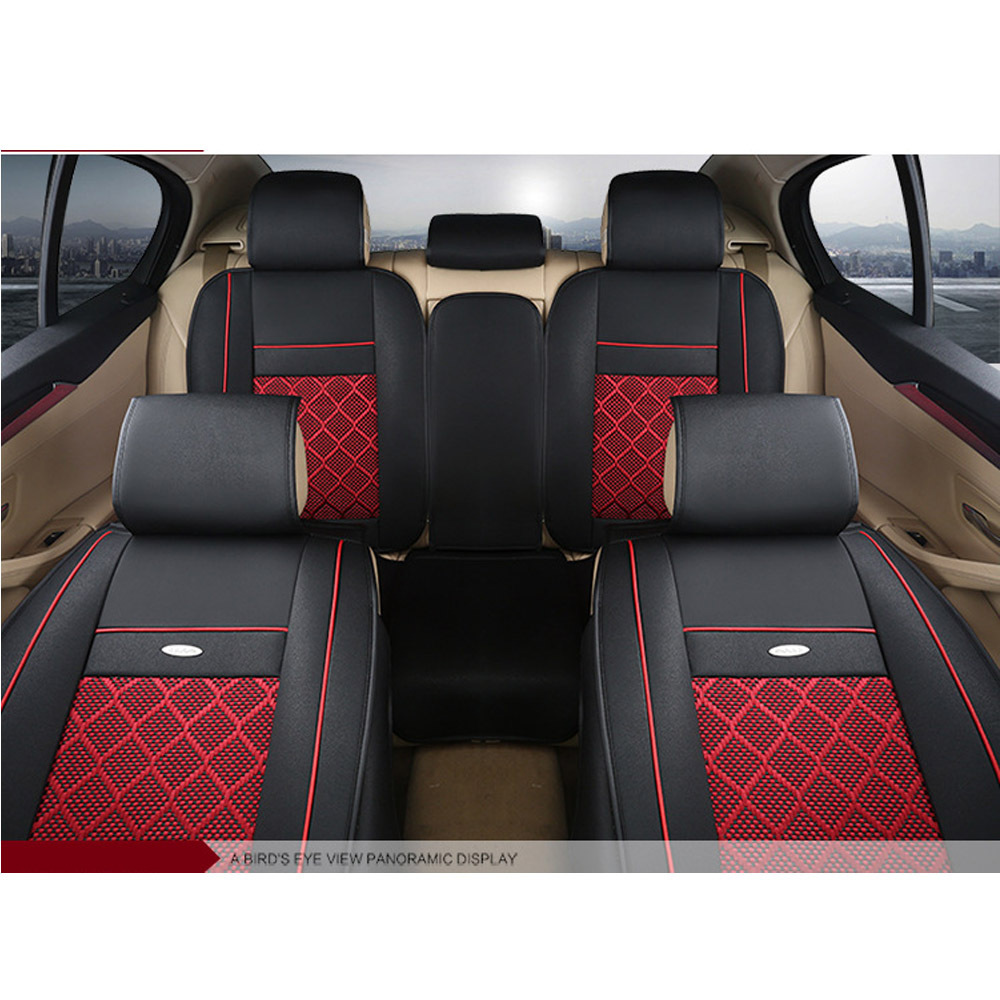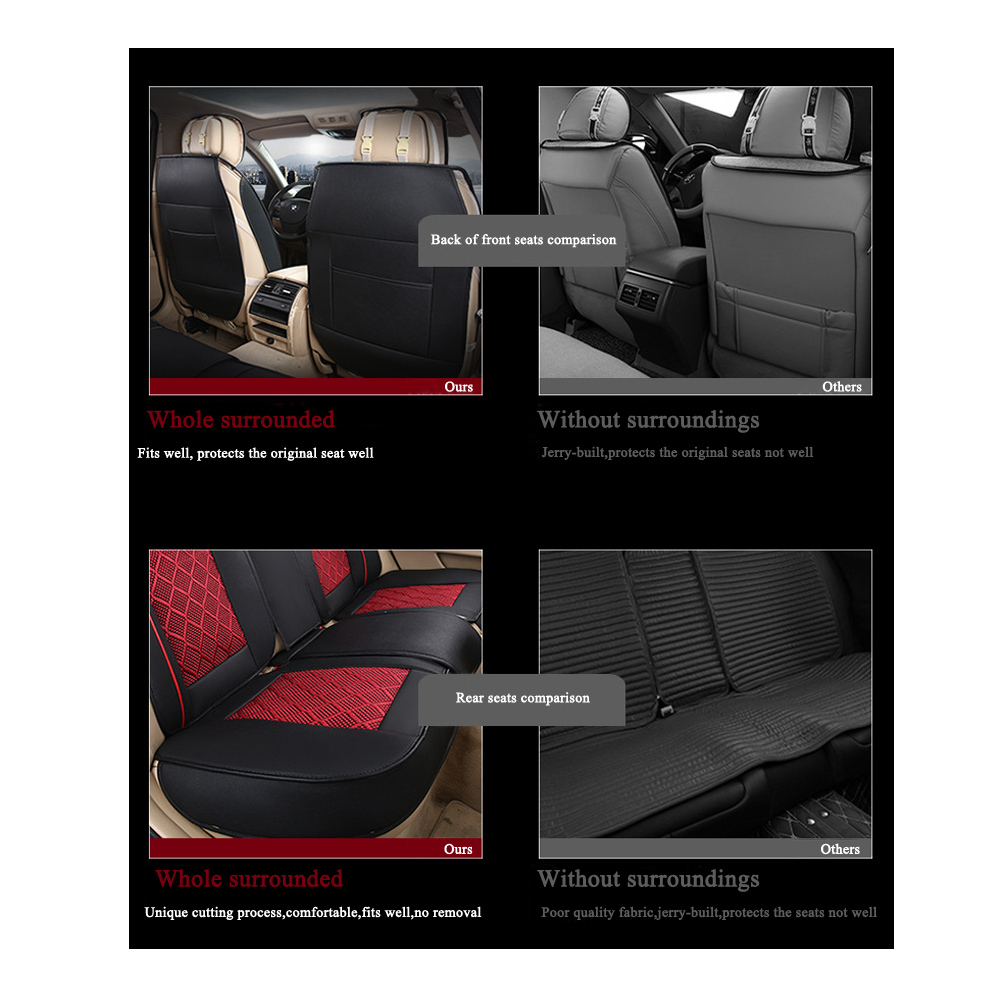 Items Description
PU leather + mesh seat cover all seasons
Material: PU leather/mesh +sponge + non-woven fabric + silicone anti-skid base cloth
Weight of standard edition: 4.0kg
Weight of deluxe edition: 5.2kg
Color:Black and red Coffee Beige
Standard edition: front seat cover-2pcs,rear seat backrest-2pcs,rear seat cushion-3pcs,armrest pad-1pc,head cap-1pc
Deluxe edition: front seat cover-2pcs,rear seat backrest-2pcs,rear seat cushion-3pcs,armrest pad-1pc,head cap-1pc,neck pillow-2pcs,lumbar pillow-2pcs
Dimensions
front row: length: 54cm width: 48cm backrest height: 60cm backrest width: 53cm
head cap height: 27cm head cap width:24cm
rear row: length: 122-145cm(adjustable) width: 50cm backrest height: 60cm backrest width: 53cm head cap height: 26cm head cap width:26cm armrest pad width: 22cm
Range of application: 5 sits cars, all seasons
Features
1. Wearproof PU leather + mesh fabric,soft, comfortable,breathable, antibacterial, anti-static,good hand feel.
2. Reserve for air bag outlet,wearproof binding,pillows can relieve fatigue
3. Whole surrounded,protects original seats perfectly
4. Easy to install,practical
The items will be shipped by Registered Airmail with tracking number.
The items will be sent within 1-2 working days after payment received.Delivery time might be longer if the item(s) be inspected by customs
Import duties, taxes, and charges are not included in the item price or postage cost.
These charges are the buyer's responsibility
We only accept payment through PayPal.
Payment should be completed within 7 days ,after 7 days,"Unpaid" will be reported to eBay for returning final fees.
Although we did a solid and safe packaging, it may still suffer some damage or missing during transportation, so please check the packing and items before signing your name.
If you find what you received is not the item as describes, please trust us, it is our duty to deal with it properly and give you satisfying solution.
We try our best to provide the high quality,best price,best service to our all customers.
If you find some issue for the item , please contact us ASAP before you leave feedback.
We will do our best to solve the problem. And if you are satisfied with our product.
Please support us, we will do it better.
Our working time:

Monday to Friday from 9:00 am to 7:00 pm (GMT+8)
we will reply to you quickly and try our best to serve you. thank you in advance.
Store Home Payment Shipping Return Policy About Us Contact Us
Copyright 2017 magic-tools2014 All rights reserved.
Returns Accepted: Returns Accepted
Refund will be given as: Money Back
Item must be returned within: 30 Days
Return shipping will be paid by: Buyer
Return policy details:
Superseded Part Number: PU Leather Seat Cover Front+Rear Set
Country/Region of Manufacture: Hong Kong
Interchange Part Number: PU Leather Seat Cover Front+Rear Set
OE Spec or Performance/Custom: OE Spec
Other Attribute: PU Leather Seat Cover Front+Rear Set
Material: PU leather+ sponge + non-woven fabric + suede
Other: PU Leather Seat Cover Front+Rear Set
Other Part: Neck Lumbar Pillows
UPC: 0763846253244
Weight: 5kg
Package size: 70*40*60cm
Range of application: 5-seat cars, all seasons
Color: Black / Red
Surface Finish: PU Leather
Manufacturer Part Number: US0763846253244
Placement on Vehicle: Left
Other Part Number: PU Leather Seat Cover Front+Rear Set
Brand: Fly5D
Fitment Type: Performance/Custom
Warranty: 2 Year
SKU: US-Z-399-1
US PU Leather+Cooling Mesh Seat Covers Universal 5-Seat Car Front+Rear w/Pillows fits on the following vehicles. This is for your reference only, please check your auto manual to make sure it fits.
YEAR
MAKE
MODEL
TRIM
NOTES
2018
Volkswagen
Jetta
Base Sedan 4-Door 2.0L 1984CC 121Cu. In. l4 GAS SOHC Naturally Aspirated
2018
Volkswagen
Jetta
Comfortline Sedan 4-Door 2.5L 2480CC 151Cu. In. l5 GAS DOHC Naturally Aspirated
2018
Volkswagen
Jetta
GLI Sedan 4-Door 2.0L 1984CC 121Cu. In. l4 GAS DOHC Turbocharged
2018
Volkswagen
Jetta
S Sedan 4-Door 1.4L 1395CC 85Cu. In. l4 GAS DOHC Turbocharged
2018
Volkswagen
Jetta
SE Sedan 4-Door 1.4L 1395CC 85Cu. In. l4 GAS DOHC Turbocharged
2018
Volkswagen
Jetta
SEL Sedan 4-Door 1.8L 1798CC 110Cu. In. l4 GAS DOHC Turbocharged
2018
Volkswagen
Jetta
Sport Sedan 4-Door 1.8L 1798CC 110Cu. In. l4 GAS DOHC Turbocharged
2018
Volkswagen
Jetta
Sportline Sedan 4-Door 2.5L 2480CC 151Cu. In. l5 GAS DOHC Naturally Aspirated
2018
Volkswagen
Jetta
Trendline Sedan 4-Door 2.5L 2480CC 151Cu. In. l5 GAS DOHC Naturally Aspirated
2018
Volkswagen
Jetta
Wolfsburg Edition Sedan 4-Door 1.4L 1395CC 85Cu. In. l4 GAS DOHC Turbocharged
2017
Audi
A1
Cool Hatchback 2-Door 1.4L 1390CC 85Cu. In. l4 GAS DOHC Turbocharged
2017
Audi
A1
Cool Hatchback 4-Door 1.4L 1390CC 85Cu. In. l4 GAS DOHC Turbocharged
2017
Audi
A1
Ego Hatchback 2-Door 1.4L 1390CC 85Cu. In. l4 GAS DOHC Turbocharged
2017
Audi
A1
Ego Hatchback 4-Door 1.4L 1390CC 85Cu. In. l4 GAS DOHC Turbocharged
2017
Audi
A1
S Line Hatchback 2-Door 1.8L 1798CC 110Cu. In. l4 GAS DOHC Turbocharged
2017
Audi
A1
S Line Hatchback 4-Door 1.8L 1798CC 110Cu. In. l4 GAS DOHC Turbocharged
2017
Audi
A1
Urban Hatchback 2-Door 1.4L 1390CC 85Cu. In. l4 GAS DOHC Turbocharged
2017
Audi
A1
Urban Hatchback 4-Door 1.4L 1390CC 85Cu. In. l4 GAS DOHC Turbocharged
2017
Audi
A4
Dynamic Sedan 4-Door 2.0L 1984CC 121Cu. In. l4 GAS Turbocharged
2017
Audi
A4
Komfort Sedan 4-Door 2.0L 1984CC 121Cu. In. l4 GAS DOHC Turbocharged
2017
Audi
A4
Premium Plus Sedan 4-Door 2.0L 1984CC 121Cu. In. l4 GAS DOHC Turbocharged
2017
Audi
A4
Premium Sedan 4-Door 2.0L 1984CC 121Cu. In. l4 GAS DOHC Turbocharged
2017
Audi
A4
Prestige Sedan 4-Door 2.0L 1984CC 121Cu. In. l4 GAS DOHC Turbocharged
2017
Audi
A4
Progressiv Sedan 4-Door 2.0L 1984CC 121Cu. In. l4 GAS DOHC Turbocharged
2017
Audi
A4
S Line Sedan 4-Door 2.0L 1984CC 121Cu. In. l4 GAS Turbocharged
2017
Audi
A4
Select Sedan 4-Door 2.0L 1984CC 121Cu. In. l4 GAS Turbocharged
2017
Audi
A4 Quattro
S Line Sedan 4-Door 2.0L 1984CC 121Cu. In. l4 GAS Turbocharged
2017
Audi
A4 Quattro
Select Sedan 4-Door 2.0L 1984CC 121Cu. In. l4 GAS Turbocharged
2017
Audi
A6
Luxury Sedan 4-Door 1.8L 1798CC 110Cu. In. l4 GAS DOHC Turbocharged
2017
Audi
A6
Premium Plus Sedan 4-Door 2.0L 1984CC 121Cu. In. l4 GAS DOHC Turbocharged
2017
Audi
A6
Premium Sedan 4-Door 2.0L 1984CC 121Cu. In. l4 GAS DOHC Turbocharged
2017
Audi
A6
S Line Sedan 4-Door 1.8L 1798CC 110Cu. In. l4 GAS DOHC Turbocharged
2017
Audi
Q3
Komfort Sport Utility 4-Door 2.0L 1984CC 121Cu. In. l4 GAS DOHC Turbocharged
2017
Audi
Q3
Luxury Sport Utility 4-Door 1.4L 1395CC 85Cu. In. l4 GAS DOHC Turbocharged
2017
Audi
Q3
Premium Plus Sport Utility 4-Door 2.0L 1984CC 121Cu. In. l4 GAS DOHC Turbocharged
2017
Audi
Q3
Premium Sport Utility 4-Door 2.0L 1984CC 121Cu. In. l4 GAS DOHC Turbocharged
2017
Audi
Q3
Prestige Sport Utility 4-Door 2.0L 1984CC 121Cu. In. l4 GAS DOHC Turbocharged
2017
Audi
Q3
Progressiv Sport Utility 4-Door 2.0L 1984CC 121Cu. In. l4 GAS DOHC Turbocharged
2017
Audi
Q3
S Line Sport Utility 4-Door 1.4L 1395CC 85Cu. In. l4 GAS DOHC Turbocharged
2017
Audi
Q3
Technik Sport Utility 4-Door 2.0L 1984CC 121Cu. In. l4 GAS DOHC Turbocharged
2017
Audi
Q3 Quattro
Luxury Sport Utility 4-Door 2.0L 1968CC 120Cu. In. l4 DIESEL DOHC Turbocharged
2017
Audi
Q3 Quattro
Luxury Sport Utility 4-Door 2.0L 1984CC 121Cu. In. l4 GAS DOHC Turbocharged
2017
Audi
Q3 Quattro
S Line Sport Utility 4-Door 2.0L 1984CC 121Cu. In. l4 GAS DOHC Turbocharged
2017
Audi
Q5
Elite Sport Utility 4-Door 2.0L 1984CC 121Cu. In. l4 GAS DOHC Turbocharged
2017
Audi
Q5
Elite Sport Utility 4-Door 3.0L 2967CC 181Cu. In. V6 DIESEL DOHC Turbocharged
2017
Audi
Q5
Elite Sport Utility 4-Door 3.0L 2995CC V6 GAS DOHC Supercharged
2017
Audi
Q5
Komfort Sport Utility 4-Door 2.0L 1984CC 121Cu. In. l4 FLEX DOHC Turbocharged
2017
Audi
Q5
Luxury Sport Utility 4-Door 2.0L 1984CC 121Cu. In. l4 GAS DOHC Turbocharged
2017
Audi
Q5
Premium Plus Sport Utility 4-Door 2.0L 1984CC 121Cu. In. l4 FLEX DOHC Turbocharged
2017
Audi
Q5
Premium Plus Sport Utility 4-Door 3.0L 2995CC V6 GAS DOHC Supercharged
2017
Audi
Q5
Premium Sport Utility 4-Door 2.0L 1984CC 121Cu. In. l4 FLEX DOHC Turbocharged
2017
Audi
Q5
Prestige Sport Utility 4-Door 3.0L 2995CC V6 GAS DOHC Supercharged
2017
Audi
Q5
Progressiv Sport Utility 4-Door 2.0L 1984CC 121Cu. In. l4 FLEX DOHC Turbocharged
2017
Audi
Q5
Progressiv Sport Utility 4-Door 3.0L 2995CC V6 GAS DOHC Supercharged
2017
Audi
Q5
Technik Sport Utility 4-Door 2.0L 1984CC 121Cu. In. l4 FLEX DOHC Turbocharged
2017
Audi
Q5
Technik Sport Utility 4-Door 3.0L 2995CC V6 GAS DOHC Supercharged
2017
Audi
Q5
Trendy Sport Utility 4-Door 2.0L 1984CC 121Cu. In. l4 GAS DOHC Turbocharged
2017
Audi
Q7
Elite Sport Utility 4-Door 3.0L 2967CC 181Cu. In. V6 DIESEL DOHC Turbocharged
2017
Audi
Q7
Elite Sport Utility 4-Door 3.0L 2995CC V6 GAS DOHC Supercharged
2017
Audi
Q7
Komfort Sport Utility 4-Door 2.0L 1984CC 121Cu. In. l4 GAS DOHC Turbocharged
2017
Audi
Q7
Komfort Sport Utility 4-Door 3.0L 2995CC V6 GAS DOHC Supercharged
2017
Audi
Q7
Premium Plus Sport Utility 4-Door 2.0L 1984CC 121Cu. In. l4 GAS DOHC Turbocharged
2017
Audi
Q7
Premium Plus Sport Utility 4-Door 3.0L 2995CC V6 GAS DOHC Supercharged
2017
Audi
Q7
Premium Sport Utility 4-Door 2.0L 1984CC 121Cu. In. l4 GAS DOHC Turbocharged
2017
Audi
Q7
Premium Sport Utility 4-Door 3.0L 2995CC V6 GAS DOHC Supercharged
2017
Audi
Q7
Prestige Sport Utility 4-Door 3.0L 2995CC V6 GAS DOHC Supercharged
2017
Audi
Q7
Progressiv Sport Utility 4-Door 2.0L 1984CC 121Cu. In. l4 GAS DOHC Turbocharged
2017
Audi
Q7
Progressiv Sport Utility 4-Door 3.0L 2995CC V6 GAS DOHC Supercharged
2017
Audi
Q7
S Line Sport Utility 4-Door 3.0L 2995CC V6 GAS DOHC Supercharged
2017
Audi
Q7
Select Sport Utility 4-Door 3.0L 2995CC V6 GAS DOHC Supercharged
2017
Audi
Q7
Technik Sport Utility 4-Door 3.0L 2995CC V6 GAS DOHC Supercharged
2017
Audi
S7
Base Hatchback 4-Door 4.0L 3993CC 243Cu. In. V8 GAS DOHC Turbocharged
2017
Audi
S7
Premium Plus Hatchback 4-Door 4.0L 3993CC 243Cu. In. V8 GAS DOHC Turbocharged
2017
Audi
S7
Prestige Hatchback 4-Door 4.0L 3993CC 243Cu. In. V8 GAS DOHC Turbocharged
2017
Audi
S8
Base Sedan 4-Door 4.0L 3993CC 243Cu. In. V8 GAS DOHC Turbocharged
2017
BMW
340i
Base Sedan 4-Door 3.0L 2998CC l6 GAS DOHC Turbocharged
2017
BMW
340i
M Sport Sedan 4-Door 3.0L 2998CC 183Cu. In. l6 GAS DOHC Turbocharged
2017
BMW
X5
xDrive50i Excellence Sport Utility 4-Door 4.4L 4395CC V8 GAS DOHC Turbocharged
2017
BMW
X5
xDrive50i M Sport Sport Utility 4-Door 4.4L 4395CC V8 GAS DOHC Turbocharged
2017
BMW
X6
xDrive35i Extravagance Sport Utility 4-Door 3.0L 2979CC l6 GAS DOHC Turbocharged
2017
BMW
X6
xDrive50i Extravagance Sport Utility 4-Door 4.4L 4395CC V8 GAS DOHC Turbocharged
2017
Chevrolet
Cruze
LT Sedan 4-Door 1.4L 1399CC 85Cu. In. l4 GAS DOHC Turbocharged
2017
Chevrolet
Cruze
Premier Hatchback 4-Door 1.4L 1399CC 85Cu. In. l4 GAS DOHC Turbocharged
2017
Chevrolet
Cruze
Premier Sedan 4-Door 1.4L 1399CC 85Cu. In. l4 GAS DOHC Turbocharged
2017
Chevrolet
Equinox
LS Sport Utility 4-Door 2.4L 145Cu. In. l4 FLEX DOHC Naturally Aspirated
2017
Chevrolet
Equinox
LS Sport Utility 4-Door 2.4L 145Cu. In. l4 GAS DOHC Naturally Aspirated
2017
Chevrolet
Equinox
LT Sport Utility 4-Door 2.4L 145Cu. In. l4 FLEX DOHC Naturally Aspirated
2017
Chevrolet
Equinox
Premier Sport Utility 4-Door 2.4L 145Cu. In. l4 FLEX DOHC Naturally Aspirated
2017
Chevrolet
Malibu
Hybrid Sedan 4-Door 1.8L 1796CC 110Cu. In. l4 ELECTRIC/GAS DOHC Naturally Aspirated
2017
Ford
Escape
S Sport Utility 4-Door 2.5L 2488CC 152Cu. In. l4 GAS DOHC Naturally Aspirated
2017
Ford
Escape
SE Sport Utility 4-Door 1.5L 1499CC 91Cu. In. l4 GAS DOHC Turbocharged
2017
Ford
Escape
SE Sport Utility 4-Door 2.0L 1999CC 122Cu. In. l4 GAS DOHC Turbocharged
2017
Ford
Explorer
Base Sport Utility 4-Door 2.3L 2300CC 140Cu. In. l4 GAS DOHC Turbocharged
2017
Ford
Explorer
Base Sport Utility 4-Door 3.5L 3496CC 213Cu. In. V6 GAS DOHC Naturally Aspirated
2017
Ford
Explorer
Limited Sport Utility 4-Door 2.3L 2300CC 140Cu. In. l4 GAS DOHC Turbocharged
2017
Ford
Explorer
Platinum Sport Utility 4-Door 3.5L 3496CC 213Cu. In. V6 GAS DOHC Turbocharged
2017
Ford
Explorer
Sport Sport Utility 4-Door 3.5L 3496CC 213Cu. In. V6 GAS DOHC Turbocharged
2017
Ford
Explorer
XLT Sport Utility 4-Door 2.3L 2300CC 140Cu. In. l4 GAS DOHC Turbocharged
2017
Ford
Explorer
XLT Sport Utility 4-Door 3.5L 3496CC 213Cu. In. V6 GAS DOHC Naturally Aspirated
2017
Ford
Fusion
Energi SE Luxury Sedan 4-Door 2.0L 1999CC 122Cu. In. l4 ELECTRIC/GAS DOHC Naturally Aspirated
2017
Ford
Fusion
Energi SE Sedan 4-Door 2.0L 1999CC 122Cu. In. l4 ELECTRIC/GAS DOHC Naturally Aspirated
2017
Ford
Fusion
Energi Titanium Sedan 4-Door 2.0L 1999CC 122Cu. In. l4 ELECTRIC/GAS DOHC Naturally Aspirated
2017
Ford
Fusion
S Sedan 4-Door 2.5L 2488CC 152Cu. In. l4 FLEX DOHC Naturally Aspirated
2017
Ford
Fusion
SE LUX Hybrid Sedan 4-Door 2.0L 1999CC 122Cu. In. l4 ELECTRIC/GAS DOHC Naturally Aspirated
2017
Ford
Fusion
SE Sedan 4-Door 1.5L 1499CC 91Cu. In. l4 GAS DOHC Turbocharged
2017
Ford
Fusion
SE Sedan 4-Door 2.5L 2488CC 152Cu. In. l4 FLEX DOHC Naturally Aspirated
2017
Ford
Fusion
SE Sedan 4-Door 2.5L 2488CC 152Cu. In. l4 GAS DOHC Naturally Aspirated
2017
Honda
Accord
EX-L Coupe 2-Door 2.4L 2356CC 144Cu. In. l4 GAS DOHC Naturally Aspirated
2017
Honda
Accord
LX-S Coupe 2-Door 2.4L 2356CC 144Cu. In. l4 GAS DOHC Naturally Aspirated
2017
Honda
City
EX Sedan 4-Door 1.5L 1497CC 91Cu. In. l4 GAS SOHC Naturally Aspirated
2017
Hyundai
Elantra
GL Sedan 4-Door 2.0L 1999CC l4 GAS DOHC Naturally Aspirated
2017
Hyundai
Elantra
GLS Premium Sedan 4-Door 2.0L 1999CC 122Cu. In. l4 GAS DOHC Naturally Aspirated
2017
Hyundai
Elantra
GLS Sedan 4-Door 2.0L 1999CC 122Cu. In. l4 GAS Naturally Aspirated
2017
Hyundai
Elantra
LE Sedan 4-Door 2.0L 1999CC l4 GAS DOHC Naturally Aspirated
2017
Hyundai
Elantra
Ultimate Sedan 4-Door 2.0L 1999CC l4 GAS DOHC Naturally Aspirated
2017
Hyundai
Santa Fe
Limited Sport Utility 4-Door 3.3L 3342CC V6 GAS DOHC Naturally Aspirated
2017
Hyundai
Santa Fe
Limited Ultimate Sport Utility 4-Door 3.3L 3342CC V6 GAS DOHC Naturally Aspirated
2017
Hyundai
Santa Fe
SE Ultimate Sport Utility 4-Door 3.3L 3342CC V6 GAS DOHC Naturally Aspirated
2017
Hyundai
Tucson
GLS Sport Utility 4-Door 2.0L 1999CC 122Cu. In. l4 GAS Naturally Aspirated
2017
Hyundai
Tucson
Limited Sport Utility 4-Door 2.0L 1999CC 122Cu. In. l4 GAS Naturally Aspirated
2017
Mercedes-Benz
C250
Base Coupe 2-Door 2.0L 1991CC 121Cu. In. l4 GAS Turbocharged
2017
Mercedes-Benz
C300
Base Sedan 4-Door 2.0L 1991CC l4 GAS DOHC Turbocharged
2017
Mercedes-Benz
C350e
Base Sedan 4-Door 2.0L 1991CC l4 ELECTRIC/GAS DOHC Turbocharged
2017
Mercedes-Benz
E200
Avantgarde Sedan 4-Door 2.0L 1991CC 121Cu. In. l4 GAS DOHC Turbocharged
2017
Mercedes-Benz
GLA200
CGI Sport Sport Utility 4-Door 1.6L 1595CC 97Cu. In. l4 GAS DOHC Turbocharged
2017
Mercedes-Benz
GLA250
Base Sport Utility 4-Door 2.0L 1991CC l4 GAS DOHC Turbocharged
2017
Mercedes-Benz
GLA250
CGI Sport Sport Utility 4-Door 2.0L 1991CC l4 GAS DOHC Turbocharged
2017
Mercedes-Benz
GLE350
4Matic Sport Utility 4-Door 3.5L 3498CC V6 FLEX DOHC Naturally Aspirated
2017
Mercedes-Benz
GLE350
4Matic Sport Utility 4-Door 3.5L 3498CC V6 GAS DOHC Naturally Aspirated
2017
Mercedes-Benz
GLE400
4Matic Sport Utility 4-Door 3.0L 2996CC V6 GAS DOHC Turbocharged
2017
Mercedes-Benz
GLE63 AMG
Base Sport Utility 4-Door 5.5L 5461CC V8 GAS DOHC Turbocharged
2017
Mercedes-Benz
GLE63 AMG
Coupe Sport Utility 4-Door 5.5L 5461CC V8 GAS DOHC Turbocharged
2017
Mercedes-Benz
GLE63 AMG S
Base Sport Utility 4-Door 5.5L 5461CC V8 GAS DOHC Turbocharged
2017
Nissan
Altima
Sense Sedan 4-Door 2.5L 2500CC l4 GAS DOHC Naturally Aspirated
2017
Nissan
Juke
Advance Sport Utility 4-Door 1.6L 1618CC l4 GAS DOHC Turbocharged
2017
Nissan
Juke
Exclusive Sport Utility 4-Door 1.6L 1618CC l4 GAS DOHC Turbocharged
2017
Nissan
Juke
Nismo RS Sport Utility 4-Door 1.6L 1618CC l4 GAS DOHC Turbocharged
2017
Nissan
Juke
Nismo Sport Utility 4-Door 1.6L 1618CC l4 GAS DOHC Turbocharged
2017
Nissan
Juke
S Sport Utility 4-Door 1.6L 1618CC l4 GAS DOHC Turbocharged
2017
Nissan
Juke
SL Sport Utility 4-Door 1.6L 1618CC l4 GAS DOHC Turbocharged
2017
Nissan
Juke
SV Sport Utility 4-Door 1.6L 1618CC l4 GAS DOHC Turbocharged
2017
Nissan
Sentra
Exclusive Sedan 4-Door 1.8L 1798CC 110Cu. In. l4 GAS Naturally Aspirated
2017
Nissan
Sentra
Sense Sedan 4-Door 1.8L 1798CC 110Cu. In. l4 GAS Naturally Aspirated
2017
Subaru
Forester
2.0XT Limited Wagon 4-Door 2.0L 1998CC 122Cu. In. H4 GAS DOHC Turbocharged
2017
Subaru
Forester
2.5i Limited Wagon 4-Door 2.5L 2498CC 152Cu. In. H4 GAS DOHC Naturally Aspirated
2017
Subaru
Forester
2.5i Premium Wagon 4-Door 2.5L 2498CC 152Cu. In. H4 GAS DOHC Naturally Aspirated
2017
Toyota
Camry
Hybrid LE Sedan 4-Door 2.5L 2494CC 152Cu. In. l4 ELECTRIC/GAS DOHC Naturally Aspirated
2017
Toyota
Camry
Hybrid SE Sedan 4-Door 2.5L 2494CC 152Cu. In. l4 ELECTRIC/GAS DOHC Naturally Aspirated
2017
Toyota
Camry
Hybrid XLE Sedan 4-Door 2.5L 2494CC 152Cu. In. l4 ELECTRIC/GAS DOHC Naturally Aspirated
2017
Toyota
Camry
LE Sedan 4-Door 2.5L 2494CC 152Cu. In. l4 GAS DOHC Naturally Aspirated
2017
Toyota
Camry
SE Sedan 4-Door 2.5L 2494CC 152Cu. In. l4 GAS DOHC Naturally Aspirated
2017
Toyota
Camry
XLE Sedan 4-Door 2.5L 2494CC 152Cu. In. l4 GAS DOHC Naturally Aspirated
2017
Toyota
Camry
XLE Sedan 4-Door 3.5L 3456CC V6 GAS DOHC Naturally Aspirated
2017
Toyota
Camry
XSE Sedan 4-Door 2.5L 2494CC 152Cu. In. l4 GAS DOHC Naturally Aspirated
2017
Toyota
Camry
XSE Sedan 4-Door 3.5L 3456CC V6 GAS DOHC Naturally Aspirated
2017
Toyota
Corolla iM
Base Hatchback 4-Door 1.8L 1798CC 110Cu. In. l4 GAS DOHC Naturally Aspirated
2017
Toyota
Prius
Base Hatchback 4-Door 1.8L 1798CC 110Cu. In. l4 ELECTRIC/GAS DOHC Naturally Aspirated
2017
Toyota
Prius
Four Hatchback 4-Door 1.8L 1798CC 110Cu. In. l4 ELECTRIC/GAS DOHC Naturally Aspirated
2017
Toyota
Prius
Four Touring Hatchback 4-Door 1.8L 1798CC 110Cu. In. l4 ELECTRIC/GAS DOHC Naturally Aspirated
2017
Toyota
Prius
One Hatchback 4-Door 1.8L 1798CC 110Cu. In. l4 ELECTRIC/GAS DOHC Naturally Aspirated
2017
Toyota
Prius
Premium Hatchback 4-Door 1.8L 1798CC 110Cu. In. l4 ELECTRIC/GAS DOHC Naturally Aspirated
2017
Toyota
Prius
Technology Hatchback 4-Door 1.8L 1798CC 110Cu. In. l4 ELECTRIC/GAS DOHC Naturally Aspirated
2017
Toyota
Prius
Three Hatchback 4-Door 1.8L 1798CC 110Cu. In. l4 ELECTRIC/GAS DOHC Naturally Aspirated
2017
Toyota
Prius
Three Touring Hatchback 4-Door 1.8L 1798CC 110Cu. In. l4 ELECTRIC/GAS DOHC Naturally Aspirated
2017
Toyota
Prius
Touring Hatchback 4-Door 1.8L 1798CC 110Cu. In. l4 ELECTRIC/GAS DOHC Naturally Aspirated
2017
Toyota
Prius
Two Eco Hatchback 4-Door 1.8L 1798CC 110Cu. In. l4 ELECTRIC/GAS DOHC Naturally Aspirated
2017
Toyota
Prius
Two Hatchback 4-Door 1.8L 1798CC 110Cu. In. l4 ELECTRIC/GAS DOHC Naturally Aspirated
2017
Toyota
Prius V
Base Wagon 4-Door 1.8L 1798CC 110Cu. In. l4 ELECTRIC/GAS DOHC Naturally Aspirated
2017
Toyota
Prius V
Four Wagon 4-Door 1.8L 1798CC 110Cu. In. l4 ELECTRIC/GAS DOHC Naturally Aspirated
2017
Volkswagen
Jetta
Base Sedan 4-Door 2.0L 1984CC 121Cu. In. l4 GAS SOHC Naturally Aspirated
2017
Volkswagen
Jetta
Comfortline Sedan 4-Door 2.5L 2480CC 151Cu. In. l5 GAS DOHC Naturally Aspirated
2017
Volkswagen
Jetta
GLI Sedan 4-Door 2.0L 1984CC 121Cu. In. l4 GAS DOHC Turbocharged
2017
Volkswagen
Jetta
Highline Sedan 4-Door 1.8L 1798CC 110Cu. In. l4 GAS DOHC Turbocharged
2017
Volkswagen
Jetta
S Sedan 4-Door 1.4L 1395CC 85Cu. In. l4 GAS DOHC Turbocharged
2017
Volkswagen
Jetta
SE Sedan 4-Door 1.4L 1395CC 85Cu. In. l4 GAS DOHC Turbocharged
2017
Volkswagen
Jetta
SEL Sedan 4-Door 1.8L 1798CC 110Cu. In. l4 GAS DOHC Turbocharged
2017
Volkswagen
Jetta
Sport Sedan 4-Door 1.8L 1798CC 110Cu. In. l4 GAS DOHC Turbocharged
2017
Volkswagen
Jetta
Sportline Sedan 4-Door 2.5L 2480CC 151Cu. In. l5 GAS DOHC Naturally Aspirated
2017
Volkswagen
Jetta
Trendline Sedan 4-Door 1.4L 1395CC 85Cu. In. l4 GAS DOHC Turbocharged
2017
Volkswagen
Jetta
Trendline Sedan 4-Door 2.5L 2480CC 151Cu. In. l5 GAS DOHC Naturally Aspirated
2017
Volkswagen
Jetta
Wolfsburg Edition Sedan 4-Door 1.4L 1395CC 85Cu. In. l4 GAS DOHC Turbocharged
2016
Audi
A1
Active Hatchback 2-Door 1.4L 1390CC 85Cu. In. l4 GAS Turbocharged
2016
Audi
A1
Cool Hatchback 2-Door 1.4L 1390CC 85Cu. In. l4 GAS DOHC Turbocharged
2016
Audi
A1
Cool Hatchback 4-Door 1.4L 1390CC 85Cu. In. l4 GAS DOHC Turbocharged
2016
Audi
A1
Ego Hatchback 2-Door 1.4L 1390CC 85Cu. In. l4 GAS DOHC Turbocharged
2016
Audi
A1
Ego Hatchback 4-Door 1.4L 1390CC 85Cu. In. l4 GAS DOHC Turbocharged
2016
Audi
A1
S Line Hatchback 2-Door 1.8L 1798CC 110Cu. In. l4 GAS DOHC Turbocharged
2016
Audi
A1
S Line Hatchback 4-Door 1.8L 1798CC 110Cu. In. l4 GAS DOHC Turbocharged
2016
Audi
A3
Ambiente Hatchback 2-Door 1.4L 1395CC 85Cu. In. l4 GAS DOHC Turbocharged
2016
Audi
A3
Ambiente Hatchback 2-Door 1.4L 1400CC 85Cu. In. l4 GAS DOHC Turbocharged
2016
Audi
A3
Ambiente Hatchback 2-Door 1.8L 1798CC 110Cu. In. l4 GAS DOHC Turbocharged
2016
Audi
A3
Ambiente Sedan 4-Door 1.4L 1395CC 85Cu. In. l4 GAS DOHC Turbocharged
2016
Audi
A3
Ambiente Sedan 4-Door 1.4L 1400CC 85Cu. In. l4 GAS DOHC Turbocharged
2016
Audi
A3
Ambiente Sedan 4-Door 1.8L 1798CC 110Cu. In. l4 GAS DOHC Turbocharged
2016
Audi
A3
Attraction Convertible 2-Door 1.4L 1400CC 85Cu. In. l4 GAS DOHC Turbocharged
2016
Audi
A3
Attraction Convertible 2-Door 1.8L 1798CC 110Cu. In. l4 GAS DOHC Turbocharged
2016
Audi
A3
Attraction Hatchback 2-Door 1.4L 1400CC 85Cu. In. l4 GAS DOHC Turbocharged
2016
Audi
A3
Attraction Hatchback 2-Door 1.8L 1798CC 110Cu. In. l4 GAS DOHC Turbocharged
2016
Audi
A3
Attraction Plus Sedan 4-Door 1.8L 1798CC 110Cu. In. l4 GAS DOHC Turbocharged
2016
Audi
A3
Attraction Sedan 4-Door 1.4L 1400CC 85Cu. In. l4 GAS DOHC Turbocharged
2016
Audi
A3
Attraction Sedan 4-Door 1.8L 1798CC 110Cu. In. l4 GAS DOHC Turbocharged
2016
Audi
A3
Komfort Sedan 4-Door 1.8L 1798CC 110Cu. In. l4 GAS DOHC Turbocharged
2016
Audi
A3
Premium Convertible 2-Door 1.8L 1798CC 110Cu. In. l4 GAS DOHC Turbocharged
2016
Audi
A3
Premium Plus Convertible 2-Door 1.8L 1798CC 110Cu. In. l4 GAS DOHC Turbocharged
2016
Audi
A3
Premium Plus Sedan 4-Door 1.8L 1798CC 110Cu. In. l4 GAS DOHC Turbocharged
2016
Audi
A3
Premium Sedan 4-Door 1.8L 1798CC 110Cu. In. l4 GAS DOHC Turbocharged
2016
Audi
A3
Prestige Convertible 2-Door 1.8L 1798CC 110Cu. In. l4 GAS DOHC Turbocharged
2016
Audi
A3
Prestige Sedan 4-Door 1.8L 1798CC 110Cu. In. l4 GAS DOHC Turbocharged
2016
Audi
A3
Progressiv Sedan 4-Door 1.8L 1798CC 110Cu. In. l4 GAS DOHC Turbocharged
2016
Audi
A3
S Line Convertible 2-Door 1.8L 1798CC 110Cu. In. l4 GAS DOHC Turbocharged
2016
Audi
A3
S Line Hatchback 2-Door 1.8L 1798CC 110Cu. In. l4 GAS DOHC Turbocharged
2016
Audi
A3
S Line Sedan 4-Door 1.8L 1798CC 110Cu. In. l4 GAS DOHC Turbocharged
2016
Audi
A3
TDI Komfort Convertible 2-Door 2.0L 1968CC 120Cu. In. l4 DIESEL DOHC Turbocharged
2016
Audi
A3
TDI Komfort Sedan 4-Door 2.0L 1968CC 120Cu. In. l4 DIESEL DOHC Turbocharged
2016
Audi
A3
TDI Premium Plus Sedan 4-Door 2.0L 1968CC 120Cu. In. l4 DIESEL DOHC Turbocharged
2016
Audi
A3
TDI Premium Sedan 4-Door 2.0L 1968CC 120Cu. In. l4 DIESEL DOHC Turbocharged
2016
Audi
A3
TDI Prestige Sedan 4-Door 2.0L 1968CC 120Cu. In. l4 DIESEL DOHC Turbocharged
2016
Audi
A3
TDI Progressiv Convertible 2-Door 2.0L 1968CC 120Cu. In. l4 DIESEL DOHC Turbocharged
2016
Audi
A3
TDI Progressiv Sedan 4-Door 2.0L 1968CC 120Cu. In. l4 DIESEL DOHC Turbocharged
2016
Audi
A3
TDI Technik Convertible 2-Door 2.0L 1968CC 120Cu. In. l4 DIESEL DOHC Turbocharged
2016
Audi
A3
TDI Technik Sedan 4-Door 2.0L 1968CC 120Cu. In. l4 DIESEL DOHC Turbocharged
2016
Audi
A3
Technik Sedan 4-Door 1.8L 1798CC 110Cu. In. l4 GAS DOHC Turbocharged
2016
Audi
A3 e-tron
Premium Sedan 4-Door -CC -Cu. In. -- -
2016
Audi
A3 e-tron
Prestige Sedan 4-Door -CC -Cu. In. -- -
2016
Audi
A3 Quattro
Komfort Convertible 2-Door 2.0L 1984CC 121Cu. In. l4 GAS DOHC Turbocharged
2016
Audi
A3 Quattro
Premium Plus Convertible 2-Door 2.0L 1984CC 121Cu. In. l4 GAS DOHC Turbocharged
2016
Audi
A3 Quattro
Premium Plus Sedan 4-Door 2.0L 1984CC 121Cu. In. l4 GAS DOHC Turbocharged
2016
Audi
A3 Quattro
Premium Sedan 4-Door 2.0L 1984CC 121Cu. In. l4 GAS DOHC Turbocharged
2016
Audi
A3 Quattro
Prestige Sedan 4-Door 2.0L 1984CC 121Cu. In. l4 GAS DOHC Turbocharged
2016
Audi
A3 Quattro
Technik Sedan 4-Door 2.0L 1984CC 121Cu. In. l4 GAS DOHC Turbocharged
2016
Audi
A3 Sportback e-tron
Premium Hatchback 4-Door 1.4L 1395CC 85Cu. In. l4 ELECTRIC/GAS DOHC Turbocharged
2016
Audi
A3 Sportback e-tron
Technik Hatchback 4-Door 1.4L 1395CC 85Cu. In. l4 ELECTRIC/GAS DOHC Turbocharged
2016
Audi
A4
Komfort Sedan 4-Door 2.0L 1984CC 121Cu. In. l4 GAS DOHC Turbocharged
2016
Audi
A4
Premium Plus Sedan 4-Door 2.0L 1984CC 121Cu. In. l4 GAS DOHC Turbocharged
2016
Audi
A4
Premium Sedan 4-Door 2.0L 1984CC 121Cu. In. l4 GAS DOHC Turbocharged
2016
Audi
A4
Sport Sedan 4-Door 1.8L 1781CC 109Cu. In. l4 GAS DOHC Turbocharged
2016
Audi
A4
Sport Sedan 4-Door 2.0L 1984CC 121Cu. In. l4 DIESEL DOHC Turbocharged
2016
Audi
A4
Trendy Sedan 4-Door 1.8L 1781CC 109Cu. In. l4 GAS DOHC Turbocharged
2016
Audi
A4
Trendy Sedan 4-Door 2.0L 1984CC 121Cu. In. l4 DIESEL DOHC Turbocharged
2016
Audi
A4
Trendy Sedan 4-Door 2.0L 1984CC 121Cu. In. l4 GAS DOHC Turbocharged
2016
Audi
A4 Quattro
Komfort Sedan 4-Door 2.0L 1984CC 121Cu. In. l4 GAS DOHC Turbocharged
2016
Audi
A4 Quattro
Luxury Sedan 4-Door 2.0L 1984CC 121Cu. In. l4 GAS DOHC Turbocharged
2016
Audi
A4 Quattro
Premium Plus Sedan 4-Door 2.0L 1984CC 121Cu. In. l4 FLEX DOHC Turbocharged
2016
Audi
A4 Quattro
Premium Plus Sedan 4-Door 2.0L 1984CC 121Cu. In. l4 GAS DOHC Turbocharged
2016
Audi
A4 Quattro
Premium Sedan 4-Door 2.0L 1984CC 121Cu. In. l4 GAS DOHC Turbocharged
2016
Audi
A4 Quattro
Progressiv Sedan 4-Door 2.0L 1984CC 121Cu. In. l4 FLEX DOHC Turbocharged
2016
Audi
A4 Quattro
Progressiv Sedan 4-Door 2.0L 1984CC 121Cu. In. l4 GAS DOHC Turbocharged
2016
Audi
A4 Quattro
Sport Sedan 4-Door 2.0L 1984CC 121Cu. In. l4 GAS DOHC Turbocharged
2016
Audi
A4 Quattro
Technik Sedan 4-Door 2.0L 1984CC 121Cu. In. l4 FLEX DOHC Turbocharged
2016
Audi
A4 Quattro
Trendy Plus Sedan 4-Door 2.0L 1984CC 121Cu. In. l4 GAS DOHC Turbocharged
2016
Audi
A5
Elite Coupe 2-Door 3.0L 2995CC 183Cu. In. V6 GAS DOHC Supercharged
2016
Audi
A5
Luxury Coupe 2-Door 1.8L 1798CC 110Cu. In. l4 GAS DOHC Turbocharged
2016
Audi
A5
Luxury Coupe 2-Door 2.0L 1984CC 121Cu. In. l4 GAS DOHC Turbocharged
2016
Audi
A5
Luxury Hatchback 4-Door 1.8L 1798CC 110Cu. In. l4 GAS DOHC Turbocharged
2016
Audi
A5
Luxury Hatchback 4-Door 2.0L 1984CC 121Cu. In. l4 GAS DOHC Turbocharged
2016
Audi
A5
Premium Convertible 2-Door -CC -Cu. In. -- -
2016
Audi
A5
Premium Coupe 2-Door -CC -Cu. In. -- -
2016
Audi
A5
Premium Plus Convertible 2-Door -CC -Cu. In. -- -
2016
Audi
A5
Premium Plus Coupe 2-Door -CC -Cu. In. -- -
2016
Audi
A5
S Line Coupe 2-Door 2.0L 1984CC 121Cu. In. l4 GAS DOHC Turbocharged
2016
Audi
A5
S Line Coupe 2-Door 3.0L 2995CC 183Cu. In. V6 GAS DOHC Supercharged
2016
Audi
A5
S Line Hatchback 4-Door 2.0L 1984CC 121Cu. In. l4 GAS DOHC Turbocharged
2016
Audi
A5
S Line Hatchback 4-Door 3.0L 2995CC 183Cu. In. V6 GAS DOHC Supercharged
2016
Audi
A5
Trendy Coupe 2-Door 2.0L 1984CC 121Cu. In. l4 GAS DOHC Turbocharged
2016
Audi
A5 Quattro
Premium Convertible 2-Door 2.0L 1984CC 121Cu. In. l4 FLEX DOHC Turbocharged
2016
Audi
A5 Quattro
Premium Convertible 2-Door 2.0L 1984CC 121Cu. In. l4 GAS DOHC Turbocharged
2016
Audi
A5 Quattro
Premium Plus Coupe 2-Door 2.0L 1984CC 121Cu. In. l4 FLEX DOHC Turbocharged
2016
Audi
A5 Quattro
Progressiv Convertible 2-Door 2.0L 1984CC 121Cu. In. l4 FLEX DOHC Turbocharged
2016
Audi
A5 Quattro
Technik Convertible 2-Door 2.0L 1984CC 121Cu. In. l4 GAS DOHC Turbocharged
2016
Audi
A5 Quattro
Technik Coupe 2-Door 2.0L 1984CC 121Cu. In. l4 FLEX DOHC Turbocharged
2016
Audi
A6
Elite Sedan 4-Door 2.0L 1984CC 121Cu. In. l4 GAS DOHC Turbocharged
2016
Audi
A6
Elite Sedan 4-Door 3.0L 2995CC 183Cu. In. V6 GAS DOHC Supercharged
2016
Audi
A6
Luxury Sedan 4-Door 1.8L 1798CC 110Cu. In. l4 GAS DOHC Turbocharged
2016
Audi
A6
Premium Plus Sedan 4-Door 2.0L 1984CC 121Cu. In. l4 GAS DOHC Turbocharged
2016
Audi
A6
Premium Sedan 4-Door 2.0L 1984CC 121Cu. In. l4 GAS DOHC Turbocharged
2016
Audi
A6
S Line Sedan 4-Door 1.8L 1798CC 110Cu. In. l4 GAS DOHC Turbocharged
2016
Audi
A6
S Line Sedan 4-Door 2.0L 1984CC 121Cu. In. l4 GAS DOHC Turbocharged
2016
Audi
A6
S Line Sedan 4-Door 3.0L 2995CC 183Cu. In. V6 GAS DOHC Supercharged
2016
Audi
A6 Quattro
TDI Prestige Sedan 4-Door 3.0L 2967CC 181Cu. In. V6 DIESEL DOHC Turbocharged
2016
Audi
A6 Quattro
TDI Progressiv Sedan 4-Door 3.0L 2967CC 181Cu. In. V6 DIESEL DOHC Turbocharged
2016
Audi
Q3
Elite Sport Utility 4-Door 2.0L 1984CC 121Cu. In. l4 GAS DOHC Turbocharged
2016
Audi
Q3
Komfort Sport Utility 4-Door 2.0L 1984CC 121Cu. In. l4 GAS DOHC Turbocharged
2016
Audi
Q3
Luxury Sport Utility 4-Door 1.4L 1400CC 85Cu. In. l4 GAS DOHC Turbocharged
2016
Audi
Q3
Luxury Sport Utility 4-Door 2.0L 1968CC 120Cu. In. l4 DIESEL DOHC Turbocharged
2016
Audi
Q3
Luxury Sport Utility 4-Door 2.0L 1984CC 121Cu. In. l4 GAS DOHC Turbocharged
2016
Audi
Q3
Premium Plus Sport Utility 4-Door 2.0L 1984CC 121Cu. In. l4 GAS DOHC Turbocharged
2016
Audi
Q3
Prestige Sport Utility 4-Door 2.0L 1984CC 121Cu. In. l4 GAS DOHC Turbocharged
2016
Audi
Q3
Progressiv Sport Utility 4-Door 2.0L 1984CC 121Cu. In. l4 GAS DOHC Turbocharged
2016
Audi
Q3
S Line Sport Utility 4-Door 1.4L 1400CC 85Cu. In. l4 GAS DOHC Turbocharged
2016
Audi
Q3
S Line Sport Utility 4-Door 2.0L 1984CC 121Cu. In. l4 GAS DOHC Turbocharged
2016
Audi
Q3
Technik Sport Utility 4-Door 2.0L 1984CC 121Cu. In. l4 GAS DOHC Turbocharged
2016
Audi
Q3 Quattro
Komfort Sport Utility 4-Door 2.0L 1984CC 121Cu. In. l4 GAS DOHC Turbocharged
2016
Audi
Q3 Quattro
Prestige Sport Utility 4-Door 2.0L 1984CC 121Cu. In. l4 GAS DOHC Turbocharged
2016
Audi
Q3 Quattro
Technik Sport Utility 4-Door 2.0L 1984CC 121Cu. In. l4 GAS DOHC Turbocharged
2016
Audi
Q5
Elite Sport Utility 4-Door 2.0L 1984CC 121Cu. In. l4 GAS DOHC Turbocharged
2016
Audi
Q5
Elite Sport Utility 4-Door 3.0L 2967CC 181Cu. In. V6 DIESEL DOHC Turbocharged
2016
Audi
Q5
Elite Sport Utility 4-Door 3.0L 2995CC 183Cu. In. V6 GAS DOHC Supercharged
2016
Audi
Q5
Hybrid Prestige Sport Utility 4-Door 2.0L 1984CC 121Cu. In. l4 ELECTRIC/GAS DOHC Turbocharged
2016
Audi
Q5
Hybrid Sport Utility 4-Door 2.0L 1984CC 121Cu. In. l4 ELECTRIC/GAS DOHC Turbocharged
2016
Audi
Q5
Komfort Sport Utility 4-Door 2.0L 1984CC 121Cu. In. l4 FLEX DOHC Turbocharged
2016
Audi
Q5
Luxury Sport Utility 4-Door 2.0L 1984CC 121Cu. In. l4 GAS DOHC Turbocharged
2016
Audi
Q5
Premium Plus Sport Utility 4-Door 2.0L 1984CC 121Cu. In. l4 FLEX DOHC Turbocharged
2016
Audi
Q5
Premium Plus Sport Utility 4-Door 3.0L 2995CC V6 GAS DOHC Supercharged
2016
Audi
Q5
Premium Sport Utility 4-Door 2.0L 1984CC 121Cu. In. l4 FLEX DOHC Turbocharged
2016
Audi
Q5
Prestige Sport Utility 4-Door 3.0L 2995CC V6 GAS DOHC Supercharged
2016
Audi
Q5
Progressiv Sport Utility 4-Door 2.0L 1984CC 121Cu. In. l4 FLEX DOHC Turbocharged
2016
Audi
Q5
Progressiv Sport Utility 4-Door 3.0L 2995CC V6 GAS DOHC Supercharged
2016
Audi
Q5
TDI Premium Plus S-Line Sport Utility 4-Door 3.0L 2967CC 181Cu. In. V6 DIESEL DOHC Turbocharged
2016
Audi
Q5
TDI Premium Plus Sport Utility 4-Door 3.0L 2967CC 181Cu. In. V6 DIESEL DOHC Turbocharged
2016
Audi
Q5
TDI Prestige S-Line Sport Utility 4-Door 3.0L 2967CC 181Cu. In. V6 DIESEL DOHC Turbocharged
2016
Audi
Q5
TDI Prestige Sport Utility 4-Door 3.0L 2967CC 181Cu. In. V6 DIESEL DOHC Turbocharged
2016
Audi
Q5
TDI Progressiv Sport Utility 4-Door 3.0L 2967CC 181Cu. In. V6 DIESEL DOHC Turbocharged
2016
Audi
Q5
TDI Technik Sport Utility 4-Door 3.0L 2967CC 181Cu. In. V6 DIESEL DOHC Turbocharged
2016
Audi
Q5
Technik Sport Utility 4-Door 2.0L 1984CC 121Cu. In. l4 FLEX DOHC Turbocharged
2016
Audi
Q5
Technik Sport Utility 4-Door 3.0L 2995CC V6 GAS DOHC Supercharged
2016
Audi
Q5
Trendy Sport Utility 4-Door 2.0L 1984CC 121Cu. In. l4 GAS DOHC Turbocharged
2016
Audi
Q7
Dynamic Sport Utility 4-Door 2.0L 1984CC 121Cu. In. l4 GAS DOHC Supercharged
2016
Audi
Q7
Elite Sport Utility 4-Door 3.0L 2967CC 181Cu. In. V6 DIESEL DOHC Turbocharged
2016
Audi
Q7
Elite Sport Utility 4-Door 3.0L 2995CC 183Cu. In. V6 GAS DOHC Supercharged
2016
Audi
Q7
Launch Edition Sport Utility 4-Door 3.0L 2995CC V6 GAS DOHC Supercharged
2016
Audi
Q7
S Line Sport Utility 4-Door 3.0L 2995CC 183Cu. In. V6 GAS DOHC Supercharged
2016
Audi
Q7
Select Sport Utility 4-Door 3.0L 2995CC 183Cu. In. V6 GAS DOHC Supercharged
2016
Audi
S3
2.0T Premium Plus Sedan 4-Door -CC -Cu. In. -- -
2016
Audi
S3
2.0T Prestige Sedan 4-Door -CC -Cu. In. -- -
2016
Audi
S3
Base Hatchback 2-Door 2.0L 1984CC 121Cu. In. l4 GAS DOHC Turbocharged
2016
Audi
S3
Base Sedan 4-Door 2.0L 1984CC 121Cu. In. l4 GAS DOHC Turbocharged
2016
Audi
S3
Premium Plus Sedan 4-Door 2.0L 1984CC 121Cu. In. l4 GAS DOHC Turbocharged
2016
Audi
S3
Prestige Sedan 4-Door 2.0L 1984CC 121Cu. In. l4 GAS DOHC Turbocharged
2016
Audi
S3
Progressiv Sedan 4-Door 2.0L 1984CC 121Cu. In. l4 GAS DOHC Turbocharged
2016
Audi
S3
Technik Sedan 4-Door 2.0L 1984CC 121Cu. In. l4 GAS DOHC Turbocharged
2016
Audi
S4
Base Sedan 4-Door 3.0L 2995CC 183Cu. In. V6 GAS DOHC Supercharged
2016
Audi
S4
Premium Plus Sedan 4-Door 3.0L 2995CC V6 GAS DOHC Supercharged
2016
Audi
S4
Prestige Sedan 4-Door 3.0L 2995CC V6 GAS DOHC Supercharged
2016
Audi
S4
Progressiv Sedan 4-Door 3.0L 2995CC V6 GAS DOHC Supercharged
2016
Audi
S4
Technik Sedan 4-Door 3.0L 2995CC V6 GAS DOHC Supercharged
2016
Audi
S5
Base Coupe 2-Door 3.0L 2995CC 183Cu. In. V6 GAS DOHC Supercharged
2016
Audi
S5
Base Hatchback 4-Door 3.0L 2995CC 183Cu. In. V6 GAS DOHC Supercharged
2016
Audi
S5
Premium Plus Convertible 2-Door 3.0L 2995CC V6 GAS DOHC Supercharged
2016
Audi
S5
Premium Plus Coupe 2-Door 3.0L 2995CC V6 GAS DOHC Supercharged
2016
Audi
S5
Prestige Convertible 2-Door 3.0L 2995CC V6 GAS DOHC Supercharged
2016
Audi
S5
Prestige Coupe 2-Door 3.0L 2995CC V6 GAS DOHC Supercharged
2016
Audi
S5
Progressiv Convertible 2-Door 3.0L 2995CC V6 GAS DOHC Supercharged
2016
Audi
S5
Progressiv Coupe 2-Door 3.0L 2995CC V6 GAS DOHC Supercharged
2016
Audi
S5
Technik Convertible 2-Door 3.0L 2995CC V6 GAS DOHC Supercharged
2016
Audi
S5
Technik Coupe 2-Door 3.0L 2995CC V6 GAS DOHC Supercharged
2016
Audi
S6
Base Sedan 4-Door 4.0L 3993CC 244Cu. In. V8 GAS DOHC Turbocharged
2016
Audi
S6
Premium Plus Sedan 4-Door 4.0L 3993CC 243Cu. In. V8 GAS DOHC Turbocharged
2016
Audi
S6
Prestige Sedan 4-Door 4.0L 3993CC 243Cu. In. V8 GAS DOHC Turbocharged
2016
Audi
S6
Progressiv Sedan 4-Door 4.0L 3993CC 243Cu. In. V8 GAS DOHC Turbocharged
2016
BMW
340i
Base Sedan 4-Door 3.0L 2998CC l6 GAS DOHC Turbocharged
2016
BMW
340i
Luxury Sedan 4-Door 3.0L 2998CC 183Cu. In. l6 GAS DOHC Turbocharged
2016
BMW
535d
Base Sedan 4-Door 3.0L 2993CC l6 DIESEL DOHC Turbocharged
2016
BMW
535d xDrive
Base Sedan 4-Door 3.0L 2993CC l6 DIESEL DOHC Turbocharged
2016
BMW
535i
M Sport Sedan 4-Door 3.0L 2979CC 182Cu. In. l6 GAS DOHC Turbocharged
2016
BMW
535i GT
Base Hatchback 4-Door 3.0L 2979CC l6 GAS DOHC Turbocharged
2016
BMW
550i
Luxury Sedan 4-Door 4.4L 4395CC 268Cu. In. V8 GAS DOHC Turbocharged
2016
BMW
750i
Base Sedan 4-Door 4.4L 4395CC V8 GAS DOHC Turbocharged
2016
BMW
750i
Excellence Sedan 4-Door 4.4L 4395CC 268Cu. In. V8 GAS Turbocharged
2016
BMW
750i xDrive
750i xDrive Sedan 4-Door -CC -Cu. In. -- -
2016
BMW
750i xDrive
Base Sedan 4-Door 4.4L 4395CC V8 GAS DOHC Turbocharged
2016
BMW
i3
Dynamic Hatchback 4-Door ELECTRIC
2016
BMW
X3
sDrive20i Sport Utility 4-Door 2.0L 1997CC 122Cu. In. l4 GAS DOHC Turbocharged
2016
BMW
X3
xDrive35i X Line Sport Utility 4-Door 3.0L 2979CC 182Cu. In. l6 GAS DOHC Turbocharged
2016
BMW
X4
M Sport Sport Utility 4-Door 3.0L 2979CC 182Cu. In. l6 GAS DOHC Turbocharged
2016
BMW
X4
M40i Sport Utility 4-Door 3.0L 2979CC l6 GAS DOHC Turbocharged
2016
BMW
X4
xDrive28i X Line Sport Utility 4-Door 2.0L 1997CC 122Cu. In. l4 GAS DOHC Turbocharged
2016
BMW
X5
M Sport Sport Utility 4-Door 3.0L 2979CC 182Cu. In. l6 GAS DOHC Turbocharged
2016
BMW
X5
M Sport Sport Utility 4-Door 4.4L 4395CC 268Cu. In. V8 GAS DOHC Turbocharged
2016
BMW
X5
xDrive35i Sport Utility 4-Door 3.0L 2979CC l6 GAS DOHC Turbocharged
2016
BMW
X5
xDrive50i Sport Utility 4-Door 4.4L 4395CC V8 GAS DOHC Turbocharged
2016
BMW
X6
M Sport Utility 4-Door 4.4L 4395CC V8 GAS DOHC Turbocharged
2016
BMW
X6
sDrive35i Sport Utility 4-Door 3.0L 2979CC l6 GAS DOHC Turbocharged
2016
BMW
X6
xDrive50i Sport Utility 4-Door 4.4L 4395CC V8 GAS DOHC Turbocharged
2016
Cadillac
SRX
Luxury Sport Utility 4-Door 3.6L 3564CC 217Cu. In. V6 GAS DOHC Naturally Aspirated
2016
Cadillac
SRX
Premium Sport Utility 4-Door 3.6L 3564CC 217Cu. In. V6 GAS DOHC Naturally Aspirated
2016
Chevrolet
Cruze
L Sedan 4-Door 1.4L 1399CC 85Cu. In. l4 GAS DOHC Turbocharged
2016
Chevrolet
Cruze
LS Sedan 4-Door 1.4L 1399CC 85Cu. In. l4 GAS DOHC Turbocharged
2016
Chevrolet
Cruze
LS Sedan 4-Door 1.8L 1796CC 110Cu. In. l4 GAS DOHC Naturally Aspirated
2016
Chevrolet
Cruze
LT Sedan 4-Door 1.4L 1364CC 83Cu. In. l4 GAS DOHC Turbocharged
2016
Chevrolet
Cruze
LT Sedan 4-Door 1.4L 1399CC 85Cu. In. l4 GAS DOHC Turbocharged
2016
Chevrolet
Cruze
LTZ Sedan 4-Door 1.4L 1364CC 83Cu. In. l4 GAS DOHC Turbocharged
2016
Chevrolet
Cruze
Premier Sedan 4-Door 1.4L 1399CC 85Cu. In. l4 GAS DOHC Turbocharged
2016
Chevrolet
Cruze Limited
Eco Sedan 4-Door 1.4L 1364CC 83Cu. In. l4 GAS DOHC Turbocharged
2016
Chevrolet
Cruze Limited
L Sedan 4-Door 1.8L 1796CC 110Cu. In. l4 FLEX DOHC Naturally Aspirated
2016
Chevrolet
Cruze Limited
L Sedan 4-Door 1.8L 1796CC 110Cu. In. l4 GAS DOHC Naturally Aspirated
2016
Chevrolet
Cruze Limited
LS Sedan 4-Door 1.8L 1796CC 110Cu. In. l4 FLEX DOHC Naturally Aspirated
2016
Chevrolet
Cruze Limited
LTZ Sedan 4-Door 1.4L 1364CC 83Cu. In. l4 GAS DOHC Turbocharged
2016
Chevrolet
Equinox
L Sport Utility 4-Door 2.4L 145Cu. In. l4 FLEX DOHC Naturally Aspirated
2016
Chevrolet
Equinox
L Sport Utility 4-Door 2.4L 145Cu. In. l4 GAS DOHC Naturally Aspirated
2016
Chevrolet
Equinox
LS Sport Utility 4-Door 2.4L 145Cu. In. l4 FLEX DOHC Naturally Aspirated
2016
Chevrolet
Equinox
LS Sport Utility 4-Door 2.4L 145Cu. In. l4 GAS DOHC Naturally Aspirated
2016
Chevrolet
Equinox
LT Sport Utility 4-Door 2.4L 145Cu. In. l4 FLEX DOHC Naturally Aspirated
2016
Chevrolet
Equinox
LT Sport Utility 4-Door 2.4L 145Cu. In. l4 GAS DOHC Naturally Aspirated
2016
Chevrolet
Equinox
LTZ Sport Utility 4-Door 2.4L 145Cu. In. l4 FLEX DOHC Naturally Aspirated
2016
Chevrolet
Equinox
LTZ Sport Utility 4-Door 2.4L 145Cu. In. l4 GAS DOHC Naturally Aspirated
2016
Chevrolet
Malibu
L Sedan 4-Door 1.5L 1490CC 91Cu. In. l4 GAS DOHC Turbocharged
2016
Chevrolet
Malibu
LS Sedan 4-Door 1.5L 1490CC 91Cu. In. l4 GAS DOHC Turbocharged
2016
Chevrolet
Malibu
LS Sedan 4-Door 1.5L 1490CC 91Cu. In. l4 GAS Turbocharged
2016
Chevrolet
Malibu
LT Sedan 4-Door 1.5L 1490CC 91Cu. In. l4 GAS DOHC Turbocharged
2016
Chevrolet
Malibu
LT Sedan 4-Door 2.0L 1998CC 122Cu. In. l4 GAS DOHC Turbocharged
2016
Chevrolet
Malibu
LT Sedan 4-Door 2.0L 1998CC 122Cu. In. l4 GAS Turbocharged
2016
Chevrolet
Malibu
Premier Sedan 4-Door 2.0L 1998CC 122Cu. In. l4 GAS DOHC Turbocharged
2016
Chevrolet
Malibu
Premier Sedan 4-Door 2.0L 1998CC 122Cu. In. l4 GAS Turbocharged
2016
Chevrolet
Malibu Limited
LS Sedan 4-Door 2.5L 2457CC 153Cu. In. l4 GAS DOHC Naturally Aspirated
2016
Chevrolet
Malibu Limited
LT Sedan 4-Door 2.5L 2457CC 153Cu. In. l4 GAS DOHC Naturally Aspirated
2016
Chevrolet
Malibu Limited
LTZ Sedan 4-Door 2.5L 2457CC 153Cu. In. l4 GAS DOHC Naturally Aspirated
2016
Chevrolet
Traverse
Base Sport Utility 4-Door 3.6L 3564CC 217Cu. In. V6 GAS DOHC Naturally Aspirated
2016
Ford
Edge
SE Sport Utility 4-Door 3.5L 3496CC 213Cu. In. V6 GAS DOHC Naturally Aspirated
2016
Ford
Edge
SEL Sport Utility 4-Door 2.0L 1999CC 122Cu. In. l4 GAS DOHC Turbocharged
2016
Ford
Edge
SEL Sport Utility 4-Door 3.5L 3496CC 213Cu. In. V6 GAS DOHC Naturally Aspirated
2016
Ford
Edge
Titanium Sport Utility 4-Door 2.0L 1999CC 122Cu. In. l4 GAS DOHC Turbocharged
2016
Ford
Edge
Titanium Sport Utility 4-Door 2.7L 2704CC 165Cu. In. V6 GAS Turbocharged
2016
Ford
Edge
Titanium Sport Utility 4-Door 3.5L 3496CC 213Cu. In. V6 GAS DOHC Naturally Aspirated
2016
Ford
Escape
S Sport Utility 4-Door 2.5L 2485CC 152Cu. In. l4 GAS Naturally Aspirated
2016
Ford
Escape
SE Sport Utility 4-Door 1.6L 1601CC 98Cu. In. l4 GAS DOHC Turbocharged
2016
Ford
Escape
SE Sport Utility 4-Door 2.0L 1999CC 122Cu. In. l4 GAS DOHC Turbocharged
2016
Ford
Escape
SE Sport Utility 4-Door 2.5L 2488CC 152Cu. In. l4 GAS DOHC Naturally Aspirated
2016
Ford
Escape
Titanium Sport Utility 4-Door 2.0L 1999CC 122Cu. In. l4 GAS DOHC Turbocharged
2016
Ford
Escape
Titanium Sport Utility 4-Door 2.0L 2000CC 122Cu. In. l4 GAS Turbocharged
2016
Ford
Escape
Trend Sport Utility 4-Door 2.0L 2000CC 122Cu. In. l4 GAS Turbocharged
2016
Ford
Explorer
Base Sport Utility 4-Door 2.3L 2300CC 140Cu. In. l4 GAS DOHC Turbocharged
2016
Ford
Explorer
Base Sport Utility 4-Door 3.5L 3496CC 213Cu. In. V6 GAS DOHC Naturally Aspirated
2016
Ford
Explorer
Limited Sport Utility 4-Door 2.3L 2300CC 140Cu. In. l4 GAS DOHC Turbocharged
2016
Ford
Explorer
Limited Sport Utility 4-Door 3.5L 3497CC 213Cu. In. V6 GAS DOHC Naturally Aspirated
2016
Ford
Explorer
Platinum Sport Utility 4-Door 3.5L 3496CC 213Cu. In. V6 GAS DOHC Turbocharged
2016
Ford
Explorer
Sport Sport Utility 4-Door 3.5L 3496CC 213Cu. In. V6 GAS DOHC Turbocharged
2016
Ford
Explorer
XLT Sport Utility 4-Door 2.3L 2300CC 140Cu. In. l4 GAS DOHC Turbocharged
2016
Ford
Fiesta
S Hatchback 4-Door 1.6L 1598CC 98Cu. In. l4 GAS SOHC Naturally Aspirated
2016
Ford
Fiesta
S Sedan 4-Door 1.6L 1596CC 97Cu. In. l4 GAS DOHC Naturally Aspirated
2016
Ford
Fiesta
SE Hatchback 4-Door 1.0L 999CC 61Cu. In. l3 GAS DOHC Turbocharged
2016
Ford
Fiesta
SE Hatchback 4-Door 1.6L 1597CC 97Cu. In. l4 GAS SOHC Naturally Aspirated
2016
Ford
Fiesta
SE Hatchback 4-Door 1.6L 1598CC 98Cu. In. l4 GAS SOHC Naturally Aspirated
2016
Ford
Fiesta
SE Sedan 4-Door 1.0L 999CC 61Cu. In. l3 GAS DOHC Turbocharged
2016
Ford
Fiesta
SE Sedan 4-Door 1.6L 1598CC 98Cu. In. l4 GAS SOHC Naturally Aspirated
2016
Ford
Fiesta
ST Hatchback 4-Door 1.6L 1596CC 97Cu. In. l4 GAS DOHC Turbocharged
2016
Ford
Fiesta
ST Hatchback 4-Door 1.6L 1598CC 98Cu. In. l4 GAS SOHC Turbocharged
2016
Ford
Fiesta
Titanium Sedan 4-Door 1.6L 1596CC 97Cu. In. l4 GAS DOHC Naturally Aspirated
2016
Ford
Fiesta
Titanium Sedan 4-Door 1.6L 1598CC 98Cu. In. l4 GAS SOHC Naturally Aspirated
2016
Ford
Focus
Electric Hatchback 4-Door ELECTRIC
2016
Ford
Focus
SE Hatchback 4-Door 1.0L 999CC 61Cu. In. l3 GAS DOHC Turbocharged
2016
Ford
Focus
SE Hatchback 4-Door 2.0L 1999CC 122Cu. In. l4 FLEX DOHC Naturally Aspirated
2016
Ford
Focus
SE Sedan 4-Door 2.0L 1999CC 122Cu. In. l4 GAS DOHC Naturally Aspirated
2016
Ford
Focus
SE Sedan 4-Door 2.0L 1999CC 122Cu. In. l4 GAS Naturally Aspirated
2016
Ford
Focus
ST Hatchback 4-Door 2.0L 1997CC 122Cu. In. l4 GAS Turbocharged
2016
Ford
Fusion
Energi SE Luxury Sedan 4-Door 2.0L 1999CC 122Cu. In. l4 ELECTRIC/GAS DOHC Naturally Aspirated
2016
Ford
Fusion
Energi SE Sedan 4-Door 2.0L 1999CC 122Cu. In. l4 ELECTRIC/GAS DOHC Naturally Aspirated
2016
Ford
Fusion
Energi Titanium Sedan 4-Door 2.0L 1999CC 122Cu. In. l4 ELECTRIC/GAS DOHC Naturally Aspirated
2016
Ford
Fusion
S Hybrid Sedan 4-Door 2.0L 1999CC 122Cu. In. l4 ELECTRIC/GAS DOHC Naturally Aspirated
2016
Ford
Fusion
S Sedan 4-Door 2.5L 2488CC 152Cu. In. l4 GAS DOHC Naturally Aspirated
2016
Ford
Fusion
SE Hybrid Sedan 4-Door 2.0L 1999CC 122Cu. In. l4 ELECTRIC/GAS DOHC Naturally Aspirated
2016
Ford
Fusion
SE Sedan 4-Door 1.5L 1499CC 91Cu. In. l4 GAS DOHC Turbocharged
2016
Ford
Fusion
SE Sedan 4-Door 2.0L 1999CC 122Cu. In. l4 GAS DOHC Turbocharged
2016
Ford
Fusion
Titanium Hybrid Sedan 4-Door 2.0L 1999CC 122Cu. In. l4 ELECTRIC/GAS DOHC Naturally Aspirated
2016
Ford
Fusion
Titanium Sedan 4-Door 2.0L 1999CC 122Cu. In. l4 GAS DOHC Turbocharged
2016
Honda
Accord
EX Sedan 4-Door 2.4L 2356CC 144Cu. In. l4 GAS DOHC Naturally Aspirated
2016
Honda
Accord
LX-S Coupe 2-Door 2.4L 2356CC 144Cu. In. l4 GAS DOHC Naturally Aspirated
2016
Honda
City
LX Sedan 4-Door 1.5L 1496CC 91Cu. In. l4 GAS SOHC Naturally Aspirated
2016
Honda
Civic
EX-L Sedan 4-Door 1.5L 1497CC l4 GAS DOHC Turbocharged
2016
Honda
Civic
LX Sedan 4-Door 2.0L 1996CC 122Cu. In. l4 GAS DOHC Naturally Aspirated
2016
Honda
Civic
Turbo Sedan 4-Door 1.5L 1500CC 92Cu. In. l4 GAS Turbocharged
2016
Honda
Fit
Cool Hatchback 4-Door 1.5L 1496CC 91Cu. In. l4 GAS SOHC Naturally Aspirated
2016
Honda
Fit
Fun Hatchback 4-Door 1.5L 1496CC 91Cu. In. l4 GAS SOHC Naturally Aspirated
2016
Hyundai
Elantra
GLS Sedan 4-Door 1.8L 1797CC 110Cu. In. l4 GAS DOHC Naturally Aspirated
2016
Hyundai
Elantra
GLS Sedan 4-Door 2.0L 1999CC l4 GAS DOHC Naturally Aspirated
2016
Hyundai
Elantra
L Sedan 4-Door 1.8L 1797CC l4 GAS DOHC Naturally Aspirated
2016
Hyundai
Elantra
Limited Sedan 4-Door 1.8L 1797CC l4 GAS DOHC Naturally Aspirated
2016
Hyundai
Elantra
Limited Sedan 4-Door 2.0L 1999CC l4 GAS DOHC Naturally Aspirated
2016
Hyundai
Elantra
SE Sedan 4-Door 1.8L 1797CC l4 GAS DOHC Naturally Aspirated
2016
Hyundai
Elantra GT
Base Hatchback 4-Door 2.0L 1999CC l4 GAS DOHC Naturally Aspirated
2016
Hyundai
Elantra GT
GL Hatchback 4-Door 2.0L 1999CC l4 GAS DOHC Naturally Aspirated
2016
Hyundai
Elantra GT
GLS Hatchback 4-Door 2.0L 1999CC l4 GAS DOHC Naturally Aspirated
2016
Hyundai
Elantra GT
L Hatchback 4-Door 2.0L 1999CC l4 GAS DOHC Naturally Aspirated
2016
Hyundai
Elantra GT
Limited Hatchback 4-Door 2.0L 1999CC l4 GAS DOHC Naturally Aspirated
2016
Hyundai
Santa Fe
Limited Sport Utility 4-Door 3.3L 3342CC V6 GAS DOHC Naturally Aspirated
2016
Hyundai
Santa Fe
SE Sport Utility 4-Door 3.3L 3342CC V6 GAS DOHC Naturally Aspirated
2016
Hyundai
Sonata
Eco Sedan 4-Door 1.6L 1591CC 97Cu. In. l4 GAS DOHC Turbocharged
2016
Hyundai
Sonata
GL Sedan 4-Door 2.4L 2359CC l4 GAS DOHC Naturally Aspirated
2016
Hyundai
Sonata
Hybrid Limited Sedan 4-Door 2.0L 1999CC l4 ELECTRIC/GAS DOHC Naturally Aspirated
2016
Hyundai
Sonata
Hybrid Sedan 4-Door 2.0L 1999CC l4 ELECTRIC/GAS DOHC Naturally Aspirated
2016
Hyundai
Sonata
Limited 2.0T Sedan 4-Door 2.0L 1998CC 122Cu. In. l4 GAS DOHC Turbocharged
2016
Hyundai
Sonata
Plug-In Hybrid Limited Sedan 4-Door 2.0L 1999CC l4 ELECTRIC/GAS DOHC Naturally Aspirated
2016
Hyundai
Sonata
Plug-In Hybrid Sedan 4-Door 2.0L 1999CC l4 ELECTRIC/GAS DOHC Naturally Aspirated
2016
Hyundai
Sonata
Plug-In Hybrid Ultimate Sedan 4-Door 2.0L 1999CC l4 ELECTRIC/GAS DOHC Naturally Aspirated
2016
Hyundai
Sonata
SE Sedan 4-Door 2.4L 2359CC l4 GAS DOHC Naturally Aspirated
2016
Hyundai
Sonata
Sport 2.0T Sedan 4-Door 2.0L 1998CC 122Cu. In. l4 GAS DOHC Turbocharged
2016
Hyundai
Sonata
Sport Sedan 4-Door 2.0L 1998CC 122Cu. In. l4 GAS DOHC Turbocharged
2016
Hyundai
Sonata
Sport Sedan 4-Door 2.4L 2359CC l4 GAS DOHC Naturally Aspirated
2016
Hyundai
Sonata
Ultimate 2.0T Sedan 4-Door 2.0L 1998CC 122Cu. In. l4 GAS DOHC Turbocharged
2016
Hyundai
Tucson
Base Sport Utility 4-Door 2.0L 1999CC l4 GAS DOHC Naturally Aspirated
2016
Hyundai
Tucson
Eco Sport Utility 4-Door 1.6L 1591CC 97Cu. In. l4 GAS DOHC Turbocharged
2016
Hyundai
Tucson
Fuel Cell Sport Utility 4-Door ELECTRIC/HYDROGEN
2016
Hyundai
Tucson
GLS Sport Utility 4-Door 2.0L 1999CC 122Cu. In. l4 GAS DOHC Naturally Aspirated
2016
Hyundai
Tucson
Limited Sport Utility 4-Door 1.6L 1591CC 97Cu. In. l4 GAS DOHC Turbocharged
2016
Hyundai
Tucson
Limited Sport Utility 4-Door 2.0L 1999CC 122Cu. In. l4 GAS DOHC Naturally Aspirated
2016
Hyundai
Tucson
Luxury Sport Utility 4-Door 2.0L 1999CC l4 GAS DOHC Naturally Aspirated
2016
Hyundai
Tucson
Premium Sport Utility 4-Door 2.0L 1999CC l4 GAS DOHC Naturally Aspirated
2016
Hyundai
Tucson
SE Sport Utility 4-Door 2.0L 1999CC l4 GAS DOHC Naturally Aspirated
2016
Hyundai
Tucson
Sport Sport Utility 4-Door 1.6L 1591CC 97Cu. In. l4 GAS DOHC Turbocharged
2016
Hyundai
Tucson
Ultimate Sport Utility 4-Door 1.6L 1591CC 97Cu. In. l4 GAS DOHC Turbocharged
2016
Lexus
ES350
Base Sedan 4-Door 3.5L 3456CC V6 GAS DOHC Naturally Aspirated
2016
Lexus
GS350
Base Sedan 4-Door 3.5L 3456CC V6 GAS DOHC Naturally Aspirated
2016
Lexus
GS450h
Base Sedan 4-Door 3.5L 3456CC V6 ELECTRIC/GAS DOHC Naturally Aspirated
2016
Lexus
RX450h
Base Sport Utility 4-Door 3.5L 3456CC V6 ELECTRIC/GAS DOHC Naturally Aspirated
2016
Mercedes-Benz
C200
Exclusive Sedan 4-Door 2.0L 1991CC 121Cu. In. l4 GAS DOHC Turbocharged
2016
Mercedes-Benz
C250
Sport Sedan 4-Door 2.0L 1991CC 121Cu. In. l4 GAS DOHC Turbocharged
2016
Mercedes-Benz
C350
4Matic Coupe 2-Door 3.5L 3498CC V6 GAS DOHC Naturally Aspirated
2016
Mercedes-Benz
CLA200
Sport Sedan 4-Door 1.6L 1595CC 97Cu. In. l4 GAS DOHC Turbocharged
2016
Mercedes-Benz
E250
Base Convertible 2-Door 1.8L 1796CC 110Cu. In. l4 GAS DOHC Turbocharged
2016
Mercedes-Benz
E250
Base Convertible 2-Door 2.0L 1991CC 121Cu. In. l4 GAS DOHC Turbocharged
2016
Mercedes-Benz
E250
E250 BlueTEC Luxury Sedan 4-Door -CC -Cu. In. -- -
2016
Mercedes-Benz
E350
4Matic Sedan 4-Door 3.5L 3498CC V6 GAS DOHC Naturally Aspirated
2016
Mercedes-Benz
E350
Base Sedan 4-Door 3.5L 3498CC V6 GAS DOHC Naturally Aspirated
2016
Mercedes-Benz
E350
E350 Luxury Sedan 4-Door -CC -Cu. In. -- -
2016
Mercedes-Benz
E400
Base Coupe 2-Door 3.0L 2996CC V6 GAS DOHC Turbocharged
2016
Mercedes-Benz
E400
Base Sedan 4-Door 3.0L 2996CC V6 GAS DOHC Turbocharged
2016
Mercedes-Benz
E500
Base Coupe 2-Door 4.7L 4663CC 285Cu. In. V8 GAS DOHC Turbocharged
2016
Mercedes-Benz
E500
Base Sedan 4-Door 4.7L 4663CC 285Cu. In. V8 GAS DOHC Turbocharged
2016
Mercedes-Benz
E63 AMG
Base Sedan 4-Door 5.5L 5461CC 333Cu. In. V8 GAS DOHC Turbocharged
2016
Mercedes-Benz
E63 AMG S
4Matic Sedan 4-Door 5.5L 5461CC V8 GAS DOHC Turbocharged
2016
Mercedes-Benz
E63 AMG S
4Matic Wagon 4-Door 5.5L 5461CC V8 GAS DOHC Turbocharged
2016
Mercedes-Benz
GL550
4Matic Sport Utility 4-Door 4.6L 4663CC V8 GAS DOHC Turbocharged
2016
Mercedes-Benz
GLA200
Sport Sport Utility 4-Door 1.6L 1595CC 97Cu. In. l4 GAS DOHC Turbocharged
2016
Mercedes-Benz
GLA200
Sport Sport Utility 4-Door 2.0L 1991CC 121Cu. In. l4 GAS DOHC Turbocharged
2016
Mercedes-Benz
GLA45 AMG
4Matic Sport Utility 4-Door 2.0L 1991CC l4 GAS DOHC Turbocharged
2016
Mercedes-Benz
GLC300
Base Sport Utility 4-Door 2.0L 1991CC l4 GAS DOHC Turbocharged
2016
Mercedes-Benz
GLE350
4Matic Sport Utility 4-Door 3.5L 3498CC V6 GAS DOHC Naturally Aspirated
2016
Mercedes-Benz
GLE350
Base Sport Utility 4-Door 3.5L 3498CC V6 GAS DOHC Naturally Aspirated
2016
Mercedes-Benz
GLE450 AMG
Base Sport Utility 4-Door -CC -Cu. In. -- -
2016
Mercedes-Benz
GLE450 AMG
Sport Sport Utility 4-Door 3.0L 2996CC 183Cu. In. V6 GAS DOHC Turbocharged
2016
Mercedes-Benz
GLE550e
4Matic Sport Utility 4-Door 3.0L 2996CC V6 ELECTRIC/GAS DOHC Turbocharged
2016
Mercedes-Benz
GLE63 AMG
Base Sport Utility 4-Door 5.5L 5461CC V8 GAS DOHC Turbocharged
2016
Nissan
Altima
S Sedan 4-Door 2.5L 2500CC l4 GAS DOHC Naturally Aspirated
2016
Nissan
Altima
SV Sedan 4-Door 2.5L 2500CC l4 GAS DOHC Naturally Aspirated
2016
Nissan
Juke
Advance Sport Utility 4-Door 1.6L 1618CC 99Cu. In. l4 GAS DOHC Turbocharged
2016
Nissan
Juke
Exclusive Sport Utility 4-Door 1.6L 1618CC 99Cu. In. l4 GAS DOHC Turbocharged
2016
Nissan
Juke
Nismo RS Sport Utility 4-Door 1.6L 1618CC l4 GAS DOHC Turbocharged
2016
Nissan
Juke
Nismo Sport Utility 4-Door 1.6L 1618CC l4 GAS DOHC Turbocharged
2016
Nissan
Juke
S Sport Utility 4-Door 1.6L 1618CC l4 GAS DOHC Turbocharged
2016
Nissan
Juke
SL Sport Utility 4-Door 1.6L 1618CC l4 GAS DOHC Turbocharged
2016
Nissan
Juke
SV Sport Utility 4-Door 1.6L 1618CC l4 GAS DOHC Turbocharged
2016
Nissan
Rogue
SL Sport Utility 4-Door 2.5L 2500CC l4 GAS DOHC Naturally Aspirated
2016
Nissan
Rogue
SV Sport Utility 4-Door 2.5L 2500CC l4 GAS DOHC Naturally Aspirated
2016
Nissan
Sentra
S Sedan 4-Door 1.8L 1798CC 110Cu. In. l4 GAS DOHC Naturally Aspirated
2016
Nissan
Sentra
Sense Sedan 4-Door 1.8L 1798CC 110Cu. In. l4 GAS DOHC Naturally Aspirated
2016
Nissan
Sentra
SL Sedan 4-Door 1.8L 1798CC 110Cu. In. l4 GAS DOHC Naturally Aspirated
2016
Nissan
Sentra
SV Sedan 4-Door 1.8L 1798CC 110Cu. In. l4 GAS DOHC Naturally Aspirated
2016
Nissan
Versa
Advance Sedan 4-Door 1.6L 1598CC 98Cu. In. l4 GAS DOHC Naturally Aspirated
2016
Nissan
Versa
Exclusive Sedan 4-Door 1.6L 1598CC 98Cu. In. l4 GAS DOHC Naturally Aspirated
2016
Subaru
Outback
2.5i Limited Wagon 4-Door 2.5L 2498CC 152Cu. In. H4 GAS DOHC Naturally Aspirated
2016
Subaru
Outback
2.5i Premium Wagon 4-Door 2.5L 2498CC 152Cu. In. H4 GAS DOHC Naturally Aspirated
2016
Subaru
Outback
2.5i Touring Wagon 4-Door 2.5L 2498CC 152Cu. In. H4 GAS DOHC Naturally Aspirated
2016
Subaru
Outback
2.5i Wagon 4-Door 2.5L 2498CC 152Cu. In. H4 GAS DOHC Naturally Aspirated
2016
Subaru
Outback
3.6R Touring Wagon 4-Door 3.6L 3630CC H6 GAS DOHC Naturally Aspirated
2016
Suzuki
Swift
GLS Hatchback 4-Door 1.4L 1372CC 84Cu. In. l4 GAS DOHC Naturally Aspirated
2016
Suzuki
Swift
GLX Hatchback 4-Door 1.4L 1372CC 84Cu. In. l4 GAS DOHC Naturally Aspirated
2016
Suzuki
Swift
Special Edition Hatchback 4-Door 1.4L 1372CC 84Cu. In. l4 GAS DOHC Naturally Aspirated
2016
Suzuki
Swift
Sport Hatchback 4-Door 1.6L 1586CC 97Cu. In. l4 GAS DOHC Naturally Aspirated
2016
Toyota
Camry
Hybrid LE Sedan 4-Door 2.5L 2494CC 152Cu. In. l4 ELECTRIC/GAS DOHC Naturally Aspirated
2016
Toyota
Camry
Hybrid SE Sedan 4-Door 2.5L 2494CC 152Cu. In. l4 ELECTRIC/GAS DOHC Naturally Aspirated
2016
Toyota
Camry
Hybrid XLE Sedan 4-Door 2.5L 2494CC 152Cu. In. l4 ELECTRIC/GAS DOHC Naturally Aspirated
2016
Toyota
Camry
LE Sedan 4-Door 2.5L 2494CC 152Cu. In. l4 GAS DOHC Naturally Aspirated
2016
Toyota
Camry
SE Sedan 4-Door 2.5L 2494CC 152Cu. In. l4 GAS DOHC Naturally Aspirated
2016
Toyota
Camry
Special Edition Sedan 4-Door 2.5L 2494CC 152Cu. In. l4 GAS DOHC Naturally Aspirated
2016
Toyota
Camry
XLE Sedan 4-Door 2.5L 2494CC 152Cu. In. l4 GAS DOHC Naturally Aspirated
2016
Toyota
Camry
XLE Sedan 4-Door 3.5L 3456CC V6 GAS DOHC Naturally Aspirated
2016
Toyota
Camry
XSE Sedan 4-Door 2.5L 2494CC 152Cu. In. l4 GAS DOHC Naturally Aspirated
2016
Toyota
Camry
XSE Sedan 4-Door 3.5L 3456CC V6 GAS DOHC Naturally Aspirated
2016
Toyota
Corolla
Base Sedan 4-Door 1.8L 1794CC 109Cu. In. l4 GAS DOHC Naturally Aspirated
2016
Toyota
Corolla
C Sedan 4-Door 1.8L 1794CC 109Cu. In. l4 GAS DOHC Naturally Aspirated
2016
Toyota
Corolla
CE Sedan 4-Door 1.8L 1798CC l4 GAS DOHC Naturally Aspirated
2016
Toyota
Corolla
L Sedan 4-Door 1.8L 1798CC l4 GAS DOHC Naturally Aspirated
2016
Toyota
Corolla
LE Eco Sedan 4-Door 1.8L 1798CC l4 GAS DOHC Naturally Aspirated
2016
Toyota
Corolla
LE Sedan 4-Door 1.8L 1794CC 109Cu. In. l4 GAS DOHC Naturally Aspirated
2016
Toyota
Corolla
LE Sedan 4-Door 1.8L 1798CC l4 GAS DOHC Naturally Aspirated
2016
Toyota
Corolla
S Plus Sedan 4-Door 1.8L 1794CC 109Cu. In. l4 GAS DOHC Naturally Aspirated
2016
Toyota
Corolla
S Sedan 4-Door 1.8L 1794CC 109Cu. In. l4 GAS DOHC Naturally Aspirated
2016
Toyota
Corolla
S Sedan 4-Door 1.8L 1798CC l4 GAS DOHC Naturally Aspirated
2016
Toyota
Corolla
Special Edition Sedan 4-Door 1.8L 1798CC l4 GAS DOHC Naturally Aspirated
2016
Toyota
Prius
Base Hatchback 4-Door 1.8L 1798CC 110Cu. In. l4 ELECTRIC/GAS DOHC Naturally Aspirated
2016
Toyota
Prius
Four Hatchback 4-Door 1.8L 1798CC 110Cu. In. l4 ELECTRIC/GAS DOHC Naturally Aspirated
2016
Toyota
Prius
Four Touring Hatchback 4-Door 1.8L 1798CC 110Cu. In. l4 ELECTRIC/GAS DOHC Naturally Aspirated
2016
Toyota
Prius
Premium Hatchback 4-Door 1.8L 1798CC 110Cu. In. l4 ELECTRIC/GAS DOHC Naturally Aspirated
2016
Toyota
Prius
Technology Hatchback 4-Door 1.8L 1798CC 110Cu. In. l4 ELECTRIC/GAS DOHC Naturally Aspirated
2016
Toyota
Prius
Three Hatchback 4-Door 1.8L 1798CC 110Cu. In. l4 ELECTRIC/GAS DOHC Naturally Aspirated
2016
Toyota
Prius
Three Touring Hatchback 4-Door 1.8L 1798CC 110Cu. In. l4 ELECTRIC/GAS DOHC Naturally Aspirated
2016
Toyota
Prius
Touring Hatchback 4-Door 1.8L 1798CC 110Cu. In. l4 ELECTRIC/GAS DOHC Naturally Aspirated
2016
Toyota
Prius
Two Eco Hatchback 4-Door 1.8L 1798CC 110Cu. In. l4 ELECTRIC/GAS DOHC Naturally Aspirated
2016
Toyota
Prius
Two Hatchback 4-Door 1.8L 1798CC 110Cu. In. l4 ELECTRIC/GAS DOHC Naturally Aspirated
2016
Toyota
Prius C
Base Hatchback 4-Door 1.5L 1497CC 91Cu. In. l4 ELECTRIC/GAS DOHC Naturally Aspirated
2016
Toyota
Prius C
Four Hatchback 4-Door 1.5L 1497CC 91Cu. In. l4 ELECTRIC/GAS DOHC Naturally Aspirated
2016
Toyota
Prius C
One Hatchback 4-Door 1.5L 1497CC 91Cu. In. l4 ELECTRIC/GAS DOHC Naturally Aspirated
2016
Toyota
Prius C
Persona Series Hatchback 4-Door 1.5L 1497CC 91Cu. In. l4 ELECTRIC/GAS DOHC Naturally Aspirated
2016
Toyota
Prius C
Technology Hatchback 4-Door 1.5L 1497CC 91Cu. In. l4 ELECTRIC/GAS DOHC Naturally Aspirated
2016
Toyota
Prius C
Three Hatchback 4-Door 1.5L 1497CC 91Cu. In. l4 ELECTRIC/GAS DOHC Naturally Aspirated
2016
Toyota
Prius C
Two Hatchback 4-Door 1.5L 1497CC 91Cu. In. l4 ELECTRIC/GAS DOHC Naturally Aspirated
2016
Toyota
Prius V
Four Wagon 4-Door 1.8L 1798CC 110Cu. In. l4 ELECTRIC/GAS DOHC Naturally Aspirated
2016
Toyota
Prius V
Three Wagon 4-Door 1.8L 1798CC 110Cu. In. l4 ELECTRIC/GAS DOHC Naturally Aspirated
2016
Volkswagen
Jetta
Base Sedan 4-Door 2.0L 1984CC 121Cu. In. l4 GAS SOHC Naturally Aspirated
2016
Volkswagen
Jetta
Comfortline Sedan 4-Door 1.4L 1395CC 85Cu. In. l4 GAS DOHC Turbocharged
2016
Volkswagen
Jetta
Comfortline Sedan 4-Door 2.5L 2480CC 151Cu. In. l5 GAS DOHC Naturally Aspirated
2016
Volkswagen
Jetta
GLI Autobahn Sedan 4-Door 2.0L 1984CC 121Cu. In. l4 GAS DOHC Turbocharged
2016
Volkswagen
Jetta
GLI SE Sedan 4-Door 2.0L 1984CC 121Cu. In. l4 GAS DOHC Turbocharged
2016
Volkswagen
Jetta
GLI Sedan 4-Door 2.0L 1984CC 121Cu. In. l4 GAS DOHC Turbocharged
2016
Volkswagen
Jetta
GLI SEL Sedan 4-Door 2.0L 1984CC 121Cu. In. l4 GAS DOHC Turbocharged
2016
Volkswagen
Jetta
Highline Sedan 4-Door 1.8L 1798CC 110Cu. In. l4 GAS DOHC Turbocharged
2016
Volkswagen
Jetta
Hybrid Sedan 4-Door 1.4L 1395CC 85Cu. In. l4 ELECTRIC/GAS DOHC Turbocharged
2016
Volkswagen
Jetta
Hybrid SEL Premium Sedan 4-Door 1.4L 1395CC 85Cu. In. l4 ELECTRIC/GAS DOHC Turbocharged
2016
Volkswagen
Jetta
Live Sedan 4-Door 2.0L 1984CC 121Cu. In. l4 GAS SOHC Naturally Aspirated
2016
Volkswagen
Jetta
S Sedan 4-Door 1.4L 1395CC 85Cu. In. l4 GAS DOHC Turbocharged
2016
Volkswagen
Jetta
SE Sedan 4-Door 1.4L 1395CC 85Cu. In. l4 GAS DOHC Turbocharged
2016
Volkswagen
Jetta
SEL Premium Sedan 4-Door 1.8L 1798CC 110Cu. In. l4 GAS DOHC Turbocharged
2016
Volkswagen
Jetta
SEL Sedan 4-Door 1.8L 1798CC 110Cu. In. l4 GAS DOHC Turbocharged
2016
Volkswagen
Jetta
Sport Sedan 4-Door 1.8L 1798CC 110Cu. In. l4 GAS DOHC Turbocharged
2016
Volkswagen
Jetta
Sport Sedan 4-Door 2.5L 2480CC 151Cu. In. l5 GAS DOHC Naturally Aspirated
2016
Volkswagen
Jetta
TDI Sedan 4-Door 2.0L 1968CC 120Cu. In. l4 DIESEL DOHC Turbocharged
2016
Volkswagen
Jetta
Trendline Sedan 4-Door 1.4L 1395CC 85Cu. In. l4 GAS DOHC Turbocharged
2016
Volkswagen
Jetta
Trendline Sedan 4-Door 2.5L 2480CC 151Cu. In. l5 GAS DOHC Naturally Aspirated
2016
Volkswagen
Tiguan
Comfortline Sport Utility 4-Door 2.0L 1984CC 121Cu. In. l4 GAS DOHC Turbocharged
2016
Volkswagen
Tiguan
Highline Sport Utility 4-Door 2.0L 1984CC 121Cu. In. l4 GAS DOHC Turbocharged
2016
Volkswagen
Tiguan
R-Line Sport Utility 4-Door 2.0L 1984CC 121Cu. In. l4 GAS DOHC Turbocharged
2016
Volkswagen
Tiguan
SE Sport Utility 4-Door 2.0L 1984CC 121Cu. In. l4 GAS DOHC Turbocharged
2016
Volkswagen
Tiguan
SEL Sport Utility 4-Door 2.0L 1984CC 121Cu. In. l4 GAS DOHC Turbocharged
2016
Volkswagen
Tiguan
Sport & Style Sport Utility 4-Door 1.4L 1390CC 85Cu. In. l4 GAS DOHC Turbocharged
2016
Volkswagen
Tiguan
Sport & Style Sport Utility 4-Door 2.0L 1984CC 121Cu. In. l4 GAS DOHC Turbocharged
2016
Volkswagen
Tiguan
Trendline Sport Utility 4-Door 2.0L 1984CC 121Cu. In. l4 GAS DOHC Turbocharged
2016
Volkswagen
Touareg
Base Sport Utility 4-Door 3.0L 2967CC 181Cu. In. V6 DIESEL DOHC Turbocharged
2016
Volkswagen
Touareg
Base Sport Utility 4-Door 3.6L 3597CC 220Cu. In. V6 GAS DOHC Naturally Aspirated
2016
Volkswagen
Touareg
Execline Sport Utility 4-Door 3.6L 3597CC 219Cu. In. V6 GAS DOHC Naturally Aspirated
2016
Volkswagen
Touareg
Highline Sport Utility 4-Door 3.6L 3597CC 219Cu. In. V6 GAS DOHC Naturally Aspirated
2016
Volkswagen
Touareg
R-Line Sport Utility 4-Door 4.2L 4163CC 254Cu. In. V8 GAS DOHC Naturally Aspirated
2016
Volkswagen
Touareg
Sportline Sport Utility 4-Door 3.6L 3597CC 219Cu. In. V6 GAS DOHC Naturally Aspirated
2016
Volkswagen
Touareg
TDI Lux Sport Utility 4-Door 3.0L 2967CC 181Cu. In. V6 DIESEL DOHC Turbocharged
2016
Volkswagen
Touareg
TDI Sport Sport Utility 4-Door 3.0L 2967CC 181Cu. In. V6 DIESEL DOHC Turbocharged
2016
Volkswagen
Touareg
V6 Executive Sport Utility 4-Door 3.6L 3597CC 219Cu. In. V6 GAS DOHC Naturally Aspirated
2016
Volkswagen
Touareg
V6 Sport Sport Utility 4-Door 3.6L 3597CC 219Cu. In. V6 GAS DOHC Naturally Aspirated
2015
Audi
A1
Base Hatchback 2-Door 1.4L 1390CC 85Cu. In. l4 GAS DOHC Turbocharged
2015
Audi
A1
Cool Hatchback 2-Door 1.4L 1390CC 85Cu. In. l4 GAS DOHC Turbocharged
2015
Audi
A1
Cool Hatchback 4-Door 1.4L 1390CC 85Cu. In. l4 GAS DOHC Turbocharged
2015
Audi
A1
Ego Hatchback 2-Door 1.4L 1390CC 85Cu. In. l4 GAS DOHC Turbocharged
2015
Audi
A1
Ego Hatchback 4-Door 1.4L 1390CC 85Cu. In. l4 GAS DOHC Turbocharged
2015
Audi
A1
S Line Hatchback 2-Door 1.4L 1390CC 85Cu. In. l4 GAS DOHC Turbo/Supercharged
2015
Audi
A1
S Line Hatchback 4-Door 1.4L 1390CC 85Cu. In. l4 GAS DOHC Turbo/Supercharged
2015
Audi
A3
Ambiente Hatchback 2-Door 1.4L 1395CC 85Cu. In. l4 GAS DOHC Turbocharged
2015
Audi
A3
Ambiente Hatchback 2-Door 1.4L 1400CC 85Cu. In. l4 GAS DOHC Turbocharged
2015
Audi
A3
Ambiente Hatchback 2-Door 1.8L 1798CC 110Cu. In. l4 GAS DOHC Turbocharged
2015
Audi
A3
Ambiente Sedan 4-Door 1.4L 1395CC 85Cu. In. l4 GAS DOHC Turbocharged
2015
Audi
A3
Ambiente Sedan 4-Door 1.4L 1400CC 85Cu. In. l4 GAS DOHC Turbocharged
2015
Audi
A3
Ambiente Sedan 4-Door 1.8L 1798CC 110Cu. In. l4 GAS DOHC Turbocharged
2015
Audi
A3
Attraction Convertible 2-Door 1.4L 1400CC 85Cu. In. l4 GAS DOHC Turbocharged
2015
Audi
A3
Attraction Convertible 2-Door 1.8L 1798CC 110Cu. In. l4 GAS DOHC Turbocharged
2015
Audi
A3
Attraction Hatchback 2-Door 1.4L 1400CC 85Cu. In. l4 GAS DOHC Turbocharged
2015
Audi
A3
Attraction Hatchback 2-Door 1.8L 1798CC 110Cu. In. l4 GAS DOHC Turbocharged
2015
Audi
A3
Attraction Sedan 4-Door 1.4L 1400CC 85Cu. In. l4 GAS DOHC Turbocharged
2015
Audi
A3
Attraction Sedan 4-Door 1.8L 1798CC 110Cu. In. l4 GAS DOHC Turbocharged
2015
Audi
A3
Komfort Sedan 4-Door 1.8L 1798CC 110Cu. In. l4 GAS DOHC Turbocharged
2015
Audi
A3
Premium Convertible 2-Door 1.8L 1798CC 110Cu. In. l4 GAS DOHC Turbocharged
2015
Audi
A3
Premium Plus Convertible 2-Door 1.8L 1798CC 110Cu. In. l4 GAS DOHC Turbocharged
2015
Audi
A3
Premium Plus Sedan 4-Door 1.8L 1798CC 110Cu. In. l4 GAS DOHC Turbocharged
2015
Audi
A3
Premium Sedan 4-Door 1.8L 1798CC 110Cu. In. l4 GAS DOHC Turbocharged
2015
Audi
A3
Prestige Convertible 2-Door 1.8L 1798CC 110Cu. In. l4 GAS DOHC Turbocharged
2015
Audi
A3
Prestige Sedan 4-Door 1.8L 1798CC 110Cu. In. l4 GAS DOHC Turbocharged
2015
Audi
A3
Progressiv Sedan 4-Door 1.8L 1798CC 110Cu. In. l4 GAS DOHC Turbocharged
2015
Audi
A3
S Line Convertible 2-Door 1.8L 1798CC 110Cu. In. l4 GAS DOHC Turbocharged
2015
Audi
A3
S Line Hatchback 2-Door 1.8L 1798CC 110Cu. In. l4 GAS DOHC Turbocharged
2015
Audi
A3
S Line Sedan 4-Door 1.8L 1798CC 110Cu. In. l4 GAS DOHC Turbocharged
2015
Audi
A3
TDI Komfort Convertible 2-Door 2.0L 1968CC 120Cu. In. l4 DIESEL DOHC Turbocharged
2015
Audi
A3
TDI Komfort Sedan 4-Door 2.0L 1968CC 120Cu. In. l4 DIESEL DOHC Turbocharged
2015
Audi
A3
TDI Premium Plus Sedan 4-Door 2.0L 1968CC 120Cu. In. l4 DIESEL DOHC Turbocharged
2015
Audi
A3
TDI Premium Sedan 4-Door 2.0L 1968CC 120Cu. In. l4 DIESEL DOHC Turbocharged
2015
Audi
A3
TDI Prestige Sedan 4-Door 2.0L 1968CC 120Cu. In. l4 DIESEL DOHC Turbocharged
2015
Audi
A3
TDI Progressiv Convertible 2-Door 2.0L 1968CC 120Cu. In. l4 DIESEL DOHC Turbocharged
2015
Audi
A3
TDI Progressiv Sedan 4-Door 2.0L 1968CC 120Cu. In. l4 DIESEL DOHC Turbocharged
2015
Audi
A3
TDI Technik Convertible 2-Door 2.0L 1968CC 120Cu. In. l4 DIESEL DOHC Turbocharged
2015
Audi
A3
TDI Technik Sedan 4-Door 2.0L 1968CC 120Cu. In. l4 DIESEL DOHC Turbocharged
2015
Audi
A3
Technik Sedan 4-Door 1.8L 1798CC 110Cu. In. l4 GAS DOHC Turbocharged
2015
Audi
A3 Quattro
Premium Convertible 2-Door 2.0L 1984CC 121Cu. In. l4 GAS DOHC Turbocharged
2015
Audi
A3 Quattro
Prestige Convertible 2-Door 2.0L 1984CC 121Cu. In. l4 GAS DOHC Turbocharged
2015
Audi
A4
Komfort Sedan 4-Door 2.0L 1984CC 121Cu. In. l4 GAS DOHC Turbocharged
2015
Audi
A4
Premium Plus Sedan 4-Door 2.0L 1984CC 121Cu. In. l4 GAS DOHC Turbocharged
2015
Audi
A4
Premium Sedan 4-Door 2.0L 1984CC 121Cu. In. l4 GAS DOHC Turbocharged
2015
Audi
A4
Prestige Sedan 4-Door 2.0L 1984CC 121Cu. In. l4 GAS DOHC Turbocharged
2015
Audi
A4
Sport Sedan 4-Door 1.8L 1781CC 109Cu. In. l4 GAS DOHC Turbocharged
2015
Audi
A4
Sport Sedan 4-Door 2.0L 1984CC 121Cu. In. l4 DIESEL DOHC Turbocharged
2015
Audi
A4
Trendy Sedan 4-Door 2.0L 1984CC 121Cu. In. l4 DIESEL DOHC Turbocharged
2015
Audi
A4
Trendy Sedan 4-Door 2.0L 1984CC 121Cu. In. l4 GAS DOHC Turbocharged
2015
Audi
A4 allroad
Komfort Wagon 4-Door 2.0L 1984CC 121Cu. In. l4 FLEX DOHC Turbocharged
2015
Audi
A4 allroad
Technik Wagon 4-Door 2.0L 1984CC 121Cu. In. l4 FLEX DOHC Turbocharged
2015
Audi
A4 Quattro
Luxury Sedan 4-Door 2.0L 1984CC 121Cu. In. l4 GAS DOHC Turbocharged
2015
Audi
A4 Quattro
Premium Plus Sedan 4-Door 2.0L 1984CC 121Cu. In. l4 FLEX DOHC Turbocharged
2015
Audi
A4 Quattro
Sport Sedan 4-Door 2.0L 1984CC 121Cu. In. l4 GAS DOHC Turbocharged
2015
Audi
A4 Quattro
Technik Sedan 4-Door 2.0L 1984CC 121Cu. In. l4 FLEX DOHC Turbocharged
2015
Audi
A4 Quattro
Technik Sedan 4-Door 2.0L 1984CC 121Cu. In. l4 GAS DOHC Turbocharged
2015
Audi
A5
Elite Coupe 2-Door 3.0L 2995CC 183Cu. In. V6 GAS DOHC Supercharged
2015
Audi
A5
Luxury Coupe 2-Door 1.8L 1798CC 110Cu. In. l4 GAS DOHC Turbocharged
2015
Audi
A5
Luxury Coupe 2-Door 2.0L 1984CC 121Cu. In. l4 GAS DOHC Turbocharged
2015
Audi
A5
Luxury Hatchback 4-Door 1.8L 1798CC 110Cu. In. l4 GAS DOHC Turbocharged
2015
Audi
A5
Luxury Hatchback 4-Door 2.0L 1984CC 121Cu. In. l4 GAS DOHC Turbocharged
2015
Audi
A5
S Line Coupe 2-Door 2.0L 1984CC 121Cu. In. l4 GAS DOHC Turbocharged
2015
Audi
A5
S Line Coupe 2-Door 3.0L 2995CC 183Cu. In. V6 GAS DOHC Supercharged
2015
Audi
A5
S Line Hatchback 4-Door 2.0L 1984CC 121Cu. In. l4 GAS DOHC Turbocharged
2015
Audi
A5
S Line Hatchback 4-Door 3.0L 2995CC 183Cu. In. V6 GAS DOHC Supercharged
2015
Audi
A5
Trendy Coupe 2-Door 2.0L 1984CC 121Cu. In. l4 GAS DOHC Turbocharged
2015
Audi
A5 Quattro
Base Coupe 2-Door 2.0L 1984CC 121Cu. In. l4 FLEX DOHC Turbocharged
2015
Audi
A5 Quattro
Base Coupe 2-Door 2.0L 1984CC 121Cu. In. l4 GAS DOHC Turbocharged
2015
Audi
A5 Quattro
Cabriolet Convertible 2-Door 2.0L 1984CC 121Cu. In. l4 GAS DOHC Turbocharged
2015
Audi
A5 Quattro
Premium Coupe 2-Door 2.0L 1984CC 121Cu. In. l4 FLEX DOHC Turbocharged
2015
Audi
A5 Quattro
Premium Plus Convertible 2-Door 2.0L 1984CC 121Cu. In. l4 FLEX DOHC Turbocharged
2015
Audi
A5 Quattro
Prestige Convertible 2-Door 2.0L 1984CC 121Cu. In. l4 FLEX DOHC Turbocharged
2015
Audi
A5 Quattro
Prestige Convertible 2-Door 2.0L 1984CC 121Cu. In. l4 GAS DOHC Turbocharged
2015
Audi
A5 Quattro
Prestige Coupe 2-Door 2.0L 1984CC 121Cu. In. l4 FLEX DOHC Turbocharged
2015
Audi
A6
Premium Plus Sedan 4-Door 2.0L 1984CC 121Cu. In. l4 GAS DOHC Turbocharged
2015
Audi
A6
Premium Sedan 4-Door 2.0L 1984CC 121Cu. In. l4 GAS DOHC Turbocharged
2015
Audi
A6 Quattro
Premium Plus Sedan 4-Door 2.0L 1984CC 121Cu. In. l4 GAS DOHC Turbocharged
2015
Audi
A6 Quattro
Prestige Sedan 4-Door 3.0L 2995CC V6 GAS DOHC Supercharged
2015
Audi
A6 Quattro
TDI Technik Sedan 4-Door 3.0L 2967CC 181Cu. In. V6 DIESEL DOHC Turbocharged
2015
Audi
Q3
Base Sport Utility 4-Door 2.0L 1968CC 120Cu. In. l4 DIESEL DOHC Turbocharged
2015
Audi
Q3
Elite Sport Utility 4-Door 2.0L 1984CC 121Cu. In. l4 GAS DOHC Turbocharged
2015
Audi
Q3
Luxury Sport Utility 4-Door 2.0L 1984CC 121Cu. In. l4 GAS DOHC Turbocharged
2015
Audi
Q3
Premium Plus Sport Utility 4-Door 2.0L 1984CC 121Cu. In. l4 GAS DOHC Turbocharged
2015
Audi
Q3
Prestige Sport Utility 4-Door 2.0L 1984CC 121Cu. In. l4 GAS DOHC Turbocharged
2015
Audi
Q3
Progressiv Sport Utility 4-Door 2.0L 1984CC 121Cu. In. l4 GAS DOHC Turbocharged
2015
Audi
Q3
S Sport Utility 4-Door 2.0L 1984CC 121Cu. In. l4 GAS DOHC Turbocharged
2015
Audi
Q3
Technik Sport Utility 4-Door 2.0L 1984CC 121Cu. In. l4 GAS DOHC Turbocharged
2015
Audi
Q3
Trendy Sport Utility 4-Door 2.0L 1984CC 121Cu. In. l4 GAS DOHC Turbocharged
2015
Audi
Q3 Quattro
Premium Plus Sport Utility 4-Door 2.0L 1984CC 121Cu. In. l4 GAS DOHC Turbocharged
2015
Audi
Q3 Quattro
Prestige Sport Utility 4-Door 2.0L 1984CC 121Cu. In. l4 GAS DOHC Turbocharged
2015
Audi
Q5
Elite Sport Utility 4-Door 2.0L 1984CC 121Cu. In. l4 GAS DOHC Turbocharged
2015
Audi
Q5
Elite Sport Utility 4-Door 3.0L 2967CC 181Cu. In. V6 DIESEL DOHC Turbocharged
2015
Audi
Q5
Elite Sport Utility 4-Door 3.0L 2995CC 183Cu. In. V6 GAS DOHC Supercharged
2015
Audi
Q5
Hybrid Prestige Sport Utility 4-Door 2.0L 1984CC 121Cu. In. l4 ELECTRIC/GAS DOHC Turbocharged
2015
Audi
Q5
Komfort Sport Utility 4-Door 3.0L 2995CC V6 GAS DOHC Supercharged
2015
Audi
Q5
Luxury Sport Utility 4-Door 2.0L 1984CC 121Cu. In. l4 GAS DOHC Turbocharged
2015
Audi
Q5
Premium Plus Sport Utility 4-Door 2.0L 1984CC 121Cu. In. l4 FLEX DOHC Turbocharged
2015
Audi
Q5
Premium Plus Sport Utility 4-Door 3.0L 2995CC V6 GAS DOHC Supercharged
2015
Audi
Q5
Premium Sport Utility 4-Door 2.0L 1984CC 121Cu. In. l4 FLEX DOHC Turbocharged
2015
Audi
Q5
Prestige Sport Utility 4-Door 2.0L 1984CC 121Cu. In. l4 FLEX DOHC Turbocharged
2015
Audi
Q5
Prestige Sport Utility 4-Door 3.0L 2995CC V6 GAS DOHC Supercharged
2015
Audi
Q5
Progressiv Sport Utility 4-Door 3.0L 2967CC 181Cu. In. V6 DIESEL DOHC Turbocharged
2015
Audi
Q5
Progressiv Sport Utility 4-Door 3.0L 2995CC V6 GAS DOHC Supercharged
2015
Audi
Q5
TDI Premium Plus Sport Utility 4-Door 3.0L 2967CC 181Cu. In. V6 DIESEL DOHC Turbocharged
2015
Audi
Q5
TDI Prestige Sport Utility 4-Door 3.0L 2967CC 181Cu. In. V6 DIESEL DOHC Turbocharged
2015
Audi
Q5
Technik Sport Utility 4-Door 3.0L 2967CC 181Cu. In. V6 DIESEL DOHC Turbocharged
2015
Audi
Q5
Technik Sport Utility 4-Door 3.0L 2995CC V6 GAS DOHC Supercharged
2015
Audi
Q5
Trendy Sport Utility 4-Door 2.0L 1984CC 121Cu. In. l4 GAS DOHC Turbocharged
2015
Audi
Q7
Base Sport Utility 4-Door 3.0L 2995CC 183Cu. In. V6 GAS DOHC Supercharged
2015
Audi
Q7
Elite Sport Utility 4-Door 3.0L 2967CC 181Cu. In. V6 DIESEL DOHC Turbocharged
2015
Audi
Q7
Elite Sport Utility 4-Door 3.0L 2995CC 183Cu. In. V6 GAS DOHC Supercharged
2015
Audi
Q7
Luxury Sport Utility 4-Door 3.0L 2995CC 183Cu. In. V6 GAS DOHC Supercharged
2015
Audi
Q7
Premium Plus Sport Utility 4-Door 3.0L 2995CC V6 GAS DOHC Supercharged
2015
Audi
Q7
Premium Sport Utility 4-Door 3.0L 2995CC V6 GAS DOHC Supercharged
2015
Audi
Q7
Prestige Sport Utility 4-Door 3.0L 2995CC V6 GAS DOHC Supercharged
2015
Audi
Q7
Progressiv Sport Utility 4-Door 3.0L 2995CC V6 GAS DOHC Supercharged
2015
Audi
Q7
S Line Sport Utility 4-Door 3.0L 2995CC 183Cu. In. V6 GAS DOHC Supercharged
2015
Audi
Q7
S Line Sport Utility 4-Door 4.2L 4134CC 252Cu. In. V8 DIESEL DOHC Turbocharged
2015
Audi
Q7
Sport Sport Utility 4-Door 3.0L 2995CC V6 GAS DOHC Supercharged
2015
Audi
Q7
TDI Premium Plus Sport Utility 4-Door 3.0L 2967CC 181Cu. In. V6 DIESEL DOHC Turbocharged
2015
Audi
Q7
TDI Premium Sport Utility 4-Door 3.0L 2967CC 181Cu. In. V6 DIESEL DOHC Turbocharged
2015
Audi
Q7
TDI Prestige Sport Utility 4-Door 3.0L 2967CC 181Cu. In. V6 DIESEL DOHC Turbocharged
2015
Audi
Q7
TDI Progressiv Sport Utility 4-Door 3.0L 2967CC 181Cu. In. V6 DIESEL DOHC Turbocharged
2015
Audi
Q7
TDI Vorsprung Sport Utility 4-Door 3.0L 2967CC 181Cu. In. V6 DIESEL DOHC Turbocharged
2015
Audi
Q7
Vorsprung Sport Utility 4-Door 3.0L 2995CC V6 GAS DOHC Supercharged
2015
Audi
S3
Base Hatchback 2-Door 2.0L 1984CC 121Cu. In. l4 GAS DOHC Turbocharged
2015
Audi
S3
Base Sedan 4-Door 2.0L 1984CC 121Cu. In. l4 GAS DOHC Turbocharged
2015
Audi
S3
Premium Plus Sedan 4-Door 2.0L 1984CC 121Cu. In. l4 GAS DOHC Turbocharged
2015
Audi
S3
Prestige Sedan 4-Door 2.0L 1984CC 121Cu. In. l4 GAS DOHC Turbocharged
2015
Audi
S3
Progressiv Sedan 4-Door 2.0L 1984CC 121Cu. In. l4 GAS DOHC Turbocharged
2015
Audi
S3
Technik Sedan 4-Door 2.0L 1984CC 121Cu. In. l4 GAS DOHC Turbocharged
2015
Audi
S4
Base Sedan 4-Door 3.0L 2995CC 183Cu. In. V6 GAS DOHC Supercharged
2015
Audi
S4
Premium Plus Sedan 4-Door 3.0L 2995CC V6 GAS DOHC Supercharged
2015
Audi
S4
Prestige Sedan 4-Door 3.0L 2995CC V6 GAS DOHC Supercharged
2015
Audi
S4
Progressiv Sedan 4-Door 3.0L 2995CC V6 GAS DOHC Supercharged
2015
Audi
S4
Technik Sedan 4-Door 3.0L 2995CC V6 GAS DOHC Supercharged
2015
Audi
S5
Base Coupe 2-Door 3.0L 2995CC 183Cu. In. V6 GAS DOHC Supercharged
2015
Audi
S5
Base Hatchback 4-Door 3.0L 2995CC 183Cu. In. V6 GAS DOHC Supercharged
2015
Audi
S5
Premium Plus Convertible 2-Door 3.0L 2995CC V6 GAS DOHC Supercharged
2015
Audi
S5
Premium Plus Coupe 2-Door 3.0L 2995CC V6 GAS DOHC Supercharged
2015
Audi
S5
Prestige Convertible 2-Door 3.0L 2995CC V6 GAS DOHC Supercharged
2015
Audi
S5
Prestige Coupe 2-Door 3.0L 2995CC V6 GAS DOHC Supercharged
2015
Audi
S5
Progressiv Convertible 2-Door 3.0L 2995CC V6 GAS DOHC Supercharged
2015
Audi
S5
Progressiv Coupe 2-Door 3.0L 2995CC V6 GAS DOHC Supercharged
2015
Audi
S5
Technik Convertible 2-Door 3.0L 2995CC V6 GAS DOHC Supercharged
2015
Audi
S5
Technik Coupe 2-Door 3.0L 2995CC V6 GAS DOHC Supercharged
2015
Audi
S6
Base Sedan 4-Door 4.0L 3993CC 243Cu. In. V8 GAS DOHC Turbocharged
2015
Audi
S7
Base Hatchback 4-Door 4.0L 3993CC 243Cu. In. V8 GAS DOHC Turbocharged
2015
Audi
S8
Base Sedan 4-Door 4.0L 3993CC 243Cu. In. V8 GAS DOHC Turbocharged
2015
BMW
118i
Base Hatchback 2-Door 1.6L 1598CC 98Cu. In. l4 GAS DOHC Turbocharged
2015
BMW
118i
Sport Line Hatchback 2-Door 1.6L 1598CC 98Cu. In. l4 GAS DOHC Turbocharged
2015
BMW
118i
Sport Line Hatchback 4-Door 1.6L 1598CC 98Cu. In. l4 GAS DOHC Turbocharged
2015
BMW
118i
Urban Line Hatchback 2-Door 1.6L 1598CC 98Cu. In. l4 GAS DOHC Turbocharged
2015
BMW
118i
Urban Line Hatchback 4-Door 1.6L 1598CC 98Cu. In. l4 GAS DOHC Turbocharged
2015
BMW
320i
Base Sedan 4-Door 2.0L 1997CC 122Cu. In. l4 GAS DOHC Turbocharged
2015
BMW
320i
Luxury Sedan 4-Door 2.0L 1997CC 122Cu. In. l4 GAS DOHC Turbocharged
2015
BMW
320i
M Sport Sedan 4-Door 2.0L 1997CC 122Cu. In. l4 GAS DOHC Turbocharged
2015
BMW
320i
Modern Sedan 4-Door 2.0L 1997CC 122Cu. In. l4 GAS DOHC Turbocharged
2015
BMW
335i GT xDrive
Base Hatchback 4-Door 3.0L 2979CC l6 GAS DOHC Turbocharged
2015
BMW
335i xDrive
Base Sedan 4-Door 3.0L 2979CC l6 GAS DOHC Turbocharged
2015
BMW
520i
Top Sedan 4-Door 2.0L 1997CC 122Cu. In. l4 GAS DOHC Turbocharged
2015
BMW
528i
M Sport Sedan 4-Door 2.0L 1997CC 122Cu. In. l4 GAS DOHC Turbocharged
2015
BMW
535d
Base Sedan 4-Door 3.0L 2993CC l6 DIESEL DOHC Turbocharged
2015
BMW
535i
Base Sedan 4-Door 3.0L 2979CC l6 GAS DOHC Turbocharged
2015
BMW
535i
Luxury Sedan 4-Door 3.0L 2979CC 182Cu. In. l6 GAS DOHC Turbocharged
2015
BMW
535i GT xDrive
Base Hatchback 4-Door 3.0L 2979CC l6 GAS DOHC Turbocharged
2015
BMW
550i
Base Sedan 4-Door 4.4L 4395CC V8 GAS DOHC Turbocharged
2015
BMW
550i GT
Base Hatchback 4-Door 4.4L 4395CC V8 GAS DOHC Turbocharged
2015
BMW
550i GT xDrive
Base Hatchback 4-Door 4.4L 4395CC V8 GAS DOHC Turbocharged
2015
BMW
740Ld xDrive
Base Sedan 4-Door 3.0L 2993CC l6 DIESEL DOHC Turbocharged
2015
BMW
740Li
Base Sedan 4-Door 3.0L 2979CC l6 GAS DOHC Turbocharged
2015
BMW
750i xDrive
Base Sedan 4-Door 4.4L 4395CC V8 GAS DOHC Turbocharged
2015
BMW
750Li xDrive
Base Sedan 4-Door 4.4L 4395CC V8 GAS DOHC Turbocharged
2015
BMW
760Li
Base Sedan 4-Door 6.0L 5972CC V12 GAS DOHC Turbocharged
2015
BMW
i3
Dynamic Hatchback 4-Door ELECTRIC
2015
BMW
i3
Mobility Hatchback 4-Door ELECTRIC
2015
BMW
i8
Base Coupe 2-Door 1.5L 1499CC l3 ELECTRIC/GAS DOHC Turbocharged
2015
BMW
X3
xDrive28i Sport Utility 4-Door 2.0L 1997CC 122Cu. In. l4 GAS DOHC Turbocharged
2015
BMW
X3
xDrive35i M Sport Sport Utility 4-Door 3.0L 2979CC 182Cu. In. l6 GAS DOHC Turbocharged
2015
BMW
X5
Base Sport Utility 4-Door 3.0L 2979CC 182Cu. In. l6 GAS DOHC Turbocharged
2015
BMW
X5
Excellence Sport Utility 4-Door 3.0L 2979CC 182Cu. In. l6 GAS DOHC Turbocharged
2015
BMW
X5
Excellence Sport Utility 4-Door 4.4L 4395CC 268Cu. In. V8 GAS DOHC Turbocharged
2015
BMW
X5
sDrive35i Sport Utility 4-Door 3.0L 2979CC l6 GAS DOHC Turbocharged
2015
BMW
X5
xDrive50i Sport Utility 4-Door 4.4L 4395CC V8 GAS DOHC Turbocharged
2015
BMW
X6
Base Sport Utility 4-Door 3.0L 2979CC 182Cu. In. l6 GAS DOHC Turbocharged
2015
BMW
X6
Extravagance Sport Utility 4-Door 3.0L 2979CC 182Cu. In. l6 GAS DOHC Turbocharged
2015
BMW
X6
M Sport Utility 4-Door 4.4L 4395CC V8 GAS DOHC Turbocharged
2015
BMW
X6
xDrive50i Sport Utility 4-Door 4.4L 4395CC V8 GAS DOHC Turbocharged
2015
Cadillac
SRX
Luxury Sport Utility 4-Door 3.6L 3564CC 217Cu. In. V6 GAS DOHC Naturally Aspirated
2015
Cadillac
SRX
Premium Sport Utility 4-Door 3.6L 3564CC 217Cu. In. V6 GAS DOHC Naturally Aspirated
2015
Chevrolet
Cruze
Diesel Sedan 4-Door 2.0L 1956CC 119Cu. In. l4 DIESEL DOHC Turbocharged
2015
Chevrolet
Cruze
Eco Sedan 4-Door 1.4L 1364CC 83Cu. In. l4 GAS DOHC Turbocharged
2015
Chevrolet
Cruze
L Sedan 4-Door 1.8L 1796CC 110Cu. In. l4 FLEX DOHC Naturally Aspirated
2015
Chevrolet
Cruze
L Sedan 4-Door 1.8L 1796CC 110Cu. In. l4 GAS DOHC Naturally Aspirated
2015
Chevrolet
Cruze
LS Sedan 4-Door 1.8L 1796CC 110Cu. In. l4 FLEX DOHC Naturally Aspirated