US 5× Universal Car Floor Mats Front & Rear FloorLiner Carpets All-Weather Black
| | |
| --- | --- |
| Brand/Part #: | Fly5D US-J-399-Y-BK |
| Location: | CA, US |
| Ship To Locations: | US - FREE SHIPPING |
Store Home

Payment

Shipping

Return Policy

About Us

Contact Us
Store Categories
Automobile Brand/Car Interior

Audi

BMW

Buick

Chevrolet

Citroen

Ford

Honda

Hyundai

Jeep

Lexus

Mazda (

Mercedes-Benz

Mitsubishi

Nissan

Porsche

Skoda

Subaru

Suzuki

Toyota

The Great Wall

Volkswagen

Other brands

Car Steering Wheel Cover

Car Seat Covers

Car Accessories

Paintless Dent Rpair Tools kit

Motorcycle Accessories

PDR light/line board

Hot Sale Discount

T & bar tool & kit

Puller Glue Tabs

Tap Down Tool

Other Parts

Other
Store Newsletter
US 5× Universal Car Floor Mats Front & Rear FloorLiner Carpets All-Weather Black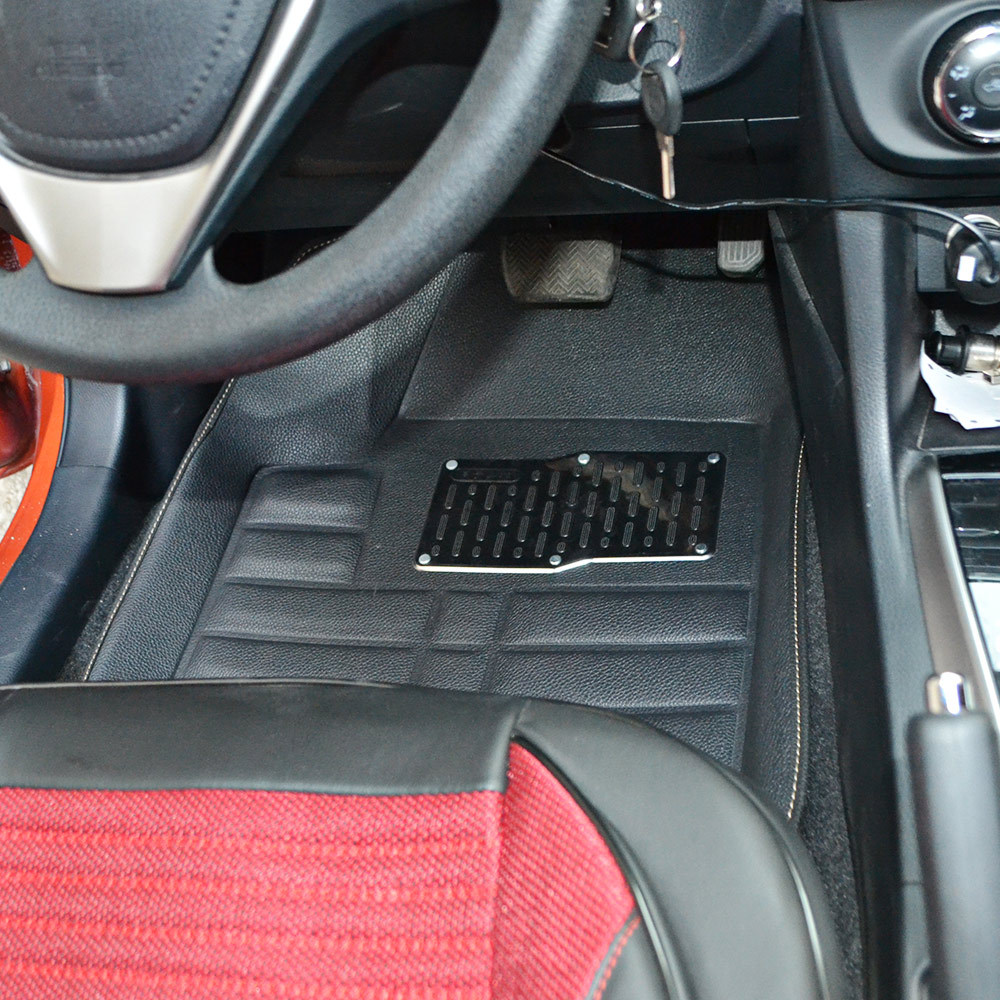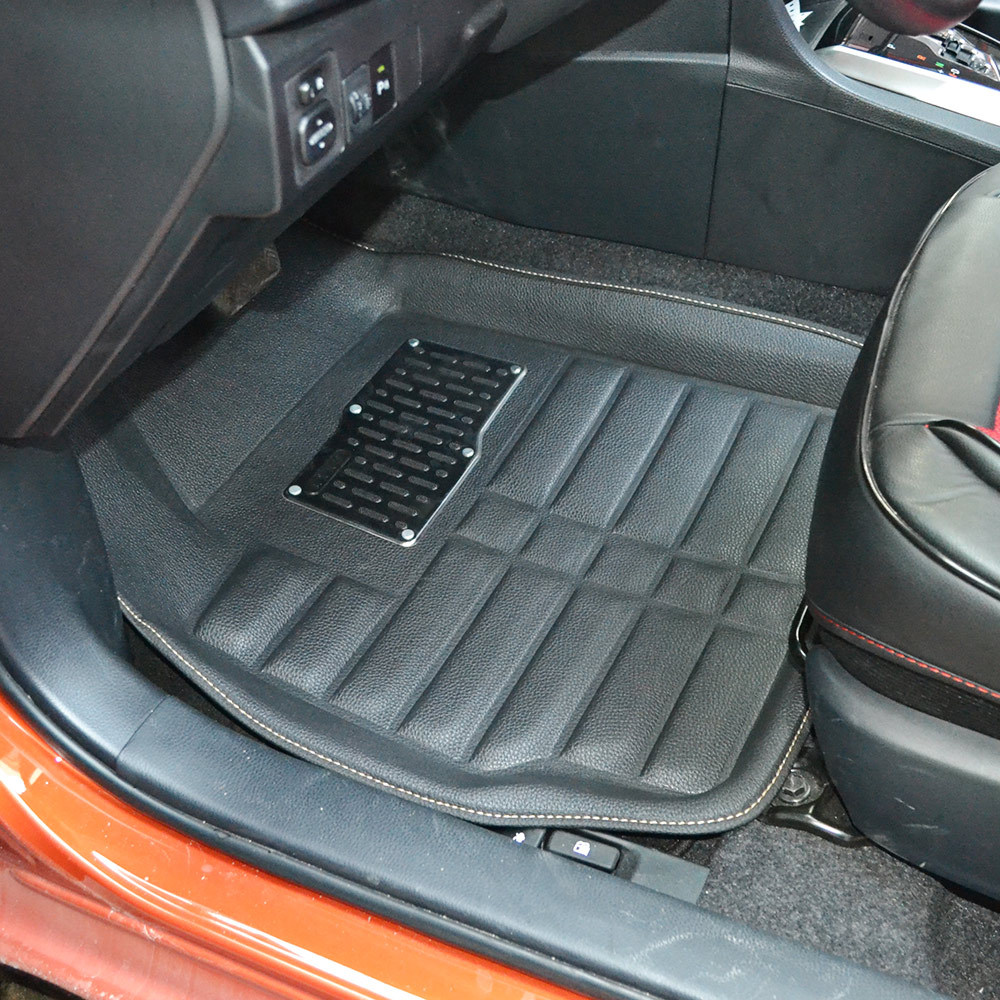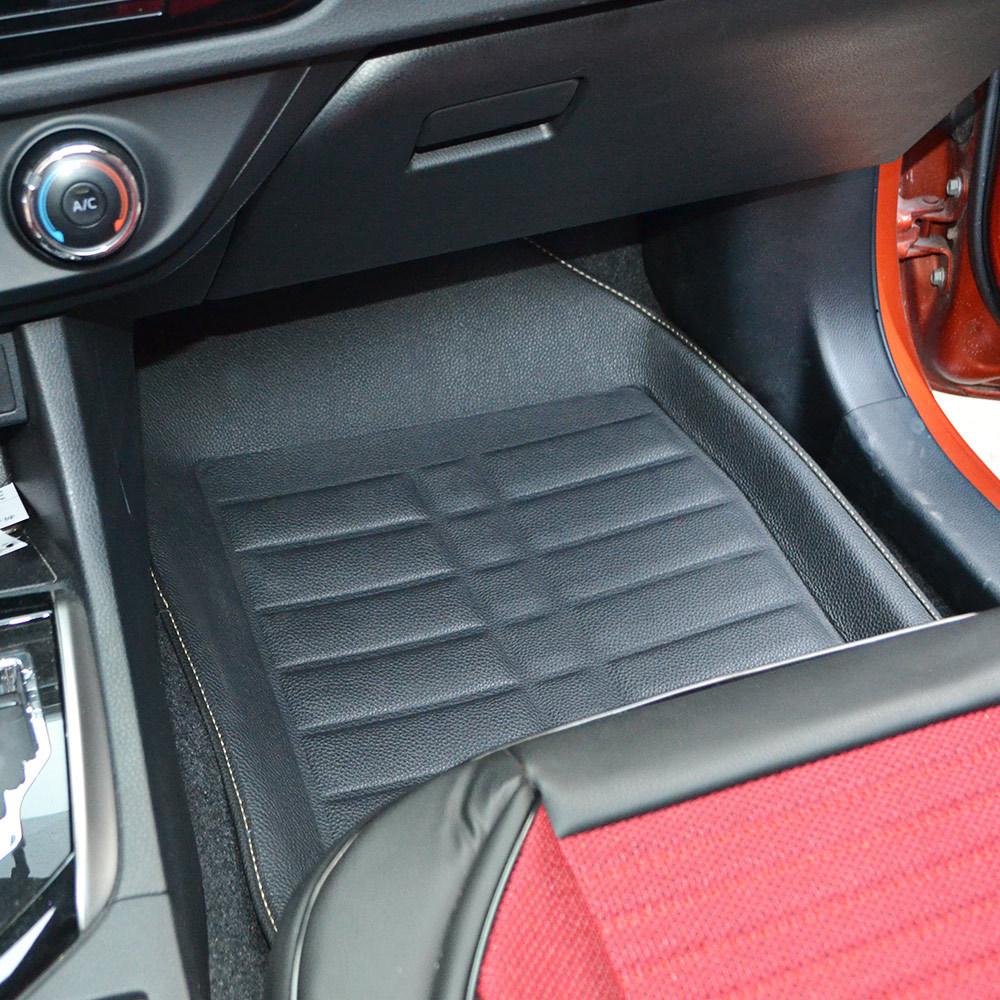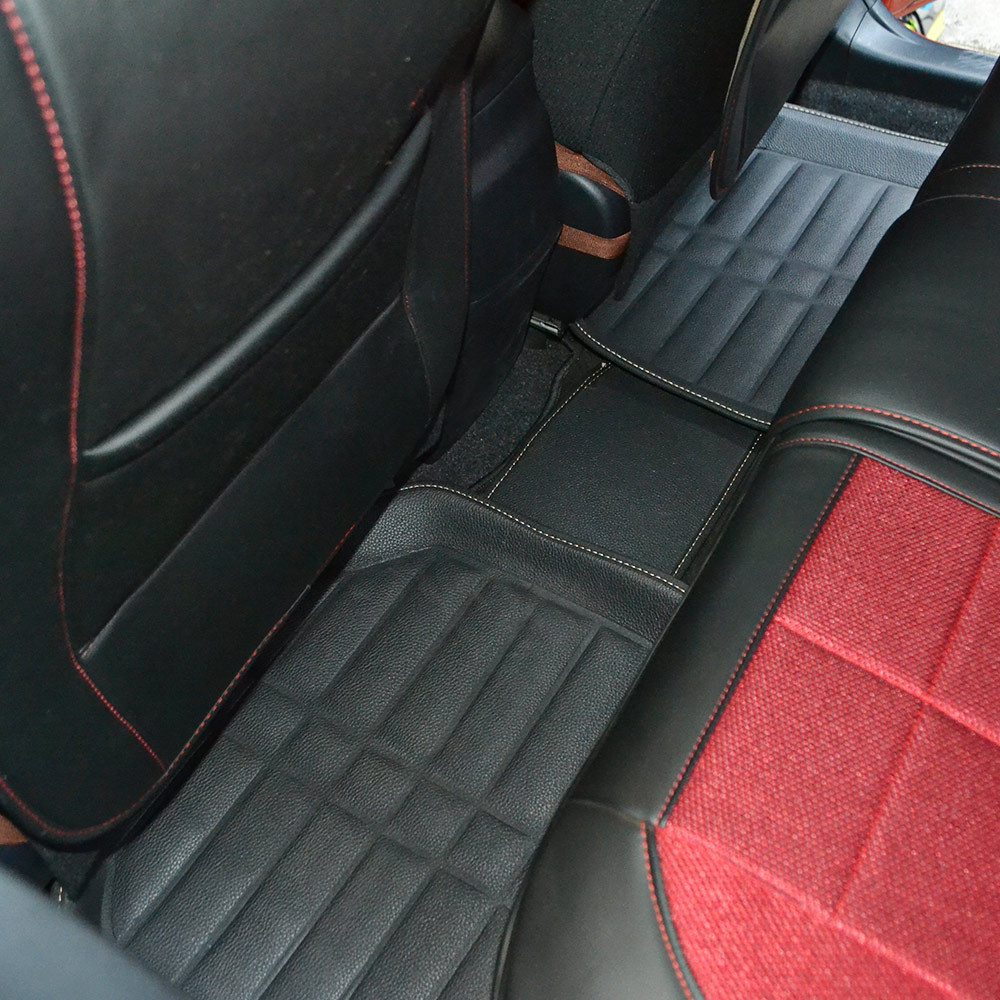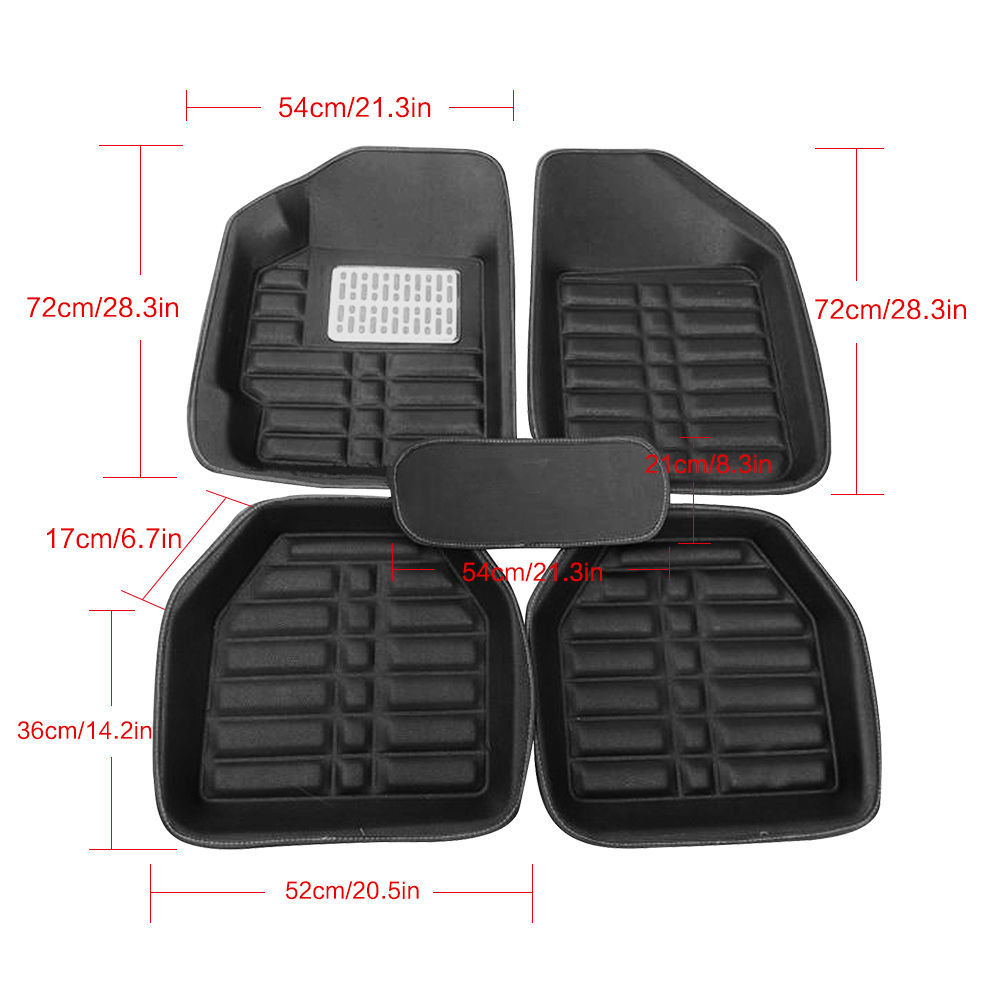 Items Description
Notice
If the buyer bought it without any message about cars information,
we will ship the mat as your order requirement default.then will send the black color to you
Feature
---- Waterproof, Dustproof ,Flameproof,Skidproof
---- The safest car floor mat , cover perfectly 5pc mat for 5 seats car
---- One step making , easy to clean by towel, nice and comfortable ,always keep your car clean
---- Alomost suit for all 5 seats left hand drive car
----

Material:
TPE+XPE+leather.


----

TPE(Thermoplastic Elastomer)
It is

a kind of rubber

high

elasticity

,

high

strength
----

XPE (Physical foam polyethylene) high elasticity
,
but also has the
characteristics of injection molding
materials.
----
we have three color for you:Black, brown and Beige,if you need other color,please leave a message to us.
----
Net weight: about 1.5 kg
----
Great for any left hand drive vehicle
Product list
----5pc mats as the mai picture shows
The items will be shipped by Registered Airmail with tracking number.
The items will be sent within 1-2 working days after payment received.Delivery time might be longer if the item(s) be inspected by customs
Import duties, taxes, and charges are not included in the item price or postage cost.
These charges are the buyer's responsibility
We only accept payment through PayPal.
Payment should be completed within 7 days ,after 7 days,"Unpaid" will be reported to eBay for returning final fees.
Although we did a solid and safe packaging, it may still suffer some damage or missing during transportation, so please check the packing and items before signing your name.
If you find what you received is not the item as describes, please trust us, it is our duty to deal with it properly and give you satisfying solution.
We try our best to provide the high quality,best price,best service to our all customers.
If you find some issue for the item , please contact us ASAP before you leave feedback.
We will do our best to solve the problem. And if you are satisfied with our product.
Please support us, we will do it better.
Our working time:

Monday to Friday from 9:00 am to 7:00 pm (GMT+8)
we will reply to you quickly and try our best to serve you. thank you in advance.
Store Home Payment Shipping Return Policy About Us Contact Us
Copyright 2017 magic-tools2014 All rights reserved.

Returns Accepted: Returns Accepted
Item must be returned within: 30 Days
Refund will be given as: Money back or replacement (buyer's choice)
Return shipping will be paid by: Buyer
Superseded Part Number: Car Floor Mats FloorLiner Front + Rear Carpets
Country/Region of Manufacture: Hong Kong
Interchange Part Number: Car Floor Mats FloorLiner Front + Rear Carpets
OE Spec or Performance/Custom: OE Spec
Other Attribute: Install Installation Car Interior
Material: PU leather+ sponge + non-woven fabric + suede
Other: Car Interior Accessories
Other Part: universal Floor mats Floor Liner
UPC: 0763846246611
Weight: 2kg
Range of application: 5-seats cars, all seasons
Color: Black / White
Surface Finish: PU Leather
Manufacturer Part Number: US0763846246611
Placement on Vehicle: Left
Other Part Number: Car Floor Mats FloorLiner Front + Rear Carpets
Brand: Fly5D
Fitment Type: Performance/Custom
Warranty: 1 Year
SKU: US-J-399-Y-BK
US 5× Universal Car Floor Mats Front & Rear FloorLiner Carpets All-Weather Black fits on the following vehicles. This is for your reference only, please check your auto manual to make sure it fits.
YEAR
MAKE
MODEL
TRIM
NOTES
2018
Ram
1500
Big Horn Crew Cab Pickup 4-Door 3.0L 2987CC 182Cu. In. V6 DIESEL DOHC Turbocharged
2018
Ram
1500
Big Horn Crew Cab Pickup 4-Door 3.6L 3604CC 220Cu. In. V6 FLEX DOHC Naturally Aspirated
2018
Ram
1500
Big Horn Crew Cab Pickup 4-Door 5.7L 345Cu. In. V8 GAS OHV Naturally Aspirated
2018
Ram
1500
Big Horn Extended Cab Pickup 4-Door 3.0L 2987CC 182Cu. In. V6 DIESEL DOHC Turbocharged
2018
Ram
1500
Big Horn Extended Cab Pickup 4-Door 3.6L 3604CC 220Cu. In. V6 FLEX DOHC Naturally Aspirated
2018
Ram
1500
Big Horn Extended Cab Pickup 4-Door 3.6L 3604CC 220Cu. In. V6 GAS DOHC Naturally Aspirated
2018
Ram
1500
Big Horn Extended Cab Pickup 4-Door 5.7L 345Cu. In. V8 GAS OHV Naturally Aspirated
2018
Ram
1500
Big Horn Standard Cab Pickup 2-Door 3.0L 2987CC 182Cu. In. V6 DIESEL DOHC Turbocharged
2018
Ram
1500
Big Horn Standard Cab Pickup 2-Door 3.6L 3604CC 220Cu. In. V6 FLEX DOHC Naturally Aspirated
2018
Ram
1500
Big Horn Standard Cab Pickup 2-Door 5.7L 345Cu. In. V8 GAS OHV Naturally Aspirated
2018
Ram
1500
Express Crew Cab Pickup 4-Door 3.6L 3604CC 220Cu. In. V6 FLEX DOHC Naturally Aspirated
2018
Ram
1500
Express Crew Cab Pickup 4-Door 5.7L 345Cu. In. V8 GAS OHV Naturally Aspirated
2018
Ram
1500
Express Extended Cab Pickup 4-Door 3.6L 3604CC 220Cu. In. V6 FLEX DOHC Naturally Aspirated
2018
Ram
1500
Express Extended Cab Pickup 4-Door 5.7L 345Cu. In. V8 GAS OHV Naturally Aspirated
2018
Ram
1500
Express Standard Cab Pickup 2-Door 3.6L 3604CC 220Cu. In. V6 FLEX DOHC Naturally Aspirated
2018
Ram
1500
Express Standard Cab Pickup 2-Door 5.7L 345Cu. In. V8 GAS OHV Naturally Aspirated
2018
Ram
1500
Laramie Crew Cab Pickup 4-Door 3.0L 2987CC 182Cu. In. V6 DIESEL DOHC Turbocharged
2018
Ram
1500
Laramie Crew Cab Pickup 4-Door 3.6L 3604CC 220Cu. In. V6 FLEX DOHC Naturally Aspirated
2018
Ram
1500
Laramie Crew Cab Pickup 4-Door 5.7L 345Cu. In. V8 GAS OHV Naturally Aspirated
2018
Ram
1500
Laramie Extended Cab Pickup 4-Door 3.0L 2987CC 182Cu. In. V6 DIESEL DOHC Turbocharged
2018
Ram
1500
Laramie Extended Cab Pickup 4-Door 3.6L 3604CC 220Cu. In. V6 FLEX DOHC Naturally Aspirated
2018
Ram
1500
Laramie Extended Cab Pickup 4-Door 5.7L 345Cu. In. V8 GAS OHV Naturally Aspirated
2018
Ram
1500
Laramie Limited Crew Cab Pickup 4-Door 3.0L 2987CC 182Cu. In. V6 DIESEL DOHC Turbocharged
2018
Ram
1500
Laramie Limited Crew Cab Pickup 4-Door 5.7L 345Cu. In. V8 GAS OHV Naturally Aspirated
2018
Ram
1500
Laramie Longhorn Crew Cab Pickup 4-Door 3.0L 2987CC 182Cu. In. V6 DIESEL DOHC Turbocharged
2018
Ram
1500
Laramie Longhorn Crew Cab Pickup 4-Door 5.7L 345Cu. In. V8 GAS OHV Naturally Aspirated
2018
Ram
1500
Limited Crew Cab Pickup 4-Door 3.0L 2987CC 182Cu. In. V6 DIESEL DOHC Turbocharged
2018
Ram
1500
Limited Crew Cab Pickup 4-Door 5.7L 345Cu. In. V8 GAS OHV Naturally Aspirated
2018
Ram
1500
Lone Star Crew Cab Pickup 4-Door 3.0L 2987CC 182Cu. In. V6 DIESEL DOHC Turbocharged
2018
Ram
1500
Lone Star Crew Cab Pickup 4-Door 3.6L 3604CC 220Cu. In. V6 FLEX DOHC Naturally Aspirated
2018
Ram
1500
Lone Star Crew Cab Pickup 4-Door 5.7L 345Cu. In. V8 GAS OHV Naturally Aspirated
2018
Ram
1500
Lone Star Extended Cab Pickup 4-Door 3.0L 2987CC 182Cu. In. V6 DIESEL DOHC Turbocharged
2018
Ram
1500
Lone Star Extended Cab Pickup 4-Door 3.6L 3604CC 220Cu. In. V6 FLEX DOHC Naturally Aspirated
2018
Ram
1500
Lone Star Extended Cab Pickup 4-Door 5.7L 345Cu. In. V8 GAS OHV Naturally Aspirated
2018
Ram
1500
Lone Star Standard Cab Pickup 2-Door 3.0L 2987CC 182Cu. In. V6 DIESEL DOHC Turbocharged
2018
Ram
1500
Lone Star Standard Cab Pickup 2-Door 3.6L 3604CC 220Cu. In. V6 FLEX DOHC Naturally Aspirated
2018
Ram
1500
Lone Star Standard Cab Pickup 2-Door 5.7L 345Cu. In. V8 GAS OHV Naturally Aspirated
2018
Ram
1500
Outdoorsman Crew Cab Pickup 4-Door 3.0L 2987CC 182Cu. In. V6 DIESEL DOHC Turbocharged
2018
Ram
1500
Outdoorsman Crew Cab Pickup 4-Door 3.6L 3604CC 220Cu. In. V6 FLEX DOHC Naturally Aspirated
2018
Ram
1500
Outdoorsman Crew Cab Pickup 4-Door 5.7L 345Cu. In. V8 GAS OHV Naturally Aspirated
2018
Ram
1500
Outdoorsman Extended Cab Pickup 4-Door 3.0L 2987CC 182Cu. In. V6 DIESEL DOHC Turbocharged
2018
Ram
1500
Outdoorsman Extended Cab Pickup 4-Door 3.6L 3604CC 220Cu. In. V6 FLEX DOHC Naturally Aspirated
2018
Ram
1500
Outdoorsman Extended Cab Pickup 4-Door 5.7L 345Cu. In. V8 GAS OHV Naturally Aspirated
2018
Ram
1500
Rebel Crew Cab Pickup 4-Door 3.6L 3604CC 220Cu. In. V6 FLEX DOHC Naturally Aspirated
2018
Ram
1500
Rebel Crew Cab Pickup 4-Door 5.7L 345Cu. In. V8 GAS OHV Naturally Aspirated
2018
Ram
1500
SLT Crew Cab Pickup 4-Door 3.0L 2987CC 182Cu. In. V6 DIESEL DOHC Turbocharged
2018
Ram
1500
SLT Crew Cab Pickup 4-Door 3.6L 3604CC 220Cu. In. V6 FLEX DOHC Naturally Aspirated
2018
Ram
1500
SLT Crew Cab Pickup 4-Door 3.6L 3604CC 220Cu. In. V6 GAS DOHC Naturally Aspirated
2018
Ram
1500
SLT Crew Cab Pickup 4-Door 5.7L 345Cu. In. V8 GAS OHV Naturally Aspirated
2018
Ram
1500
SLT Extended Cab Pickup 4-Door 3.0L 2987CC 182Cu. In. V6 DIESEL DOHC Turbocharged
2018
Ram
1500
SLT Extended Cab Pickup 4-Door 3.6L 3604CC 220Cu. In. V6 FLEX DOHC Naturally Aspirated
2018
Ram
1500
SLT Extended Cab Pickup 4-Door 5.7L 345Cu. In. V8 GAS OHV Naturally Aspirated
2018
Ram
1500
SLT Standard Cab Pickup 2-Door 3.0L 2987CC 182Cu. In. V6 DIESEL DOHC Turbocharged
2018
Ram
1500
SLT Standard Cab Pickup 2-Door 3.6L 3604CC 220Cu. In. V6 FLEX DOHC Naturally Aspirated
2018
Ram
1500
SLT Standard Cab Pickup 2-Door 5.7L 345Cu. In. V8 GAS OHV Naturally Aspirated
2018
Ram
1500
Special Service Crew Cab Pickup 4-Door 5.7L 345Cu. In. V8 GAS OHV Naturally Aspirated
2018
Ram
1500
Sport Crew Cab Pickup 4-Door 3.6L 3604CC 220Cu. In. V6 FLEX DOHC Naturally Aspirated
2018
Ram
1500
Sport Crew Cab Pickup 4-Door 5.7L 345Cu. In. V8 GAS OHV Naturally Aspirated
2018
Ram
1500
Sport Extended Cab Pickup 4-Door 3.6L 3604CC 220Cu. In. V6 FLEX DOHC Naturally Aspirated
2018
Ram
1500
Sport Extended Cab Pickup 4-Door 5.7L 345Cu. In. V8 GAS OHV Naturally Aspirated
2018
Ram
1500
Sport Standard Cab Pickup 2-Door 3.6L 3604CC 220Cu. In. V6 FLEX DOHC Naturally Aspirated
2018
Ram
1500
Sport Standard Cab Pickup 2-Door 5.7L 345Cu. In. V8 GAS OHV Naturally Aspirated
2018
Ram
1500
ST Crew Cab Pickup 4-Door 3.0L 2987CC 182Cu. In. V6 DIESEL DOHC Turbocharged
2018
Ram
1500
ST Crew Cab Pickup 4-Door 3.6L 3604CC 220Cu. In. V6 FLEX DOHC Naturally Aspirated
2018
Ram
1500
ST Crew Cab Pickup 4-Door 5.7L 345Cu. In. V8 GAS OHV Naturally Aspirated
2018
Ram
1500
ST Extended Cab Pickup 4-Door 3.0L 2987CC 182Cu. In. V6 DIESEL DOHC Turbocharged
2018
Ram
1500
ST Extended Cab Pickup 4-Door 3.6L 3604CC 220Cu. In. V6 FLEX DOHC Naturally Aspirated
2018
Ram
1500
ST Extended Cab Pickup 4-Door 5.7L 345Cu. In. V8 GAS OHV Naturally Aspirated
2018
Ram
1500
ST Standard Cab Pickup 2-Door 3.0L 2987CC 182Cu. In. V6 DIESEL DOHC Turbocharged
2018
Ram
1500
ST Standard Cab Pickup 2-Door 3.6L 3604CC 220Cu. In. V6 FLEX DOHC Naturally Aspirated
2018
Ram
1500
ST Standard Cab Pickup 2-Door 3.6L 3604CC 220Cu. In. V6 GAS DOHC Naturally Aspirated
2018
Ram
1500
ST Standard Cab Pickup 2-Door 5.7L 345Cu. In. V8 GAS OHV Naturally Aspirated
2018
Ram
1500
SXT Crew Cab Pickup 4-Door 3.6L 3604CC 220Cu. In. V6 FLEX DOHC Naturally Aspirated
2018
Ram
1500
SXT Crew Cab Pickup 4-Door 5.7L 345Cu. In. V8 GAS OHV Naturally Aspirated
2018
Ram
1500
SXT Extended Cab Pickup 4-Door 3.6L 3604CC 220Cu. In. V6 FLEX DOHC Naturally Aspirated
2018
Ram
1500
SXT Extended Cab Pickup 4-Door 5.7L 345Cu. In. V8 GAS OHV Naturally Aspirated
2018
Ram
1500
SXT Standard Cab Pickup 2-Door 3.6L 3604CC 220Cu. In. V6 FLEX DOHC Naturally Aspirated
2018
Ram
1500
SXT Standard Cab Pickup 2-Door 5.7L 345Cu. In. V8 GAS OHV Naturally Aspirated
2018
Ram
1500
Tradesman Crew Cab Pickup 4-Door 3.0L 2987CC 182Cu. In. V6 DIESEL DOHC Turbocharged
2018
Ram
1500
Tradesman Crew Cab Pickup 4-Door 3.6L 3604CC 220Cu. In. V6 FLEX DOHC Naturally Aspirated
2018
Ram
1500
Tradesman Crew Cab Pickup 4-Door 5.7L 345Cu. In. V8 GAS OHV Naturally Aspirated
2018
Ram
1500
Tradesman Extended Cab Pickup 4-Door 3.0L 2987CC 182Cu. In. V6 DIESEL DOHC Turbocharged
2018
Ram
1500
Tradesman Extended Cab Pickup 4-Door 3.6L 3604CC 220Cu. In. V6 FLEX DOHC Naturally Aspirated
2018
Ram
1500
Tradesman Extended Cab Pickup 4-Door 5.7L 345Cu. In. V8 GAS OHV Naturally Aspirated
2018
Ram
1500
Tradesman Standard Cab Pickup 2-Door 3.0L 2987CC 182Cu. In. V6 DIESEL DOHC Turbocharged
2018
Ram
1500
Tradesman Standard Cab Pickup 2-Door 3.6L 3604CC 220Cu. In. V6 FLEX DOHC Naturally Aspirated
2018
Ram
1500
Tradesman Standard Cab Pickup 2-Door 5.7L 345Cu. In. V8 GAS OHV Naturally Aspirated
2018
Ram
2500
Big Horn Crew Cab Pickup 4-Door 5.7L 345Cu. In. V8 GAS OHV Naturally Aspirated
2018
Ram
2500
Big Horn Crew Cab Pickup 4-Door 6.4L 6424CC 392Cu. In. V8 GAS OHV Naturally Aspirated
2018
Ram
2500
Big Horn Crew Cab Pickup 4-Door 6.7L 408Cu. In. l6 DIESEL OHV Turbocharged
2018
Ram
2500
Big Horn Extended Crew Cab Pickup 4-Door 5.7L 345Cu. In. V8 GAS OHV Naturally Aspirated
2018
Ram
2500
Big Horn Extended Crew Cab Pickup 4-Door 6.4L 6424CC 392Cu. In. V8 GAS OHV Naturally Aspirated
2018
Ram
2500
Big Horn Extended Crew Cab Pickup 4-Door 6.7L 408Cu. In. l6 DIESEL OHV Turbocharged
2018
Ram
2500
Laramie Crew Cab Pickup 4-Door 5.7L 345Cu. In. V8 GAS OHV Naturally Aspirated
2018
Ram
2500
Laramie Crew Cab Pickup 4-Door 6.4L 6424CC 392Cu. In. V8 GAS OHV Naturally Aspirated
2018
Ram
2500
Laramie Crew Cab Pickup 4-Door 6.7L 408Cu. In. l6 DIESEL OHV Turbocharged
2018
Ram
2500
Laramie Extended Crew Cab Pickup 4-Door 5.7L 345Cu. In. V8 GAS OHV Naturally Aspirated
2018
Ram
2500
Laramie Extended Crew Cab Pickup 4-Door 6.4L 6424CC 392Cu. In. V8 GAS OHV Naturally Aspirated
2018
Ram
2500
Laramie Extended Crew Cab Pickup 4-Door 6.7L 408Cu. In. l6 DIESEL OHV Turbocharged
2018
Ram
2500
Laramie Limited Crew Cab Pickup 4-Door 6.4L 6424CC 392Cu. In. V8 GAS OHV Naturally Aspirated
2018
Ram
2500
Laramie Limited Crew Cab Pickup 4-Door 6.7L 408Cu. In. l6 DIESEL OHV Turbocharged
2018
Ram
2500
Laramie Limited Extended Crew Cab Pickup 4-Door 6.4L 6424CC 392Cu. In. V8 GAS OHV Naturally Aspirated
2018
Ram
2500
Laramie Limited Extended Crew Cab Pickup 4-Door 6.7L 408Cu. In. l6 DIESEL OHV Turbocharged
2018
Ram
2500
Laramie Longhorn Crew Cab Pickup 4-Door 5.7L 345Cu. In. V8 GAS OHV Naturally Aspirated
2018
Ram
2500
Laramie Longhorn Crew Cab Pickup 4-Door 6.4L 6424CC 392Cu. In. V8 GAS OHV Naturally Aspirated
2018
Ram
2500
Laramie Longhorn Crew Cab Pickup 4-Door 6.7L 408Cu. In. l6 DIESEL OHV Turbocharged
2018
Ram
2500
Laramie Longhorn Extended Crew Cab Pickup 4-Door 5.7L 345Cu. In. V8 GAS OHV Naturally Aspirated
2018
Ram
2500
Laramie Longhorn Extended Crew Cab Pickup 4-Door 6.4L 6424CC 392Cu. In. V8 GAS OHV Naturally Aspirated
2018
Ram
2500
Laramie Longhorn Extended Crew Cab Pickup 4-Door 6.7L 408Cu. In. l6 DIESEL OHV Turbocharged
2018
Ram
2500
Limited Crew Cab Pickup 4-Door 6.4L 6424CC 392Cu. In. V8 GAS OHV Naturally Aspirated
2018
Ram
2500
Limited Crew Cab Pickup 4-Door 6.7L 408Cu. In. l6 DIESEL OHV Turbocharged
2018
Ram
2500
Limited Extended Crew Cab Pickup 4-Door 6.4L 6424CC 392Cu. In. V8 GAS OHV Naturally Aspirated
2018
Ram
2500
Limited Extended Crew Cab Pickup 4-Door 6.7L 408Cu. In. l6 DIESEL OHV Turbocharged
2018
Ram
2500
Limited Tungsten Crew Cab Pickup 4-Door 5.7L 345Cu. In. V8 GAS OHV Naturally Aspirated
2018
Ram
2500
Limited Tungsten HD Crew Cab Pickup 4-Door 6.4L 6424CC 392Cu. In. V8 GAS OHV Naturally Aspirated
2018
Ram
2500
Outdoorsman Crew Cab Pickup 4-Door 5.7L 345Cu. In. V8 GAS OHV Naturally Aspirated
2018
Ram
2500
Outdoorsman Crew Cab Pickup 4-Door 6.4L 6424CC 392Cu. In. V8 GAS OHV Naturally Aspirated
2018
Ram
2500
Outdoorsman Crew Cab Pickup 4-Door 6.7L 408Cu. In. l6 DIESEL OHV Turbocharged
2018
Ram
2500
Power Wagon Crew Cab Pickup 4-Door 6.4L 6424CC 392Cu. In. V8 GAS OHV Naturally Aspirated
2018
Ram
2500
R/T Extended Cab Pickup 4-Door 5.7L 345Cu. In. V8 GAS OHV Naturally Aspirated
2018
Ram
2500
R/T Standard Cab Pickup 2-Door 5.7L 345Cu. In. V8 GAS OHV Naturally Aspirated
2018
Ram
2500
SLT Crew Cab Pickup 4-Door 5.7L 345Cu. In. V8 CNG OHV Naturally Aspirated
2018
Ram
2500
SLT Crew Cab Pickup 4-Door 5.7L 345Cu. In. V8 GAS OHV Naturally Aspirated
2018
Ram
2500
SLT Crew Cab Pickup 4-Door 6.4L 6424CC 392Cu. In. V8 GAS OHV Naturally Aspirated
2018
Ram
2500
SLT Crew Cab Pickup 4-Door 6.7L 408Cu. In. l6 DIESEL OHV Turbocharged
2018
Ram
2500
SLT Extended Crew Cab Pickup 4-Door 5.7L 345Cu. In. V8 CNG OHV Naturally Aspirated
2018
Ram
2500
SLT Extended Crew Cab Pickup 4-Door 5.7L 345Cu. In. V8 GAS OHV Naturally Aspirated
2018
Ram
2500
SLT Extended Crew Cab Pickup 4-Door 6.4L 6424CC 392Cu. In. V8 GAS OHV Naturally Aspirated
2018
Ram
2500
SLT Extended Crew Cab Pickup 4-Door 6.7L 408Cu. In. l6 DIESEL OHV Turbocharged
2018
Ram
2500
SLT HD Crew Cab Pickup 4-Door 6.4L 6424CC 392Cu. In. V8 GAS OHV Naturally Aspirated
2018
Ram
2500
SLT Standard Cab Pickup 2-Door 5.7L 345Cu. In. V8 CNG OHV Naturally Aspirated
2018
Ram
2500
SLT Standard Cab Pickup 2-Door 5.7L 345Cu. In. V8 GAS OHV Naturally Aspirated
2018
Ram
2500
SLT Standard Cab Pickup 2-Door 6.4L 6424CC 392Cu. In. V8 GAS OHV Naturally Aspirated
2018
Ram
2500
SLT Standard Cab Pickup 2-Door 6.7L 408Cu. In. l6 DIESEL OHV Turbocharged
2018
Ram
2500
Sport Crew Cab Pickup 4-Door 5.7L 345Cu. In. V8 GAS OHV Naturally Aspirated
2018
Ram
2500
Sport Standard Cab Pickup 2-Door 5.7L 345Cu. In. V8 GAS OHV Naturally Aspirated
2018
Ram
2500
ST Crew Cab Pickup 4-Door 5.7L 345Cu. In. V8 CNG OHV Naturally Aspirated
2018
Ram
2500
ST Crew Cab Pickup 4-Door 5.7L 345Cu. In. V8 GAS OHV Naturally Aspirated
2018
Ram
2500
ST Crew Cab Pickup 4-Door 6.4L 6424CC 392Cu. In. V8 GAS OHV Naturally Aspirated
2018
Ram
2500
ST Crew Cab Pickup 4-Door 6.7L 408Cu. In. l6 DIESEL OHV Turbocharged
2018
Ram
2500
ST Standard Cab Pickup 2-Door 5.7L 345Cu. In. V8 CNG OHV Naturally Aspirated
2018
Ram
2500
ST Standard Cab Pickup 2-Door 5.7L 345Cu. In. V8 GAS OHV Naturally Aspirated
2018
Ram
2500
ST Standard Cab Pickup 2-Door 6.4L 6424CC 392Cu. In. V8 GAS OHV Naturally Aspirated
2018
Ram
2500
ST Standard Cab Pickup 2-Door 6.7L 408Cu. In. l6 DIESEL OHV Turbocharged
2018
Ram
2500
Tradesman Crew Cab Pickup 4-Door 5.7L 345Cu. In. V8 CNG OHV Naturally Aspirated
2018
Ram
2500
Tradesman Crew Cab Pickup 4-Door 5.7L 345Cu. In. V8 GAS OHV Naturally Aspirated
2018
Ram
2500
Tradesman Crew Cab Pickup 4-Door 6.4L 6424CC 392Cu. In. V8 GAS OHV Naturally Aspirated
2018
Ram
2500
Tradesman Crew Cab Pickup 4-Door 6.7L 408Cu. In. l6 DIESEL OHV Turbocharged
2018
Ram
2500
Tradesman Standard Cab Pickup 2-Door 5.7L 345Cu. In. V8 CNG OHV Naturally Aspirated
2018
Ram
2500
Tradesman Standard Cab Pickup 2-Door 5.7L 345Cu. In. V8 GAS OHV Naturally Aspirated
2018
Ram
2500
Tradesman Standard Cab Pickup 2-Door 6.4L 6424CC 392Cu. In. V8 GAS OHV Naturally Aspirated
2018
Ram
2500
Tradesman Standard Cab Pickup 2-Door 6.7L 408Cu. In. l6 DIESEL OHV Turbocharged
2017
Chevrolet
Malibu
Hybrid Sedan 4-Door 1.8L 1796CC 110Cu. In. l4 ELECTRIC/GAS DOHC Naturally Aspirated
2017
Chevrolet
Malibu
L Sedan 4-Door 1.5L 1490CC 91Cu. In. l4 GAS DOHC Turbocharged
2017
Chevrolet
Malibu
LS Sedan 4-Door 1.5L 1490CC 91Cu. In. l4 GAS DOHC Turbocharged
2017
Chevrolet
Malibu
LT Sedan 4-Door 1.5L 1490CC 91Cu. In. l4 GAS DOHC Turbocharged
2017
Chevrolet
Malibu
Premier Sedan 4-Door 2.0L 1998CC 122Cu. In. l4 GAS DOHC Turbocharged
2017
Chevrolet
Silverado 1500
Custom Extended Cab Pickup 4-Door 4.3L 262Cu. In. V6 FLEX OHV Naturally Aspirated
2017
Chevrolet
Silverado 1500
Custom Extended Cab Pickup 4-Door 5.3L 5328CC 325Cu. In. V8 FLEX OHV Naturally Aspirated
2017
Chevrolet
Silverado 1500
Custom Extended Cab Pickup 4-Door 5.3L 5328CC 325Cu. In. V8 GAS OHV Naturally Aspirated
2017
Chevrolet
Silverado 1500
High Country Crew Cab Pickup 4-Door 5.3L 5328CC 325Cu. In. V8 FLEX OHV Naturally Aspirated
2017
Chevrolet
Silverado 1500
High Country Crew Cab Pickup 4-Door 5.3L 5328CC 325Cu. In. V8 GAS OHV Naturally Aspirated
2017
Chevrolet
Silverado 1500
High Country Crew Cab Pickup 4-Door 6.2L 6162CC 376Cu. In. V8 GAS OHV Naturally Aspirated
2017
Chevrolet
Silverado 1500
LS Crew Cab Pickup 4-Door 4.3L 262Cu. In. V6 FLEX OHV Naturally Aspirated
2017
Chevrolet
Silverado 1500
LS Crew Cab Pickup 4-Door 5.3L 5328CC 325Cu. In. V8 FLEX OHV Naturally Aspirated
2017
Chevrolet
Silverado 1500
LS Crew Cab Pickup 4-Door 5.3L 5328CC 325Cu. In. V8 GAS OHV Naturally Aspirated
2017
Chevrolet
Silverado 1500
LS Extended Cab Pickup 4-Door 4.3L 262Cu. In. V6 FLEX OHV Naturally Aspirated
2017
Chevrolet
Silverado 1500
LS Extended Cab Pickup 4-Door 5.3L 5328CC 325Cu. In. V8 FLEX OHV Naturally Aspirated
2017
Chevrolet
Silverado 1500
LS Extended Cab Pickup 4-Door 5.3L 5328CC 325Cu. In. V8 GAS OHV Naturally Aspirated
2017
Chevrolet
Silverado 1500
LS Standard Cab Pickup 2-Door 4.3L 262Cu. In. V6 FLEX OHV Naturally Aspirated
2017
Chevrolet
Silverado 1500
LS Standard Cab Pickup 2-Door 4.3L 262Cu. In. V6 GAS OHV Naturally Aspirated
2017
Chevrolet
Silverado 1500
LS Standard Cab Pickup 2-Door 5.3L 5328CC 325Cu. In. V8 FLEX OHV Naturally Aspirated
2017
Chevrolet
Silverado 1500
LS Standard Cab Pickup 2-Door 5.3L 5328CC 325Cu. In. V8 GAS OHV Naturally Aspirated
2017
Chevrolet
Silverado 1500
LT Crew Cab Pickup 4-Door 4.3L 262Cu. In. V6 FLEX OHV Naturally Aspirated
2017
Chevrolet
Silverado 1500
LT Crew Cab Pickup 4-Door 5.3L 5328CC 325Cu. In. V8 ELECTRIC/GAS OHV Naturally Aspirated
2017
Chevrolet
Silverado 1500
LT Crew Cab Pickup 4-Door 5.3L 5328CC 325Cu. In. V8 FLEX OHV Naturally Aspirated
2017
Chevrolet
Silverado 1500
LT Crew Cab Pickup 4-Door 5.3L 5328CC 325Cu. In. V8 GAS OHV Naturally Aspirated
2017
Chevrolet
Silverado 1500
LT Extended Cab Pickup 4-Door 4.3L 262Cu. In. V6 FLEX OHV Naturally Aspirated
2017
Chevrolet
Silverado 1500
LT Extended Cab Pickup 4-Door 5.3L 5328CC 325Cu. In. V8 ELECTRIC/GAS OHV Naturally Aspirated
2017
Chevrolet
Silverado 1500
LT Extended Cab Pickup 4-Door 5.3L 5328CC 325Cu. In. V8 FLEX OHV Naturally Aspirated
2017
Chevrolet
Silverado 1500
LT Extended Cab Pickup 4-Door 5.3L 5328CC 325Cu. In. V8 GAS OHV Naturally Aspirated
2017
Chevrolet
Silverado 1500
LT Standard Cab Pickup 2-Door 4.3L 262Cu. In. V6 FLEX OHV Naturally Aspirated
2017
Chevrolet
Silverado 1500
LT Standard Cab Pickup 2-Door 5.3L 5328CC 325Cu. In. V8 ELECTRIC/GAS OHV Naturally Aspirated
2017
Chevrolet
Silverado 1500
LT Standard Cab Pickup 2-Door 5.3L 5328CC 325Cu. In. V8 FLEX OHV Naturally Aspirated
2017
Chevrolet
Silverado 1500
LT Standard Cab Pickup 2-Door 5.3L 5328CC 325Cu. In. V8 GAS OHV Naturally Aspirated
2017
Chevrolet
Silverado 1500
LTZ Crew Cab Pickup 4-Door 5.3L 5328CC 325Cu. In. V8 GAS OHV Naturally Aspirated
2017
Chevrolet
Silverado 1500
LTZ Crew Cab Pickup 4-Door 6.2L 6162CC 376Cu. In. V8 GAS OHV Naturally Aspirated
2017
Chevrolet
Silverado 1500
LTZ Extended Cab Pickup 4-Door 5.3L 5328CC 325Cu. In. V8 GAS OHV Naturally Aspirated
2017
Chevrolet
Silverado 1500
LTZ Extended Cab Pickup 4-Door 6.2L 6162CC 376Cu. In. V8 GAS OHV Naturally Aspirated
2017
Chevrolet
Silverado 1500
SSV Crew Cab Pickup 4-Door 5.3L 5328CC 325Cu. In. V8 FLEX OHV Naturally Aspirated
2017
Chevrolet
Silverado 1500
SSV Crew Cab Pickup 4-Door 5.3L 5328CC 325Cu. In. V8 GAS OHV Naturally Aspirated
2017
Chevrolet
Silverado 1500
WT Crew Cab Pickup 4-Door 4.3L 262Cu. In. V6 FLEX OHV Naturally Aspirated
2017
Chevrolet
Silverado 1500
WT Crew Cab Pickup 4-Door 5.3L 5328CC 325Cu. In. V8 FLEX OHV Naturally Aspirated
2017
Chevrolet
Silverado 1500
WT Crew Cab Pickup 4-Door 5.3L 5328CC 325Cu. In. V8 GAS OHV Naturally Aspirated
2017
Chevrolet
Silverado 1500
WT Extended Cab Pickup 4-Door 4.3L 262Cu. In. V6 FLEX OHV Naturally Aspirated
2017
Chevrolet
Silverado 1500
WT Extended Cab Pickup 4-Door 5.3L 5328CC 325Cu. In. V8 FLEX OHV Naturally Aspirated
2017
Chevrolet
Silverado 1500
WT Extended Cab Pickup 4-Door 5.3L 5328CC 325Cu. In. V8 GAS OHV Naturally Aspirated
2017
Chevrolet
Silverado 1500
WT Standard Cab Pickup 2-Door 4.3L 262Cu. In. V6 FLEX OHV Naturally Aspirated
2017
Chevrolet
Silverado 1500
WT Standard Cab Pickup 2-Door 5.3L 5328CC 325Cu. In. V8 FLEX OHV Naturally Aspirated
2017
Chevrolet
Silverado 1500
WT Standard Cab Pickup 2-Door 5.3L 5328CC 325Cu. In. V8 GAS OHV Naturally Aspirated
2017
Ford
Explorer
Base Sport Utility 4-Door 2.3L 2300CC 140Cu. In. l4 GAS DOHC Turbocharged
2017
Ford
Explorer
Base Sport Utility 4-Door 3.5L 3496CC 213Cu. In. V6 GAS DOHC Naturally Aspirated
2017
Ford
Explorer
Limited Sport Utility 4-Door 2.3L 2300CC 140Cu. In. l4 GAS DOHC Turbocharged
2017
Ford
Explorer
Limited Sport Utility 4-Door 3.5L 3496CC 213Cu. In. V6 GAS DOHC Naturally Aspirated
2017
Ford
Explorer
Platinum Sport Utility 4-Door 3.5L 3496CC 213Cu. In. V6 GAS DOHC Turbocharged
2017
Ford
Explorer
Sport Sport Utility 4-Door 3.5L 3496CC 213Cu. In. V6 GAS DOHC Turbocharged
2017
Ford
Explorer
XLT Sport Utility 4-Door 2.3L 2300CC 140Cu. In. l4 GAS DOHC Turbocharged
2017
Ford
Explorer
XLT Sport Utility 4-Door 3.5L 3496CC 213Cu. In. V6 GAS DOHC Naturally Aspirated
2017
Ford
F-150
King Ranch Crew Cab Pickup 4-Door 3.5L 3496CC 213Cu. In. V6 GAS DOHC Turbocharged
2017
Ford
F-150
King Ranch Crew Cab Pickup 4-Door 5.0L 4951CC 302Cu. In. V8 FLEX DOHC Naturally Aspirated
2017
Ford
F-150
Lariat Crew Cab Pickup 4-Door 2.7L 164Cu. In. V6 GAS DOHC Turbocharged
2017
Ford
F-150
Lariat Crew Cab Pickup 4-Door 3.5L 3496CC 213Cu. In. V6 GAS DOHC Turbocharged
2017
Ford
F-150
Lariat Crew Cab Pickup 4-Door 5.0L 4951CC 302Cu. In. V8 FLEX DOHC Naturally Aspirated
2017
Ford
F-150
Lariat Extended Cab Pickup 4-Door 2.7L 164Cu. In. V6 GAS DOHC Turbocharged
2017
Ford
F-150
Lariat Extended Cab Pickup 4-Door 3.5L 3496CC 213Cu. In. V6 GAS DOHC Turbocharged
2017
Ford
F-150
Lariat Extended Cab Pickup 4-Door 5.0L 4951CC 302Cu. In. V8 FLEX DOHC Naturally Aspirated
2017
Ford
F-150
Limited Crew Cab Pickup 4-Door 3.5L 3496CC 213Cu. In. V6 GAS DOHC Turbocharged
2017
Ford
F-150
Platinum Crew Cab Pickup 4-Door 3.5L 3496CC 213Cu. In. V6 GAS DOHC Turbocharged
2017
Ford
F-150
Platinum Crew Cab Pickup 4-Door 5.0L 4951CC 302Cu. In. V8 FLEX DOHC Naturally Aspirated
2017
Ford
F-150
Raptor Crew Cab Pickup 4-Door 3.5L 3496CC 213Cu. In. V6 GAS DOHC Turbocharged
2017
Ford
F-150
Raptor Extended Cab Pickup 4-Door 3.5L 3496CC 213Cu. In. V6 GAS DOHC Turbocharged
2017
Ford
F-150
SSV Crew Cab Pickup 4-Door 3.5L 3496CC 213Cu. In. V6 GAS DOHC Turbocharged
2017
Ford
F-150
SSV Crew Cab Pickup 4-Door 5.0L 4951CC 302Cu. In. V8 FLEX DOHC Naturally Aspirated
2017
Ford
F-150
SSV Extended Cab Pickup 4-Door 3.5L 3496CC 213Cu. In. V6 GAS DOHC Turbocharged
2017
Ford
F-150
SSV Extended Cab Pickup 4-Door 5.0L 4951CC 302Cu. In. V8 FLEX DOHC Naturally Aspirated
2017
Ford
F-150
XL Crew Cab Pickup 4-Door 2.7L 164Cu. In. V6 GAS DOHC Turbocharged
2017
Ford
F-150
XL Crew Cab Pickup 4-Door 3.5L 3496CC 213Cu. In. V6 FLEX DOHC Naturally Aspirated
2017
Ford
F-150
XL Crew Cab Pickup 4-Door 3.5L 3496CC 213Cu. In. V6 GAS DOHC Naturally Aspirated
2017
Ford
F-150
XL Crew Cab Pickup 4-Door 3.5L 3496CC 213Cu. In. V6 GAS DOHC Turbocharged
2017
Ford
F-150
XL Crew Cab Pickup 4-Door 5.0L 4951CC 302Cu. In. V8 FLEX DOHC Naturally Aspirated
2017
Ford
F-150
XL Crew Cab Pickup 4-Door 5.0L 4951CC 302Cu. In. V8 GAS DOHC Naturally Aspirated
2017
Ford
F-150
XL Extended Cab Pickup 4-Door 2.7L 164Cu. In. V6 GAS DOHC Turbocharged
2017
Ford
F-150
XL Extended Cab Pickup 4-Door 3.5L 3496CC 213Cu. In. V6 FLEX DOHC Naturally Aspirated
2017
Ford
F-150
XL Extended Cab Pickup 4-Door 3.5L 3496CC 213Cu. In. V6 GAS DOHC Turbocharged
2017
Ford
F-150
XL Extended Cab Pickup 4-Door 5.0L 4951CC 302Cu. In. V8 FLEX DOHC Naturally Aspirated
2017
Ford
F-150
XL Standard Cab Pickup 2-Door 2.7L 164Cu. In. V6 GAS DOHC Turbocharged
2017
Ford
F-150
XL Standard Cab Pickup 2-Door 3.5L 3496CC 213Cu. In. V6 FLEX DOHC Naturally Aspirated
2017
Ford
F-150
XL Standard Cab Pickup 2-Door 3.5L 3496CC 213Cu. In. V6 GAS DOHC Naturally Aspirated
2017
Ford
F-150
XL Standard Cab Pickup 2-Door 3.5L 3496CC 213Cu. In. V6 GAS DOHC Turbocharged
2017
Ford
F-150
XL Standard Cab Pickup 2-Door 5.0L 4951CC 302Cu. In. V8 FLEX DOHC Naturally Aspirated
2017
Ford
F-150
XL Standard Cab Pickup 2-Door 5.0L 4951CC 302Cu. In. V8 GAS DOHC Naturally Aspirated
2017
Ford
F-150
XLT Crew Cab Pickup 4-Door 2.7L 164Cu. In. V6 GAS DOHC Turbocharged
2017
Ford
F-150
XLT Crew Cab Pickup 4-Door 3.5L 3496CC 213Cu. In. V6 FLEX DOHC Naturally Aspirated
2017
Ford
F-150
XLT Crew Cab Pickup 4-Door 3.5L 3496CC 213Cu. In. V6 GAS DOHC Turbocharged
2017
Ford
F-150
XLT Crew Cab Pickup 4-Door 5.0L 4951CC 302Cu. In. V8 FLEX DOHC Naturally Aspirated
2017
Ford
F-150
XLT Extended Cab Pickup 4-Door 2.7L 164Cu. In. V6 GAS DOHC Turbocharged
2017
Ford
F-150
XLT Extended Cab Pickup 4-Door 3.5L 3496CC 213Cu. In. V6 FLEX DOHC Naturally Aspirated
2017
Ford
F-150
XLT Extended Cab Pickup 4-Door 3.5L 3496CC 213Cu. In. V6 GAS DOHC Turbocharged
2017
Ford
F-150
XLT Extended Cab Pickup 4-Door 5.0L 4951CC 302Cu. In. V8 FLEX DOHC Naturally Aspirated
2017
Ford
F-150
XLT Standard Cab Pickup 2-Door 2.7L 164Cu. In. V6 GAS DOHC Turbocharged
2017
Ford
F-150
XLT Standard Cab Pickup 2-Door 3.5L 3496CC 213Cu. In. V6 FLEX DOHC Naturally Aspirated
2017
Ford
F-150
XLT Standard Cab Pickup 2-Door 3.5L 3496CC 213Cu. In. V6 GAS DOHC Turbocharged
2017
Ford
F-150
XLT Standard Cab Pickup 2-Door 5.0L 4951CC 302Cu. In. V8 FLEX DOHC Naturally Aspirated
2017
Ford
Ranger
XL Crew Cab Pickup 4-Door 2.2L 2198CC 134Cu. In. l4 DIESEL DOHC Turbocharged
2017
Ford
Ranger
XL Crew Cab Pickup 4-Door 2.5L 2488CC 152Cu. In. l4 GAS DOHC Naturally Aspirated
2017
Ford
Ranger
XLT Crew Cab Pickup 4-Door 2.5L 2488CC 152Cu. In. l4 GAS DOHC Naturally Aspirated
2017
Ford
Ranger
XLT Crew Cab Pickup 4-Door 3.2L 195Cu. In. l5 DIESEL DOHC Turbocharged
2017
Honda
Accord
EX Coupe 2-Door 2.4L 2351CC l4 GAS DOHC Naturally Aspirated
2017
Honda
Accord
EX Sedan 4-Door 2.4L 2351CC l4 GAS DOHC Naturally Aspirated
2017
Honda
Accord
EX-L Coupe 2-Door 2.4L 2351CC l4 GAS DOHC Naturally Aspirated
2017
Honda
Accord
EX-L Coupe 2-Door 3.5L 3471CC V6 GAS SOHC Naturally Aspirated
2017
Honda
Accord
EX-L Sedan 4-Door 2.4L 2351CC l4 GAS DOHC Naturally Aspirated
2017
Honda
Accord
EX-L Sedan 4-Door 3.5L 3471CC V6 GAS SOHC Naturally Aspirated
2017
Honda
Accord
Hybrid EX-L Sedan 4-Door 2.0L 1993CC 122Cu. In. l4 ELECTRIC/GAS DOHC Naturally Aspirated
2017
Honda
Accord
Hybrid Sedan 4-Door 2.0L 1993CC 122Cu. In. l4 ELECTRIC/GAS DOHC Naturally Aspirated
2017
Honda
Accord
Hybrid Touring Sedan 4-Door 2.0L 1993CC 122Cu. In. l4 ELECTRIC/GAS DOHC Naturally Aspirated
2017
Honda
Accord
LX Sedan 4-Door 2.4L 2351CC l4 GAS DOHC Naturally Aspirated
2017
Honda
Accord
LX-S Coupe 2-Door 2.4L 2351CC l4 GAS DOHC Naturally Aspirated
2017
Honda
Accord
SE Sedan 4-Door 2.4L 2351CC l4 GAS DOHC Naturally Aspirated
2017
Honda
Accord
Sport Sedan 4-Door 2.4L 2351CC l4 GAS DOHC Naturally Aspirated
2017
Honda
Accord
Sport Special Edition Sedan 4-Door 2.4L 2351CC l4 GAS DOHC Naturally Aspirated
2017
Honda
Accord
Touring Coupe 2-Door 3.5L 3471CC V6 GAS SOHC Naturally Aspirated
2017
Honda
Accord
Touring Sedan 4-Door 3.5L 3471CC V6 GAS SOHC Naturally Aspirated
2017
Jeep
Grand Cherokee
Blindada Sport Utility 4-Door 5.7L 345Cu. In. V8 GAS OHV Naturally Aspirated
2017
Jeep
Grand Cherokee
Laredo Sport Utility 4-Door 3.6L 3604CC 220Cu. In. V6 FLEX DOHC Naturally Aspirated
2017
Jeep
Grand Cherokee
Limited Lujo Advance Sport Utility 4-Door 5.7L 345Cu. In. V8 GAS OHV Naturally Aspirated
2017
Jeep
Grand Cherokee
Limited Lujo Sport Utility 4-Door 3.6L 3604CC 220Cu. In. V6 FLEX DOHC Naturally Aspirated
2017
Jeep
Grand Cherokee
Limited Lujo Sport Utility 4-Door 5.7L 345Cu. In. V8 GAS OHV Naturally Aspirated
2017
Jeep
Grand Cherokee
Limited Sport Utility 4-Door 3.0L 2987CC 182Cu. In. V6 DIESEL DOHC Turbocharged
2017
Jeep
Grand Cherokee
Limited Sport Utility 4-Door 3.6L 3604CC 220Cu. In. V6 FLEX DOHC Naturally Aspirated
2017
Jeep
Grand Cherokee
Limited Sport Utility 4-Door 5.7L 345Cu. In. V8 GAS OHV Naturally Aspirated
2017
Jeep
Grand Cherokee
Overland Sport Utility 4-Door 3.0L 2987CC 182Cu. In. V6 DIESEL DOHC Turbocharged
2017
Jeep
Grand Cherokee
Overland Sport Utility 4-Door 3.6L 3604CC 220Cu. In. V6 FLEX DOHC Naturally Aspirated
2017
Jeep
Grand Cherokee
Overland Sport Utility 4-Door 5.7L 345Cu. In. V8 GAS OHV Naturally Aspirated
2017
Jeep
Grand Cherokee
SRT Sport Utility 4-Door 6.4L 6424CC 392Cu. In. V8 GAS OHV Naturally Aspirated
2017
Jeep
Grand Cherokee
Summit Elite Platinum Sport Utility 4-Door 5.7L 345Cu. In. V8 GAS OHV Naturally Aspirated
2017
Jeep
Grand Cherokee
Summit Sport Utility 4-Door 3.0L 2987CC 182Cu. In. V6 DIESEL DOHC Turbocharged
2017
Jeep
Grand Cherokee
Summit Sport Utility 4-Door 3.6L 3604CC 220Cu. In. V6 FLEX DOHC Naturally Aspirated
2017
Jeep
Grand Cherokee
Summit Sport Utility 4-Door 5.7L 345Cu. In. V8 GAS OHV Naturally Aspirated
2017
Jeep
Grand Cherokee
Trailhawk Sport Utility 4-Door 3.0L 2987CC 182Cu. In. V6 DIESEL DOHC Turbocharged
2017
Jeep
Grand Cherokee
Trailhawk Sport Utility 4-Door 3.6L 3604CC 220Cu. In. V6 FLEX DOHC Naturally Aspirated
2017
Jeep
Grand Cherokee
Trailhawk Sport Utility 4-Door 5.7L 345Cu. In. V8 GAS OHV Naturally Aspirated
2017
Nissan
Altima
Advance Sedan 4-Door 2.5L 2488CC 152Cu. In. l4 GAS DOHC Naturally Aspirated
2017
Nissan
Altima
Base Sedan 4-Door 2.5L 2488CC 152Cu. In. l4 GAS DOHC Naturally Aspirated
2017
Nissan
Altima
Exclusive Sedan 4-Door 3.5L 3498CC V6 GAS DOHC Naturally Aspirated
2017
Nissan
Altima
S Sedan 4-Door 2.5L 2488CC 152Cu. In. l4 GAS DOHC Naturally Aspirated
2017
Nissan
Altima
Sense Sedan 4-Door 2.5L 2488CC 152Cu. In. l4 GAS DOHC Naturally Aspirated
2017
Nissan
Altima
SL Sedan 4-Door 2.5L 2488CC 152Cu. In. l4 GAS DOHC Naturally Aspirated
2017
Nissan
Altima
SL Sedan 4-Door 3.5L 3498CC V6 GAS DOHC Naturally Aspirated
2017
Nissan
Altima
SR Sedan 4-Door 2.5L 2488CC 152Cu. In. l4 GAS DOHC Naturally Aspirated
2017
Nissan
Altima
SR Sedan 4-Door 3.5L 3498CC V6 GAS DOHC Naturally Aspirated
2017
Nissan
Altima
SV Sedan 4-Door 2.5L 2488CC 152Cu. In. l4 GAS DOHC Naturally Aspirated
2017
Ram
1500
Big Horn Crew Cab Pickup 4-Door 3.0L 2987CC 182Cu. In. V6 DIESEL DOHC Turbocharged
2017
Ram
1500
Big Horn Crew Cab Pickup 4-Door 3.6L 3604CC 220Cu. In. V6 FLEX DOHC Naturally Aspirated
2017
Ram
1500
Big Horn Crew Cab Pickup 4-Door 3.6L 3604CC 220Cu. In. V6 GAS DOHC Naturally Aspirated
2017
Ram
1500
Big Horn Crew Cab Pickup 4-Door 5.7L 345Cu. In. V8 GAS OHV Naturally Aspirated
2017
Ram
1500
Big Horn Extended Cab Pickup 4-Door 3.0L 2987CC 182Cu. In. V6 DIESEL DOHC Turbocharged
2017
Ram
1500
Big Horn Extended Cab Pickup 4-Door 3.6L 3604CC 220Cu. In. V6 FLEX DOHC Naturally Aspirated
2017
Ram
1500
Big Horn Extended Cab Pickup 4-Door 5.7L 345Cu. In. V8 GAS OHV Naturally Aspirated
2017
Ram
1500
Big Horn Standard Cab Pickup 2-Door 3.0L 2987CC 182Cu. In. V6 DIESEL DOHC Turbocharged
2017
Ram
1500
Big Horn Standard Cab Pickup 2-Door 3.6L 3604CC 220Cu. In. V6 FLEX DOHC Naturally Aspirated
2017
Ram
1500
Big Horn Standard Cab Pickup 2-Door 5.7L 345Cu. In. V8 GAS OHV Naturally Aspirated
2017
Ram
1500
Express Crew Cab Pickup 4-Door 3.6L 3604CC 220Cu. In. V6 FLEX DOHC Naturally Aspirated
2017
Ram
1500
Express Crew Cab Pickup 4-Door 5.7L 345Cu. In. V8 GAS OHV Naturally Aspirated
2017
Ram
1500
Express Extended Cab Pickup 4-Door 3.6L 3604CC 220Cu. In. V6 FLEX DOHC Naturally Aspirated
2017
Ram
1500
Express Extended Cab Pickup 4-Door 5.7L 345Cu. In. V8 GAS OHV Naturally Aspirated
2017
Ram
1500
Express Standard Cab Pickup 2-Door 3.6L 3604CC 220Cu. In. V6 FLEX DOHC Naturally Aspirated
2017
Ram
1500
Express Standard Cab Pickup 2-Door 5.7L 345Cu. In. V8 GAS OHV Naturally Aspirated
2017
Ram
1500
HFE Extended Cab Pickup 4-Door 3.0L 2987CC 182Cu. In. V6 DIESEL DOHC Turbocharged
2017
Ram
1500
Laramie Crew Cab Pickup 4-Door 3.0L 2987CC 182Cu. In. V6 DIESEL DOHC Turbocharged
2017
Ram
1500
Laramie Crew Cab Pickup 4-Door 3.6L 3604CC 220Cu. In. V6 FLEX DOHC Naturally Aspirated
2017
Ram
1500
Laramie Crew Cab Pickup 4-Door 5.7L 345Cu. In. V8 GAS OHV Naturally Aspirated
2017
Ram
1500
Laramie Extended Cab Pickup 4-Door 3.0L 2987CC 182Cu. In. V6 DIESEL DOHC Turbocharged
2017
Ram
1500
Laramie Extended Cab Pickup 4-Door 3.6L 3604CC 220Cu. In. V6 FLEX DOHC Naturally Aspirated
2017
Ram
1500
Laramie Extended Cab Pickup 4-Door 5.7L 345Cu. In. V8 GAS OHV Naturally Aspirated
2017
Ram
1500
Laramie Limited Crew Cab Pickup 4-Door 3.0L 2987CC 182Cu. In. V6 DIESEL DOHC Turbocharged
2017
Ram
1500
Laramie Limited Crew Cab Pickup 4-Door 5.7L 345Cu. In. V8 GAS OHV Naturally Aspirated
2017
Ram
1500
Laramie Longhorn Crew Cab Pickup 4-Door 3.0L 2987CC 182Cu. In. V6 DIESEL DOHC Turbocharged
2017
Ram
1500
Laramie Longhorn Crew Cab Pickup 4-Door 5.7L 345Cu. In. V8 GAS OHV Naturally Aspirated
2017
Ram
1500
Limited Crew Cab Pickup 4-Door 3.0L 2987CC 182Cu. In. V6 DIESEL DOHC Turbocharged
2017
Ram
1500
Limited Crew Cab Pickup 4-Door 5.7L 345Cu. In. V8 GAS OHV Naturally Aspirated
2017
Ram
1500
Lone Star Crew Cab Pickup 4-Door 3.0L 2987CC 182Cu. In. V6 DIESEL DOHC Turbocharged
2017
Ram
1500
Lone Star Crew Cab Pickup 4-Door 3.6L 3604CC 220Cu. In. V6 FLEX DOHC Naturally Aspirated
2017
Ram
1500
Lone Star Crew Cab Pickup 4-Door 5.7L 345Cu. In. V8 GAS OHV Naturally Aspirated
2017
Ram
1500
Lone Star Extended Cab Pickup 4-Door 3.0L 2987CC 182Cu. In. V6 DIESEL DOHC Turbocharged
2017
Ram
1500
Lone Star Extended Cab Pickup 4-Door 3.6L 3604CC 220Cu. In. V6 FLEX DOHC Naturally Aspirated
2017
Ram
1500
Lone Star Extended Cab Pickup 4-Door 5.7L 345Cu. In. V8 GAS OHV Naturally Aspirated
2017
Ram
1500
Lone Star Standard Cab Pickup 2-Door 3.0L 2987CC 182Cu. In. V6 DIESEL DOHC Turbocharged
2017
Ram
1500
Lone Star Standard Cab Pickup 2-Door 3.6L 3604CC 220Cu. In. V6 FLEX DOHC Naturally Aspirated
2017
Ram
1500
Lone Star Standard Cab Pickup 2-Door 5.7L 345Cu. In. V8 GAS OHV Naturally Aspirated
2017
Ram
1500
Outdoorsman Crew Cab Pickup 4-Door 3.0L 2987CC 182Cu. In. V6 DIESEL DOHC Turbocharged
2017
Ram
1500
Outdoorsman Crew Cab Pickup 4-Door 3.6L 3604CC 220Cu. In. V6 FLEX DOHC Naturally Aspirated
2017
Ram
1500
Outdoorsman Crew Cab Pickup 4-Door 5.7L 345Cu. In. V8 GAS OHV Naturally Aspirated
2017
Ram
1500
Outdoorsman Extended Cab Pickup 4-Door 3.0L 2987CC 182Cu. In. V6 DIESEL DOHC Turbocharged
2017
Ram
1500
Outdoorsman Extended Cab Pickup 4-Door 3.6L 3604CC 220Cu. In. V6 FLEX DOHC Naturally Aspirated
2017
Ram
1500
Outdoorsman Extended Cab Pickup 4-Door 5.7L 345Cu. In. V8 GAS OHV Naturally Aspirated
2017
Ram
1500
Rebel Crew Cab Pickup 4-Door 3.6L 3604CC 220Cu. In. V6 FLEX DOHC Naturally Aspirated
2017
Ram
1500
Rebel Crew Cab Pickup 4-Door 5.7L 345Cu. In. V8 GAS OHV Naturally Aspirated
2017
Ram
1500
SLT Crew Cab Pickup 4-Door 3.0L 2987CC 182Cu. In. V6 DIESEL DOHC Turbocharged
2017
Ram
1500
SLT Crew Cab Pickup 4-Door 3.6L 3604CC 220Cu. In. V6 FLEX DOHC Naturally Aspirated
2017
Ram
1500
SLT Crew Cab Pickup 4-Door 3.6L 3604CC 220Cu. In. V6 GAS DOHC Naturally Aspirated
2017
Ram
1500
SLT Crew Cab Pickup 4-Door 5.7L 345Cu. In. V8 GAS OHV Naturally Aspirated
2017
Ram
1500
SLT Extended Cab Pickup 4-Door 3.0L 2987CC 182Cu. In. V6 DIESEL DOHC Turbocharged
2017
Ram
1500
SLT Extended Cab Pickup 4-Door 3.6L 3604CC 220Cu. In. V6 FLEX DOHC Naturally Aspirated
2017
Ram
1500
SLT Extended Cab Pickup 4-Door 5.7L 345Cu. In. V8 GAS OHV Naturally Aspirated
2017
Ram
1500
SLT Standard Cab Pickup 2-Door 3.0L 2987CC 182Cu. In. V6 DIESEL DOHC Turbocharged
2017
Ram
1500
SLT Standard Cab Pickup 2-Door 3.6L 3604CC 220Cu. In. V6 FLEX DOHC Naturally Aspirated
2017
Ram
1500
SLT Standard Cab Pickup 2-Door 5.7L 345Cu. In. V8 GAS OHV Naturally Aspirated
2017
Ram
1500
Special Service Crew Cab Pickup 4-Door 5.7L 345Cu. In. V8 GAS OHV Naturally Aspirated
2017
Ram
1500
Sport Crew Cab Pickup 4-Door 3.6L 3604CC 220Cu. In. V6 FLEX DOHC Naturally Aspirated
2017
Ram
1500
Sport Crew Cab Pickup 4-Door 5.7L 345Cu. In. V8 GAS OHV Naturally Aspirated
2017
Ram
1500
Sport Extended Cab Pickup 4-Door 3.6L 3604CC 220Cu. In. V6 FLEX DOHC Naturally Aspirated
2017
Ram
1500
Sport Extended Cab Pickup 4-Door 5.7L 345Cu. In. V8 GAS OHV Naturally Aspirated
2017
Ram
1500
Sport Standard Cab Pickup 2-Door 3.6L 3604CC 220Cu. In. V6 FLEX DOHC Naturally Aspirated
2017
Ram
1500
Sport Standard Cab Pickup 2-Door 5.7L 345Cu. In. V8 GAS OHV Naturally Aspirated
2017
Ram
1500
ST Crew Cab Pickup 4-Door 3.0L 2987CC 182Cu. In. V6 DIESEL DOHC Turbocharged
2017
Ram
1500
ST Crew Cab Pickup 4-Door 3.6L 3604CC 220Cu. In. V6 FLEX DOHC Naturally Aspirated
2017
Ram
1500
ST Crew Cab Pickup 4-Door 5.7L 345Cu. In. V8 GAS OHV Naturally Aspirated
2017
Ram
1500
ST Extended Cab Pickup 4-Door 3.0L 2987CC 182Cu. In. V6 DIESEL DOHC Turbocharged
2017
Ram
1500
ST Extended Cab Pickup 4-Door 3.6L 3604CC 220Cu. In. V6 FLEX DOHC Naturally Aspirated
2017
Ram
1500
ST Extended Cab Pickup 4-Door 5.7L 345Cu. In. V8 GAS OHV Naturally Aspirated
2017
Ram
1500
ST Standard Cab Pickup 2-Door 3.0L 2987CC 182Cu. In. V6 DIESEL DOHC Turbocharged
2017
Ram
1500
ST Standard Cab Pickup 2-Door 3.6L 3604CC 220Cu. In. V6 FLEX DOHC Naturally Aspirated
2017
Ram
1500
ST Standard Cab Pickup 2-Door 3.6L 3604CC 220Cu. In. V6 GAS DOHC Naturally Aspirated
2017
Ram
1500
ST Standard Cab Pickup 2-Door 5.7L 345Cu. In. V8 GAS OHV Naturally Aspirated
2017
Ram
1500
SXT Crew Cab Pickup 4-Door 3.6L 3604CC 220Cu. In. V6 FLEX DOHC Naturally Aspirated
2017
Ram
1500
SXT Crew Cab Pickup 4-Door 5.7L 345Cu. In. V8 GAS OHV Naturally Aspirated
2017
Ram
1500
SXT Extended Cab Pickup 4-Door 3.6L 3604CC 220Cu. In. V6 FLEX DOHC Naturally Aspirated
2017
Ram
1500
SXT Extended Cab Pickup 4-Door 5.7L 345Cu. In. V8 GAS OHV Naturally Aspirated
2017
Ram
1500
SXT Standard Cab Pickup 2-Door 3.6L 3604CC 220Cu. In. V6 FLEX DOHC Naturally Aspirated
2017
Ram
1500
SXT Standard Cab Pickup 2-Door 5.7L 345Cu. In. V8 GAS OHV Naturally Aspirated
2017
Ram
1500
Tradesman Crew Cab Pickup 4-Door 3.0L 2987CC 182Cu. In. V6 DIESEL DOHC Turbocharged
2017
Ram
1500
Tradesman Crew Cab Pickup 4-Door 3.6L 3604CC 220Cu. In. V6 FLEX DOHC Naturally Aspirated
2017
Ram
1500
Tradesman Crew Cab Pickup 4-Door 5.7L 345Cu. In. V8 GAS OHV Naturally Aspirated
2017
Ram
1500
Tradesman Extended Cab Pickup 4-Door 3.0L 2987CC 182Cu. In. V6 DIESEL DOHC Turbocharged
2017
Ram
1500
Tradesman Extended Cab Pickup 4-Door 3.6L 3604CC 220Cu. In. V6 FLEX DOHC Naturally Aspirated
2017
Ram
1500
Tradesman Extended Cab Pickup 4-Door 5.7L 345Cu. In. V8 GAS OHV Naturally Aspirated
2017
Ram
1500
Tradesman Standard Cab Pickup 2-Door 3.0L 2987CC 182Cu. In. V6 DIESEL DOHC Turbocharged
2017
Ram
1500
Tradesman Standard Cab Pickup 2-Door 3.6L 3604CC 220Cu. In. V6 FLEX DOHC Naturally Aspirated
2017
Ram
1500
Tradesman Standard Cab Pickup 2-Door 5.7L 345Cu. In. V8 GAS OHV Naturally Aspirated
2017
Ram
2500
Big Horn Crew Cab Pickup 4-Door 5.7L 345Cu. In. V8 GAS OHV Naturally Aspirated
2017
Ram
2500
Big Horn Crew Cab Pickup 4-Door 6.4L 6424CC 392Cu. In. V8 GAS OHV Naturally Aspirated
2017
Ram
2500
Big Horn Crew Cab Pickup 4-Door 6.7L 408Cu. In. l6 DIESEL OHV Turbocharged
2017
Ram
2500
Big Horn Extended Crew Cab Pickup 4-Door 5.7L 345Cu. In. V8 GAS OHV Naturally Aspirated
2017
Ram
2500
Big Horn Extended Crew Cab Pickup 4-Door 6.4L 6424CC 392Cu. In. V8 GAS OHV Naturally Aspirated
2017
Ram
2500
Big Horn Extended Crew Cab Pickup 4-Door 6.7L 408Cu. In. l6 DIESEL OHV Turbocharged
2017
Ram
2500
Laramie Crew Cab Pickup 4-Door 5.7L 345Cu. In. V8 GAS OHV Naturally Aspirated
2017
Ram
2500
Laramie Crew Cab Pickup 4-Door 6.4L 6424CC 392Cu. In. V8 GAS OHV Naturally Aspirated
2017
Ram
2500
Laramie Crew Cab Pickup 4-Door 6.7L 408Cu. In. l6 DIESEL OHV Turbocharged
2017
Ram
2500
Laramie Extended Crew Cab Pickup 4-Door 5.7L 345Cu. In. V8 GAS OHV Naturally Aspirated
2017
Ram
2500
Laramie Extended Crew Cab Pickup 4-Door 6.4L 6424CC 392Cu. In. V8 GAS OHV Naturally Aspirated
2017
Ram
2500
Laramie Extended Crew Cab Pickup 4-Door 6.7L 408Cu. In. l6 DIESEL OHV Turbocharged
2017
Ram
2500
Laramie HD Crew Cab Pickup 4-Door 5.7L 345Cu. In. V8 GAS OHV Naturally Aspirated
2017
Ram
2500
Laramie Limited Crew Cab Pickup 4-Door 5.7L 345Cu. In. V8 GAS OHV Naturally Aspirated
2017
Ram
2500
Laramie Limited Crew Cab Pickup 4-Door 6.4L 6424CC 392Cu. In. V8 GAS OHV Naturally Aspirated
2017
Ram
2500
Laramie Limited Crew Cab Pickup 4-Door 6.7L 408Cu. In. l6 DIESEL OHV Turbocharged
2017
Ram
2500
Laramie Limited Extended Crew Cab Pickup 4-Door 5.7L 345Cu. In. V8 GAS OHV Naturally Aspirated
2017
Ram
2500
Laramie Limited Extended Crew Cab Pickup 4-Door 6.4L 6424CC 392Cu. In. V8 GAS OHV Naturally Aspirated
2017
Ram
2500
Laramie Limited Extended Crew Cab Pickup 4-Door 6.7L 408Cu. In. l6 DIESEL OHV Turbocharged
2017
Ram
2500
Laramie Longhorn Crew Cab Pickup 4-Door 5.7L 345Cu. In. V8 GAS OHV Naturally Aspirated
2017
Ram
2500
Laramie Longhorn Crew Cab Pickup 4-Door 6.4L 6424CC 392Cu. In. V8 GAS OHV Naturally Aspirated
2017
Ram
2500
Laramie Longhorn Crew Cab Pickup 4-Door 6.7L 408Cu. In. l6 DIESEL OHV Turbocharged
2017
Ram
2500
Laramie Longhorn Extended Crew Cab Pickup 4-Door 5.7L 345Cu. In. V8 GAS OHV Naturally Aspirated
2017
Ram
2500
Laramie Longhorn Extended Crew Cab Pickup 4-Door 6.4L 6424CC 392Cu. In. V8 GAS OHV Naturally Aspirated
2017
Ram
2500
Laramie Longhorn Extended Crew Cab Pickup 4-Door 6.7L 408Cu. In. l6 DIESEL OHV Turbocharged
2017
Ram
2500
Limited Crew Cab Pickup 4-Door 5.7L 345Cu. In. V8 GAS OHV Naturally Aspirated
2017
Ram
2500
Limited Crew Cab Pickup 4-Door 6.4L 6424CC 392Cu. In. V8 GAS OHV Naturally Aspirated
2017
Ram
2500
Limited Crew Cab Pickup 4-Door 6.7L 408Cu. In. l6 DIESEL OHV Turbocharged
2017
Ram
2500
Limited Extended Crew Cab Pickup 4-Door 5.7L 345Cu. In. V8 GAS OHV Naturally Aspirated
2017
Ram
2500
Limited Extended Crew Cab Pickup 4-Door 6.4L 6424CC 392Cu. In. V8 GAS OHV Naturally Aspirated
2017
Ram
2500
Limited Extended Crew Cab Pickup 4-Door 6.7L 408Cu. In. l6 DIESEL OHV Turbocharged
2017
Ram
2500
Outdoorsman Crew Cab Pickup 4-Door 5.7L 345Cu. In. V8 GAS OHV Naturally Aspirated
2017
Ram
2500
Outdoorsman Crew Cab Pickup 4-Door 6.4L 6424CC 392Cu. In. V8 GAS OHV Naturally Aspirated
2017
Ram
2500
Outdoorsman Crew Cab Pickup 4-Door 6.7L 408Cu. In. l6 DIESEL OHV Turbocharged
2017
Ram
2500
Power Wagon Crew Cab Pickup 4-Door 6.4L 6424CC 392Cu. In. V8 GAS OHV Naturally Aspirated
2017
Ram
2500
R/T Standard Cab Pickup 2-Door 5.7L 345Cu. In. V8 GAS OHV Naturally Aspirated
2017
Ram
2500
SLT Crew Cab Pickup 4-Door 5.7L 345Cu. In. V8 CNG OHV Naturally Aspirated
2017
Ram
2500
SLT Crew Cab Pickup 4-Door 5.7L 345Cu. In. V8 GAS OHV Naturally Aspirated
2017
Ram
2500
SLT Crew Cab Pickup 4-Door 6.4L 6424CC 392Cu. In. V8 GAS OHV Naturally Aspirated
2017
Ram
2500
SLT Crew Cab Pickup 4-Door 6.7L 408Cu. In. l6 DIESEL OHV Turbocharged
2017
Ram
2500
SLT Extended Crew Cab Pickup 4-Door 5.7L 345Cu. In. V8 CNG OHV Naturally Aspirated
2017
Ram
2500
SLT Extended Crew Cab Pickup 4-Door 5.7L 345Cu. In. V8 GAS OHV Naturally Aspirated
2017
Ram
2500
SLT Extended Crew Cab Pickup 4-Door 6.4L 6424CC 392Cu. In. V8 GAS OHV Naturally Aspirated
2017
Ram
2500
SLT Extended Crew Cab Pickup 4-Door 6.7L 408Cu. In. l6 DIESEL OHV Turbocharged
2017
Ram
2500
SLT HD Crew Cab Pickup 4-Door 5.7L 345Cu. In. V8 GAS OHV Naturally Aspirated
2017
Ram
2500
SLT Standard Cab Pickup 2-Door 5.7L 345Cu. In. V8 CNG OHV Naturally Aspirated
2017
Ram
2500
SLT Standard Cab Pickup 2-Door 5.7L 345Cu. In. V8 GAS OHV Naturally Aspirated
2017
Ram
2500
SLT Standard Cab Pickup 2-Door 6.4L 6424CC 392Cu. In. V8 GAS OHV Naturally Aspirated
2017
Ram
2500
SLT Standard Cab Pickup 2-Door 6.7L 408Cu. In. l6 DIESEL OHV Turbocharged
2017
Ram
2500
Sport Crew Cab Pickup 4-Door 5.7L 345Cu. In. V8 GAS OHV Naturally Aspirated
2017
Ram
2500
Sport Standard Cab Pickup 2-Door 5.7L 345Cu. In. V8 GAS OHV Naturally Aspirated
2017
Ram
2500
ST Crew Cab Pickup 4-Door 5.7L 345Cu. In. V8 CNG OHV Naturally Aspirated
2017
Ram
2500
ST Crew Cab Pickup 4-Door 5.7L 345Cu. In. V8 GAS OHV Naturally Aspirated
2017
Ram
2500
ST Crew Cab Pickup 4-Door 6.4L 6424CC 392Cu. In. V8 GAS OHV Naturally Aspirated
2017
Ram
2500
ST Crew Cab Pickup 4-Door 6.7L 408Cu. In. l6 DIESEL OHV Turbocharged
2017
Ram
2500
ST Extended Crew Cab Pickup 4-Door 5.7L 345Cu. In. V8 CNG OHV Naturally Aspirated
2017
Ram
2500
ST Extended Crew Cab Pickup 4-Door 5.7L 345Cu. In. V8 GAS OHV Naturally Aspirated
2017
Ram
2500
ST Extended Crew Cab Pickup 4-Door 6.4L 6424CC 392Cu. In. V8 GAS OHV Naturally Aspirated
2017
Ram
2500
ST Extended Crew Cab Pickup 4-Door 6.7L 408Cu. In. l6 DIESEL OHV Turbocharged
2017
Ram
2500
ST Standard Cab Pickup 2-Door 5.7L 345Cu. In. V8 CNG OHV Naturally Aspirated
2017
Ram
2500
ST Standard Cab Pickup 2-Door 5.7L 345Cu. In. V8 GAS OHV Naturally Aspirated
2017
Ram
2500
ST Standard Cab Pickup 2-Door 6.4L 6424CC 392Cu. In. V8 GAS OHV Naturally Aspirated
2017
Ram
2500
ST Standard Cab Pickup 2-Door 6.7L 408Cu. In. l6 DIESEL OHV Turbocharged
2017
Ram
2500
Tradesman Crew Cab Pickup 4-Door 5.7L 345Cu. In. V8 CNG OHV Naturally Aspirated
2017
Ram
2500
Tradesman Crew Cab Pickup 4-Door 5.7L 345Cu. In. V8 GAS OHV Naturally Aspirated
2017
Ram
2500
Tradesman Crew Cab Pickup 4-Door 6.4L 6424CC 392Cu. In. V8 GAS OHV Naturally Aspirated
2017
Ram
2500
Tradesman Crew Cab Pickup 4-Door 6.7L 408Cu. In. l6 DIESEL OHV Turbocharged
2017
Ram
2500
Tradesman Standard Cab Pickup 2-Door 5.7L 345Cu. In. V8 CNG OHV Naturally Aspirated
2017
Ram
2500
Tradesman Standard Cab Pickup 2-Door 5.7L 345Cu. In. V8 GAS OHV Naturally Aspirated
2017
Ram
2500
Tradesman Standard Cab Pickup 2-Door 6.4L 6424CC 392Cu. In. V8 GAS OHV Naturally Aspirated
2017
Ram
2500
Tradesman Standard Cab Pickup 2-Door 6.7L 408Cu. In. l6 DIESEL OHV Turbocharged
2017
Toyota
Camry
Hybrid LE Sedan 4-Door 2.5L 2494CC 152Cu. In. l4 ELECTRIC/GAS DOHC Naturally Aspirated
2017
Toyota
Camry
Hybrid SE Sedan 4-Door 2.5L 2494CC 152Cu. In. l4 ELECTRIC/GAS DOHC Naturally Aspirated
2017
Toyota
Camry
Hybrid XLE Sedan 4-Door 2.5L 2494CC 152Cu. In. l4 ELECTRIC/GAS DOHC Naturally Aspirated
2017
Toyota
Camry
LE Sedan 4-Door 2.5L 2494CC 152Cu. In. l4 GAS DOHC Naturally Aspirated
2017
Toyota
Camry
SE Sedan 4-Door 2.5L 2494CC 152Cu. In. l4 GAS DOHC Naturally Aspirated
2017
Toyota
Camry
XLE Sedan 4-Door 2.5L 2494CC 152Cu. In. l4 GAS DOHC Naturally Aspirated
2017
Toyota
Camry
XLE Sedan 4-Door 3.5L 3456CC V6 GAS DOHC Naturally Aspirated
2017
Toyota
Camry
XSE Sedan 4-Door 2.5L 2494CC 152Cu. In. l4 GAS DOHC Naturally Aspirated
2017
Toyota
Camry
XSE Sedan 4-Door 3.5L 3456CC V6 GAS DOHC Naturally Aspirated
2017
Toyota
Corolla
50th Anniversary Special Edition Sedan 4-Door 1.8L 1798CC 110Cu. In. l4 GAS DOHC Naturally Aspirated
2017
Toyota
Corolla
Base Sedan 4-Door 1.8L 1798CC 110Cu. In. l4 GAS DOHC Naturally Aspirated
2017
Toyota
Corolla
C Sedan 4-Door 1.8L 1798CC 110Cu. In. l4 GAS DOHC Naturally Aspirated
2017
Toyota
Corolla
CE Sedan 4-Door 1.8L 1798CC 110Cu. In. l4 GAS DOHC Naturally Aspirated
2017
Toyota
Corolla
L Sedan 4-Door 1.8L 1798CC 110Cu. In. l4 GAS DOHC Naturally Aspirated
2017
Toyota
Corolla
LE Eco Sedan 4-Door 1.8L 1798CC 110Cu. In. l4 GAS DOHC Naturally Aspirated
2017
Toyota
Corolla
LE Sedan 4-Door 1.8L 1798CC 110Cu. In. l4 GAS DOHC Naturally Aspirated
2017
Toyota
Corolla
SE Plus Sedan 4-Door 1.8L 1798CC 110Cu. In. l4 GAS DOHC Naturally Aspirated
2017
Toyota
Corolla
SE Sedan 4-Door 1.8L 1798CC 110Cu. In. l4 GAS DOHC Naturally Aspirated
2017
Toyota
Corolla
XLE Sedan 4-Door 1.8L 1798CC 110Cu. In. l4 GAS DOHC Naturally Aspirated
2017
Toyota
Corolla
XSE Sedan 4-Door 1.8L 1798CC 110Cu. In. l4 GAS DOHC Naturally Aspirated
2016
Chevrolet
Malibu
Hybrid Sedan 4-Door 1.8L 1796CC 110Cu. In. l4 ELECTRIC/GAS DOHC Naturally Aspirated
2016
Chevrolet
Malibu
L Sedan 4-Door 1.5L 1490CC 91Cu. In. l4 GAS DOHC Turbocharged
2016
Chevrolet
Malibu
LS Sedan 4-Door 1.5L 1490CC 91Cu. In. l4 GAS DOHC Turbocharged
2016
Chevrolet
Malibu
LS Sedan 4-Door 1.5L 1490CC 91Cu. In. l4 GAS Turbocharged
2016
Chevrolet
Malibu
LT Sedan 4-Door 1.5L 1490CC 91Cu. In. l4 GAS DOHC Turbocharged
2016
Chevrolet
Malibu
LT Sedan 4-Door 1.5L 1490CC 91Cu. In. l4 GAS Turbocharged
2016
Chevrolet
Malibu
LT Sedan 4-Door 2.0L 1998CC 122Cu. In. l4 GAS DOHC Turbocharged
2016
Chevrolet
Malibu
LT Sedan 4-Door 2.0L 1998CC 122Cu. In. l4 GAS Turbocharged
2016
Chevrolet
Malibu
Premier Sedan 4-Door 2.0L 1998CC 122Cu. In. l4 GAS DOHC Turbocharged
2016
Chevrolet
Malibu
Premier Sedan 4-Door 2.0L 1998CC 122Cu. In. l4 GAS Turbocharged
2016
Ford
F-150
King Ranch Crew Cab Pickup 4-Door 3.5L 3496CC 213Cu. In. V6 GAS DOHC Turbocharged
2016
Ford
F-150
King Ranch Crew Cab Pickup 4-Door 5.0L 4951CC 302Cu. In. V8 FLEX DOHC Naturally Aspirated
2016
Ford
F-150
Lariat Crew Cab Pickup 4-Door 2.7L 164Cu. In. V6 GAS DOHC Turbocharged
2016
Ford
F-150
Lariat Crew Cab Pickup 4-Door 3.5L 3496CC 213Cu. In. V6 GAS DOHC Turbocharged
2016
Ford
F-150
Lariat Crew Cab Pickup 4-Door 5.0L 4951CC 302Cu. In. V8 FLEX DOHC Naturally Aspirated
2016
Ford
F-150
Lariat Extended Cab Pickup 4-Door 2.7L 164Cu. In. V6 GAS DOHC Turbocharged
2016
Ford
F-150
Lariat Extended Cab Pickup 4-Door 3.5L 3496CC 213Cu. In. V6 GAS DOHC Turbocharged
2016
Ford
F-150
Lariat Extended Cab Pickup 4-Door 5.0L 4951CC 302Cu. In. V8 FLEX DOHC Naturally Aspirated
2016
Ford
F-150
Limited Crew Cab Pickup 4-Door 3.5L 3496CC 213Cu. In. V6 GAS DOHC Turbocharged
2016
Ford
F-150
Platinum Crew Cab Pickup 4-Door 3.5L 3496CC 213Cu. In. V6 GAS DOHC Turbocharged
2016
Ford
F-150
Platinum Crew Cab Pickup 4-Door 5.0L 4951CC 302Cu. In. V8 FLEX DOHC Naturally Aspirated
2016
Ford
F-150
SSV Crew Cab Pickup 4-Door 3.5L 3496CC 213Cu. In. V6 GAS DOHC Turbocharged
2016
Ford
F-150
SSV Crew Cab Pickup 4-Door 5.0L 4951CC 302Cu. In. V8 FLEX DOHC Naturally Aspirated
2016
Ford
F-150
SSV Extended Cab Pickup 4-Door 3.5L 3496CC 213Cu. In. V6 GAS DOHC Turbocharged
2016
Ford
F-150
SSV Extended Cab Pickup 4-Door 5.0L 4951CC 302Cu. In. V8 FLEX DOHC Naturally Aspirated
2016
Ford
F-150
XL Crew Cab Pickup 4-Door 2.7L 164Cu. In. V6 GAS DOHC Turbocharged
2016
Ford
F-150
XL Crew Cab Pickup 4-Door 3.5L 3496CC 213Cu. In. V6 FLEX DOHC Naturally Aspirated
2016
Ford
F-150
XL Crew Cab Pickup 4-Door 3.5L 3496CC 213Cu. In. V6 GAS DOHC Turbocharged
2016
Ford
F-150
XL Crew Cab Pickup 4-Door 3.5L 3496CC 213Cu. In. V6 GAS Naturally Aspirated
2016
Ford
F-150
XL Crew Cab Pickup 4-Door 5.0L 4951CC 302Cu. In. V8 FLEX DOHC Naturally Aspirated
2016
Ford
F-150
XL Crew Cab Pickup 4-Door 5.0L 4951CC 302Cu. In. V8 GAS Naturally Aspirated
2016
Ford
F-150
XL Extended Cab Pickup 4-Door 2.7L 164Cu. In. V6 GAS DOHC Turbocharged
2016
Ford
F-150
XL Extended Cab Pickup 4-Door 3.5L 3496CC 213Cu. In. V6 FLEX DOHC Naturally Aspirated
2016
Ford
F-150
XL Extended Cab Pickup 4-Door 3.5L 3496CC 213Cu. In. V6 GAS DOHC Turbocharged
2016
Ford
F-150
XL Extended Cab Pickup 4-Door 3.5L 3496CC 213Cu. In. V6 GAS Naturally Aspirated
2016
Ford
F-150
XL Extended Cab Pickup 4-Door 5.0L 4951CC 302Cu. In. V8 FLEX DOHC Naturally Aspirated
2016
Ford
F-150
XL Extended Cab Pickup 4-Door 5.0L 4951CC 302Cu. In. V8 GAS Naturally Aspirated
2016
Ford
F-150
XL Standard Cab Pickup 2-Door 2.7L 164Cu. In. V6 GAS DOHC Turbocharged
2016
Ford
F-150
XL Standard Cab Pickup 2-Door 3.5L 3496CC 213Cu. In. V6 FLEX DOHC Naturally Aspirated
2016
Ford
F-150
XL Standard Cab Pickup 2-Door 3.5L 3496CC 213Cu. In. V6 GAS DOHC Turbocharged
2016
Ford
F-150
XL Standard Cab Pickup 2-Door 3.5L 3496CC 213Cu. In. V6 GAS Naturally Aspirated
2016
Ford
F-150
XL Standard Cab Pickup 2-Door 5.0L 4951CC 302Cu. In. V8 FLEX DOHC Naturally Aspirated
2016
Ford
F-150
XL Standard Cab Pickup 2-Door 5.0L 4951CC 302Cu. In. V8 GAS Naturally Aspirated
2016
Ford
F-150
XLT Crew Cab Pickup 4-Door 2.7L 164Cu. In. V6 GAS DOHC Turbocharged
2016
Ford
F-150
XLT Crew Cab Pickup 4-Door 3.5L 3496CC 213Cu. In. V6 FLEX DOHC Naturally Aspirated
2016
Ford
F-150
XLT Crew Cab Pickup 4-Door 3.5L 3496CC 213Cu. In. V6 GAS DOHC Turbocharged
2016
Ford
F-150
XLT Crew Cab Pickup 4-Door 5.0L 4951CC 302Cu. In. V8 FLEX DOHC Naturally Aspirated
2016
Ford
F-150
XLT Extended Cab Pickup 4-Door 2.7L 164Cu. In. V6 GAS DOHC Turbocharged
2016
Ford
F-150
XLT Extended Cab Pickup 4-Door 3.5L 3496CC 213Cu. In. V6 FLEX DOHC Naturally Aspirated
2016
Ford
F-150
XLT Extended Cab Pickup 4-Door 3.5L 3496CC 213Cu. In. V6 GAS DOHC Turbocharged
2016
Ford
F-150
XLT Extended Cab Pickup 4-Door 5.0L 4951CC 302Cu. In. V8 FLEX DOHC Naturally Aspirated
2016
Ford
F-150
XLT Standard Cab Pickup 2-Door 2.7L 164Cu. In. V6 GAS DOHC Turbocharged
2016
Ford
F-150
XLT Standard Cab Pickup 2-Door 3.5L 3496CC 213Cu. In. V6 FLEX DOHC Naturally Aspirated
2016
Ford
F-150
XLT Standard Cab Pickup 2-Door 3.5L 3496CC 213Cu. In. V6 GAS DOHC Turbocharged
2016
Ford
F-150
XLT Standard Cab Pickup 2-Door 5.0L 4951CC 302Cu. In. V8 FLEX DOHC Naturally Aspirated
2016
Ford
Fiesta
S Hatchback 4-Door 1.6L 1596CC 97Cu. In. l4 GAS DOHC Naturally Aspirated
2016
Ford
Fiesta
S Hatchback 4-Door 1.6L 1598CC 98Cu. In. l4 GAS SOHC Naturally Aspirated
2016
Ford
Fiesta
S Sedan 4-Door 1.6L 1596CC 97Cu. In. l4 GAS DOHC Naturally Aspirated
2016
Ford
Fiesta
S Sedan 4-Door 1.6L 1598CC 98Cu. In. l4 GAS SOHC Naturally Aspirated
2016
Ford
Fiesta
SE Hatchback 4-Door 1.0L 999CC 61Cu. In. l3 GAS DOHC Turbocharged
2016
Ford
Fiesta
SE Hatchback 4-Door 1.6L 1596CC 97Cu. In. l4 GAS DOHC Naturally Aspirated
2016
Ford
Fiesta
SE Hatchback 4-Door 1.6L 1598CC 98Cu. In. l4 GAS SOHC Naturally Aspirated
2016
Ford
Fiesta
SE Sedan 4-Door 1.0L 999CC 61Cu. In. l3 GAS DOHC Turbocharged
2016
Ford
Fiesta
SE Sedan 4-Door 1.6L 1596CC 97Cu. In. l4 GAS DOHC Naturally Aspirated
2016
Ford
Fiesta
SE Sedan 4-Door 1.6L 1598CC 98Cu. In. l4 GAS SOHC Naturally Aspirated
2016
Ford
Fiesta
ST Hatchback 4-Door 1.6L 1596CC 97Cu. In. l4 GAS DOHC Turbocharged
2016
Ford
Fiesta
ST Hatchback 4-Door 1.6L 1598CC 98Cu. In. l4 GAS SOHC Turbocharged
2016
Ford
Fiesta
Titanium Hatchback 4-Door 1.6L 1596CC 97Cu. In. l4 GAS DOHC Naturally Aspirated
2016
Ford
Fiesta
Titanium Sedan 4-Door 1.6L 1596CC 97Cu. In. l4 GAS DOHC Naturally Aspirated
2016
Ford
Fiesta
Titanium Sedan 4-Door 1.6L 1598CC 98Cu. In. l4 GAS SOHC Naturally Aspirated
2016
Ford
Focus
Electric Hatchback 4-Door ELECTRIC
2016
Ford
Focus
RS Hatchback 4-Door 2.3L 2300CC 140Cu. In. l4 GAS DOHC Turbocharged
2016
Ford
Focus
S Sedan 4-Door 2.0L 1999CC 122Cu. In. l4 FLEX DOHC Naturally Aspirated
2016
Ford
Focus
S Sedan 4-Door 2.0L 1999CC 122Cu. In. l4 GAS DOHC Naturally Aspirated
2016
Ford
Focus
S Sedan 4-Door 2.0L 1999CC 122Cu. In. l4 GAS Naturally Aspirated
2016
Ford
Focus
SE Hatchback 4-Door 1.0L 999CC 61Cu. In. l3 GAS DOHC Turbocharged
2016
Ford
Focus
SE Hatchback 4-Door 2.0L 1999CC 122Cu. In. l4 FLEX DOHC Naturally Aspirated
2016
Ford
Focus
SE Hatchback 4-Door 2.0L 1999CC 122Cu. In. l4 GAS DOHC Naturally Aspirated
2016
Ford
Focus
SE Hatchback 4-Door 2.0L 1999CC 122Cu. In. l4 GAS Naturally Aspirated
2016
Ford
Focus
SE Luxury Hatchback 4-Door 2.0L 1999CC 122Cu. In. l4 GAS Naturally Aspirated
2016
Ford
Focus
SE Luxury Sedan 4-Door 2.0L 1999CC 122Cu. In. l4 GAS Naturally Aspirated
2016
Ford
Focus
SE Sedan 4-Door 1.0L 999CC 61Cu. In. l3 GAS DOHC Turbocharged
2016
Ford
Focus
SE Sedan 4-Door 2.0L 1999CC 122Cu. In. l4 FLEX DOHC Naturally Aspirated
2016
Ford
Focus
SE Sedan 4-Door 2.0L 1999CC 122Cu. In. l4 GAS DOHC Naturally Aspirated
2016
Ford
Focus
SE Sedan 4-Door 2.0L 1999CC 122Cu. In. l4 GAS Naturally Aspirated
2016
Ford
Focus
ST Hatchback 4-Door 2.0L 1999CC 122Cu. In. l4 GAS DOHC Turbocharged
2016
Ford
Focus
ST Hatchback 4-Door 2.0L 1999CC 122Cu. In. l4 GAS Turbocharged
2016
Ford
Focus
Titanium Hatchback 4-Door 2.0L 1999CC 122Cu. In. l4 FLEX DOHC Naturally Aspirated
2016
Ford
Focus
Titanium Hatchback 4-Door 2.0L 1999CC 122Cu. In. l4 GAS DOHC Naturally Aspirated
2016
Ford
Focus
Titanium Sedan 4-Door 2.0L 1999CC 122Cu. In. l4 FLEX DOHC Naturally Aspirated
2016
Ford
Focus
Titanium Sedan 4-Door 2.0L 1999CC 122Cu. In. l4 GAS DOHC Naturally Aspirated
2016
Ford
Focus
Titanium Sedan 4-Door 2.0L 1999CC 122Cu. In. l4 GAS Naturally Aspirated
2016
Ford
Ranger
Base Crew Cab Pickup 4-Door 2.5L 2488CC 152Cu. In. l4 GAS SOHC Naturally Aspirated
2016
Ford
Ranger
Limited Crew Cab Pickup 4-Door 2.5L 2488CC 152Cu. In. l4 GAS SOHC Naturally Aspirated
2016
Ford
Ranger
XL Crew Cab Pickup 4-Door 2.2L 2198CC 134Cu. In. l4 DIESEL DOHC Turbocharged
2016
Ford
Ranger
XL Crew Cab Pickup 4-Door 2.5L 2488CC 152Cu. In. l4 GAS SOHC Naturally Aspirated
2016
Ford
Ranger
XLT Crew Cab Pickup 4-Door 2.5L 2488CC 152Cu. In. l4 GAS SOHC Naturally Aspirated
2016
GMC
Sierra
Base Crew Cab Pickup 4-Door 5.3L 5328CC 325Cu. In. V8 GAS Naturally Aspirated
2016
GMC
Sierra
Base Standard Cab Pickup 2-Door 5.3L 5328CC 325Cu. In. V8 GAS Naturally Aspirated
2016
GMC
Sierra
Denali Crew Cab Pickup 4-Door 6.2L 6162CC 376Cu. In. V8 GAS Naturally Aspirated
2016
Jeep
Grand Cherokee
75th Anniversary Sport Utility 4-Door 3.6L 3604CC 220Cu. In. V6 FLEX DOHC Naturally Aspirated
2016
Jeep
Grand Cherokee
Laredo Sport Utility 4-Door 3.6L 3604CC 220Cu. In. V6 FLEX DOHC Naturally Aspirated
2016
Jeep
Grand Cherokee
Limited Sport Utility 4-Door 3.0L 2987CC 182Cu. In. V6 DIESEL DOHC Turbocharged
2016
Jeep
Grand Cherokee
Limited Sport Utility 4-Door 3.6L 3604CC 220Cu. In. V6 FLEX DOHC Naturally Aspirated
2016
Jeep
Grand Cherokee
Limited Sport Utility 4-Door 3.6L 3604CC 220Cu. In. V6 GAS Naturally Aspirated
2016
Jeep
Grand Cherokee
Limited Sport Utility 4-Door 5.7L 345Cu. In. V8 GAS Naturally Aspirated
2016
Jeep
Grand Cherokee
Limited Sport Utility 4-Door 5.7L 345Cu. In. V8 GAS OHV Naturally Aspirated
2016
Jeep
Grand Cherokee
Overland Sport Utility 4-Door 3.0L 2987CC 182Cu. In. V6 DIESEL DOHC Turbocharged
2016
Jeep
Grand Cherokee
Overland Sport Utility 4-Door 3.6L 3604CC 220Cu. In. V6 FLEX DOHC Naturally Aspirated
2016
Jeep
Grand Cherokee
Overland Sport Utility 4-Door 5.7L 345Cu. In. V8 GAS OHV Naturally Aspirated
2016
Jeep
Grand Cherokee
SRT Sport Utility 4-Door 6.4L 6424CC 392Cu. In. V8 GAS OHV Naturally Aspirated
2016
Jeep
Grand Cherokee
Summit Sport Utility 4-Door 3.0L 2987CC 182Cu. In. V6 DIESEL DOHC Turbocharged
2016
Jeep
Grand Cherokee
Summit Sport Utility 4-Door 3.6L 3604CC 220Cu. In. V6 FLEX DOHC Naturally Aspirated
2016
Jeep
Grand Cherokee
Summit Sport Utility 4-Door 5.7L 345Cu. In. V8 GAS Naturally Aspirated
2016
Jeep
Grand Cherokee
Summit Sport Utility 4-Door 5.7L 345Cu. In. V8 GAS OHV Naturally Aspirated
2016
Kia
Soul
Base Hatchback 4-Door 1.6L 1591CC l4 GAS DOHC Naturally Aspirated
2016
Kia
Soul
EX Hatchback 4-Door 2.0L 1999CC 122Cu. In. l4 GAS DOHC Naturally Aspirated
2016
Kia
Soul
Exclaim Hatchback 4-Door 2.0L 1999CC 122Cu. In. l4 GAS DOHC Naturally Aspirated
2016
Kia
Soul
LX Hatchback 4-Door 1.6L 1591CC l4 GAS DOHC Naturally Aspirated
2016
Kia
Soul
Plus Hatchback 4-Door 2.0L 1999CC 122Cu. In. l4 GAS DOHC Naturally Aspirated
2016
Kia
Soul
SX Hatchback 4-Door 2.0L 1999CC 122Cu. In. l4 GAS DOHC Naturally Aspirated
2016
Nissan
Altima
Advance Sedan 4-Door 2.5L 2488CC 152Cu. In. l4 GAS DOHC Naturally Aspirated
2016
Nissan
Altima
Base Sedan 4-Door 2.5L 2488CC 152Cu. In. l4 GAS DOHC Naturally Aspirated
2016
Nissan
Altima
Exclusive Sedan 4-Door 3.5L 3498CC V6 GAS DOHC Naturally Aspirated
2016
Nissan
Altima
S Sedan 4-Door 2.5L 2488CC 152Cu. In. l4 GAS DOHC Naturally Aspirated
2016
Nissan
Altima
Sense Sedan 4-Door 2.5L 2488CC 152Cu. In. l4 GAS DOHC Naturally Aspirated
2016
Nissan
Altima
SL Sedan 4-Door 2.5L 2488CC 152Cu. In. l4 GAS DOHC Naturally Aspirated
2016
Nissan
Altima
SL Sedan 4-Door 3.5L 3498CC V6 GAS DOHC Naturally Aspirated
2016
Nissan
Altima
SR Sedan 4-Door 2.5L 2488CC 152Cu. In. l4 GAS DOHC Naturally Aspirated
2016
Nissan
Altima
SR Sedan 4-Door 3.5L 3498CC V6 GAS DOHC Naturally Aspirated
2016
Nissan
Altima
SV Sedan 4-Door 2.5L 2488CC 152Cu. In. l4 GAS DOHC Naturally Aspirated
2016
Ram
1500
Big Horn Crew Cab Pickup 4-Door 3.0L 2987CC 182Cu. In. V6 DIESEL DOHC Turbocharged
2016
Ram
1500
Big Horn Crew Cab Pickup 4-Door 3.6L 3600CC 220Cu. In. V6 GAS DOHC Naturally Aspirated
2016
Ram
1500
Big Horn Crew Cab Pickup 4-Door 3.6L 3604CC 220Cu. In. V6 FLEX DOHC Naturally Aspirated
2016
Ram
1500
Big Horn Crew Cab Pickup 4-Door 5.7L 345Cu. In. V8 GAS OHV Naturally Aspirated
2016
Ram
1500
Big Horn Extended Cab Pickup 4-Door 3.0L 2987CC 182Cu. In. V6 DIESEL DOHC Turbocharged
2016
Ram
1500
Big Horn Extended Cab Pickup 4-Door 3.6L 3604CC 220Cu. In. V6 FLEX DOHC Naturally Aspirated
2016
Ram
1500
Big Horn Extended Cab Pickup 4-Door 5.7L 345Cu. In. V8 GAS OHV Naturally Aspirated
2016
Ram
1500
Big Horn Standard Cab Pickup 2-Door 3.0L 2987CC 182Cu. In. V6 DIESEL DOHC Turbocharged
2016
Ram
1500
Big Horn Standard Cab Pickup 2-Door 3.6L 3604CC 220Cu. In. V6 FLEX DOHC Naturally Aspirated
2016
Ram
1500
Big Horn Standard Cab Pickup 2-Door 5.7L 345Cu. In. V8 GAS OHV Naturally Aspirated
2016
Ram
1500
Express Crew Cab Pickup 4-Door 3.6L 3604CC 220Cu. In. V6 FLEX DOHC Naturally Aspirated
2016
Ram
1500
Express Crew Cab Pickup 4-Door 5.7L 345Cu. In. V8 GAS OHV Naturally Aspirated
2016
Ram
1500
Express Extended Cab Pickup 4-Door 3.6L 3604CC 220Cu. In. V6 FLEX DOHC Naturally Aspirated
2016
Ram
1500
Express Extended Cab Pickup 4-Door 5.7L 345Cu. In. V8 GAS OHV Naturally Aspirated
2016
Ram
1500
Express Standard Cab Pickup 2-Door 3.6L 3604CC 220Cu. In. V6 FLEX DOHC Naturally Aspirated
2016
Ram
1500
Express Standard Cab Pickup 2-Door 5.7L 345Cu. In. V8 GAS OHV Naturally Aspirated
2016
Ram
1500
HFE Extended Cab Pickup 4-Door 3.0L 2987CC 182Cu. In. V6 DIESEL DOHC Turbocharged
2016
Ram
1500
HFE Extended Cab Pickup 4-Door 3.6L 3604CC 220Cu. In. V6 FLEX DOHC Naturally Aspirated
2016
Ram
1500
HFE Standard Cab Pickup 2-Door 3.0L 2987CC 182Cu. In. V6 DIESEL DOHC Turbocharged
2016
Ram
1500
HFE Standard Cab Pickup 2-Door 3.6L 3604CC 220Cu. In. V6 FLEX DOHC Naturally Aspirated
2016
Ram
1500
Laramie Crew Cab Pickup 4-Door 3.0L 2987CC 182Cu. In. V6 DIESEL DOHC Turbocharged
2016
Ram
1500
Laramie Crew Cab Pickup 4-Door 3.6L 3604CC 220Cu. In. V6 FLEX DOHC Naturally Aspirated
2016
Ram
1500
Laramie Crew Cab Pickup 4-Door 5.7L 345Cu. In. V8 GAS OHV Naturally Aspirated
2016
Ram
1500
Laramie Extended Cab Pickup 4-Door 3.0L 2987CC 182Cu. In. V6 DIESEL DOHC Turbocharged
2016
Ram
1500
Laramie Extended Cab Pickup 4-Door 3.6L 3604CC 220Cu. In. V6 FLEX DOHC Naturally Aspirated
2016
Ram
1500
Laramie Extended Cab Pickup 4-Door 5.7L 345Cu. In. V8 GAS OHV Naturally Aspirated
2016
Ram
1500
Laramie Limited Crew Cab Pickup 4-Door 3.0L 2987CC 182Cu. In. V6 DIESEL DOHC Turbocharged
2016
Ram
1500
Laramie Limited Crew Cab Pickup 4-Door 5.7L 345Cu. In. V8 GAS OHV Naturally Aspirated
2016
Ram
1500
Laramie Longhorn Crew Cab Pickup 4-Door 3.0L 2987CC 182Cu. In. V6 DIESEL DOHC Turbocharged
2016
Ram
1500
Laramie Longhorn Crew Cab Pickup 4-Door 5.7L 345Cu. In. V8 GAS OHV Naturally Aspirated
2016
Ram
1500
Limited Crew Cab Pickup 4-Door 3.0L 2987CC 182Cu. In. V6 DIESEL DOHC Turbocharged
2016
Ram
1500
Limited Crew Cab Pickup 4-Door 5.7L 345Cu. In. V8 GAS OHV Naturally Aspirated
2016
Ram
1500
Lone Star Crew Cab Pickup 4-Door 3.0L 2987CC 182Cu. In. V6 DIESEL DOHC Turbocharged
2016
Ram
1500
Lone Star Crew Cab Pickup 4-Door 3.6L 3604CC 220Cu. In. V6 FLEX DOHC Naturally Aspirated
2016
Ram
1500
Lone Star Crew Cab Pickup 4-Door 5.7L 345Cu. In. V8 GAS OHV Naturally Aspirated
2016
Ram
1500
Lone Star Extended Cab Pickup 4-Door 3.0L 2987CC 182Cu. In. V6 DIESEL DOHC Turbocharged
2016
Ram
1500
Lone Star Extended Cab Pickup 4-Door 3.6L 3604CC 220Cu. In. V6 FLEX DOHC Naturally Aspirated
2016
Ram
1500
Lone Star Extended Cab Pickup 4-Door 5.7L 345Cu. In. V8 GAS OHV Naturally Aspirated
2016
Ram
1500
Lone Star Standard Cab Pickup 2-Door 3.0L 2987CC 182Cu. In. V6 DIESEL DOHC Turbocharged
2016
Ram
1500
Lone Star Standard Cab Pickup 2-Door 3.6L 3604CC 220Cu. In. V6 FLEX DOHC Naturally Aspirated
2016
Ram
1500
Lone Star Standard Cab Pickup 2-Door 5.7L 345Cu. In. V8 GAS OHV Naturally Aspirated
2016
Ram
1500
Outdoorsman Crew Cab Pickup 4-Door 3.0L 2987CC 182Cu. In. V6 DIESEL DOHC Turbocharged
2016
Ram
1500
Outdoorsman Crew Cab Pickup 4-Door 3.6L 3604CC 220Cu. In. V6 FLEX DOHC Naturally Aspirated
2016
Ram
1500
Outdoorsman Crew Cab Pickup 4-Door 5.7L 345Cu. In. V8 GAS OHV Naturally Aspirated
2016
Ram
1500
Outdoorsman Extended Cab Pickup 4-Door 3.0L 2987CC 182Cu. In. V6 DIESEL DOHC Turbocharged
2016
Ram
1500
Outdoorsman Extended Cab Pickup 4-Door 3.6L 3604CC 220Cu. In. V6 FLEX DOHC Naturally Aspirated
2016
Ram
1500
Outdoorsman Extended Cab Pickup 4-Door 5.7L 345Cu. In. V8 GAS OHV Naturally Aspirated
2016
Ram
1500
Rebel Crew Cab Pickup 4-Door 3.6L 3604CC 220Cu. In. V6 FLEX DOHC Naturally Aspirated
2016
Ram
1500
Rebel Crew Cab Pickup 4-Door 5.7L 345Cu. In. V8 GAS OHV Naturally Aspirated
2016
Ram
1500
SLT Crew Cab Pickup 4-Door 3.0L 2987CC 182Cu. In. V6 DIESEL DOHC Turbocharged
2016
Ram
1500
SLT Crew Cab Pickup 4-Door 3.6L 3600CC 220Cu. In. V6 GAS DOHC Naturally Aspirated
2016
Ram
1500
SLT Crew Cab Pickup 4-Door 3.6L 3604CC 220Cu. In. V6 FLEX DOHC Naturally Aspirated
2016
Ram
1500
SLT Crew Cab Pickup 4-Door 5.7L 345Cu. In. V8 GAS OHV Naturally Aspirated
2016
Ram
1500
SLT Extended Cab Pickup 4-Door 3.0L 2987CC 182Cu. In. V6 DIESEL DOHC Turbocharged
2016
Ram
1500
SLT Extended Cab Pickup 4-Door 3.6L 3604CC 220Cu. In. V6 FLEX DOHC Naturally Aspirated
2016
Ram
1500
SLT Extended Cab Pickup 4-Door 5.7L 345Cu. In. V8 GAS OHV Naturally Aspirated
2016
Ram
1500
SLT Standard Cab Pickup 2-Door 3.0L 2987CC 182Cu. In. V6 DIESEL DOHC Turbocharged
2016
Ram
1500
SLT Standard Cab Pickup 2-Door 3.6L 3604CC 220Cu. In. V6 FLEX DOHC Naturally Aspirated
2016
Ram
1500
SLT Standard Cab Pickup 2-Door 5.7L 345Cu. In. V8 GAS OHV Naturally Aspirated
2016
Ram
1500
Special Service Crew Cab Pickup 4-Door 5.7L 345Cu. In. V8 GAS OHV Naturally Aspirated
2016
Ram
1500
Sport Crew Cab Pickup 4-Door 5.7L 345Cu. In. V8 GAS OHV Naturally Aspirated
2016
Ram
1500
Sport Extended Cab Pickup 4-Door 5.7L 345Cu. In. V8 GAS OHV Naturally Aspirated
2016
Ram
1500
Sport Standard Cab Pickup 2-Door 5.7L 345Cu. In. V8 GAS OHV Naturally Aspirated
2016
Ram
1500
ST Crew Cab Pickup 4-Door 3.0L 2987CC 182Cu. In. V6 DIESEL DOHC Turbocharged
2016
Ram
1500
ST Crew Cab Pickup 4-Door 3.6L 3604CC 220Cu. In. V6 FLEX DOHC Naturally Aspirated
2016
Ram
1500
ST Crew Cab Pickup 4-Door 5.7L 345Cu. In. V8 GAS OHV Naturally Aspirated
2016
Ram
1500
ST Extended Cab Pickup 4-Door 3.0L 2987CC 182Cu. In. V6 DIESEL DOHC Turbocharged
2016
Ram
1500
ST Extended Cab Pickup 4-Door 3.6L 3604CC 220Cu. In. V6 FLEX DOHC Naturally Aspirated
2016
Ram
1500
ST Extended Cab Pickup 4-Door 5.7L 345Cu. In. V8 GAS OHV Naturally Aspirated
2016
Ram
1500
ST Standard Cab Pickup 2-Door 3.0L 2987CC 182Cu. In. V6 DIESEL DOHC Turbocharged
2016
Ram
1500
ST Standard Cab Pickup 2-Door 3.6L 3600CC 220Cu. In. V6 GAS DOHC Naturally Aspirated
2016
Ram
1500
ST Standard Cab Pickup 2-Door 3.6L 3604CC 220Cu. In. V6 FLEX DOHC Naturally Aspirated
2016
Ram
1500
ST Standard Cab Pickup 2-Door 5.7L 345Cu. In. V8 GAS OHV Naturally Aspirated
2016
Ram
1500
SXT Crew Cab Pickup 4-Door 3.6L 3604CC 220Cu. In. V6 FLEX DOHC Naturally Aspirated
2016
Ram
1500
SXT Crew Cab Pickup 4-Door 5.7L 345Cu. In. V8 GAS OHV Naturally Aspirated
2016
Ram
1500
SXT Extended Cab Pickup 4-Door 3.6L 3604CC 220Cu. In. V6 FLEX DOHC Naturally Aspirated
2016
Ram
1500
SXT Extended Cab Pickup 4-Door 5.7L 345Cu. In. V8 GAS OHV Naturally Aspirated
2016
Ram
1500
SXT Standard Cab Pickup 2-Door 3.6L 3604CC 220Cu. In. V6 FLEX DOHC Naturally Aspirated
2016
Ram
1500
SXT Standard Cab Pickup 2-Door 5.7L 345Cu. In. V8 GAS OHV Naturally Aspirated
2016
Ram
1500
Tradesman Crew Cab Pickup 4-Door 3.0L 2987CC 182Cu. In. V6 DIESEL DOHC Turbocharged
2016
Ram
1500
Tradesman Crew Cab Pickup 4-Door 3.6L 3604CC 220Cu. In. V6 FLEX DOHC Naturally Aspirated
2016
Ram
1500
Tradesman Crew Cab Pickup 4-Door 5.7L 345Cu. In. V8 GAS OHV Naturally Aspirated
2016
Ram
1500
Tradesman Extended Cab Pickup 4-Door 3.0L 2987CC 182Cu. In. V6 DIESEL DOHC Turbocharged
2016
Ram
1500
Tradesman Extended Cab Pickup 4-Door 3.6L 3604CC 220Cu. In. V6 FLEX DOHC Naturally Aspirated
2016
Ram
1500
Tradesman Extended Cab Pickup 4-Door 5.7L 345Cu. In. V8 GAS OHV Naturally Aspirated
2016
Ram
1500
Tradesman Standard Cab Pickup 2-Door 3.0L 2987CC 182Cu. In. V6 DIESEL DOHC Turbocharged
2016
Ram
1500
Tradesman Standard Cab Pickup 2-Door 3.6L 3604CC 220Cu. In. V6 FLEX DOHC Naturally Aspirated
2016
Ram
1500
Tradesman Standard Cab Pickup 2-Door 5.7L 345Cu. In. V8 GAS OHV Naturally Aspirated
2016
Ram
2500
Big Horn Crew Cab Pickup 4-Door 5.7L 345Cu. In. V8 GAS OHV Naturally Aspirated
2016
Ram
2500
Big Horn Crew Cab Pickup 4-Door 6.4L 6424CC 392Cu. In. V8 GAS OHV Naturally Aspirated
2016
Ram
2500
Big Horn Crew Cab Pickup 4-Door 6.7L 408Cu. In. l6 DIESEL OHV Turbocharged
2016
Ram
2500
Big Horn Extended Crew Cab Pickup 4-Door 5.7L 345Cu. In. V8 GAS OHV Naturally Aspirated
2016
Ram
2500
Big Horn Extended Crew Cab Pickup 4-Door 6.4L 6424CC 392Cu. In. V8 GAS OHV Naturally Aspirated
2016
Ram
2500
Big Horn Extended Crew Cab Pickup 4-Door 6.7L 408Cu. In. l6 DIESEL OHV Turbocharged
2016
Ram
2500
Hemi Sport Crew Cab Pickup 4-Door 5.7L 345Cu. In. V8 GAS OHV Naturally Aspirated
2016
Ram
2500
Hemi Sport Standard Cab Pickup 2-Door 5.7L 345Cu. In. V8 GAS OHV Naturally Aspirated
2016
Ram
2500
Laramie Crew Cab Pickup 4-Door 5.7L 345Cu. In. V8 GAS OHV Naturally Aspirated
2016
Ram
2500
Laramie Crew Cab Pickup 4-Door 6.4L 6424CC 392Cu. In. V8 GAS OHV Naturally Aspirated
2016
Ram
2500
Laramie Crew Cab Pickup 4-Door 6.7L 408Cu. In. l6 DIESEL OHV Turbocharged
2016
Ram
2500
Laramie Extended Crew Cab Pickup 4-Door 5.7L 345Cu. In. V8 GAS OHV Naturally Aspirated
2016
Ram
2500
Laramie Extended Crew Cab Pickup 4-Door 6.4L 6424CC 392Cu. In. V8 GAS OHV Naturally Aspirated
2016
Ram
2500
Laramie Extended Crew Cab Pickup 4-Door 6.7L 408Cu. In. l6 DIESEL OHV Turbocharged
2016
Ram
2500
Laramie Limited Crew Cab Pickup 4-Door 5.7L 345Cu. In. V8 GAS OHV Naturally Aspirated
2016
Ram
2500
Laramie Limited Crew Cab Pickup 4-Door 6.4L 6424CC 392Cu. In. V8 GAS OHV Naturally Aspirated
2016
Ram
2500
Laramie Limited Crew Cab Pickup 4-Door 6.7L 408Cu. In. l6 DIESEL OHV Turbocharged
2016
Ram
2500
Laramie Limited Extended Crew Cab Pickup 4-Door 5.7L 345Cu. In. V8 GAS OHV Naturally Aspirated
2016
Ram
2500
Laramie Limited Extended Crew Cab Pickup 4-Door 6.4L 6424CC 392Cu. In. V8 GAS OHV Naturally Aspirated
2016
Ram
2500
Laramie Limited Extended Crew Cab Pickup 4-Door 6.7L 408Cu. In. l6 DIESEL OHV Turbocharged
2016
Ram
2500
Laramie Longhorn Crew Cab Pickup 4-Door 5.7L 345Cu. In. V8 GAS OHV Naturally Aspirated
2016
Ram
2500
Laramie Longhorn Crew Cab Pickup 4-Door 6.4L 6424CC 392Cu. In. V8 GAS OHV Naturally Aspirated
2016
Ram
2500
Laramie Longhorn Crew Cab Pickup 4-Door 6.7L 408Cu. In. l6 DIESEL OHV Turbocharged
2016
Ram
2500
Laramie Longhorn Extended Crew Cab Pickup 4-Door 5.7L 345Cu. In. V8 GAS OHV Naturally Aspirated
2016
Ram
2500
Laramie Longhorn Extended Crew Cab Pickup 4-Door 6.4L 6424CC 392Cu. In. V8 GAS OHV Naturally Aspirated
2016
Ram
2500
Laramie Longhorn Extended Crew Cab Pickup 4-Door 6.7L 408Cu. In. l6 DIESEL OHV Turbocharged
2016
Ram
2500
Limited Crew Cab Pickup 4-Door 5.7L 345Cu. In. V8 GAS OHV Naturally Aspirated
2016
Ram
2500
Limited Crew Cab Pickup 4-Door 6.4L 6424CC 392Cu. In. V8 GAS OHV Naturally Aspirated
2016
Ram
2500
Limited Crew Cab Pickup 4-Door 6.7L 408Cu. In. l6 DIESEL OHV Turbocharged
2016
Ram
2500
Limited Extended Crew Cab Pickup 4-Door 5.7L 345Cu. In. V8 GAS OHV Naturally Aspirated
2016
Ram
2500
Limited Extended Crew Cab Pickup 4-Door 6.4L 6424CC 392Cu. In. V8 GAS OHV Naturally Aspirated
2016
Ram
2500
Limited Extended Crew Cab Pickup 4-Door 6.7L 408Cu. In. l6 DIESEL OHV Turbocharged
2016
Ram
2500
Outdoorsman Crew Cab Pickup 4-Door 5.7L 345Cu. In. V8 GAS OHV Naturally Aspirated
2016
Ram
2500
Outdoorsman Crew Cab Pickup 4-Door 6.4L 6424CC 392Cu. In. V8 GAS OHV Naturally Aspirated
2016
Ram
2500
Outdoorsman Crew Cab Pickup 4-Door 6.7L 408Cu. In. l6 DIESEL OHV Turbocharged
2016
Ram
2500
Power Wagon Crew Cab Pickup 4-Door 6.4L 6424CC 392Cu. In. V8 GAS OHV Naturally Aspirated
2016
Ram
2500
R/T Standard Cab Pickup 2-Door 5.7L 345Cu. In. V8 GAS OHV Naturally Aspirated
2016
Ram
2500
SLT Crew Cab Pickup 4-Door 5.7L 345Cu. In. V8 CNG OHV Naturally Aspirated
2016
Ram
2500
SLT Crew Cab Pickup 4-Door 5.7L 345Cu. In. V8 GAS Naturally Aspirated
2016
Ram
2500
SLT Crew Cab Pickup 4-Door 5.7L 345Cu. In. V8 GAS OHV Naturally Aspirated
2016
Ram
2500
SLT Crew Cab Pickup 4-Door 6.4L 6424CC 392Cu. In. V8 GAS OHV Naturally Aspirated
2016
Ram
2500
SLT Crew Cab Pickup 4-Door 6.7L 408Cu. In. l6 DIESEL OHV Turbocharged
2016
Ram
2500
SLT Extended Crew Cab Pickup 4-Door 5.7L 345Cu. In. V8 CNG OHV Naturally Aspirated
2016
Ram
2500
SLT Extended Crew Cab Pickup 4-Door 5.7L 345Cu. In. V8 GAS OHV Naturally Aspirated
2016
Ram
2500
SLT Extended Crew Cab Pickup 4-Door 6.4L 6424CC 392Cu. In. V8 GAS OHV Naturally Aspirated
2016
Ram
2500
SLT Extended Crew Cab Pickup 4-Door 6.7L 408Cu. In. l6 DIESEL OHV Turbocharged
2016
Ram
2500
SLT Standard Cab Pickup 2-Door 5.7L 345Cu. In. V8 CNG OHV Naturally Aspirated
2016
Ram
2500
SLT Standard Cab Pickup 2-Door 5.7L 345Cu. In. V8 GAS OHV Naturally Aspirated
2016
Ram
2500
SLT Standard Cab Pickup 2-Door 6.4L 6424CC 392Cu. In. V8 GAS OHV Naturally Aspirated
2016
Ram
2500
SLT Standard Cab Pickup 2-Door 6.7L 408Cu. In. l6 DIESEL OHV Turbocharged
2016
Ram
2500
ST Crew Cab Pickup 4-Door 5.7L 345Cu. In. V8 CNG OHV Naturally Aspirated
2016
Ram
2500
ST Crew Cab Pickup 4-Door 5.7L 345Cu. In. V8 GAS OHV Naturally Aspirated
2016
Ram
2500
ST Crew Cab Pickup 4-Door 6.4L 6424CC 392Cu. In. V8 GAS OHV Naturally Aspirated
2016
Ram
2500
ST Crew Cab Pickup 4-Door 6.7L 408Cu. In. l6 DIESEL OHV Turbocharged
2016
Ram
2500
ST Extended Crew Cab Pickup 4-Door 5.7L 345Cu. In. V8 CNG OHV Naturally Aspirated
2016
Ram
2500
ST Extended Crew Cab Pickup 4-Door 5.7L 345Cu. In. V8 GAS OHV Naturally Aspirated
2016
Ram
2500
ST Extended Crew Cab Pickup 4-Door 6.4L 6424CC 392Cu. In. V8 GAS OHV Naturally Aspirated
2016
Ram
2500
ST Extended Crew Cab Pickup 4-Door 6.7L 408Cu. In. l6 DIESEL OHV Turbocharged
2016
Ram
2500
ST Standard Cab Pickup 2-Door 5.7L 345Cu. In. V8 CNG OHV Naturally Aspirated
2016
Ram
2500
ST Standard Cab Pickup 2-Door 5.7L 345Cu. In. V8 GAS OHV Naturally Aspirated
2016
Ram
2500
ST Standard Cab Pickup 2-Door 6.4L 6424CC 392Cu. In. V8 GAS OHV Naturally Aspirated
2016
Ram
2500
ST Standard Cab Pickup 2-Door 6.7L 408Cu. In. l6 DIESEL OHV Turbocharged
2016
Ram
2500
Tradesman Crew Cab Pickup 4-Door 5.7L 345Cu. In. V8 CNG OHV Naturally Aspirated
2016
Ram
2500
Tradesman Crew Cab Pickup 4-Door 5.7L 345Cu. In. V8 GAS OHV Naturally Aspirated
2016
Ram
2500
Tradesman Crew Cab Pickup 4-Door 6.4L 6424CC 392Cu. In. V8 GAS OHV Naturally Aspirated
2016
Ram
2500
Tradesman Crew Cab Pickup 4-Door 6.7L 408Cu. In. l6 DIESEL OHV Turbocharged
2016
Ram
2500
Tradesman Standard Cab Pickup 2-Door 5.7L 345Cu. In. V8 CNG OHV Naturally Aspirated
2016
Ram
2500
Tradesman Standard Cab Pickup 2-Door 5.7L 345Cu. In. V8 GAS OHV Naturally Aspirated
2016
Ram
2500
Tradesman Standard Cab Pickup 2-Door 6.4L 6424CC 392Cu. In. V8 GAS OHV Naturally Aspirated
2016
Ram
2500
Tradesman Standard Cab Pickup 2-Door 6.7L 408Cu. In. l6 DIESEL OHV Turbocharged
2016
Toyota
Camry
Hybrid LE Sedan 4-Door 2.5L 2494CC 152Cu. In. l4 ELECTRIC/GAS DOHC Naturally Aspirated
2016
Toyota
Camry
Hybrid SE Sedan 4-Door 2.5L 2494CC 152Cu. In. l4 ELECTRIC/GAS DOHC Naturally Aspirated
2016
Toyota
Camry
Hybrid XLE Sedan 4-Door 2.5L 2494CC 152Cu. In. l4 ELECTRIC/GAS DOHC Naturally Aspirated
2016
Toyota
Camry
LE Sedan 4-Door 2.5L 2494CC 152Cu. In. l4 GAS DOHC Naturally Aspirated
2016
Toyota
Camry
SE Sedan 4-Door 2.5L 2494CC 152Cu. In. l4 GAS DOHC Naturally Aspirated
2016
Toyota
Camry
Special Edition Sedan 4-Door 2.5L 2494CC 152Cu. In. l4 GAS DOHC Naturally Aspirated
2016
Toyota
Camry
XLE Sedan 4-Door 2.5L 2494CC 152Cu. In. l4 GAS DOHC Naturally Aspirated
2016
Toyota
Camry
XLE Sedan 4-Door 3.5L 3456CC V6 GAS DOHC Naturally Aspirated
2016
Toyota
Camry
XSE Sedan 4-Door 2.5L 2494CC 152Cu. In. l4 GAS DOHC Naturally Aspirated
2016
Toyota
Camry
XSE Sedan 4-Door 3.5L 3456CC V6 GAS DOHC Naturally Aspirated
2016
Toyota
Corolla
Base Sedan 4-Door 1.8L 1794CC 109Cu. In. l4 GAS DOHC Naturally Aspirated
2016
Toyota
Corolla
C Sedan 4-Door 1.8L 1794CC 109Cu. In. l4 GAS DOHC Naturally Aspirated
2016
Toyota
Corolla
CE Sedan 4-Door 1.8L 1798CC 110Cu. In. l4 GAS DOHC Naturally Aspirated
2016
Toyota
Corolla
L Sedan 4-Door 1.8L 1798CC 110Cu. In. l4 GAS DOHC Naturally Aspirated
2016
Toyota
Corolla
LE Eco Sedan 4-Door 1.8L 1798CC 110Cu. In. l4 GAS DOHC Naturally Aspirated
2016
Toyota
Corolla
LE Sedan 4-Door 1.8L 1794CC 109Cu. In. l4 GAS DOHC Naturally Aspirated
2016
Toyota
Corolla
LE Sedan 4-Door 1.8L 1798CC 110Cu. In. l4 GAS DOHC Naturally Aspirated
2016
Toyota
Corolla
S Plus Sedan 4-Door 1.8L 1794CC 109Cu. In. l4 GAS DOHC Naturally Aspirated
2016
Toyota
Corolla
S Sedan 4-Door 1.8L 1794CC 109Cu. In. l4 GAS DOHC Naturally Aspirated
2016
Toyota
Corolla
S Sedan 4-Door 1.8L 1798CC 110Cu. In. l4 GAS DOHC Naturally Aspirated
2016
Toyota
Corolla
Special Edition Sedan 4-Door 1.8L 1798CC 110Cu. In. l4 GAS DOHC Naturally Aspirated
2015
Chevrolet
Malibu
LS Sedan 4-Door 2.5L 2457CC 153Cu. In. l4 GAS DOHC Naturally Aspirated
2015
Chevrolet
Malibu
LT Sedan 4-Door 2.0L 1998CC 122Cu. In. l4 GAS DOHC Turbocharged
2015
Chevrolet
Malibu
LT Sedan 4-Door 2.5L 2457CC 153Cu. In. l4 GAS DOHC Naturally Aspirated
2015
Chevrolet
Malibu
LT Sedan 4-Door 2.5L 2499CC 152Cu. In. l4 GAS DOHC Naturally Aspirated
2015
Chevrolet
Malibu
LTZ Sedan 4-Door 2.0L 1998CC 122Cu. In. l4 GAS DOHC Turbocharged
2015
Chevrolet
Malibu
LTZ Sedan 4-Door 2.5L 2457CC 153Cu. In. l4 GAS DOHC Naturally Aspirated
2015
Ford
F-150
King Ranch Crew Cab Pickup 4-Door 3.5L 3496CC 213Cu. In. V6 GAS DOHC Turbocharged
2015
Ford
F-150
King Ranch Crew Cab Pickup 4-Door 5.0L 4951CC 302Cu. In. V8 FLEX DOHC Naturally Aspirated
2015
Ford
F-150
Lariat Crew Cab Pickup 4-Door 2.7L 164Cu. In. V6 GAS DOHC Turbocharged
2015
Ford
F-150
Lariat Crew Cab Pickup 4-Door 3.5L 3496CC 213Cu. In. V6 GAS DOHC Turbocharged
2015
Ford
F-150
Lariat Crew Cab Pickup 4-Door 5.0L 4951CC 302Cu. In. V8 FLEX DOHC Naturally Aspirated
2015
Ford
F-150
Lariat Extended Cab Pickup 4-Door 2.7L 164Cu. In. V6 GAS DOHC Turbocharged
2015
Ford
F-150
Lariat Extended Cab Pickup 4-Door 3.5L 3496CC 213Cu. In. V6 GAS DOHC Turbocharged
2015
Ford
F-150
Lariat Extended Cab Pickup 4-Door 5.0L 4951CC 302Cu. In. V8 FLEX DOHC Naturally Aspirated
2015
Ford
F-150
Platinum Crew Cab Pickup 4-Door 3.5L 3496CC 213Cu. In. V6 GAS DOHC Turbocharged
2015
Ford
F-150
Platinum Crew Cab Pickup 4-Door 5.0L 4951CC 302Cu. In. V8 FLEX DOHC Naturally Aspirated
2015
Ford
F-150
XL Crew Cab Pickup 4-Door 2.7L 164Cu. In. V6 GAS DOHC Turbocharged
2015
Ford
F-150
XL Crew Cab Pickup 4-Door 3.5L 3496CC 213Cu. In. V6 FLEX DOHC Naturally Aspirated
2015
Ford
F-150
XL Crew Cab Pickup 4-Door 3.5L 3496CC 213Cu. In. V6 GAS DOHC Naturally Aspirated
2015
Ford
F-150
XL Crew Cab Pickup 4-Door 3.5L 3496CC 213Cu. In. V6 GAS DOHC Turbocharged
2015
Ford
F-150
XL Crew Cab Pickup 4-Door 5.0L 4951CC 302Cu. In. V8 FLEX DOHC Naturally Aspirated
2015
Ford
F-150
XL Crew Cab Pickup 4-Door 5.0L 4951CC 302Cu. In. V8 GAS DOHC Naturally Aspirated
2015
Ford
F-150
XL Extended Cab Pickup 4-Door 2.7L 164Cu. In. V6 GAS DOHC Turbocharged
2015
Ford
F-150
XL Extended Cab Pickup 4-Door 3.5L 3496CC 213Cu. In. V6 FLEX DOHC Naturally Aspirated
2015
Ford
F-150
XL Extended Cab Pickup 4-Door 3.5L 3496CC 213Cu. In. V6 GAS DOHC Naturally Aspirated
2015
Ford
F-150
XL Extended Cab Pickup 4-Door 3.5L 3496CC 213Cu. In. V6 GAS DOHC Turbocharged
2015
Ford
F-150
XL Extended Cab Pickup 4-Door 5.0L 4951CC 302Cu. In. V8 FLEX DOHC Naturally Aspirated
2015
Ford
F-150
XL Extended Cab Pickup 4-Door 5.0L 4951CC 302Cu. In. V8 GAS DOHC Naturally Aspirated
2015
Ford
F-150
XL Standard Cab Pickup 2-Door 2.7L 164Cu. In. V6 GAS DOHC Turbocharged
2015
Ford
F-150
XL Standard Cab Pickup 2-Door 3.5L 3496CC 213Cu. In. V6 FLEX DOHC Naturally Aspirated
2015
Ford
F-150
XL Standard Cab Pickup 2-Door 3.5L 3496CC 213Cu. In. V6 GAS DOHC Turbocharged
2015
Ford
F-150
XL Standard Cab Pickup 2-Door 5.0L 4951CC 302Cu. In. V8 FLEX DOHC Naturally Aspirated
2015
Ford
F-150
XLT Crew Cab Pickup 4-Door 2.7L 164Cu. In. V6 GAS DOHC Turbocharged
2015
Ford
F-150
XLT Crew Cab Pickup 4-Door 3.5L 3496CC 213Cu. In. V6 FLEX DOHC Naturally Aspirated
2015
Ford
F-150
XLT Crew Cab Pickup 4-Door 3.5L 3496CC 213Cu. In. V6 GAS DOHC Turbocharged
2015
Ford
F-150
XLT Crew Cab Pickup 4-Door 5.0L 4951CC 302Cu. In. V8 FLEX DOHC Naturally Aspirated
2015
Ford
F-150
XLT Extended Cab Pickup 4-Door 2.7L 164Cu. In. V6 GAS DOHC Turbocharged
2015
Ford
F-150
XLT Extended Cab Pickup 4-Door 3.5L 3496CC 213Cu. In. V6 FLEX DOHC Naturally Aspirated
2015
Ford
F-150
XLT Extended Cab Pickup 4-Door 3.5L 3496CC 213Cu. In. V6 GAS DOHC Turbocharged
2015
Ford
F-150
XLT Extended Cab Pickup 4-Door 5.0L 4951CC 302Cu. In. V8 FLEX DOHC Naturally Aspirated
2015
Ford
F-150
XLT Standard Cab Pickup 2-Door 2.7L 164Cu. In. V6 GAS DOHC Turbocharged
2015
Ford
F-150
XLT Standard Cab Pickup 2-Door 3.5L 3496CC 213Cu. In. V6 FLEX DOHC Naturally Aspirated
2015
Ford
F-150
XLT Standard Cab Pickup 2-Door 3.5L 3496CC 213Cu. In. V6 GAS DOHC Turbocharged
2015
Ford
F-150
XLT Standard Cab Pickup 2-Door 5.0L 4951CC 302Cu. In. V8 FLEX DOHC Naturally Aspirated
2015
Ford
Fiesta
S Hatchback 4-Door 1.6L 1596CC 97Cu. In. l4 GAS DOHC Naturally Aspirated
2015
Ford
Fiesta
S Hatchback 4-Door 1.6L 1598CC 98Cu. In. l4 GAS SOHC Naturally Aspirated
2015
Ford
Fiesta
S Sedan 4-Door 1.6L 1596CC 97Cu. In. l4 GAS DOHC Naturally Aspirated
2015
Ford
Fiesta
S Sedan 4-Door 1.6L 1598CC 98Cu. In. l4 GAS SOHC Naturally Aspirated
2015
Ford
Fiesta
SE Hatchback 4-Door 1.0L 999CC 61Cu. In. l3 GAS DOHC Turbocharged
2015
Ford
Fiesta
SE Hatchback 4-Door 1.6L 1596CC 97Cu. In. l4 GAS DOHC Naturally Aspirated
2015
Ford
Fiesta
SE Hatchback 4-Door 1.6L 1598CC 98Cu. In. l4 GAS SOHC Naturally Aspirated
2015
Ford
Fiesta
SE Sedan 4-Door 1.0L 999CC 61Cu. In. l3 GAS DOHC Turbocharged